Ensuring Outstanding Hybrid Experiences Across Diverse Scales
Dreamcast's advanced hybrid product launch platform offers you a highly scalable & customizable service that lets you create an unforgettable experience irrespective of your event size.
Small Scale
Deliver an authentic and immersive event to a small-scale audience with the most compelling hybrid product launch platform. Integrate the most engaging & interactive features to make the best out of your hybrid event.
Mid Scale
Bring your ideas and imagination to our hybrid launch platform and cause a stir among your global audience. Scale-up your hybrid event by adding further more features, enhancing the value of your hybrid event.
The Ultimate
Design your hybrid launch the way you imagined! Take a step ahead and create a life-like experience for your attendees. Customize your launch event just the way you want and make your audience go wow!
Maximize Your Brand Exposure to a Global Level with an Amazing Hybrid Launch Event!
World-Class Functionalities to Help You Discover Limitles Possibilities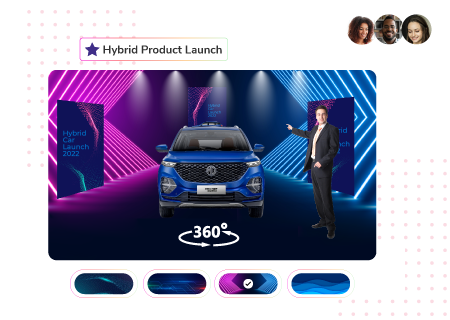 Create a Life-Like Experience
Dynamic Lobby - Add branding content, lighting, GIFs, music, banners and a lot more in a highly dynamic virtual lobby.
Customized Venue - Design a beautiful & real-like venue as per your preferences. Add as many creative aspects as you like!
Captivating Exhibit Booths - Choose from our large library of diverse templates or let your exhibitors create their own booth.
Advanced Networking Tools
Networking Tables - Help your on-site & online attendees network with the exceptional feature of networking tables.
B2B Meeting Scheduler - Make networking and interaction easy with the option to schedule meetings as per preferences.
AI Matchmaking - Help your attendees e-meet and interact with fellow attendees having the same interest areas.
Multiple Format Communication
Live Q&A Sessions - Encourage direct knowledge sharing & two-way communication; further boosting audience engagement.
Live Polls - Elevate real-time attendee involvement with the tool of live poll that helps you collect honest feedback.
Live Audio/Video Chat - This feature allows the attendees to have effective real-time communication with fellow attendees.
Excellent Audience Engagement
Custom Gamification - Boost audience engagement by choosing from 100+ customizable gamification tools & features.
Social & Signature Wall - Enhance audience engagement by promoting involvement with exciting engagement zone features.
Content Availability - Make content like product brochures, spec sheets, video demos, etc, easily accessible for attendees.
Frequently Asked Questions
What is Hybrid Launch?
A hybrid launch refers to an event dedicated to introducing a new product or service over a hybrid event format. A hybrid launch event helps you reach a maximum number of global target audience and create a matchless market presence for your new product.
What is a Hybrid Launch Platform?
A hybrid launch platform is an online service that helps you use the best of on-site & online events formats to attain better exposure & create maximum business leads with a highly engaging hybrid product launch event.
Ready to Create an Unrivaled Global Market Presence for Your Brand?
Get on board with a globally-trusted hybrid launch platform and ensure an end result that is no less than spectacular. Get in touch with Dreamcast and host an out of the box hybrid product launch event.