An Interactive webinar platform is helping brands achieve new milestones!! Brands are choosing webinars as their primary weapon to target potential leads across the globe!! – surprised Let's quickly finish your curiosity and explore the new world of making webinars more interactive than ever.
There are so many reasons to make your session engaging. Interaction is defined by the amount of engagement that boosts effective communication between attendees and speakers. Interactive webinars focus on those techniques which drive good results from any discussion. The session typically involves multimedia presentations in the form of slides or videos and allows live chats for attendees.
The article deals with a quick introduction on interactive webinars and their rising popularity over the years. Additionally, we'll also explore some innovative ways to make your webinar session more engaging than ever. By the end of the blog, you'll be able to select the right match for your next webinar session.
What Is an Interactive Webinar, and Why Should You Care?
When you host an interactive webinar, you're actually combining the elements of both a traditional webinar and an interactive virtual meeting. Engaging with event attendees is the prime motive behind hosting an interactive webinar session. The attendees can participate in real-time in different ways. Some of the most popular are live polling, interactions, Q&A sessions, and much more. Most event organizers use online webinar platforms in order to make their webinars more engaging and interactive.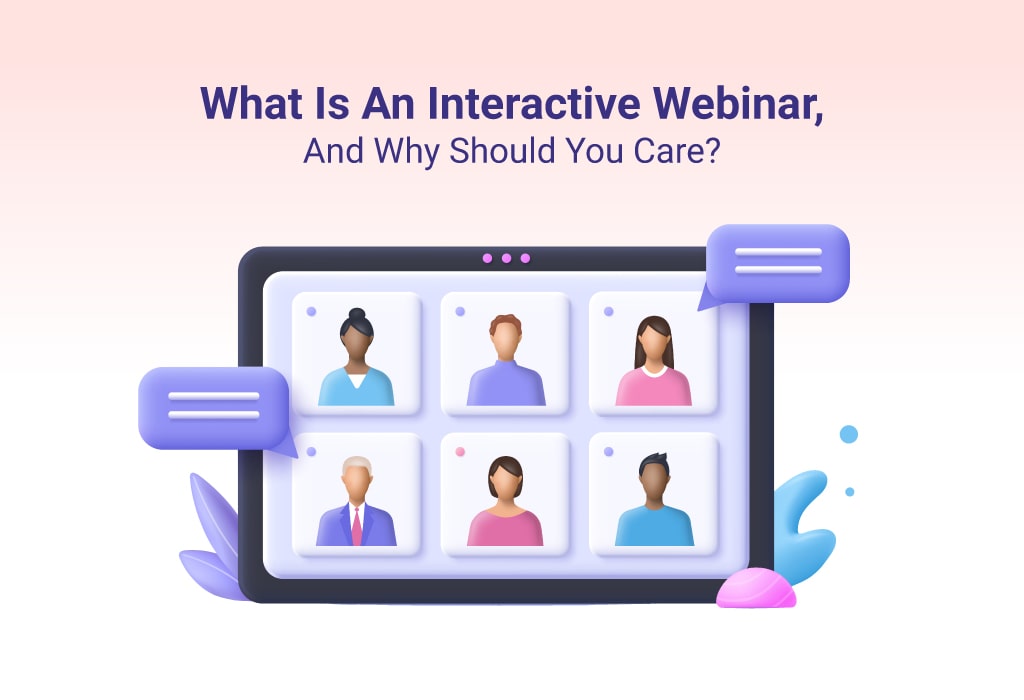 Coming to the technical part, the session takes place on an interactive webinar platform or any other tool that allows seamless interaction between the attendees and the speakers as well. The platforms have so many features to capture attention, such as screen sharing, quizzes, polls, breakout rooms, and others. Interestingly, they're very different from traditional webinars. The major difference Unlike the former ones, where the attendees have to listen passively to the speaker, interactive webinars create an engaging atmosphere that ensures the active participation of every attendee. In the next section, we'll be talking about some prominent benefits of these platforms and how they're becoming more popular.
Interactive Webinars: How They Are Changing the Game in 2023
As explained above, the key driving force behind these interactive sessions is enhancing the live engagement with event attendees in order to generate productive outcomes. Below are some popular benefits of interactive webinars: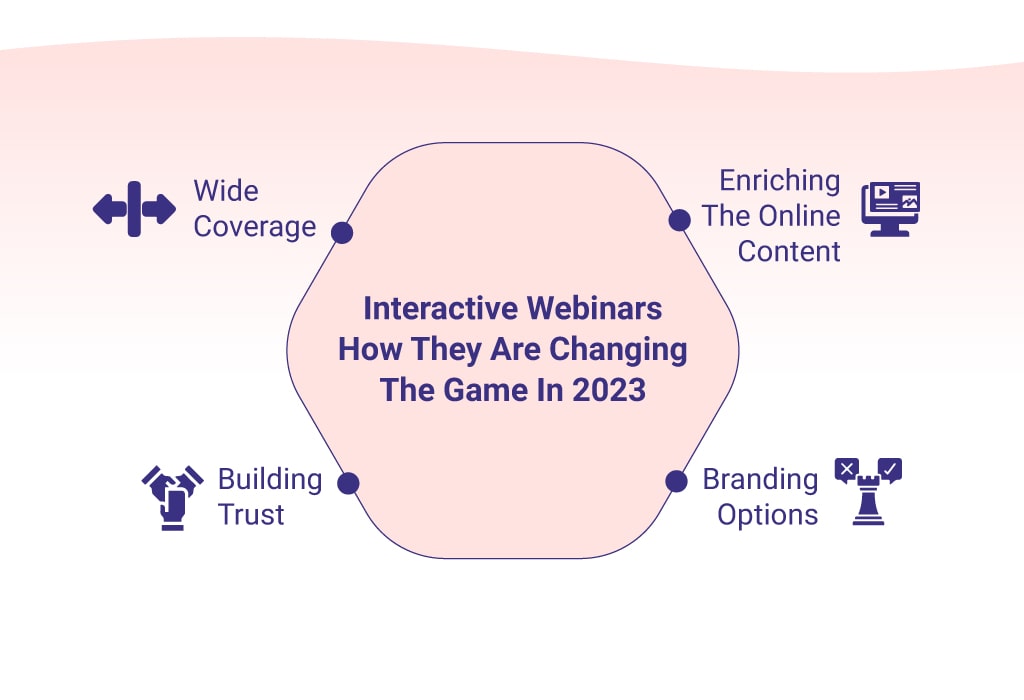 Enriching the Online Content
With webinars, sponsors can easily increase the amount of content available to an interested audience. Webinars are there to address common problems and concerns of your clients, suppliers, or employees. With each passing session, you can create a rich collection of information that is important for future assets as well.
In addition to this, with the latest platforms like WebinarPlus, you get to record all your conversations during the live session. Furthermore, it includes all your presentations and Q&A sessions. You'll be amazed to know that all this content can also be converted into things like blog posts or some other form of article. Ultimately, it'll be helpful for outshining the content in the long run.
Wide Coverage
It is a well-known fact that webinars are widely accessible. It simply means that businesses can easily extend their reach to anyone effortlessly and conveniently as well. With amazing interactive webinar platforms, businesses are no longer restricted by demographic barriers; they can easily promote their brand or services across borders and oceans.
Branding Options
In this competitive world, where brands are struggling to create their unique identity among the common people, interactive webinar platforms are simplifying things for them at a very convenient cost. With WebinarPlus, users can easily select their own logos, branded colors, etc. to customize each and every aspect of their webinar presentation.
In addition to this, throughout the whole session, your brand will be repeatedly exposed in front of your event audience. This becomes even better when a user thinks of something relatable and your brand identity comes to mind in the first place due to repeated exposure.
Building Trust
It ultimately depends on the proper execution of the webinar. When your attendees get a chance to connect with your brand on a more personal level, the chances of building brand loyalty increase. Additionally, by showing off proper skills and expertise along with solving the pain points of your audience, you can easily generate potential leads from them.
A great source of high-quality sales leads
In today's cutthroat business environment, businesses are looking for a continuous stream of potential leads to generate revenue from. With the benefit of accessing all of your attendees at the same time, you can save a lot of time and effort. Since all the attendees know what's in your presentation, they are qualified leads for your business.
Additionally, most interactive webinar platforms come up with their registration pages to capture the important information of the attendees. It includes their mailing address, contact information, and other details, which are valuable for future events as well.
Interactive Webinar Platform & Brand Engagement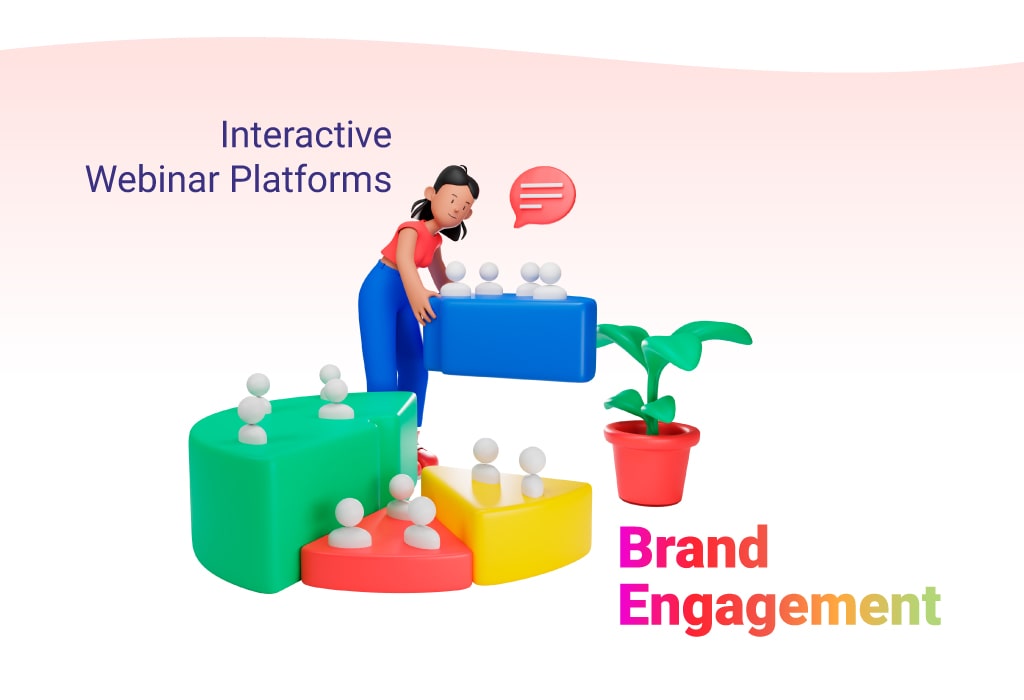 There's a very close connection between them. An Interactive webinar platform is good for providing a powerful tool for better engagement with the brand's audience in a more personalized and meaningful way. With their real-time connections and the ability to provide valuable information on consumer queries, brands can easily establish their identity in front of global audiences.
Fascinating facts that will amaze you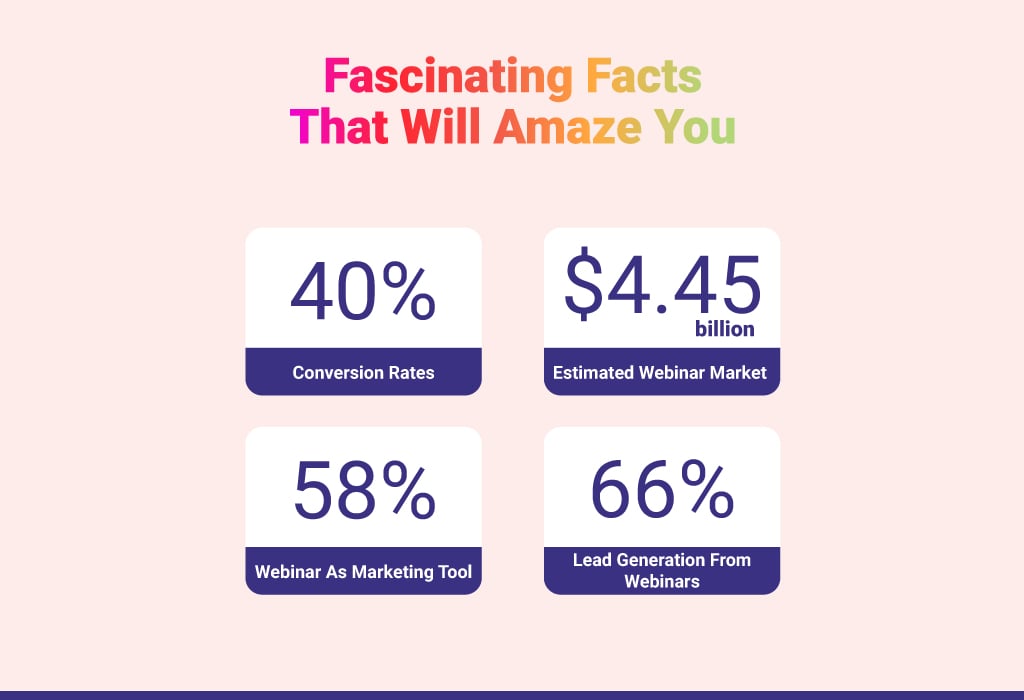 Interactive Webinar Platform: What Features to Look for in 2023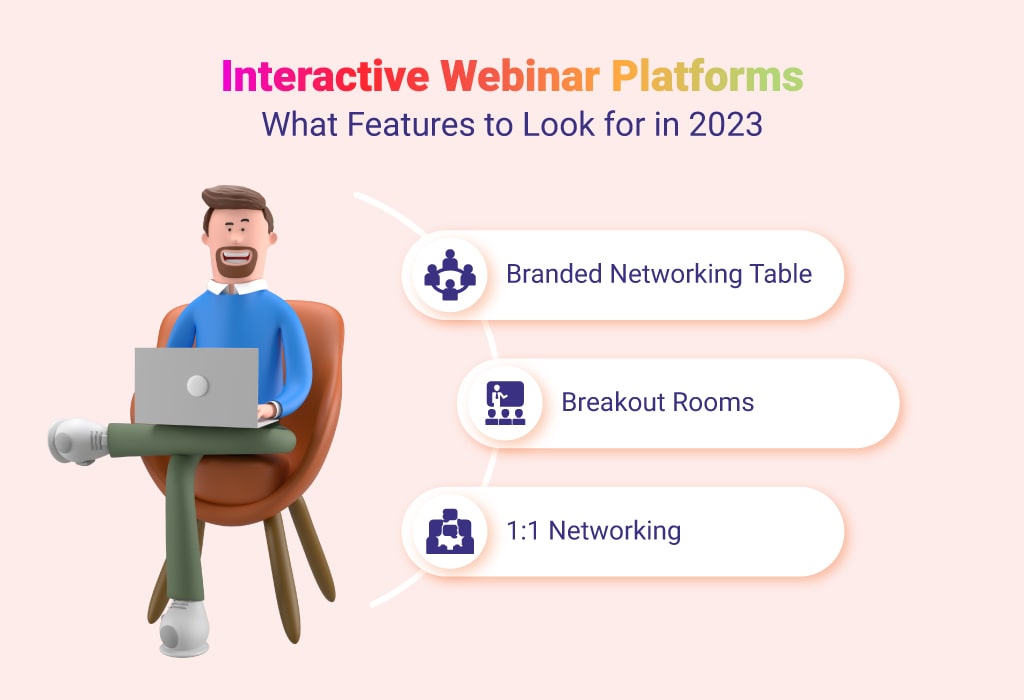 We are in that era where AI is shaping the future of technology and new features are added to the bucket every single day. This section is all about describing some of the best and most innovative features that can take your whole session to the next level.
Branded Networking Table
Basically, it is a type of networking event where participants sit at a table with a specific theme or topic. There's a sponsor or brand on every table to enhance the conversations related to any specific topic. The ultimate goal of these networking tables is to boost attendee interaction and provide opportunities to meet new people.
Breakout Rooms
Breakout rooms are a sort of virtual meeting room that is created within a webinar session. WebinarPlus allows participants to split off the main meeting and have smaller, more focused discussions with a selected group of people. It works well when a large group of people has to be divided into smaller ones for the discussion of specific topics.
1:1 Networking
It is specifically useful for the creation of deeper and more meaningful connections with each other. Additionally, it is more focused on making strong potential connections during the live event. Mostly a regular interactive webinar platform does not have this feature, so think carefully before making a particular choice.
Screen sharing
Presenters can showcase their slides, or give visual demonstrations by sharing their screens. It's a crucial component of successful presentations and educational webinars.
Interactive polls and surveys
If you are going to host a webinar, you should consider these features. Surveys and polls enable attendees to provide real-time feedback and participate actively in webinars. Presenters can use these tools to pose queries, administer tests, or gather feedback from the audience on certain subjects.
Q&A and chat functionality
During the webinar, attendees may interact with presenters, ask questions, and hold conversations using the Q&A and chat capabilities. This encourages audience participation and gives speakers a chance to respond to questions and concerns.
Custom branding and customization options
Organizations may give the webinar platform a distinctive and expert appearance by customizing it with their logo, colors, and visual components using custom branding options. The user experience is additionally improved by customization possibilities for landing pages and registration forms.
Analytics and reporting
Insights into webinar success, attendance engagement, and participant activity are provided via powerful analytics and reporting options. Presenters and planners may assess success, pinpoint areas for development, and optimize the next webinars with the assistance of these data-driven insights.
How To Host An Interactive Webinar: Useful Tips & Tricks
Activities to Include
This is the most engaging part of your webinar session. To deliver interactive webinars, you have to work on creating a highly engaging atmosphere for your event attendees. So, let's explore some of the best activities for your session:
With the help of "Ask me anything" sessions, you can directly engage with your audience in real-time. Additionally, it also fosters a sense of community, as your attendees feel heard and valued.
Offering discount coupons and vouchers also ensures the active participation of the target audience. This can be done by conducting a quiz or something and declaring winners.
You can also use emojis or thumbs-up ratings to better engage attendees and record their feedback in real-time.
Adding surprising elements like inviting guest speakers or something else can turn your boring webinar session into a happening one!
To improve your presentation, use slides, photos, and videos that are aesthetically engaging. Graphic material emphasizes important concepts and aids in keeping people's attention.
Respect your audience's time by presenting information that is brief and to the point. Instead of giving long monologues, try to deliver your ideas in a lively and interesting way. Use interactive components to break up the discussion and keep people interested.
Follow up with attendees by sending them materials, recordings, or further details after the webinar. Get feedback via surveys or polls to evaluate the webinar's success and make adjustments for the next sessions.
Effective Presentation Techniques
You can start with storytelling and building a narrative around the concept. It makes it easier for the event attendees to relate themselves to the plot and connect with your brand on a deeper level. Some of the most common examples include customer success stories, mistakes you made, maybe a TV show example, etc.
Another way you can grab the attention of your audience is by creating visually appealing slides. It should be kept in mind that visuals work better than other formats such as text and audio. Additionally, don't be in a hurry to start the session. Take a moment to introduce yourself to your audience. This is crucial because there might be a lot of first-time viewers who are unfamiliar with your brand or service.
Maximizing session productivity
There are many ways to maximize the productivity of your session. The first is by asking for a poll. Eventually, it will be one of the best ways to kick off the session. With interactive webinar platforms, it becomes easy for the audience to actively engage in polling and share their views and opinions. Secondly, you can also target their pain points by asking them relevant questions. This will increase the chances of creating a strong bond between you and your audience.
Measuring Event Success and ROI
The success of your webinar session is directly linked to how much your attendees enjoy the event. Most of the branded interactive webinar platforms come with powerful analytics tools to give you a clear picture of your event's performance.
You might be wondering why this is in the tips and tricks section. Well, if you don't measure your event performance, you'll not be able to work on the loopholes. In addition to this, it also gives you a clear idea of the features and activities you should use for your future events.
Another point of consideration is the ROI measurement. By analyzing the ROI of previous sessions, you can quickly identify areas for improvement and optimize your upcoming sessions for better results. Additionally, it also helps you determine how much to invest in future webinars.
Engage and Delight Your Audience: Strategies for Interactive Webinars
This section has been broadly divided into three parts. They are: pre-webinar campaigns, webinar tips, and post-webinar follow-ups. Working on all of them can offer you collective results.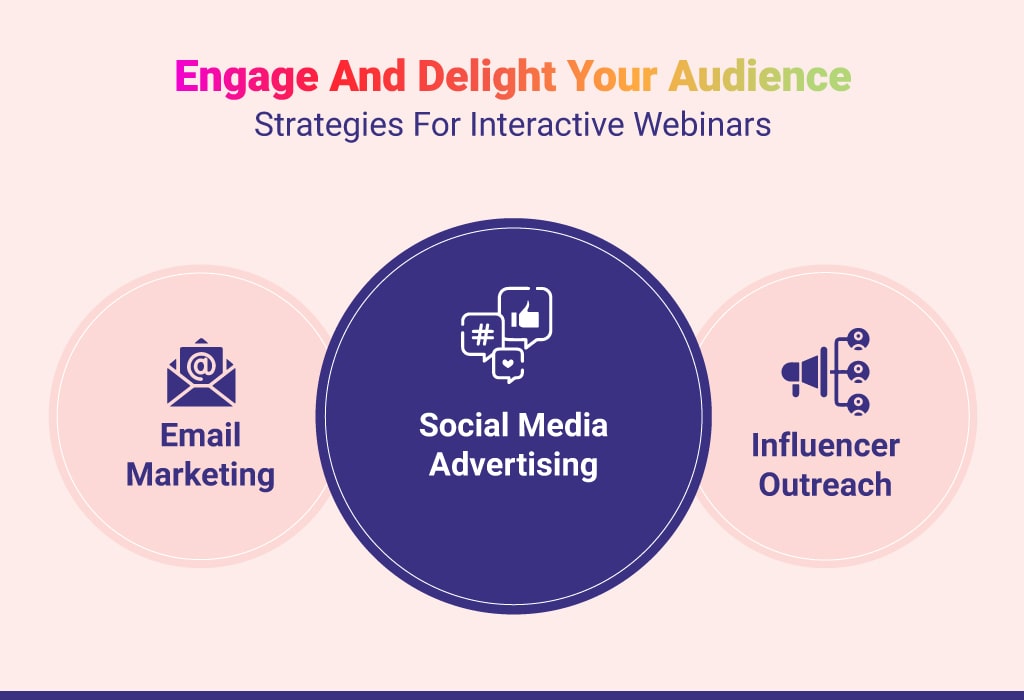 Pre-webinar promotion campaigns
To reach the maximum audience during your live session, you have to put lots of effort into it. Here are some impactful strategies that might help you effectively promote your webinar session.
Email marketing is one of the most conventional yet effective ways to connect with your target audience. Your email marketing campaign should include sending reminder emails, follow-up emails, and invitation links. Additionally, with WebinarPlus, you can easily customize your mail by adding your brand logo, customized images, and a direct link to your website.
Social Media Advertising: It is a well-known fact that social media holds the largest online audience base worldwide. With the help of free social media platforms such as Facebook, Instagram, and others, you can easily target a global audience. Creating unique event hashtags for your event, getting social media mentions, and posting event teasers are some of the best ways to capture an audience's attention.
Influencer outreach: paying an influencer and inviting them to your session can be worth every penny you spent. as it is directly targeting his followers and ultimately increases the chances of an increased audience count at your event.
During the Webinar Event
Now, let's focus on the live experience during the session. There are few things that should be kept in mind while you're live in front of your audience:
Always try to take feedback from your audience in the best way possible. Either it can be in the form of polls and surveys, or it can be recorded by hosting ask me anything sessions.
The way you present your content determines the level of engagement. With amazing visuals, using infographics, and showing thought leadership skills, you can deliver the best results.
Try not to fumble or give too much information to your event attendees. Eventually, it can turn your event into a boring session. Utilize interactive webinar platform for inserting innovative activities between your events.
Post-webinar follow-ups
It is very important to stay in touch with your event attendees after the event is over. Additionally, you should send "thank you" emails to your attendees for showing interest in your session. This works best for your brand's credibility. You should also track event metrics like live attendee count, engagement, and feedback forms for modifying your future events better.
In the End
Interactive webinar platform is a powerful tool for boosting your brand's engagement. With the facility for two-way communication, these platforms help the brand connect with their audience in a more engaging and meaningful way. Apart from this, you can easily create your own custom-branded webinars on them, which is good for lead generation for your business.
"By going with the latest trends and features and choosing WebinarPlus as your companion, you can deliver the best results with still money in your hand!"
FAQ
What makes your webinar interactive?
Attendees accept the information if they are actively engaged in the conversation process. Most of the tough exercises are an excellent way to make a webinar interactive and interesting.
What is a live interactive webinar?
A live webinar is an interactive video conference that takes place in real time. Most flourishing businesses use live webinars as a medium to connect with their global audiences.
What are the three types of webinars?
There are three types of webinars: live webinars,  automated webinars, and on-demand webinars.
What defines an interactive meeting?
With context to the creation of an interactive webinar session, enhancing collaborations, exchanging new ideas, and meeting new people are some of the essential elements of an interactive meeting.