Virtual events have emerged as an effective way to introduce new products to a global audience. 68% of B2B marketers say that most lead generation comes from virtual events. In this guide, we'll explore a range of successful online product launch examples that have captivated audiences and inspired innovation. By understanding what inspiring brands have done in their product launches, you can take your plan, your strategy, and your ideas to the best level.
Explaining the Purpose of Online Product Launch Event
The purpose of a product launch event is to introduce a new product to the market. A survey by Lab 42 indicates that 21% of people buy new products as soon as they come out compared to 63% who prefer to buy them once they have been out for a while.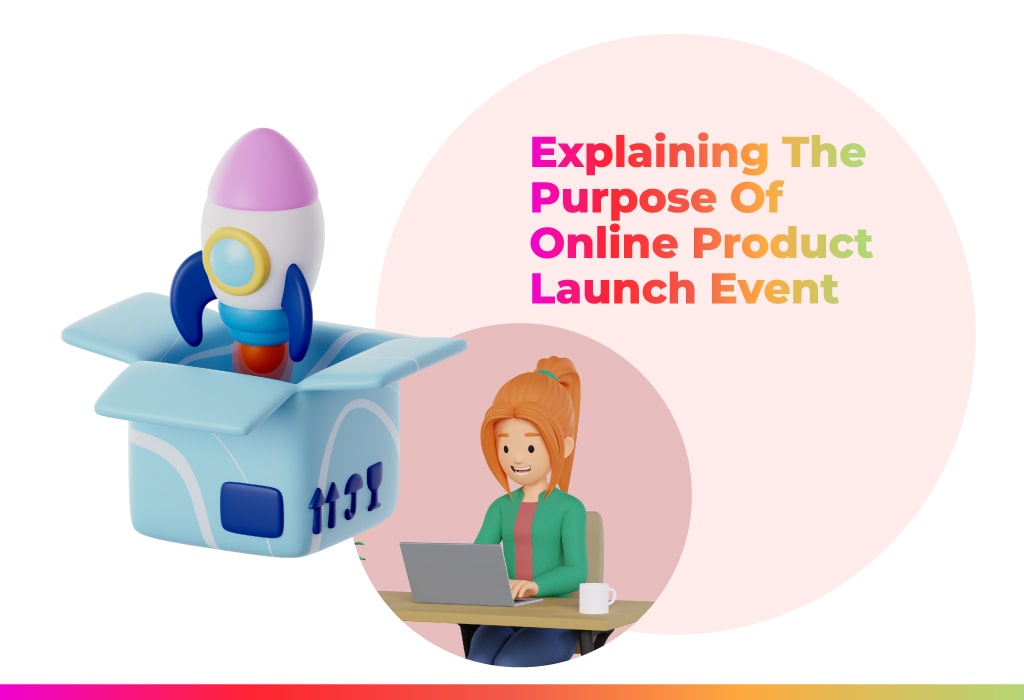 Therefore, product launch events serve as a strategic tool to generate significant leads and excitement around the product. It offers a platform to educate and inform the target audience about the product's unique features, benefits, and ability to address their specific needs or challenges.
Furthermore, a product launch event plays a crucial role in building brand awareness and reinforcing the brand's identity and values. It positions the new product within the context of the brand's broader mission and helps establish a consistent brand narrative. This cohesive messaging can enhance the brand's credibility and authenticity in the eyes of consumers. 
Moreover, a successful product launch event often involves interactions with the audience, whether through Q&A sessions, demonstrations, or surveys. This engagement allows companies to gather valuable feedback, insights, and reactions from potential customers. Feedback helps improve the product and fine-tune marketing strategies to better resonate with the target market.

Top Successful Online Product Launch Event Examples
Virtual product launch events have become increasingly popular. More than 80% of event organizers have reached a wider audience with virtual events. Here are some top online product launch event examples that can inspire your own product launch:
#1 Apple's Virtual iPhone Launch
Apple's product launches are highly anticipated online product launch success stories globally. They usually take place at the Apple Park campus, but during the COVID-19 pandemic, they shifted to a virtual format. Apple creates pre-recorded presentations that showcase new products, such as iPhones, iPads, and MacBooks. These presentations broadcast live and are available for on-demand viewing. The events feature live demonstrations of new product features and capabilities, often presented by Apple executives. They also include video testimonials and app demonstrations. The live-streamed events attract a global audience, allowing viewers to engage through live chats, comments, and social media discussions.
#2 Tesla's Cybertruck Unveiling
Tesla's virtual product launch for the Cybertruck garnered immense attention due to its innovative design and Elon Musk's charismatic presentation style. The event was a mix of live-streamed presentations, interactive 3D renderings of the Cybertruck, and live chats for audience interaction. Elon Musk unveiled the Cybertruck with a live demonstration of its durability and strength by striking the vehicle with a sledgehammer and demonstrating the shatterproof glass. This is one of the virtual product launch event case studies that created excitement through a combination of technology, live demonstrations, and Musk's engaging personality.
#3 Samsung Galaxy Unpacked
Samsung's Galaxy Unpacked is one of the successful online product launch examples known for its cinematic presentations and product showcases. The virtual product launch events include pre-recorded video segments, live streaming of product announcements, and interviews with designers and developers. They often feature celebrity guests or brand ambassadors to add excitement. For example, a famous basketball player might demonstrate a game on the new Galaxy device. Samsung uses interactive elements, like 360-degree videos, to provide an immersive experience for the audience.
#4 Oculus Quest 2 Launch
Oculus, a division of Meta (formerly Facebook), launched the Oculus Quest 2, a virtual reality headset, with a virtual event. The event combined live-streamed presentations with interactive 3D renderings and simulations. Oculus used this format to showcase the headset's capabilities by placing attendees in virtual environments. Live demonstrations included users wearing the Oculus Quest 2 and interacting with VR applications, demonstrating its immersive experience.
#5 PlayStation 5 Reveal
Sony's online product launch success story for the PlayStation 5 included both live and pre-recorded elements. The event showcased game trailers, developer interviews, and a first look at the PlayStation 5's design. It provided gamers with an in-depth look at the console's capabilities and game lineup. Sony's event generated excitement by revealing highly anticipated gaming titles and hardware features.
#6 Amazon Prime Day Concert
While not a traditional product launch, Amazon's Prime Day Concert serves to promote its Prime Day deals and offerings. The event features live musical performances by top artists and celebrities. It also includes appearances by well-known personalities. Amazon leverages the event to engage with its Prime members and create buzz around its annual sales event.
#7 Adobe MAX Conference
Adobe MAX is an annual conference that focuses on creativity and innovation, featuring product announcements and updates. The event transitioned to a virtual format during the COVID-19 pandemic, utilizing a platform that offers a mix of live and pre-recorded sessions. Adobe MAX is one of the most successful virtual product launch event case studies that included keynote speeches, and sessions on Adobe software where attendees can explore new features. Interactive elements such as Q&A sessions, live chat, and virtual networking opportunities are integrated to engage with attendees.
#8 Nike's Virtual Air Max Day
Nike celebrating Air Max Day is another successful online product launch example to showcase their iconic Air Max shoe line. The event featured live-streamed discussions with designers, giving insights into the design process and history of the Air Max. Attendees could take virtual tours of Nike's design studio, gaining a behind-the-scenes look at the creative process. Nike incorporated interactive product customization experiences, allowing attendees to personalize their own Air Max shoes.
#9 IBM Think
IBM Think is IBM's annual conference, focusing on technology innovation and solutions. The event moved to a virtual format, offering a comprehensive online experience. IBM Think includes live-streamed keynote speeches, technical sessions on emerging technologies and trends, and panel discussions. An interactive platform is used to facilitate engagement, allowing attendees to ask questions during sessions, participate in live polls, and connect with IBM experts.
#10 Google Launch Night In
Google hosts a 30-minute virtual product launch event to announce its latest products. Google revealed the arrival of the new Pixel series phone, making it a successful online product launch example. It also presented new Chromecasts and Nest Audio smart speakers using pre-recorded, high-production videos.
Pre-recorded videos allow you to edit mistakes and glitches so that your virtual product launch can be successful when broadcast. It eliminates the likelihood of last-minute failure and embarrassment when presenting a new product to a live audience.
Most companies use pre-recorded sessions and presentations to offer a seamless experience, free from technical glitches.
#11 Dreamforce by Salesforce 
Dreamforce is another massive annual event that comes into online product launch success stories. Salesforce gathers its community to honor all trailblazers. Millions of people from all over the world go to share their success stories and learn from one another.
It provides online live streaming so that participants may experience the product launch event as if they were there in person. It provides guidelines on how to make the most of the virtual experience on its event website.
Salesforce used social media to expand its conference to include over 2,000 sessions. Its event planners encourage user-generated content (UGC) and comments by using hashtags. They encourage the entire audience to use the hashtag. This makes millions of people tag their event. No wonder this virtual product launch event example went viral among the audience.
10 Creative Product Launch Event Ideas
Product launch events in the virtual format couldn't be successful without creating buzz and anticipation. You have to have unique ideas to implement in your event to make it more engaging and exciting for the audience. Let's look at some of the most effective product launch event ideas that sell:
1.  Collaborate with Social Media Influencers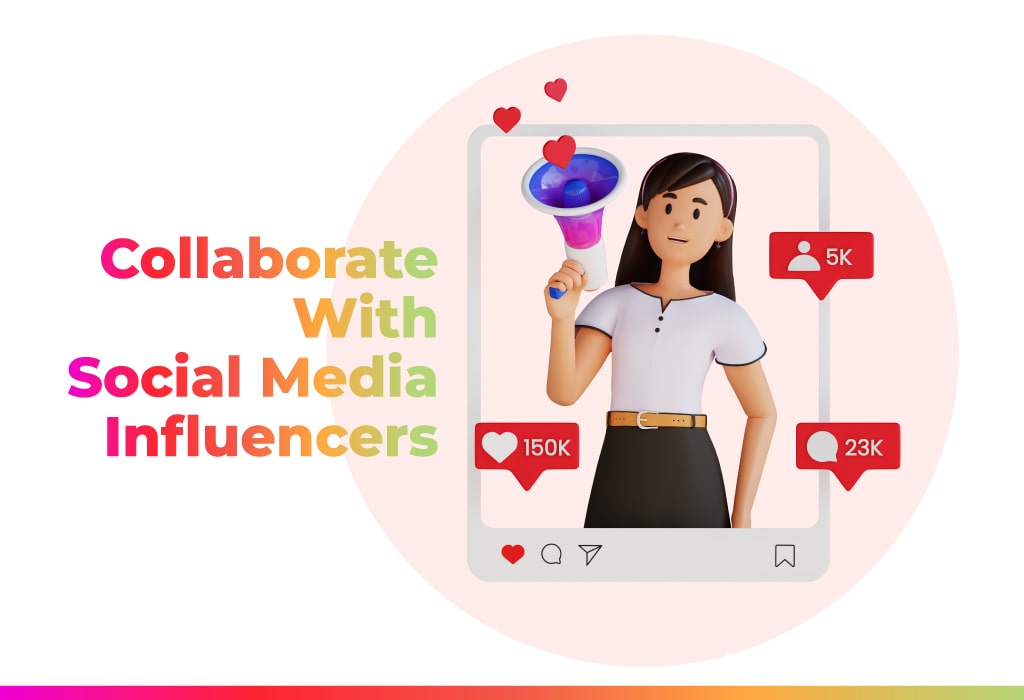 Collaborate with social media influencers who align with your product and target audience. They can create anticipation through sneak peeks, unboxings, and reviews. Allow influencers to share their insights. Their presence can attract a large audience and add credibility to your product.
2. User Generated Content Contest
Encourage attendees to create user-generated content related to your product. This could include videos, reviews, or social media posts. Offer prizes or recognition for the best submissions. User-generated content can amplify your product's reach.
3. Virtual Product Launch Party:
Create a lively and engaging virtual launch party where attendees can socialize, network, and celebrate the product launch. You can include live music, entertainment, and interactive activities to keep the atmosphere festive and fun.
4. Create Interactive Virtual Tour:
Create an immersive 3D virtual environment where attendees can explore different aspects of your product. This could be a virtual factory tour, a 3D rendering of your product, or even a virtual store. Attendees can navigate this space to access information, videos, and interactive product demos.
5. Create Product Teasers and Countdown
Build anticipation by releasing teaser videos or images leading up to the event. You can use social media, email marketing, and your website to share these teasers. Another creative product launch event idea is to start a countdown timer on your landing page to remind people of the upcoming launch.
6. Host Giveaways and Interactive Quiz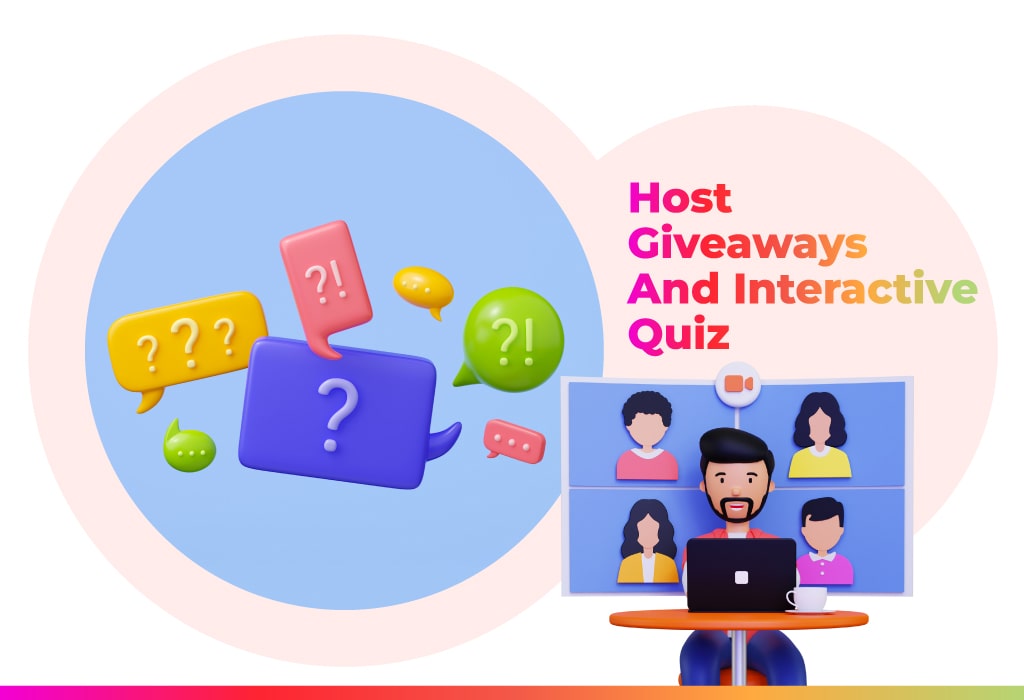 Giving a chance to win contests and giveaways sounds is one of the best virtual product event ideas. It is highly appealing to attendees and encourages more participation. Contests in the form of games, or lucky draws that make contestants interact with your brand have the potential to go viral among netizens. You can also develop an interactive quiz that helps attendees discover which features or aspects of your product are most relevant to them. This can personalize the experience and guide potential customers toward the most suitable product options.
7. Product Storytelling Documentary:
Produce a documentary-style video that takes viewers behind the scenes of your product's development. Share the challenges, innovations, and dedication that went into creating the product. This narrative-driven approach can help attendees connect with your brand and product on a deeper level.
8. Virtual Product Demo Booths:
Set up virtual demo booths for different product features or use cases. Attendees can explore these booths at their own pace, watching demonstrations and asking questions through live chat or video conferencing.
9. Share Customer Case Studies
Showcase real customer testimonials and case studies that highlight the benefits and impact of your product. Hearing success stories from peers can be very persuasive.
10. Product Launch Podcast Series: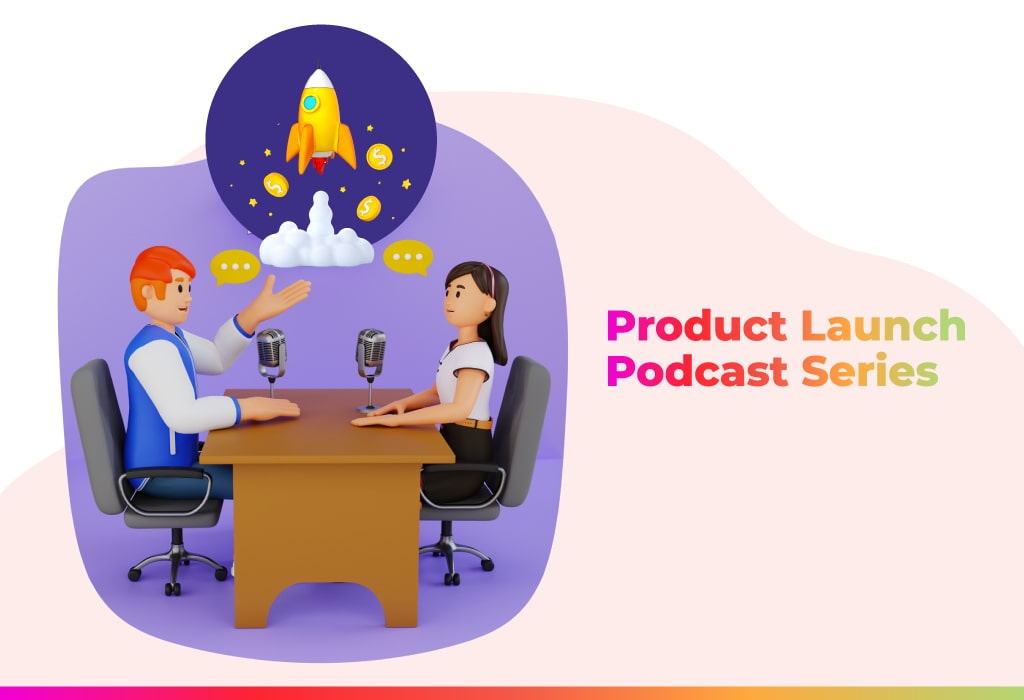 Create a series of podcast episodes leading up to the launch, featuring interviews with team members, industry experts, and early users. This can provide in-depth insights and build anticipation.

How to Host a Successful Online Product Launch Event
Organizing a successful online product launch event requires careful planning and execution. Here is a step-by-step guide to help you organize a successful online product launch event:
Set Clear Goals and Objectives:
Define what you want to achieve with the product launch event. This could include goals like increasing brand awareness, generating leads, making sales, or collecting customer feedback. Having clear objectives will guide your planning and help you measure success.
Select a Virtual Platform:
Choose a reliable virtual event platform or software that suits your needs. Ensure it supports features like live streaming, chat, Q&A, polls, and breakout sessions if required. Test the platform thoroughly to avoid technical issues during the event.
Create Compelling Content:
Develop engaging content that revolves around your product. This can include product demos, presentations, customer testimonials, behind-the-scenes videos, and interactive elements like polls and quizzes. Craft a compelling narrative that keeps attendees interested.
Build Hype and Anticipation:
Start promoting your event well in advance through various marketing channels such as email, social media, your website, and industry-specific forums or groups. Use teaser content to build anticipation and excitement.
Invite Key Stakeholders:
Identify and invite key stakeholders, including influencers, industry experts, loyal customers, and partners, who can help amplify your message and credibility.
Plan for Engagement:
Incorporate interactive elements throughout the event to engage attendees. This could include live Q&A sessions, polls, chat rooms, and interactive product demos. Encourage audience participation and interaction.
Do a Dry Run:
Before the actual event, run a full-scale dry run with your team to simulate the event and identify potential issues or areas for improvement.
Monitor and Respond in Real-Time:
During the event, have a dedicated team to monitor chat and social media channels for questions and comments. Respond promptly to inquiries and feedback.
Collect Data and Feedback:
Use analytics tools to track attendee engagement, conversion rates, and other relevant metrics. After the event, send out surveys to gather feedback and learn from the experience.
Follow-Up and Nurture Leads:
Immediately after the event, follow up with attendees. Send them recordings of the event, additional resources, and personalized messages based on their engagement during the event. Use this opportunity to nurture leads and convert them into customers.
5 Best Practices for Product Launch Event Hosting
Virtual product launch events require careful planning and execution to be successful. Here are the top five best practices for organizing a virtual product launch event:
1. Start Early and Plan Thoroughly:
Begin planning your virtual product launch event well in advance. Give yourself enough time to create content, build anticipation, and iron out technical details. Thoroughly plan the event agenda, including the timing of each segment, interactive elements, and contingency plans for technical issues.
2. Engage and Interact with the Audience:
Interactivity is key to a successful virtual product launch event. Engage the audience through live Q&A sessions, polls, chat rooms, and real-time feedback. Encourage attendees to ask questions and participate actively. Engaging with the audience not only keeps them interested but also helps you gather valuable insights.
3. Invest in High-Quality Production:
Ensure that your event looks and sounds professional. Invest in good lighting, audio, and video equipment to enhance the production quality. Use a reliable virtual event platform that supports live streaming and offers technical support if needed. A well-produced event reflects positively on your brand.
4. Prioritize Accessibility and Inclusivity:
Make your virtual event accessible to a wide range of participants. This includes providing closed captions or transcripts for videos, ensuring compatibility with screen readers, and accommodating different time zones if your audience is global. Make it easy for attendees to join and participate.
5. Conduct thorough Rehearsals:
Prioritize rehearsals to ensure all technical aspects, including audio, video, and streaming, work flawlessly. This will help prevent disruptions during the live event and ensure a professional presentation.

FAQs
Q1. Why should I consider a virtual product launch event?
Virtual product launch events offer several advantages, including cost-effectiveness, the ability to reach a broader audience, flexibility in presentation formats, and the capacity to engage with attendees through interactive features.
Q2. How to make a virtual product launch event engaging?
A successful virtual product launch event should include elements such as compelling presentations, live demonstrations, interactive features like Q&A sessions or polls, engaging content, and effective marketing to attract attendees.
Q3. How to promote virtual product launch event and attract attendees?
You can do product launch event promotion through multiple channels, including social media, email marketing, your website, and partnerships with influencers or industry publications. Create compelling teasers and incentives to generate interest.