The abbreviation AI is becoming more common with each passing day. Artificial intelligence is rapidly innovating and pushing the boundaries of technology into the future world. In the context of numerous AI innovations, language models such as ChatGPT and Google Bard are a few examples that have gained popularity and proven useful across many industries. Among various fields, the event industry is one that can leverage these AI tools for event planning and marketing. If you are wondering how, you are at the right place. Here, next in this blog, we are going to cover all about Google Bard for events like how to use it and ideas.
So, let's get started and learn more about Google Bard for event planning and event marketing. This learning will be helpful for all event marketers, planners, and event organizers to streamline their events effortlessly.
What is Google Bard?
Goole Bard is an AI web-based tool that refers to a large language model (LLM) artificial conversation entity or simply a chatbot. It was launched by the American online advertising and search engine technology company "Google" in 2023. This tool is trained on huge data sets of text and code, which are capable of communicating and generating text or responses to all your queries in a human tonne. Furthermore, it can be used for a variety of purposes, such as;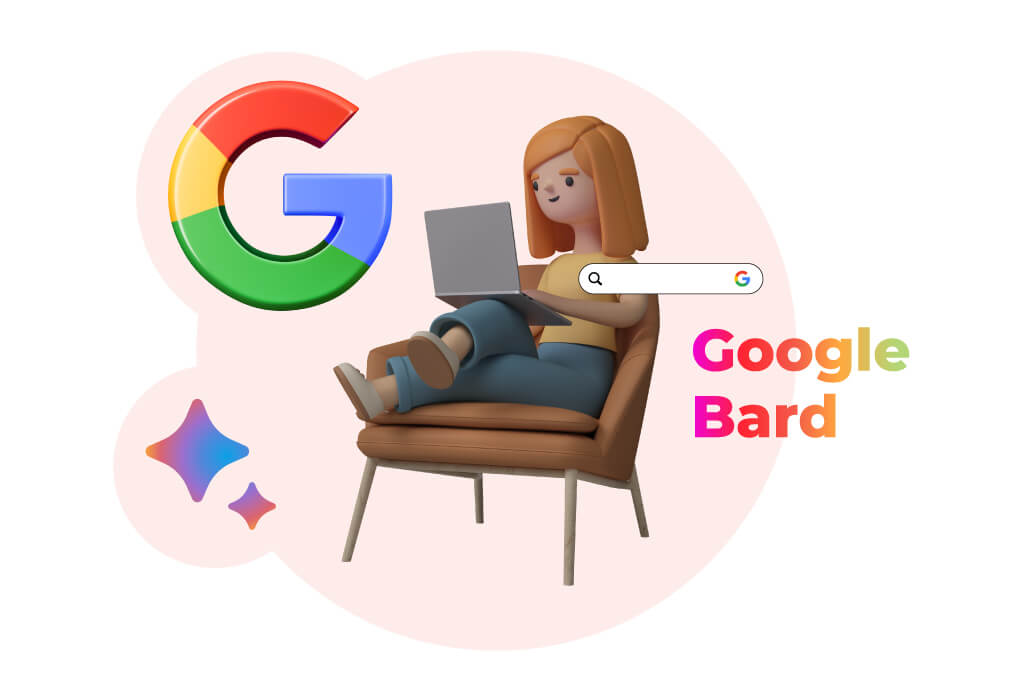 Event planning and marketing
Content creation
Research
Customer service
Education
And more!
Well, Google calls it an alternative to the previously launched AI chatbot by Open AI named "ChatGPT" which claims to be better. Well, it is as it has more up-to-date information comparatively and is also supported by the biggest search engine Google. You might find this blog even on Google. However, Bard is still in its early stage and under development, but remarkably powerful to use for a variety of purposes and in different industries.
Overview of Google Bard for Event Planning & Marketing!!
We have discussed that Google Bard is an LLM conversation chatbot that can offer us quite informative and comprehensive knowledge, ideas, and detailed things in seconds. By using Google Bard for event marketing you can do a lot of things as mentioned below;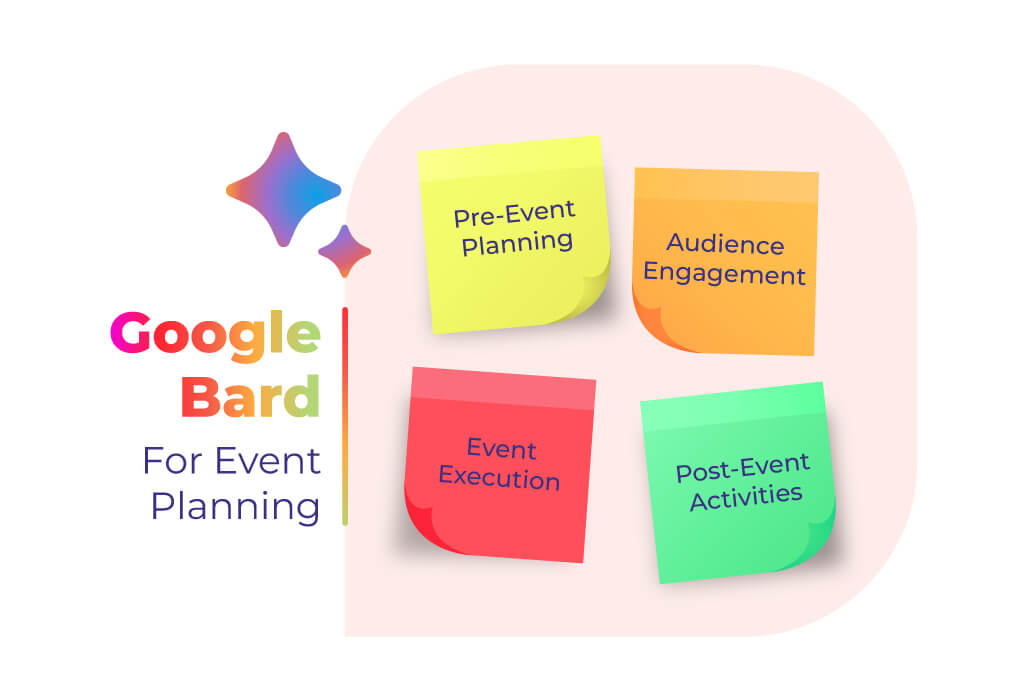 Generate new ideas, online event topics, webinar scripts, fun engagement ideas for in-person events, and a lot more.
Create content by Google bard for event marketing, such as blog posts, social media posts, and email newsletters
You can create unique, appealing content for event marketing, blogs, social media, email marketing, etc.
Automate the tasks like reminders, collecting feedback, analysis of data, texts, and other things.
Google Bard for event planning is classified into different stages for better understanding. Have a look at it;

Pre-Event Planning:
Brainstorm ideas and create event scripts.
Shortlist the venues and event vendors on the basis of suggestions.
Create content for all of your marketing needs including social and print media, promotions, advertising, and name message.
Audience Engagement:
Create surveys and feedback forms to gather attendee feedback.
Keep your attendees informed with promotional and informational emails and invitations.
Utilize AI chatbots or deliver real-time customer support to address any concerns and issues of the participants. As you can integrate it with any other API.
Event Execution:
Refer to the event manual for seamless event organization and management.
It helps in ensuring smooth event operations and coordinating with vendors, and logistic management while executing the planned activities.
Post-Event Activities:
Write or create post-event thank you letters and emails for attendees and gather feedback.
It helps you prepare a post-event summary to recap the key highlights of the event.
Top Ideas for Using Google Bard for Event Planning and Marketing
We have learned how Google Bard can be useful for the event planning process. But now, let's understand it with unique ideas and examples referenced by Google Bard itself. Keep referring to the screenshot we have attached so far. 
1. Generate Ideas & Brainstorm
As an event planner, you need a lot of ideas and suggestions to make your next event unique and full of versatile experiences loaded with activities. So, in that case, you can use Google Bard for event planning.
For example, if you are hosting a hybrid event. And if you want innovative ideas for how to increase engagement and interactivity between virtual and in-person audiences. The AI tools for events can help you. Let's look at how…
Google Bard Response;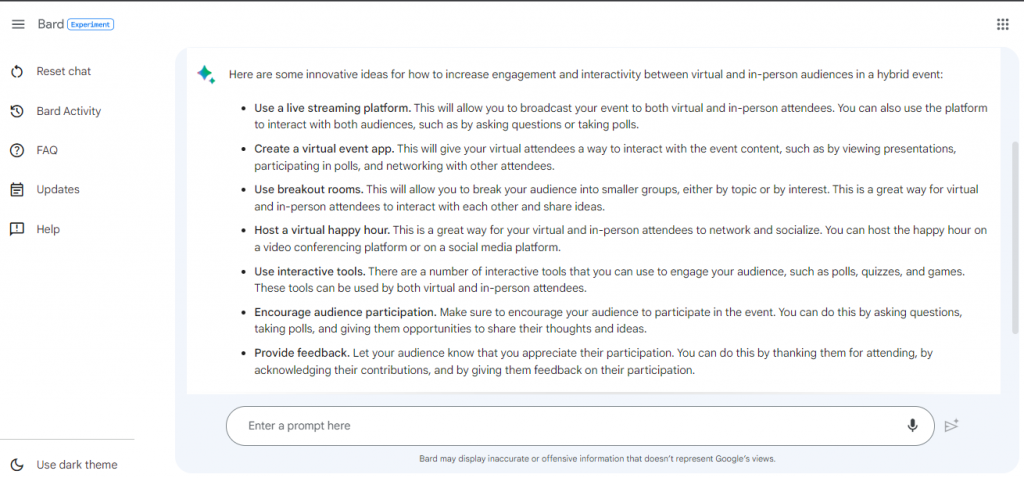 You can rewrite or ask questions in different styles, tailor to your specific needs.
2. Writing Event Marketing Content Made Easy With Google Bard
The Google Bard for event marketers is truly helpful, as the need for hiring a copywriter or content developer is eliminated by this tool. Like event marketing content such as social media, emails, articles, blogs, and others. This saves time, effort, and money for event marketers. Here is an example of it;
"Please write a unique caption announcing our next in-person event soon, for Instagram".
Google Bard Response: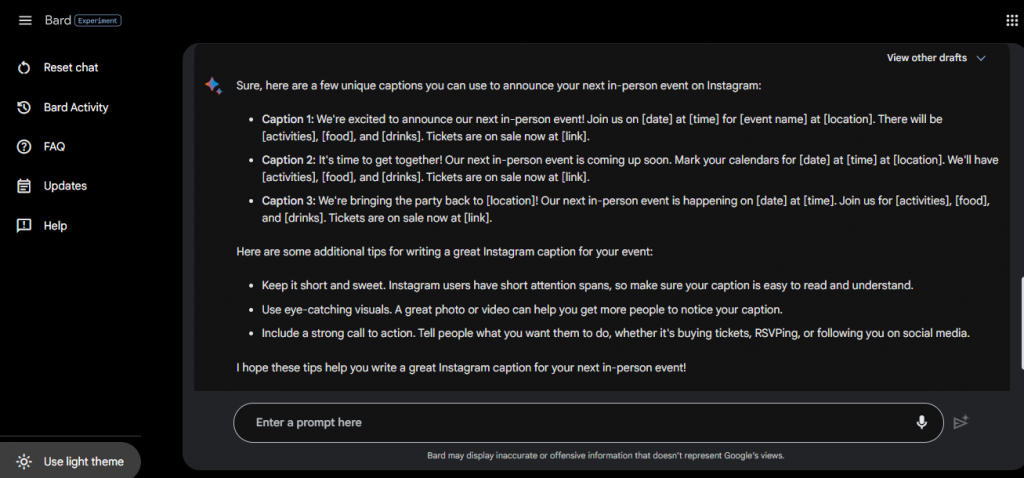 In the same context, you can ask to write Google Bard for event marketing content.
3. Foster Conversations with Attendees
As an event planner, you always thought of building relationships with attendees in better ways. With AI tools for event management, you can do it easily. Like it's easier to create event feedback forms, push notifications and answer questions to your attendees on various issues easily and concisely.
For instance, here is a reference feedback forum for a post-music concert by Google Bard;

"Subject: Feedback on [Band Name] Concert
Dear [Attendees],
We hope you enjoyed the [Band Name] concert last night! We would love to hear your feedback on the event. Please take a few minutes to rate the following aspects of the concert.
Your feedback will help us improve future events. Thank you for your time!
Questions:
Overall experience:
1 – Very bad
2 – Bad
3 – Neutral
4 – Good
5 – Excellent
Favorite part of the concert:
1 – The music
2 – The atmosphere
3 – The band
4 – The crowd
5 – Something else
What could be improved about the concert:
1 – Nothing
2 – The sound quality
3 – The venue
4 – The staff
5 – Something else
Would you recommend this concert to others:
1 – No
2 – Maybe
3 – Yes
Thank you for your feedback!
Sincerely,
[Event Organizer]"
This is just an example, by using different prompts or specific questions, hybrid event planners can make it more personalized to your in-person event.
4. Google Bard Eases Searching Event Venues with Prices
The ease of searching venues near you or in specific areas makes Google Bard for event planning a perfect tool. For example, you can ask;
"the best event venues for a corporate meet of 200 people in Mumbai, along with their prices"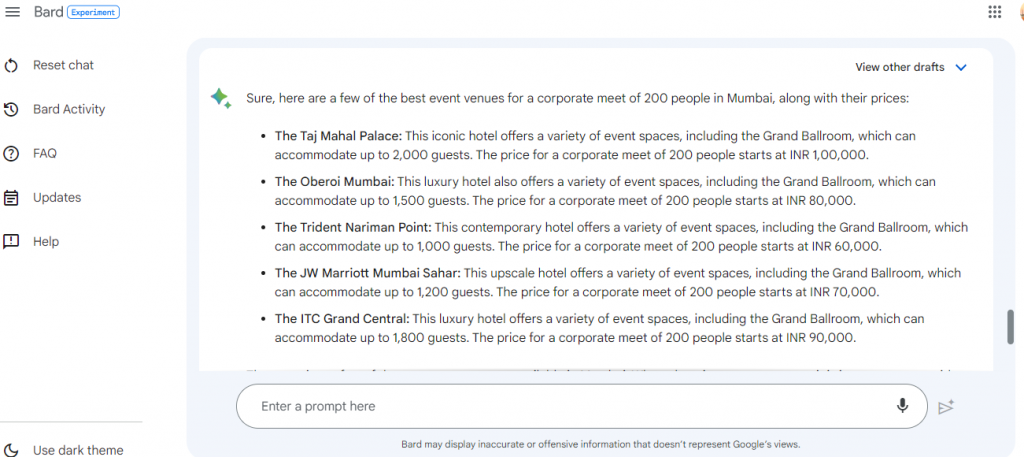 5. Search Event Vendors or Catering For Your Next Event Conveniently
In on-ground event planning, it's a daunting task for hosts to find the right vendors and catering services. But for Google Bard, it's just a piece of cake. Look how?
For this purpose, you can ask; "Top 5 popular event vendors and catering in Delhi"
Google Bard Response;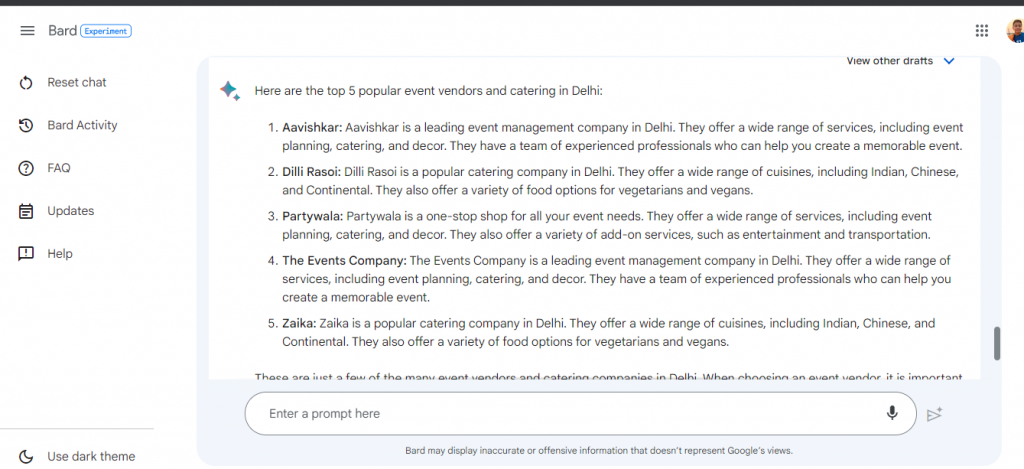 6. Google Bard can Write Webinars, Conferences, and Other Event Scripts
If you are planning to host a hybrid event, webinar, conference, or live streaming then you are required to stick to a script. You can leverage Google Bard for webinar marketing events to write that script for your next session, tailored to your specific requirements. You can also ask to write an outline to create a personalized script that helps you streamline your event seamlessly.
For example; You can write on Google Bard to "write a script for the webinar on how to elevate event planning and marketing with new AI tools"
Google Bard Response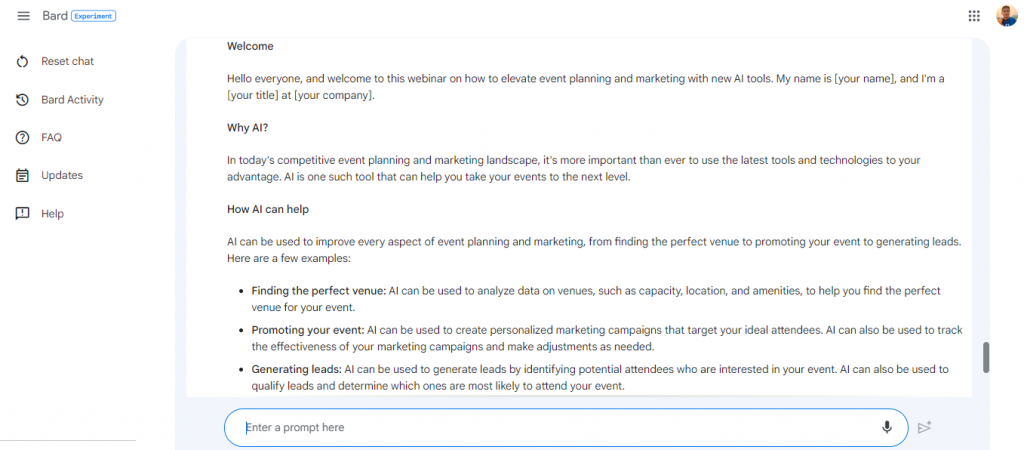 Here above in the screenshots, you can see there is a complete script written. By taking it a step further, you can add your thoughts and other ideas to make it sound more unique and realistic. Additionally, you can ask Bard to write different kinds of scripts on various topics or needs of the type of event.
7. Speaker Bios, Anchoring Scripts, or Guests Introduction
Writing chief guests, panelists, and other members' bios to call on them on stage can take lots of time. But with Google Bard, you can simplify it. This is one of the intelligent ways to use Google Bard for event planning. Ask it to write introductions, and quotes and make all your content more soothing and appealing to listeners.
For example; 'Write an introduction for Dr. Patel, a professor at IIT Madras (CS department) with 18 years of experience."

Just to cover the whole content in one screenshot, we ask Bard to write it in short. But you can ask for long or short as per your needs and the time of the sessions. You can also add all the information you have in hand about the speaker to make it more realistic and exact.
8. Invitations & Promotional Messages
Well, to invite guests and other participants, it is common to send them invitations or promotional messages. So, isn't it increasing your efforts, but not to worry. With Google Bard for event marketers, you can easily prepare invitation emails or other content for printing invitation letters or cards.
If you are thinking about how Google Bard can do this task for event marketers, then look at this example;

"Write a common invitation email to potential guests about our next conference on Cyber-Security taking place at Osmania University, Hyderabad on June 20, 2023."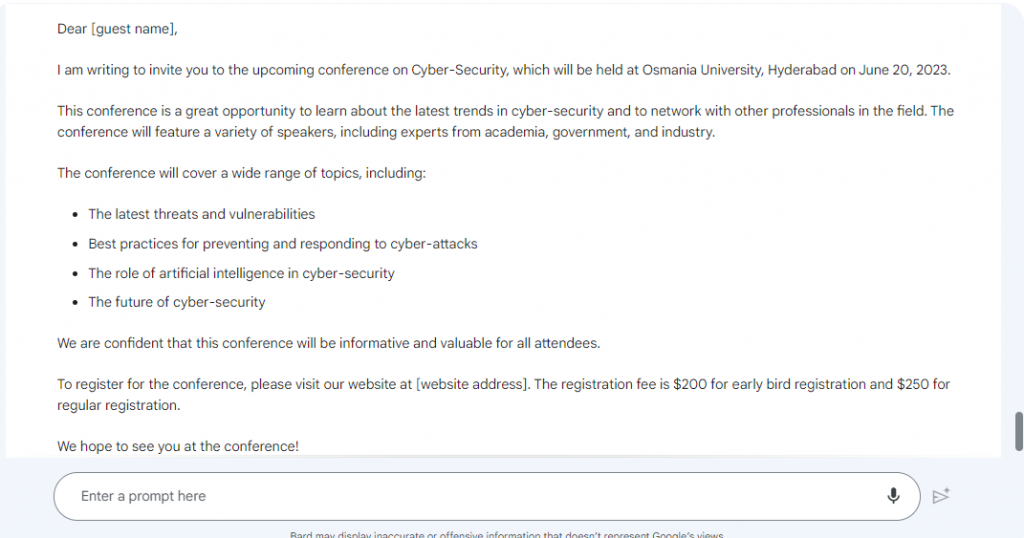 With more information, you provide Google Bard for events, you can level up the result. So, try using prompts and specify all the details to get the exact copy you wanted to send to guests for invitations.
9. Event Name Suggestions
A unique event name attracts more registrations as well as onsite & online event ticketing. Well, naming any event can be a bit tricky as a name should cover your event theme, intent, and other objectives. So, if you are short of names, then try Google Bard to get some suggestions that can really make a difference.
For example; "Write 10 names suggestions for a food festival"
Google Bard Response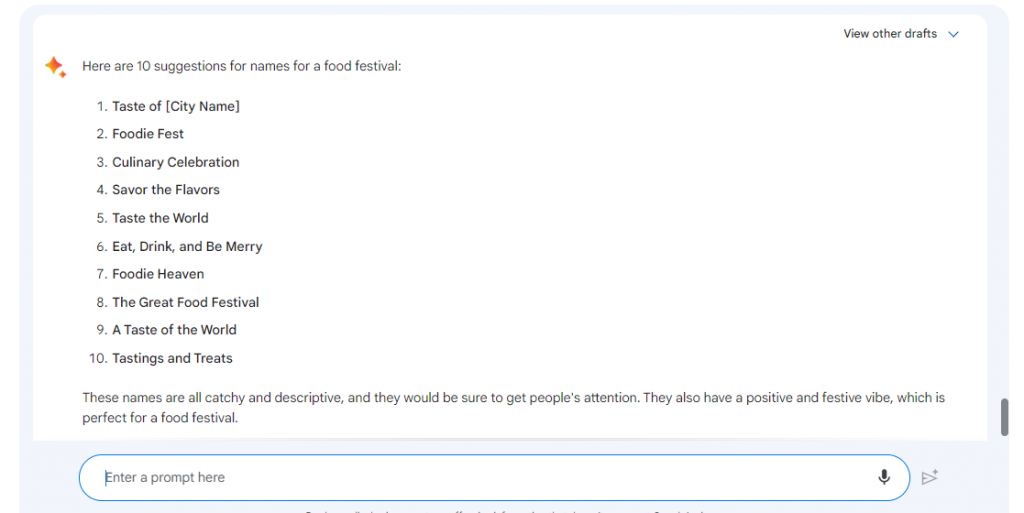 10. Event Manual & Itinerary
Every conference, in-person event, expo, trade show, and others have an itinerary. So, in order to create that event manual or itinerary, you might need a writer or put in your time and effort. But with Google Bard for event marketing, you can do this task easily. By just writing the list or simply asking for an event manual, you can get it in seconds.
Later you can edit it as per your needs of the event's actual itinerary as you think of. To do this possible you have to ask Bard; "Write an event manual for the property trade show happening on July 13, 2023, in Bangalore, India."
Google Bard Response;
Property Trade Show
Date: July 13, 2023
Time: 10:00 AM to 6:00 PM
Venue: Bangalore International Exhibition Centre, Whitefield, Bangalore, India
Overview
The Property Trade Show is a one-day event that will bring together property developers, brokers, and buyers from all over India. The event will feature a variety of exhibitors, including:
Property developers
Real estate brokers
Mortgage lenders
Home improvement companies
Interior designers
Home furnishing retailers
The event will also feature a number of speakers and panels, as well as a networking area.
Speakers and Panels
The Property Trade Show will feature a number of speakers and panels, including:
A panel discussion on the future of the Indian real estate market
A presentation on the latest trends in home design
A workshop on how to get pre-approved for a mortgage
A talk on the importance of home insurance
Networking Area
The Property Trade Show will also feature a networking area, where attendees can meet with property developers, brokers, and other industry professionals.
Registration
Registration for the Property Trade Show is free. To register, please visit our website at [website address].
We hope to see you there! These are some of the top ideas for using Google Bard for event planning and marketing but are not limited to. Furthermore, there are many other useful ways to use AI tools for event marketing and planning. You can analyze your content, Excel sheets, and even for calculations. Let's explore these capabilities in detail.
11. Event Microsite Analysis by Google Bard
For any type of event, a microsite is generally designed for registration, ticketing, and increasing event visibility. This makes it a useful site for any event's success. Because this is the first impression and decision-making step for the user to register. To make the event microsite more appealing and with no flaws, Google Bard can help you in doing so. We have asked Google Bard about its capabilities during the time of research before writing this blog. And we got the reply that yes it can analyze any website and suggest a pointer to improve it. See the screenshots to know more about the suggestions;

Additionally, it did not just stop here but expanded its sphere to tell more about the SEO that increases the site's online presence and ranking.

12. Analysis of Excel Sheets
During the event planning, there are many things to manage at a time. To save some time and ease, some tasks like evaluating audience profiles, sales, logistics, and analyzing the detailed Excel sheets can be hectic. But Google Bard for event planning can resolve it. It can analyze the whole Excel data in no time and can answer your question on specific factors that are easier to understand. We have asked Bard, can you analyze the Excel sheets, look here for what it answered;

13. Create Instagram Reels & YouTube Shorts for Event Registrations With Google Bard
Every event planning is not justified unless you have enough registrations, as low ticket sales can prevent you from achieving success. In the current social media popularity, short forms of content are highly attractive to capture the audience's attention. This is where YouTube Shorts and Instagram Reels for event registration come into the game. When using AI tools for event marketing, you can take help in creating reels and shorts to maximize your marketing and registration-enhancing efforts.
For instance; "Write a unique Instagram Reels script to encourage users to register for the next fashion show."
Google Bard Response;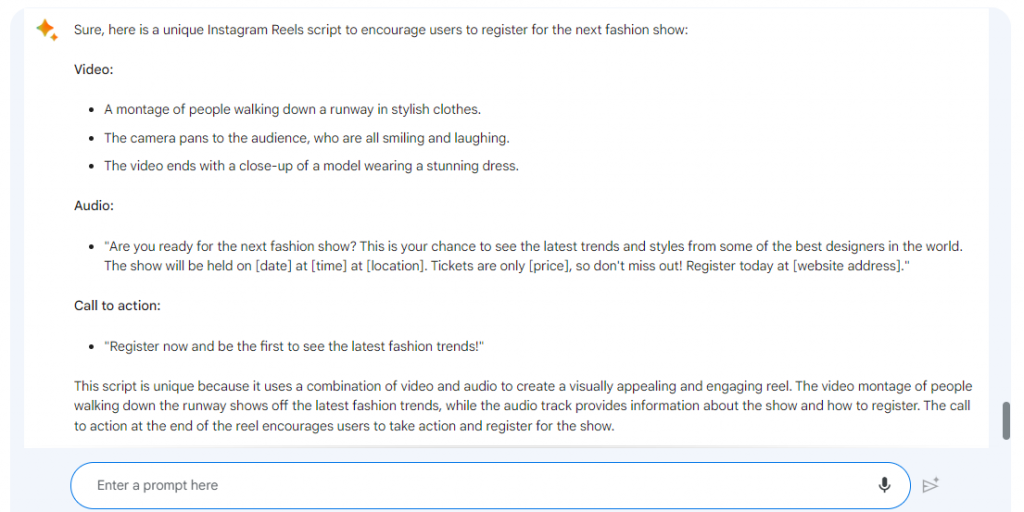 In the same way, you can, additionally, generate unique ideas for YouTube Shorts for event registration promotions.
14. Google Bard for Webinar Marketing Event
Webinars are the most used format of events for virtual meetings, conferences, product launches, and others. It serves many different industries in setting up communication models. Additionally, by delivering engaging webinar sessions brands, businesses or events organizers can showcase their products, services, and expertise and even increase their event registrations too. Making webinars the easiest yet most effective way to reach customers globally. So, to maximize this webinar marketing is essential.
With Google Bard for webinar marketing events, you can boost your efforts. For example, it can easily generate a script, help in collecting information and give ideas to promote your sessions.
Google Bard Vs ChatGPT for Event Planning and Marketing
As discussed in the beginning, Google Bard and ChatGPT are the two most popular AI conversation chatbots in the current market, free of cost. Both of them use the same mechanism and use natural language processing and machine learning to generate texts, analysis, translation, and other writing tasks. However, there are a few differentiations;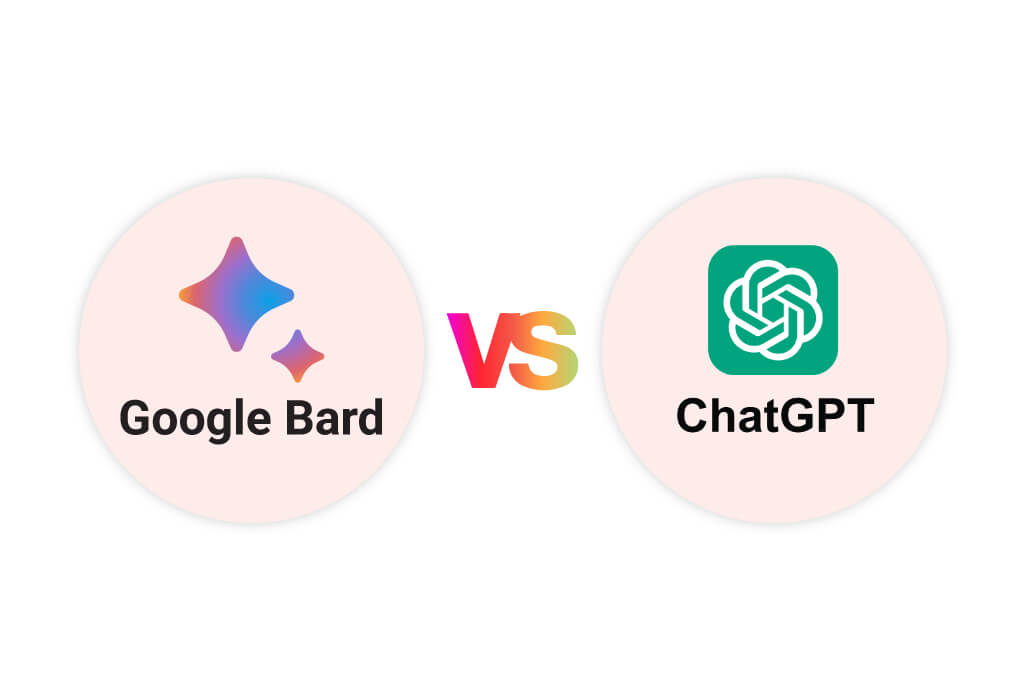 Google Bard is trained on huge data sets and text and comparatively has a wider area of knowledge than ChatGPT.
Bard is free of cost for any user whereas ChatGPT is a paid service and also has paid versions making it limited user access.
ChatGPT has limited information till 2022, whereas Bard can access the internet and give more up-to-date information on current events.
There are some other differences such as; ChatGPT is launched in 2022 whereas Bard launched in 2023. Giving an advantage to ChatGPT in terms of user base and more data to get trained with. Well, both are good AI tools and have strengths and weaknesses. The ultimate winner is the user, as they have access to both, and they can decide which one is better, depending upon their preference and uses. Here is a table that summarizes the key differences between Google Bard and ChatGPT:

Overall, both AI tools can be used to enhance event planning and marketing strategy and are easily helpful to streamline the process. So, the verdict is to use both and decide which one can be more beneficial for you.
Alternative AI Tools For Event Planning & Marketing
In the rapid transformation of the AI industry, there are numerous AI tools available in the market that can be helpful for event planning and marketing. Here we have concluded a few of the best-known tools in the market on the basis of different job roles;
To Create Promo Videos
There are many tools to create promo videos or short-form or professional-looking videos. This tool can create and generate animated, voice-overs, and character images. They are;
Create Images & Infographics
Graphic designing is among the crucial needs of any event to design the theme or make printed material such as flyers, posters, and social media images visually appealing. AI tools for event images and graphics are;
Canva
Designs.ai
Adobe Spark
To Prepare PPTs
Well, the traditional way of making presentations for conferences or other seminars is no more a tradition. As with AI tools, you can create interactive and engaging PPTs for your event in just a few minutes. These below-mentioned tools can help you;
Google Slides
Prezi
SlidesAI.io
Presentations.AI
Kroma.AI
SEO-Optimized Content
To promote your event, it is needed to create SEO-optimized content for search engines, and writing it manually needs a lot of time and skills. But with AI all is made easy.
Frase.io
MarketMuse
Semrush
Script Writing for Event
To write various events script Google Bard can help but if you are looking for a specific AI tool for event scripts then you can consider the following suggestions;
Tone.AI
Grammarly
ProWritingAid
Truly, there are many advantages of using AI tools for event planning. Well, it depends on which one you use, but for sure after reading this blog you can get an idea of how Google Bard can help at what levels. No matter which type of event you are supposed to host whether it's a virtual, in-person, or hybrid event it can help you create marketing and promotion content. Additionally, foster your planning to the best of the best. Both Google Bard and ChatGPT for event marketing, as well as planning, are good tools and the best in the market. A buzz is already there and proving it right too. It will be an amazing patience journey to see other tools that how they can come into the market and establish their presence.
In-Person, Hybrid, Virtual
Create an Extraordinary Event Experience
Across All Event Formats