Planning and hosting an on-ground event can be challenging yet an excellent way to generate buzz and engage with your targeted audience. But to make it a successful event there is a lot more you need to do from careful planning to execution. Additionally, ensuring maximum registration for on-ground events is one of the most critical aspects. Here in this blog, we are going to discuss how to maximize your registration and ticketing for events. Additionally, we will touch upon all the aspects related to it.
Why On-Ground Event Registration & Ticketing is Important
Undoubtedly, the first and foremost of any event's success is the number of audience attendance and their satisfaction. Additionally, there are many other criteria to measure the on-ground events' success. However, without increasing the registration for on-ground events and ensuring the numbers, there is no planning that can be executed. As the number of tickets for events allows organizers to manage the event's logistics, such as seating arrangements, catering, and security. Moreover, on-ground registration provides valuable data about the attendees, such as their demographics, preferences, and feedback, which can help improve future events.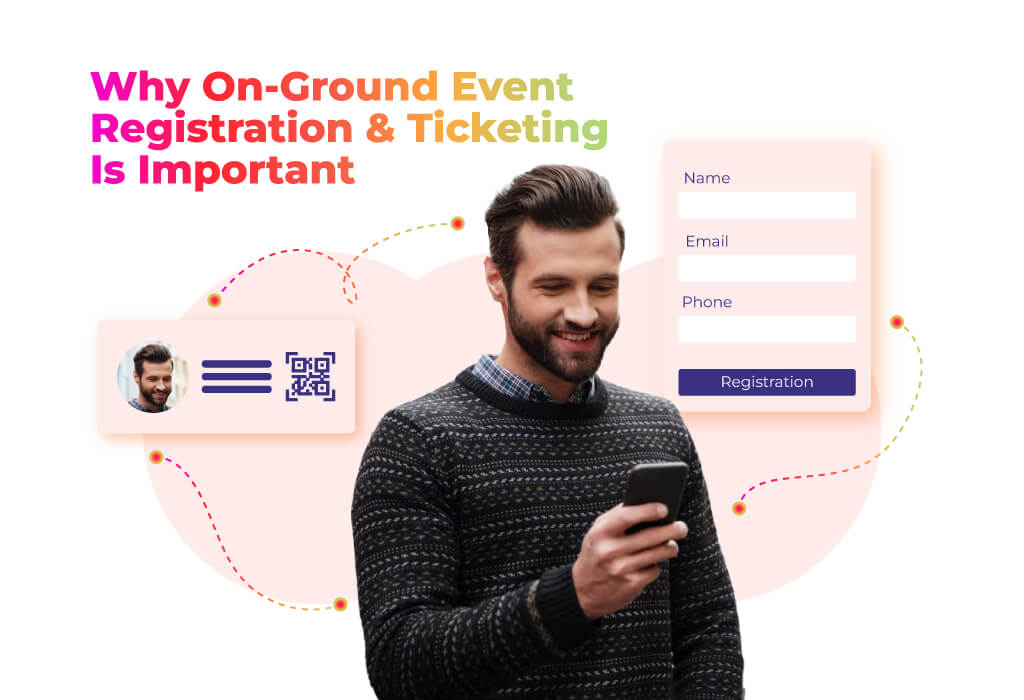 So, in the next section, we are going to discuss the top 10 ways to increase event registrations and ticketing for your next event.
10 Potential Ways to Increase Event Registrations and Ticketing for Events
As discussed above, increasing the rate of registrations and ticketing for events is quite an essential step in order to maximize the possibility of success. So, here to ease your hustle, we have concluded a few of the top pointers required for increasing registrations and ticketing. So, let's begin;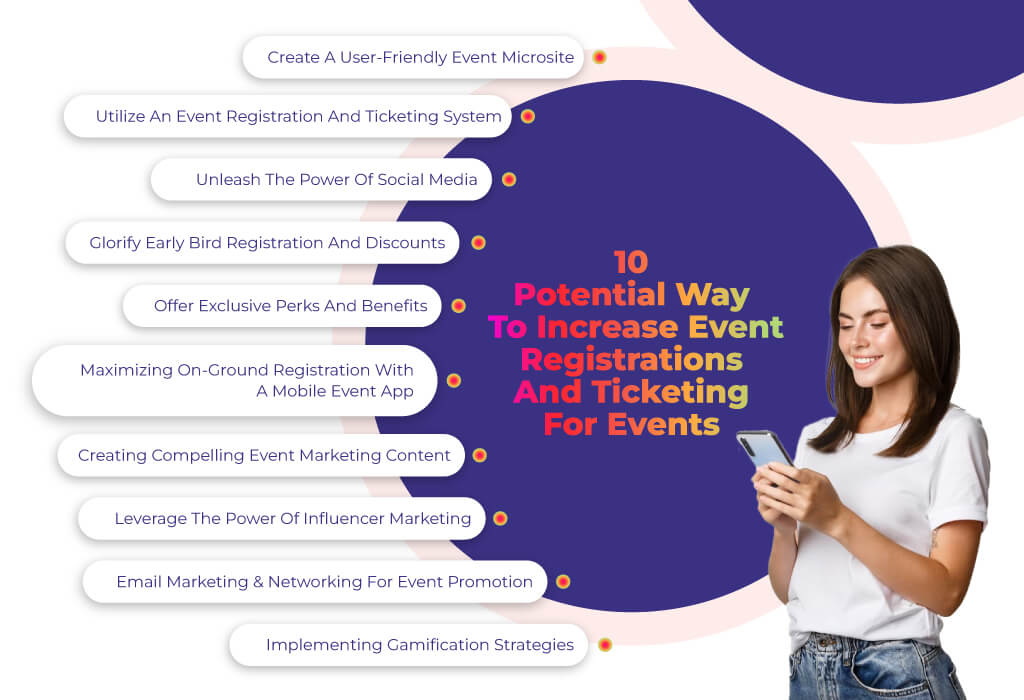 1. Create a User-Friendly Event Microsite
In the digital era where every brand or business is having an online presence through a website. It is also essential to have your next event presence. So, you can create an event microsite, which is a dedicated site providing specific event details about your events. The information showcased on this microsite for events can be customized as per your goals. However, valuable information like; the date, time, venue, speakers, agenda, and registration form as well as ticketing is important to mention.
With third-party integration, a payment gateway for ticketing for the event can also be set up right with a registration form. Creating a responsive, user-friendly event microsite with an appealing interface and easy-to-use navigation can potentially improve the rate of ticketing and registration for events.
2. Utilize an Event Registration and Ticketing System
The ease of registration and the ticketing procedure is the foremost way you should look for. With the help of registration and ticketing solutions from the event tech companies can help you make it easy for attendees to sign up for your event. Additionally, even tech suites like Dreamcast also offer you additional analytics and reporting features. Moreover, that can let the event organizer or brands better understand their attendees and improve event planning.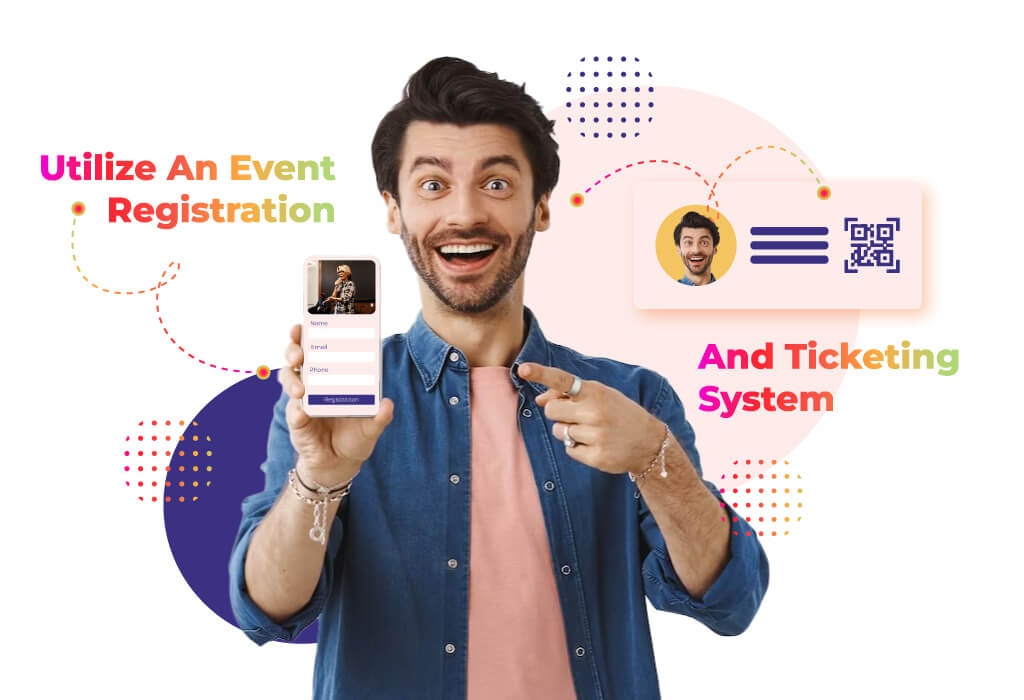 3. Unleash the Power of Social Media
In this modern era where around 4.26 billion people are on social media through different channels and platforms. It makes it a powerful tool for promoting events and reaching a wider audience. By leveraging the power of social networking platforms like; Facebook, Twitter, LinkedIn, Instagram, and others you can create a buzz for your in-person event.
Pro Tip*: Start posting creatives, videos, and other post updates over the social sites at least a month before your event to engage and attract more audience. Additionally, you can also run targeted social ads and collaboration to attract more audience to register for the event.
4. Glorify Early Bird Registration and Discounts
There is no harm in offering discounts for early bird registration or discounts. As there is always strategic marketing which works like increasing the price and then giving discounts and in the end when almost all your event seats are booked. Hike the price. Early bird registration for events acts as a sense of urgency scenario, leading to more ticketing and registrations.
5. Offer Exclusive Perks and Benefits
Exclusivity adds value to any event. No matter, whether you are in a shopping mall or simply heading to your favorite brands. In an event dynamics, offering exclusivity like; VIP seating, access to exclusive sessions, and others can be helpful.
6. Maximizing On-Ground Registration with a Mobile Event App
As most of the mobile applications ease down your hustle for booking cabs to order groceries online. In the same context, you can also create a mobile event app specially crafted for your event theme and aligning with your branding. It helps the people have a seamless registration experience, allowing them to register, check in, and access event information all from their mobile devices. Furthermore, It can also provide valuable data and analytics to organizers, such as attendance rates and attendee behavior.
7. Creating Compelling Event Marketing Content
Like social networking promotions, there is always a strategy that takes you to achieve that success. Creating compelling event marketing content is one of the essential steps as an organizer you should take. Marketing content can be of various types like; videos, blog posts, social media updates, email newsletters, and more. By creating and publishing such content to a larger audience, it directly speaks to your target audience and attracts the audience to register.
8. Leverage the Power of Influencer Marketing
Influencer marketing or collaboration with celebrities or well-known public figures on social media can help you reach a wider audience. The first step to take this to conduct a thorough research in order to identify influencers that align with your brand or event theme or field of interests. Also, you can collaborate with them to come and attend the event and interact with your audience. So, this way you can simply increase the perceived value of your event and attract more attendees.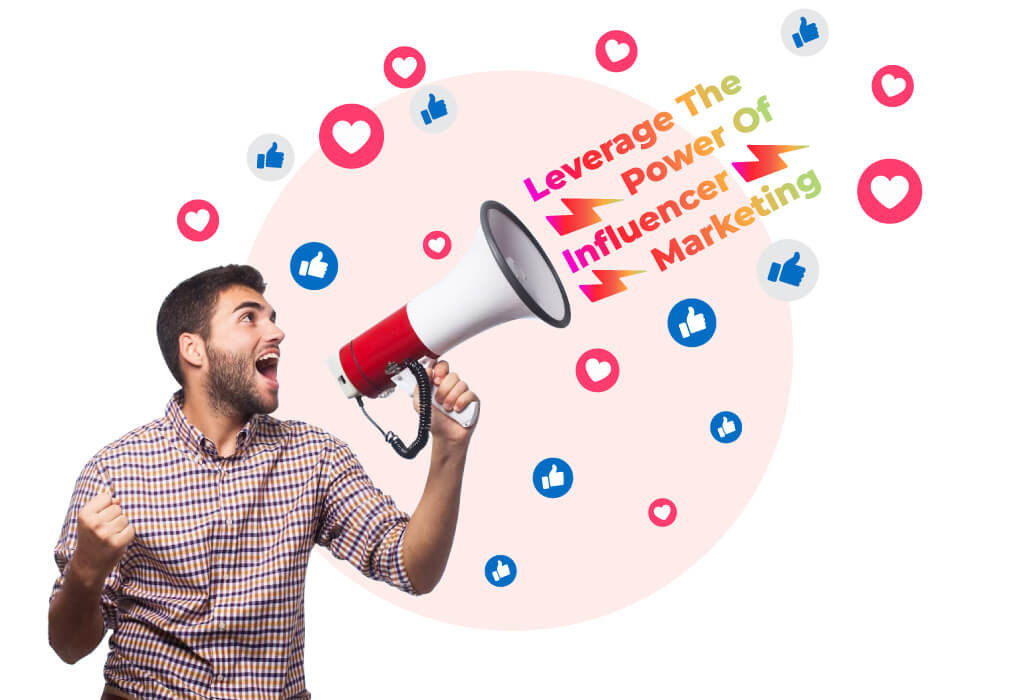 9. Email Marketing & Networking for Event Promotion
There are multiple channels for marketing, but the earliest yet most useful is to use your database of users with email marketing campaigns. By strategically creating campaigns through emails that highlight the key significance of your next event, you can boost registration rates and improve attendee retention. Additionally, letting them know about the key offerings they can expect from the event can improve your chances of registration for an on-ground event.
10. Implementing Gamification Strategies
Who doesn't like playing games or simply enjoying participating in such activities? By implementing gamification strategies into your event, you can create a sense of engaging and memorable experience for attendees, increasing their motivation to register and attend. Examples of gamification strategies include scavenger hunts, quizzes, leaderboards, and reward systems.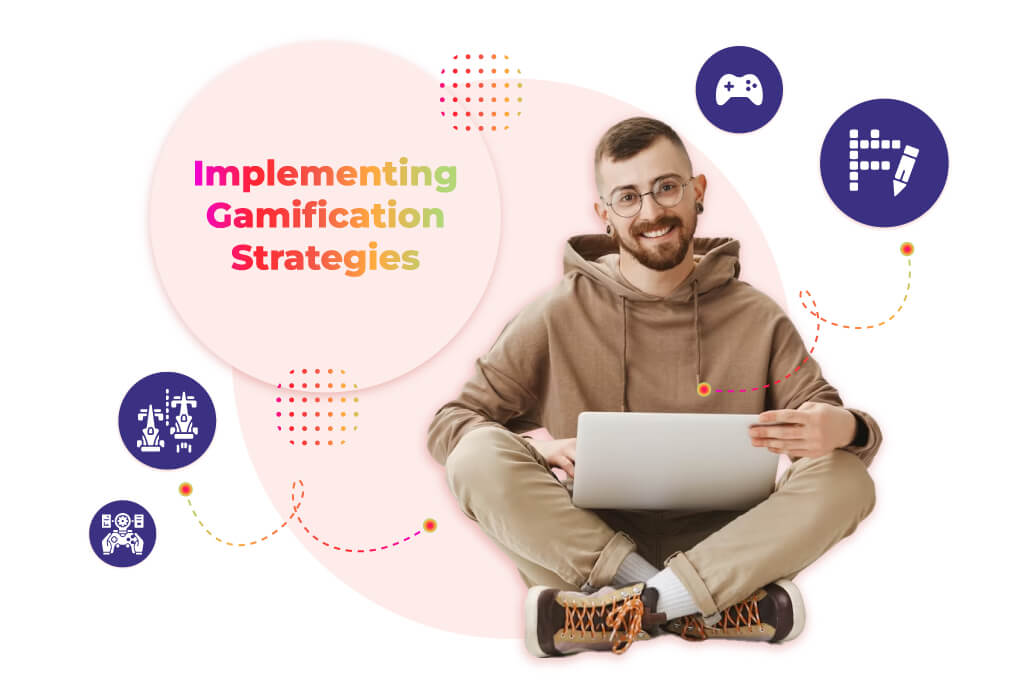 By incorporating these strategies into your event planning and execution, you can significantly increase registrations and ticketing for on-ground events. Ultimately, improve attendee engagement and satisfaction, while creating a successful and memorable event experience.
Organizing a successful on-ground event requires careful planning and execution, and increasing event registrations and ticketing is a crucial aspect of this process. If you are also struggling to attract more attendee registrations and sell more tickets, then you should look for an event tech suite. As they can offer you on-spot registration to your on-ground event to online registration and ticketing via mobile event app, microsites and other. Dreamcast, as an event tech suite, is giving registration and ticketing for events globally and also offers end-to-end customization and consulting to maximize your event success. Book your free demo now and let our experts talk to you in detail.
FAQs
How do I create a user-friendly microsite that attracts more audience?
To create a user-friendly event microsite you need to work on a few things like making it responsive, visually appealing and easy-to-use. There are many event companies who build a microsite for the event that aligns with your brand and event theme. Additionally, make sure to include all the necessary event information of the site such as; date, time, venue, speakers, agenda, and registration form or ticketing information.
What are some benefits of using registration and ticketing for an event system?
There are many benefits associated with it, first and foremost is that it makes it easy for attendees to register and sign up for your event. Additionally, event tech companies often provide analytics and reporting features that can help organizers understand their attendees better and improve event planning. These systems can also automate payment processing and send out confirmations and reminders, saving time and effort for organizers.
How can I utilize social media to promote my event and increase registrations?
Social media can be a powerful tool for promotions and getting a wider audience in contact. You can create buzz for your event by posting unique content on social networking platforms. Running targeted social media ads, collaborating with influencers or partners, and using event hashtags can also help attract more audience to register for your event.
How can a mobile event app help with registrations for on-ground events?
Firstly, the mobile event app provides a seamless registration experience for attendees, allowing them to register, check-in, and access event information all from their mobile devices. Furthermore, offer attendee analytics and metrics to the organizer.
In-Person, Hybrid, Virtual
Create an Extraordinary Event Experience
Across All Event Formats