The best of all comes in small packages, and the more simplistic approach is sometimes the best. Microsites for events are one of the trending and emerging trends of 2023 and we can say that they support the notion of big things in a small package. Currently, in the event industry, the popularity of event microsites is witnessed as a popular supplement to traditional websites. A microsite is surprisingly the most important aspect of 2023 due to an array of reasons.
Here, in this blog post, we are going to unveil the top trending microsite for event ideas and examples. Additionally, we will also explore its benefits, advantages, key aspects, and all the necessary things that are important for you. But before we move forward first let's start with the basics.
The Basics Of Event Microsite
In the rapidly growing era of the internet having an online presence is quite a necessary step for any business or brand. In simple terms, the easy accessibility of the internet and smartphones made it crucial for every brand to be online. Furthermore, to increase event awareness, registration, ticketing, and reach it's crucial to have a microsite. 
An event microsite functions as the central hub where the audience can read or check all the necessary information related to the event. In general, it's an event-centric website that is separate from the main website of the company. Here are some of the basics you should know about the microsite for events.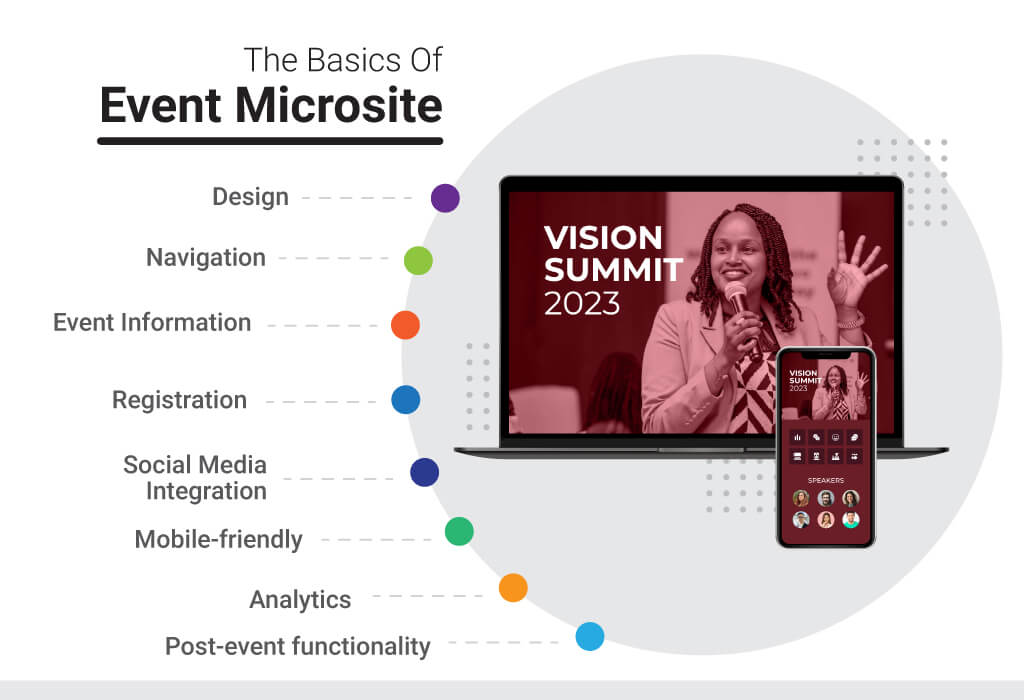 Design:
The microsite should have a visually appealing design that is consistent with the branding of the event and the host organization.
Navigation:
An easy-to-navigate site is a key to success, as a clear and simple menu structure makes it easy for visitors to find the information they need.
Event Information:
As mentioned earlier, detailed information about the event, including the date, location, schedule, and speaker line-up should be over the event microsite.
Registration:
The microsite for your event should be designed with the user experience in mind, providing a seamless and intuitive registration process for attendees. By combining the functions of providing event information and enabling registration on the same platform, you are making it convenient for potential attendees. A prominently placed and clear call-to-action button allows potential attendees to quickly and effortlessly register for the event, increasing the likelihood of their attendance.
Social Media Integration:
Social networking sites are a popular way of marketing. Here on the event microsite you can place links to the event's social media accounts and integrate with social media sharing functionality.
Mobile-friendly:
Every website should be responsive and optimized for mobile devices as more and more people use mobile for browsing and registration.
Analytics:
The event Microsite should have a tracking code in place for collecting data and analytics of the visitors. This will help you easily measure the success of the event.
Post-event functionality:
The microsite can also be used to collect feedback, share photos and videos, and provide follow-up information after the event.
These above-mentioned points are the key to learning pointers in context to the basics of microsites for events. Generally, a microsite is a single-page site, but it's a great idea if you break all the information into sections. Here we have concluded the essential sections you should need to create.
Important Section To Create On Microsite For Event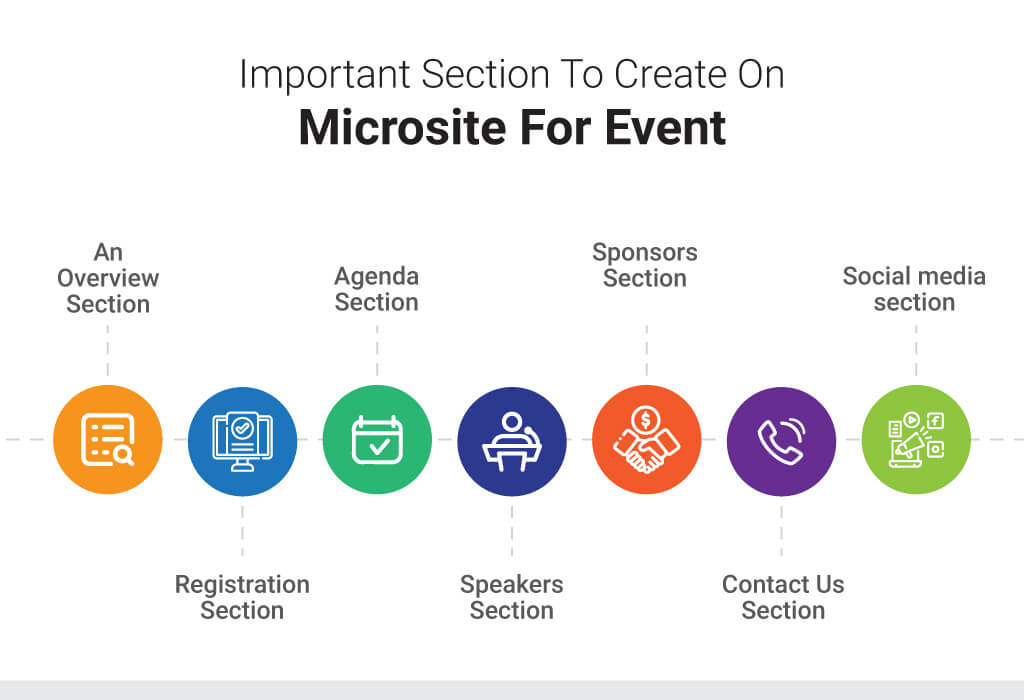 An overview section: This section should be an overview of the whole event and keynote information including the date, location, and schedule of activities.
Registration section: This is helpful for potential customers to register attendees for the event and purchase tickets instantly and easily (also cite the price of tickets, availability, and deadline).
Agenda Section: Here you can mention a detailed schedule of events, themes, goals, and objectives.
Speakers Section: It will feature biographical information about the event's speakers, along with links to their social media profiles.
Sponsors Section: It recognizes the organizations and companies that are supporting the event.
Contact us section: Give an easy way for attendees to reach out to the event organizers with questions or feedback.
Social media section: Integration to share the event and its activities on different platforms.
Now, let's move towards the meat of our blog post and explore the trending and best industry practices going on for the event microsites. As of now, you would have understood the importance of a microsite and how useful it can be proved for you. So let's get started;
The Effective Microsite For Event Ideas And Examples For 2023
Creating a dedicated microsite for your event can be a powerful tool to reach your audience and achieve your goals. With the ability to customize the site for different types of events, whether they be online, hybrid, or in-person, the microsite can serve a variety of purposes.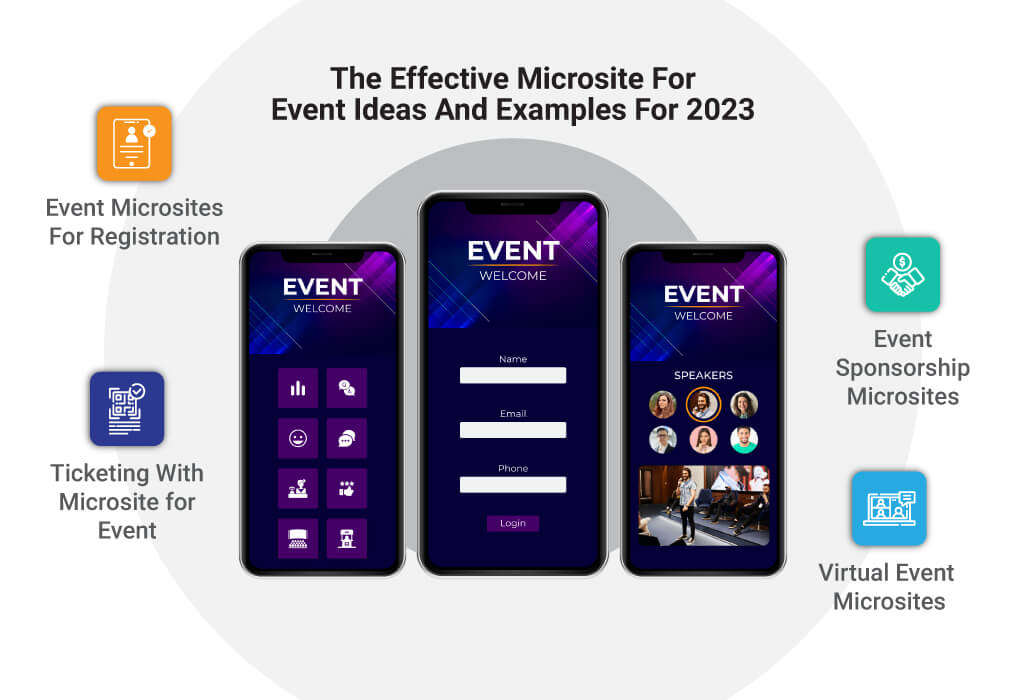 Take it as an event microsite example; If a host chooses to include a ticketing and registration section for an in-person event, another may opt to simply showcase information and the theme of an event. The flexibility of the microsite allows event organizers to tailor it to the specific needs of their event, making it an essential tool for any event host looking to reach their target audience and achieve their desired outcomes. By having a Microsite, it becomes a one-stop-shop for all the information and activities for the events, it becomes easy for the organizers and the attendees, which improves the overall event experience. Keep reading to know the effective microsite for event ideas and examples;
Event Microsites for Registration
Event registration microsites offer a convenient and efficient solution for both attendees and organizers. By providing a streamlined process for attendees to register, submit session proposals, and create a profile, the microsite greatly simplifies the process for everyone involved. 
Here, attendees can easily register, submit propositions, and manage their schedules, giving them a more enjoyable event experience. In addition, having all the data in one place makes it easy for the organizers to analyze and have a better understanding to enhance the event experience and future events. Overall, the use of an event registration microsite greatly improves the overall event experience, making it easier for attendees to engage and for organizers to manage.
This is one of the first event microsite examples which can be helpful for you if you are looking forwards to capturing attendees' information and increasing registrations. As we mentioned about the different sections, here you can create additional columns like; create a profile, turn on notification, or simply register and other custom fields.
Ticketing With Microsite for Event
Enhancing the ticketing process is a great microsite for event ideas as it can be helpful in enhancing the event-going experience more convenient for attendees. It is a definite objective of every event host to give a memorable experience to their user. Designing a microsite which can simplify the process of purchasing tickets, provide essential information and view seating charts can be a good approach.
Due to this attendees can easily access information, and purchase tickets in a single window, and that too without the need to navigate through multiple websites. This not only saves time but also ensures that all the information provided is accurate and up-to-date.
Event Sponsorship Microsites
Event sponsorship microsites are a powerful tool for promoting and managing event sponsorships, providing a convenient platform for brands to explore sponsorship opportunities, create a profile and submit sponsorship applications. These microsites provide an effective way for brands to showcase their products and services to a targeted audience, increase brand visibility and create lasting business relationships. It also provides an effective way for the organizer to manage sponsorships.
By providing an easy-to-use and centralized platform for managing sponsorships, event sponsorship microsites make the process more efficient for both brands and organizers. Brands can quickly and easily find sponsorship opportunities that align with their goals and budget, and organizers can more easily track and manage sponsorship applications and relationships. Overall, this microsite for event ideas offers a compelling solution that creates a win-win situation for both the organizers and the sponsors. And makes it more convenient and efficient to promote and manage event sponsorships.
Virtual Event Microsites
The shift to virtual events has increased their importance and made us consider it as event microsite examples. They provide a platform for attendees to view live or pre-recorded presentations, sessions, and keynotes, connect with other attendees and sponsors, and access exhibitor information and resources.
Virtual microsites are designed to replicate the on-site event experience as much as possible. They offer interactive features, such as live Q&A, chat, and breakout rooms, to facilitate networking and learning. They also provide an opportunity to access a wide range of resources such as brochures, videos, and ebooks, and explore virtual exhibitor booths.
By providing an all-in-one virtual platform, virtual microsites make it easy for attendees to access all the information they need and participate in the event. Additionally, they provide a valuable opportunity for sponsors and exhibitors to showcase their products, services, and expertise and make connections with a wider audience. 
Summing Up
In conclusion, microsites have become an essential tool for event organizers to engage with attendees and promote events. The examples above are just a few of the many ways that microsites can be used in the events industry. There are many other things you can do with event microsites like social media integration, if you have an international event, you can create multilingual microsites and others. Also, as technology and trends continue to evolve, new possibilities for microsites will emerge.
If you are also interested in leveraging the benefits of microsites for events and want to create one for your next event. We at Dreamcast can help you create a microsite which serves the purpose and fulfills all your goals and objectives with creative themes and end-to-end customisation. 
Contact us today and choose the best idea for the event microsite and create a unique and engaging experience for attendees. To know more, BOOK YOUR FREE DEMO NOW!
FAQs
What are the uses of microsites for events?
Event microsites can be utilised for various uses ranging from event registration to showcasing event details, promoting the event, and providing event-specific information to attendees. Additionally, they can effectively be used to build a sense of community before, during, and after the event.
What is an event microsite?
An event microsite is referred to a single-web page site designed to serve a specific need related to an event. It is mainly used to share information related to events and for registration.
What is the benefit of microsites for the event?
Microsites for events offer an array of benefits including improved attendee engagement, increased event promotion, and better control over event branding. Furthermore, they serve as a single window to take all event-related information.
What is the general purpose of an event microsite?
The general purpose of a microsite is to foster easiness for event attendees in terms of registration, ticketing and in gathering even related information via enhanced digital experience.
How is an event microsite different from a website?
An event microsite is a single webpage curated for specific needs especially for an event whereas a website is a more comprehensive online platform that serves a broader purpose. A microsite is designed for a specific time frame while a website is for the long run as well as it also covers a wide range of topics and is not bounded by specific event needs.
In-Person, Hybrid, Virtual
Create an Extraordinary Event Experience
Across All Event Formats