Registration and ticketing are two of the crucial factors and play a vital role in the overall success of the event. For the past few years, it's been a trending topic for event organizers and the need to utilize smart event solutions in 2022. But here's the thing: successfully managing online event registration and ticketing is not simple if you do it on your own. But nothing to worry about. Today we have come up with a comprehensive guide to online and on-spot registration and ticketing.
Online and On-Spot Event Registration and Ticketing
An event can be hosted as both online and on-spot events, and their registration and ticketing processes can be different or slightly similar to each other. Furthermore, it is quite natural to have an online procedure for the registration and ticketing process for online events. And, for the on-spot event, there are event registration platforms and on-spot event registration facilities that can be available.
What do You Understand by Online Registration?
Online registration is a kind of process where the audience or willing audience fills out their registration form. The term "online registration" can be used widely for an array of things, not necessarily for only events. For example; registration can be used for classes, discount coupons, special offers, etc. Usually the information shared during the registration includes details like name, mobile number, email id, and any other. However, it depends on the purpose and registration form as the information can be broadened like DOB or occupation.
Well, we are going to discuss the integral aspects of online registration with regard to events.
What is an Event Ticketing?
Event ticketing is somehow similar to registration, but the only difference is that it is associated with the event. In simple terms, it is just like buying tickets for movies or shows. Just like online registration, where users need to fill in the important information (such as your name, mobile number, email id, and any other customized fields). And after filling in the information, you need to make payment. Once the process is successfully completed, you will receive a digital ticket.
Note* No matter whether your event is an online, in-person or hybrid event, it is always preferable to leverage smart event management platform services.
Why Use a Smart Event Management Platform for Online Event Registration and Ticketing?
Technology is known for making our life easier and saves a lot of time and effort. Moreover, in terms of events it also contributes to improving experience.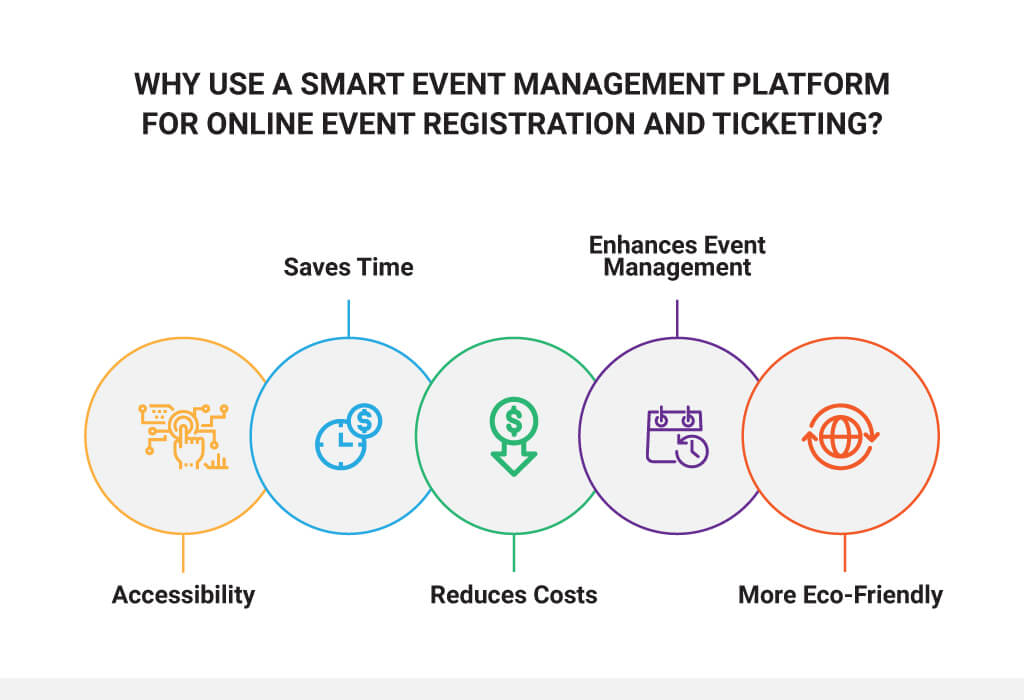 In this modern age of technology, it is quite necessary to utilize online registration and ticketing platforms. In our daily lives, we all indirectly depend on the internet for lots of things. So why not register online and have e-tickets distributed? Technology always works to make things easier for event management and contributes to improving the attendee experience. The ultimate benefits of online and on-spot registration and ticketing;
Accessibility
The parallel world we are living in (pointing to online or virtual) is quite accessible and the privilege that comes with it is huge as anyone from anywhere who has access to the internet can register and purchase the ticket. Without a doubt, the easier the process you make for your audience, the more they will be attracted to it and the more likely they will do so.
Saves Time
Using a reliable event registration platform or ticketing platform can save a lot of time for both the user and the audience. As here there is no waiting time, no more tension to stand in big ques, filling handwritten forums and other time consuming processes to follow.
Reduces Costs
Every event organizer wants to save money, and with the use of such an online event booking system, you are not just saving your time, effort, and money, but your registrants' time and effort too. Furthermore, you will be able to reduce the overall cost of the event as fewer staff are required for registration and ticketing.
Enhances Event Management
Managing the event is the utmost priority of the host, and by investing in smart event solutions, you will be able to act smart. This technology will offer you better access to the data and metrics of the event. The right platform like Dreamcast will help you monitor and analyze information, monitor sales data, and help you modify your marketing strategy. Additionally, you can also achieve your marketing objectives and goals more smoothly.
More Eco-Friendly
Reducing the use of paper contributes to the betterment of the environment, and online registration and ticketing simply means less use of paper. For the sake of a healthy world for our next generations, we have to take this good step.
What is The Procedure for Online Event Registration and Ticketing?
The online event registration and ticketing procedure is as simple as booking an online movie ticket. Below are the mentioned steps for the procedure;
Fill the registration form and make a successful payment.
After this a unique QR code with M-badge will be generated.
Which will be sent to you on your mail or registered whatsapp number.
(Congrats you have successfully received your ticket)
When you receive the event, show you M-Badge.
The event personnel will verify the QR by scanning it.
Once verified you are able to enter to the event venue
(Not necessarily, but if the host wants to provide you with the printed M-badge then you will receive the physical version of it)
For the online event, the procedure is the same but instead of an m-badge you will receive an invitation link on your registered mail id. By clicking on the link, you will be redirected to your online event (without downloading any app or installing software as it is a web-based solution). We at Dreamcast offer.)
Hope you get the idea of how simple the online procedure for registration and ticketing works. Now we will understand how on-spot registration and ticketing work.
What is the Procedure for On-Spot Event Registration and Ticketing
As the name itself suggests on-spot. It simply means you need to reach the venue of the event and register yourself at the registration desk, and at the same time, your unique QR code will be generated. Then the badge will be printed and given to you. The matter of concern is just the choice of host and the need for the event, whether virtual or printed. Both are easily possible with a smart event management platform at hand.
Be a Smart Event Host With Dreamcast's Smart Event Solutions
If you're one of the event hosts and looking for such technologically advanced smart event solutions with a fully customized team of professionals, then we are here to help you. With our team of professionals, we offer services to enrich your in-person, virtual, and hybrid events. Have a look at our offerings;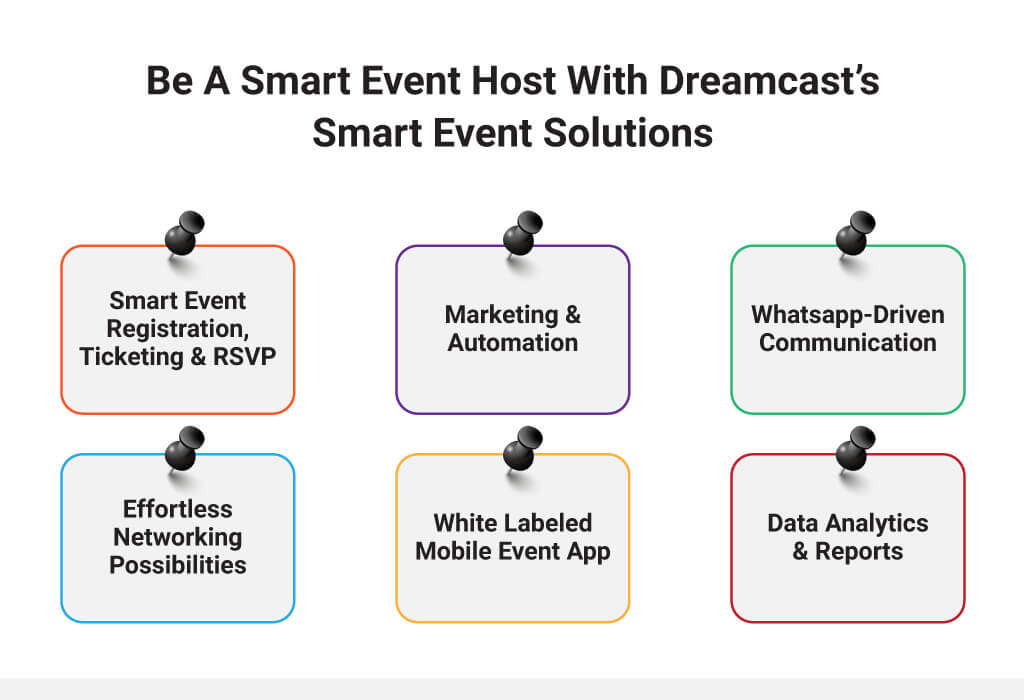 Smart Event Registration, Ticketing & RSVP
Marketing & Automation
Whatsapp-Driven Communication
Effortless Networking Possibilities
White Labeled Mobile Event App
Data Analytics & Reports
We are specialized in helping you with both online and on-spot registration with instant M-Badge. While providing 24*7 help and support with WhatsApp to cater to attendee queries. Make your event a memorable experience for all your audience with Dreamcast and mark a significant move to hear lots of appreciation for the seamless experience we are going to create at your next event.
In-Person, Hybrid, Virtual
Create an Extraordinary Event Experience
Across All Event Formats