"Technology is best when it brings people together." – Matt Mullenweg
This quote perfectly fits the event industry as they innovate, alter, and develop a perfect technology. Furthermore, you can drive people together and transform the complete experience of in-person, hybrid, and virtual events.
You can observe amendments in the features, software, or any other update in the event tech industry every other week. They kept transforming the approach to fill the events with captivating, socializing, and connectivity opportunities. The latest tech evolves the trend in the market that helps in effectuating the user requirements. However, you can also perceive such advanced event trends in 2022 that will be equally potent in 2023 and beyond.
Top Event Technology Trends
So, without much ado, let's explore top event technology trends in this blog.
1. Advanced White Labeled Branded Event App
Applications and software are the most effective way to resolve any fuss. Hence, you can get a place in the user's device by creating your brand app. It can reduce the user's distraction by obtaining them directly to you for all the updates and information.
You can create a white-labeled app that does not include the creator's name. Hence, you can use your own brand name and other sponsors.
It includes various features that will make your event easier to watch for the audience. They can endure a great experience as follows:
Exchange Contact
Information Via QR Codes
Live Stream Your Content
Meeting Scheduler
Speed Networking
Interact Via Polls And Q&A
2. Online Registrations for In-Person and Virtual Events
Registrations can be slightly challenging when you have an in-person or virtual event. Hence, you will need a solution that can make your process easy. It does not matter whether your event is paid or unpaid, as you can take online registrations for easy and maximum numbers.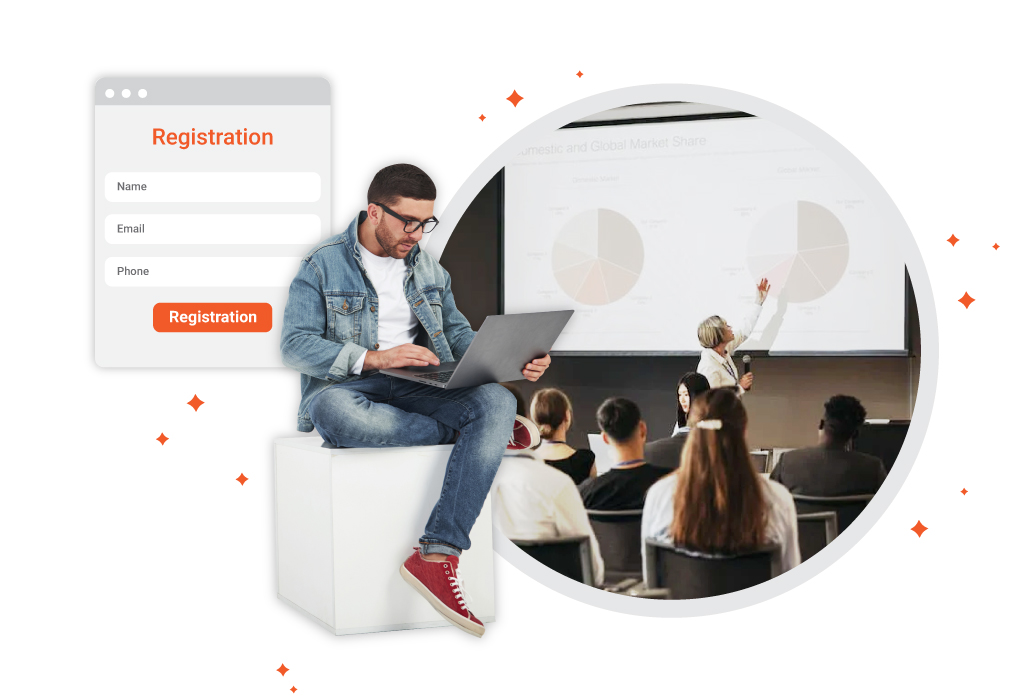 Create a registration page with the best in-person and virtual event services.
Add a form asking various questions to get complete information about the users.
Integrate the WhatsApp automation and make registrations quick for the existing users.
Send the invitation online on WhatsApp and make your current users interested in joining and attending the event.
Both online and offline audiences can register online by filling out the form on the registration page. You can include the link to this page for all your promotional activities and content.
3. Contactless Check-in
Sometimes, the number of people who showed up to your in-person event can be less than the number of users registered. This way, you can face some empty seats at your event. Hence, you can choose to take audience approval over Whatsapp. This way, you can calculate the number of users who will come and attend the event on the ground.
You can send them a message to confirm their seats at the event. Also, WhatsApp automation helps in managing a guest list on the go over the mobile phone.
4. Push Notifications
The role of WhatsApp does not end here. There are more things you can do with this automation. Firstly, you can share all the push notifications with the attendees during the live sessions.
You may have some important updates, changes, upcoming reminders, and other essential information to share with the audience in real-time. Hence, you can make WhatsApp the source of announcements.
You can design some automated communication messages for the audiences to be displayed before, during, and after the event. Also, you can trigger custom replies for frequently asked questions to save time and effort.
5. Live Audience Engagement
Engaging your audiences may sound complicated, but with the latest trend of WhatsApp automation, you can make it happen without hassle.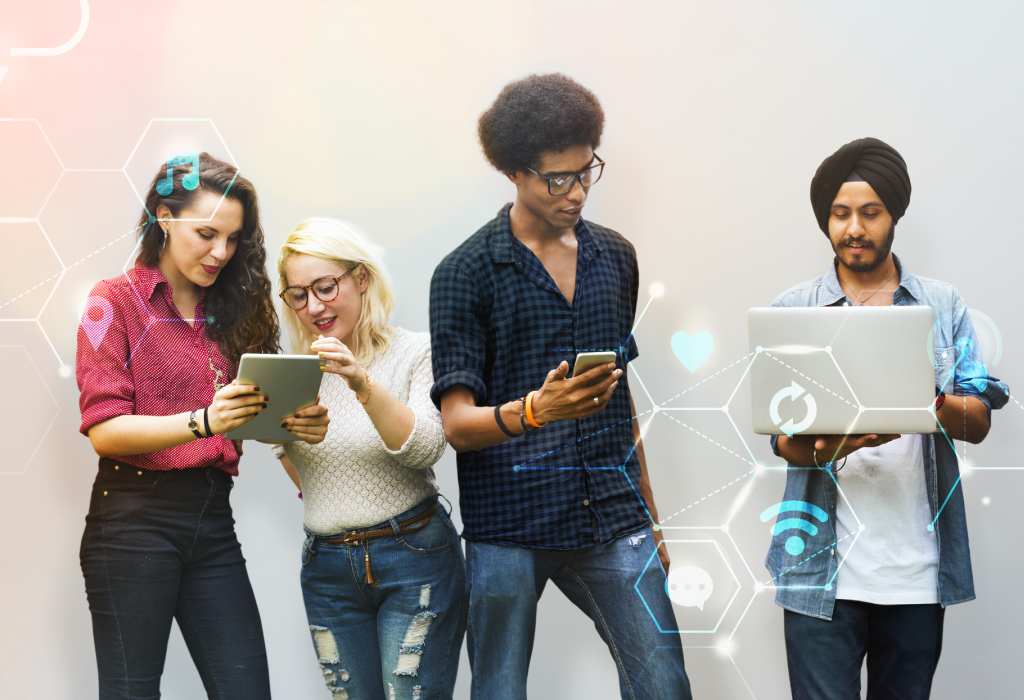 Send the complete schedule, list of speakers, agenda, and more via WhatsApp.
Connect the audience with your event moderator via WhatsApp. Make them ask questions and get immediate solutions.
Prepare some questions with options related to your topic that you would like to ask your audience and keep them busy. Share these questions via live poll and keep the discussions running on WhatsApp.
Get live audience feedback for every session.
6. Content Sharing with QR Scanner
You can prepare a virtual library where you can upload all the content you like to share with your audiences. It can be anything, like images, files, documents, pdfs, videos, teasers, trailers, infographics, product description videos, ppts, brochures, flyers, and more.
Furthermore, you can create a page on your website or build a different platform for this section. The online events technology supports this page with a QR scanner. They will create a QR scanner for the users. So they can scan and go to that page directly.
This way, your audience will access all the documents and data you want them to know about your brand and services.
7. Multilingual Streaming
When you go global with your event, the time zone and language are the biggest drawbacks that need a proper solution. Hence, you can get auto-captions and multilingual features at your online event.
It does not matter whether you conduct an on-site event or online, as you can choose live streaming for your event. It will help you use multiple languages for your content and make the broadcasting relatable and understandable for global attendees.
8. Turning Your Content to On-Demand
You can record your event from start to end. Furthermore, virtual event technology presents a chance to record the entire event and use the recorded content for repurposing. You can promote your brand and services by publishing this content over various platforms. Also, you can choose to provide the on-demand content.
You just have to share all your recorded sessions and information about the complete platform. The online webinar services will understand your needs and create a well-categorized and classified platform.
Also, you can add features like Aston and name bands. It will be helpful in introducing the various speakers, sessions, topics, and other essential information.
9. External Integrations & LIVE Commerce
You have to make your event engaging, interactive, and networking for audiences. However, you require the right tools to add all these elements to your event. Hence, the virtual event services offer 3rd party integration that can be helpful in providing your audiences a better option to link with whoever they want at the event.
Likewise, the virtual event platform gives you complete freedom to incorporate an app or software into your event. For example, you can add:
WhatsApp,
Zoom Meeting,
MS Team,
Google Meet,
BlueJeans,
Hubspot,
Razorpay,
Paypal,
and more.
On the other hand, you can go live with your commerce business. You can conduct a live selling streaming. Furthermore, it can be helpful in imposing a bit of pressure on your audience to buy the products and services in real-time. Hence, attendees can view and listen to the complete product description and make a better impact on your brand and sales.
Also, you can choose the D2C selling via WhatsApp.
You can provide live customer support to global audiences via WhatsApp. Hence, they can send a message if they have any queries or need help from an expert.
Solve all the user queries in real-time to ensure they come again and again for such an experience.
Save your human resources by customizing auto-replies for all the common FAQs by customers.
Offer conversation labels and private notes to enable and support the live team collaboration.
Get smart cards, labels, tags, and private notes to organize your contacts and chats and access them without hassle.
10. Integrate Augmented and Virtual Reality
Everyone knows about virtual reality as many weddings, concerts, and other shows have been arranged using VR. So, you can also integrate some features of virtual reality into your event. For instance, you can create Avatars, choosing suitable clothes, accessories, hairstyles, sandals, specs, and other specifications. It makes the online event experience just like an in-person event.
Also, there are some features that help integrate augmented reality into your events. For instance, you can get an AR-based photo booth. Your audience can take the on-ground event experience by taking multiple photos with diverse backgrounds. Furthermore, you can get different templates for your AR photo booth based on your type of event.
Additionally, attendees can create a gif using the same images in the tool.
11. Hybrid Technology
Can not choose between virtual and in-person events? The solution is hybrid technology. You can decide to host one that can be an excellent concept to connect online and offline attendees. Furthermore, you can link, interact, and network with anyone with hybrid events.
You can get a long list of features and functionalities if you choose hybrid technology.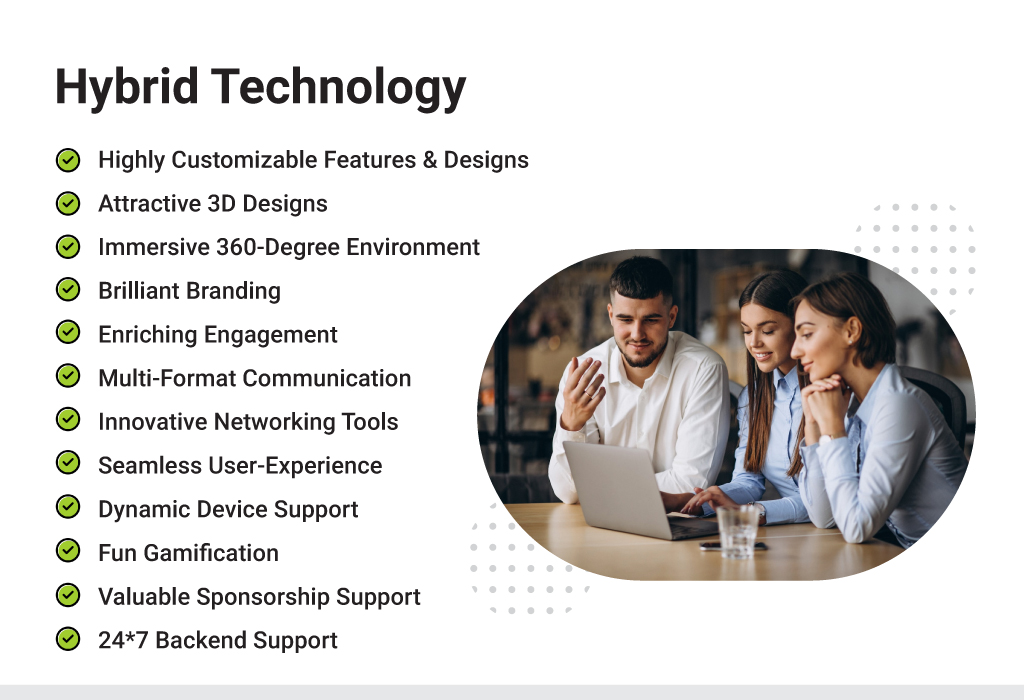 Highly Customizable Features & Designs
Attractive 3D Designs
Immersive 360-Degree Environment
Brilliant Branding
Enriching Engagement
Multi-Format Communication
Innovative Networking Tools
Seamless User-Experience
Dynamic Device Support
Fun Gamification
Valuable Sponsorship Support
24*7 Backend Support
Insightful Data & Analytics
100% Safety and Security
This way, you can save a lot of expenses for people across the globe. It can help boost your sales and revenue with the right promotions and worldwide reach.
12. Live Streaming and Simulive
It is not necessary to go live with something separately. You can also choose your virtual, hybrid event, or other recorded video to broadcast live. However, you will need the right equipment and the best live streaming service providers to accomplish these needs.
On the other hand, you can choose the multistreaming functionality. It supports live streaming to broadcast over various platforms simultaneously. Furthermore, you can target different types of audiences on diverse social media and other channels. This way, you can broaden your audience and content reach without hassle.
In addition, you can conduct the Simulive. It refers to recording a video and going live. Furthermore, most organizers find it beneficial to record, trim, add some effects, and then broadcast the event.
Follow the Top Event Technology Trends with Dreamcast!
If you are interested in integrating an event technology trend into your upcoming event, Dreamcast can do that for you. We have tech experts who will make these things possible for you. So, contact us whenever you have any queries or needs related to online events.
In-Person, Hybrid, Virtual
Create an Extraordinary Event Experience
Across All Event Formats