If you have ever visited music festivals, water parks, nightclubs, hotels or conventions then chances are, you've probably worn a wristband or something like that. Those wristbands are known as RFID wristbands. Surely, you might have used an RFID band in one of the events to just tap and pay for the services. Well, ever thought about how RFID wristbands for events work? What are the significant benefits that come with a custom RFID wristband? Nowadays, RFID for events are becoming more fashionable and also flourishing event registration by making events come into vogue. 
Moreover, ever thought about how RFID wristbands for events are benefitting the event organizers? RFID tags are flourishing in the process of event ticketing by being extremely robust and quick as they cannot be scrambled or replicated without programming in the central database.
In this blog, we are going to explain everything about the power of RFID bands in an easy and simple form to clear out all the confusion. It's going to be the ultimate guide for you, RFID wristbands to power up events in an amazing way.
So, What Exactly Are RFID Wristbands For Events?
RFID or "Radio Frequency Identification" functions by enabling a data chip that is usually installed in badges or wristbands. This enables seamless communication via radio frequency signals using an RFID wristbands scanner. In simple terms, RFID describes the method of transmitting identification of a person in a unique way using radio waves.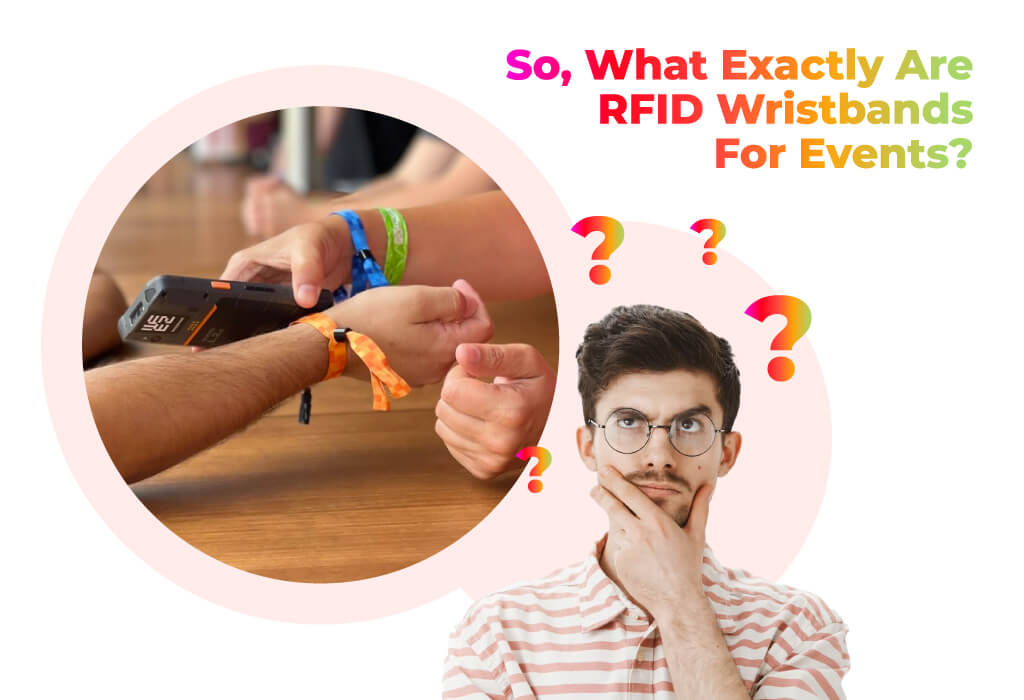 A question might have come to your mind, how does this RFID technology work? This RFID technology uses readers or 'RFID wristband scanners providers to scan the data through RFID tags. Then, transmit it to the database regardless of physical presence.
Would you believe it takes only milliseconds to receive the transmission of radio signals? Within milliseconds, the RFID scanners capture unique identification with transmission technology. Also, RFID bracelets for events enable all the participants to make the best use of their badges to access the VIP area, avail of the best services, or engage with amazing sponsorship activities, all by just tapping the wristband. 
How Much Information Can Be Stored in RFID Wristbands?
Programmable RFID bracelets allow you to store information ranging from event tickets, social media profiles, coupons, and verification credentials (like Name, DOB or ID). Also, it enables you to hold access control into the events, hotels, and restaurants along with access to VIP areas.
However, RFID wristbands for events can hold up to 64 bits to 2 kilobytes of data. Similarly to this, ultra-high frequency tags can hold 512 bits and up to 8 kilobytes of data. But, you might want to know how many kilobytes can be used in simply entering the event. For access control, RFID wristbands for events are usually less than 2 kilobytes.
In-Person, Hybrid, Virtual
Create an Extraordinary Event Experience
Across All Event Formats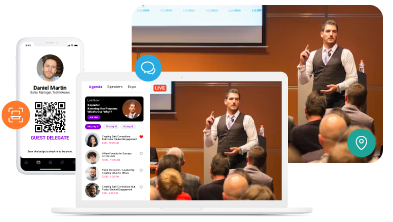 These RFID badges are enough to store participants' data including their address, government ID, name, contact information, and Credit/Debit card authorization. So, it's like whenever a participant walks through an RFID wristband scanner, he/she automatically enables them to choose the fun activities at the event and services provided by event management.
A Brief About Custom RFID Wristbands For Events
Okay, so are you ready to explore the best thing about RFID wristbands for events? One of the perks of using RFID bracelets for events is that it's completely customizable as per the requirements. Yes, you heard right! You can make customization your own custom RFID wristbands based on,
Unique features 
Specific colour codes for attendees, staff and event management team
Type of RFID bracelets ( disposable, reusable, etc)
Unique text layout on wristbands
Innovative taglines
Thinking about how these custom RFID wristbands can assist you? We have the answer. By leveraging RFID technology you can increase your brand visibility and catch all the opportunities that come with it, like:
A custom RFID wristband can enable you to easily discern the difference between competitive event partners.
Customized RFID tags provide the convenience to issue wristbands with colour-code. For instance, Green color for VIPs, Yellow for event management, and White color for all the attendees.
A custom RFID wristband can be collected after the event if they are not disposable RFID wristbands. Afterwards, the event management team can use smart data chips to track the last location when the chip was working. This will help in preventing any loss and these custom badges can be converted into programmable RFID bracelets for upcoming events.
No doubt that custom RFID wristbands come with enhanced access control management, cashless mode of payments, branding with personalization, enhanced security along with streamlined operations. Explore all these customizing RFID solutions with Dreamcast to make event operations more streamlined.
Privileges of Having RFID Bracelets For Events
Due to easy check-in, enhanced security, and more streamlined operations along with the revenue-generating benefits of RFID wristbands for events. Many event planners are choosing their way towards using technology to refine their events.  Here are the benefits of using RFID services: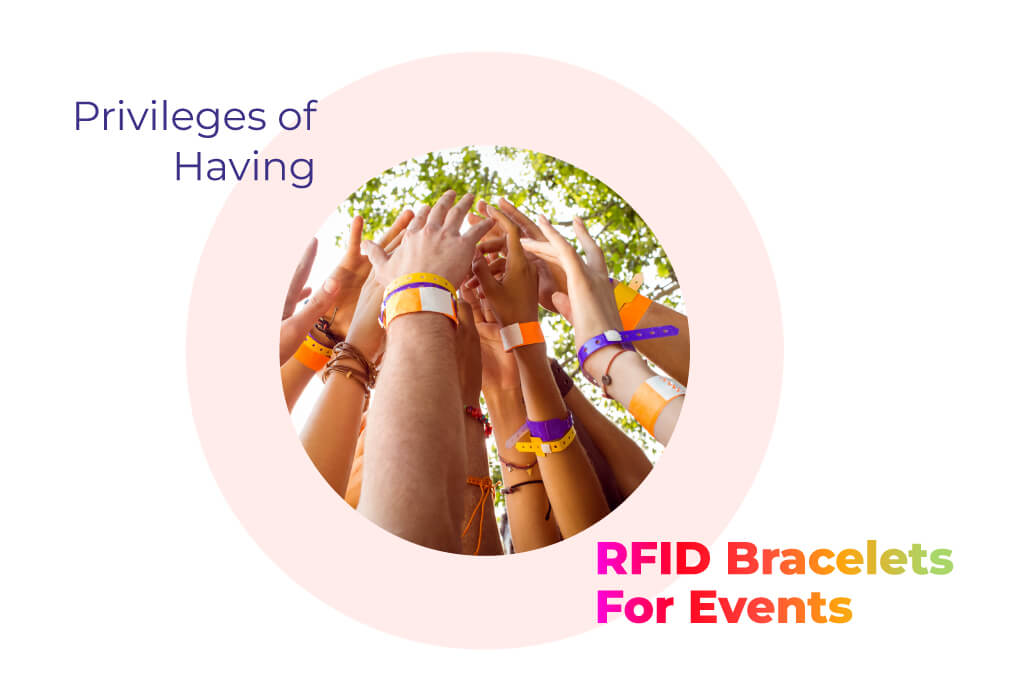 Speediest Entries And Smooth Event Check-In
Suppose that you're an event organizer, and it's your first day of the conference. In such a case, you don't want to kill your audience's anticipation with a long waiting time during event check-in, right? All the participants should get into the event asap and be enthralled in the event experience. RFID wristbands for events enable you to gain momentum in the check-in procedure and lessen the waiting time. When participants arrive, all they have to do is scan their bands' over RFID wristband scanners, and —-viola! — attendees are in. As a result, audiences have to no longer wait for printed tickets in long queues or search their bag to find documents.
Flexible Controlling During Access
Programmable RFID bracelets provide flexibility in access control. In case of big events, where different people have a certain level of access, then custom RFID wristbands can be a game changer. Simple wristbands for events allow you to create different colour codes that differentiate among attendees and event management or sponsors. However, simple wristbands don't provide as much flexibility and security as RFID bracelets for events.
Undoubtedly, RFID wristbands for events are amazing and unique, with different access control levels that can be controlled from anywhere. This means that RFID badges are next to impossible to be in a category of duplicate tags. Also, if an attendee somewhere lost their ticket, you can help them without distressing about any copies or event tickets. Since event audiences are associated with unique Individual IDs, you can instantly halt the lost RFID bracelet and issue them with a newly programmable RFID bracelet. 
Real-Time Data Event Insights
Just think about keeping a check on the data insights of an event manually. How can you track real-time insights in a big event? Of course, you can't be present in two different areas of the event at the same time, at least not physically! Well, in this case, RFID bracelets for events integrate with the event registration system, so that you can watch all check-ins and make necessary adjustments when required. With RFID wristbands, you can easily monitor each and every activity of attendees. Be it the most attended sessions, number of attendees, or less attended session, you can keep track of all multiple sessions' performance.
Seamless Sponsorship Stimulation
To generate more leads, generally, most of the sponsors want their attendees to manually write their details like contact information, emails, etc. All these processes of filling personal information in laptops eventually result in attendees' losing interest.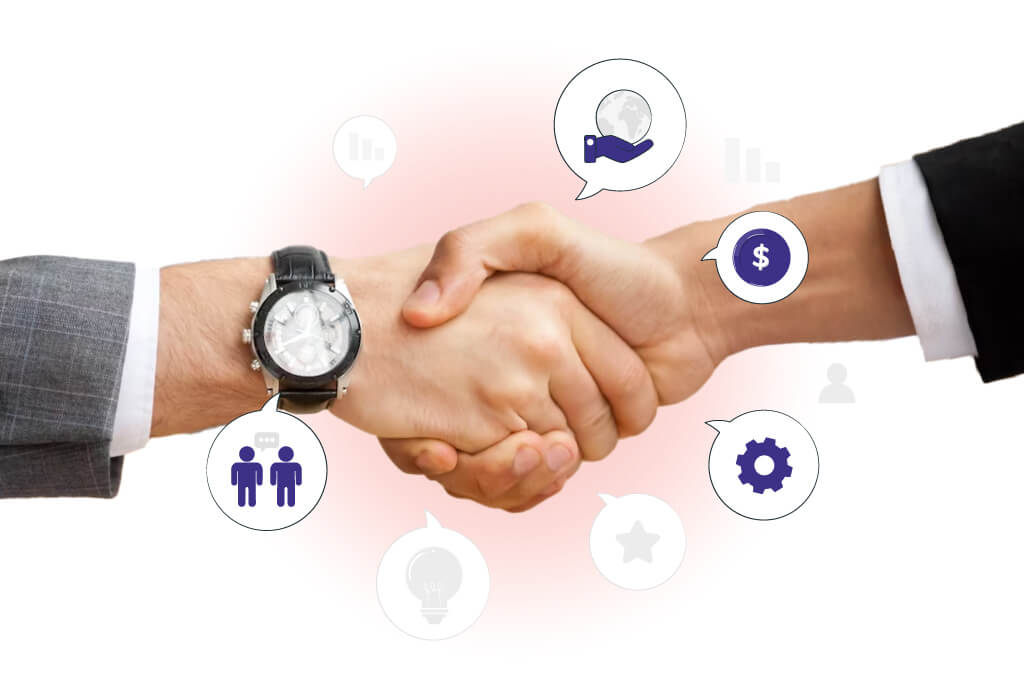 But with Custom RFID wristbands, the process of gathering leads and setting up sponsorships becomes seamless & effortless. To engage with sponsors, all a participant is to do is tap their RFID badges.  Moreover, attendees are more likely to share their information and anticipate the event, therefore this increases brand visibility along with revenue generation.
Things to Consider When Choosing A RFID Service Provider
Once you've been convinced to integrate RFID technology into events, then it's crucial to pick a reliable service provider. Consider the following suggestions for seamless RFID services:
A Provider That Operates With No Internet 
Ever thought about how RFID will work if there's no Internet? Make sure the service provider you are choosing must ensure an 'offline' mode of providing the RFID services. If in case any power connection issue arises then look after your service provider  – how does it deal with no connectivity? No matter, whether power or the internet, an RFID solution is supposed to operate accurately and respond to every RFID bracelet for an event securely.
An RFID Solution That Can be Installed Quickly
Most RFID solutions take a minimum of two days to install and sometimes even longer than that. Therefore, consider choosing a solution that can be easily installed and that too in a few hours. If you have a proper timetable and scheduled entries, then you can't leap into the dark.
Not only will it prevent delays in your event but enables flexibility with secured entries. Also, make sure after the event, the process of eradication should be equally fast.
A Service Provider Who Provides Quality Customer Services
When we buy a gadget, we compare prices and features, right? Similarly, compare and contrast all the available options before considering one. As none of the attendees wants to collect RFID wristbands for the event from somewhere else. With a quality service provider, you can make your event remarkable even before the actual execution. You can send the packages with RFID bracelets for events, a week before to generate excitement. Also, consider reviewing customer services before selecting the provider.
Final Thought
By the end of the article, we have discussed the power of RFID bracelets for events. No doubt in the fact why businesses and event organizers are choosing RFID technology to optimize their event performance. RFID technology comes with streamlined opportunities to make your event stand out from the crowd. With a lot of varieties available, you can choose the form of RFID wristbands according to your preference and convenience.
If you're looking for a service provider to help you with customized or programmable RFID wristbands for your events. Consider booking a free demo with Dreamcast for amazing cashless event solutions. Explore the unique features and other solutions that come with it.
Frequently Asked Questions
What is the use of RFID Wristbands in events?
RFID wristbands can be a game changer for events. RFID helps in tracking the attendee participation rate, flexible accessibility, session count, and overall performance of the event.
Are RFID wristbands secure?
Yes, RFID wristbands are a completely secure solution for events. It contains your basic information such as name, contact, address, and other relevant information.
Can RFID wristbands track attendee movements?
Yes, you can easily track your attendee movements with RFID bracelets. It enables you to track session popularity in case of multiple sessions at the same time. With RFID, you can easily track all the attendees with the most engaged areas of the event.
Can RFID wristbands be used for cashless payments?
Yes, RFID wristbands can be used for cashless payments. Most RFID service providers enable you to just tap and pay for smooth cashless transactions without even carrying any debit/credit cards.
Can RFID wristbands be recycled or disposed of responsibly?
RFID wristbands can be customized according to requirements. There are several types of wristbands that you can choose from such as disposable or can be recycled.
In-Person, Hybrid, Virtual
Create an Extraordinary Event Experience
Across All Event Formats