Event management is the key to success for each and every type of event. These events can vary from hybrid, virtual, in-person, or on-ground events. Without planning, it will be a waste of resources and precious time.
With the rapid development in the field of technology, many businesses are switching towards more authentic and reliable solutions such as virtual events service providers and other live streaming services.
Interestingly, the type of the event as well as the necessary details may differ according to the size, target audience, and budgetary requirements. There are many different aspects or let's say components of event planning. It starts with managing the team members, assigning different roles, and vendor relationships. Let's dive deep into some basics of event management along with some tips & tricks to plan your session for the best experience.
Event Management – A Simple Term with huge Responsibilities
Speaking in technical terms, event management can be easily defined as the process of implementing and framing your event for the best output.
The implementation part includes all the aspects like logistics, staff members, venue selection, financial requirements, etc. On the other hand, the framing here tends to gather and lead a team of volunteers who plays a crucial role as a whole in the event's success. The process starts with selecting one company from a list of hundreds of event management companies around there. An event manager then plans to select the time, location as well as desired theme for their event. When the live event is going on, to prevent technical glitches supervisors are appointed to deal with the scenario for the session to run smoothly.
Planning comprises sourcing, regulation checks, managing this at the site and via server if happening online, and many other things. Overall, any type of event which requires proper planning strategies as well as execution work will be requiring event management solutions.
Let's Explore Some Popular Event Types
Here are some of the most popular categories of events that will help you in selecting your best session for the day –
Seminars
The planning and execution of seminars are very similar to those of conferences. However, this time, the focus is more on instruction, training, and knowledge transfer. Despite their potential for high attendance, they are frequently split into smaller groups for more efficient training.
Smaller groups may gather for seminars and then everyone may come together to socialize, network, and discuss ideas.
Conferences
One important category of events is the business conference. It usually includes a large crowd gathered in a place with a focus on a single idea, object, or service.
Speakers, displays, performances, round tables, networking opportunities, refreshments, and leisure activities may be a part of the event.
Large-scale events like conferences are generally hosted at large venues or conference halls. Conferences have also been held virtually in more recent years.
Virtual Events
Virtual events involve interaction with a live audience on virtual platforms over the internet. These events involve sharing of valuable information or content in any form – handouts, audio files, video files, textual information, etc.
Live Streams, Trade shows, Webinars, etc. are some of the most prominent examples of virtual events. Undoubtedly, these events are more often used for maximizing audience engagement & reach.
Hybrid Events
Hybrid events as we all know are a combination of in-person events with the presence of a virtual audience. Over the years, these events have gained popularity with their versatile services and ensuring maximum participation by the audience.
In addition to this, hybrid events have global exposure which works perfectly for the event sponsors to make strong connections with audiences worldwide.
Different Types of Event Management Practices
Here we will explore some of the most common and popular event management practices. These include the management of hybrid as well as virtual event management.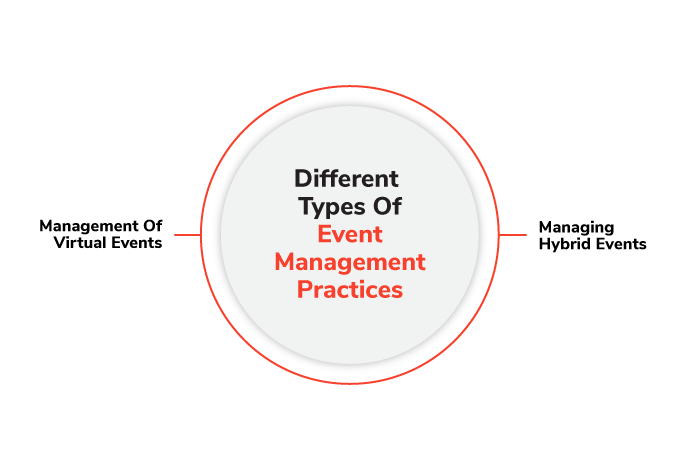 Managing On-Ground Events
On-Ground Event Management is one of the biggest challenges for event sponsors.it involves proper execution of the planning strategies along with the prevention of any type of technical glitch during the event.
In the current scenario, there are many options available to make this hectic process run smoothly for a successful event. These include- Event Ticketing Options, Whatsapp Automation, etc.
Managing Virtual Events
Nowadays, most people are looking for live streaming & webcasting services for hosting their events. It becomes even more important to focus on the virtual event requirements because these events do not require travel, accommodation, and physical facilities.
Most event management companies include interactive features like – live polling, handouts, etc. to engage with their audience for long hours. The authenticity of the keynote speaker as well as their expertise in handling queries & doubts of the audience is the area that decides the success of your event.
Managing Hybrid Events
Hybrid events are the future of the event industry. They are the most popular virtual event solutions due to their versatile nature. These events can be hosted both in-person as well as virtual. Additionally, these events contain loads of immersive features that the audience loves.
Hybrid event management comes with lots of advantages and challenges for event planners. As you have to pay attention to both audiences – physical and virtual, it requires proper event programming and content delivery that suits each type of audience.
In general, any kind of events can be organized in hybrid setting from an trades, show to conference to parties, festivals or event weddings too. There are many technology possibilities to do that. For example; By using the wedding live streaming services you can broadcast your wedding on any social networking sites. This approach can be useful to involve all your friends and relatives to your wedding day who missed out to come due to any reasons. However, this same approach can be utilized in all other event types too.
 Quick Guide to Run Successful Events
Here are some quick steps that will help you in running your successful event  –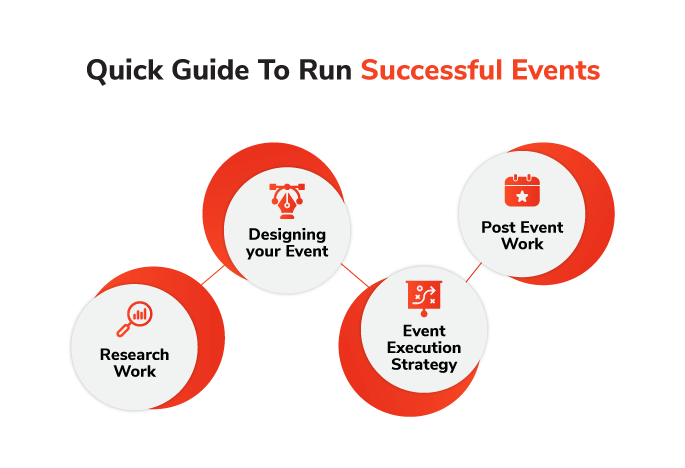 Research Work
It ultimately starts with finding the major objective of your event. This involves proper research work for the type of event you need, the selection of a  service provider, etc.
Budgetary requirements are to be decided and worked upon. The theme of the event, its functionality, how to reach your target audience and many other aspects need special consideration from your side.
Designing your event
This is the most crucial part of the event planning process as it includes the selection of a speaker for the session, the scheduling of the event ( date, time of day, etc.), the theme of the event, and much more.
It also includes other elements such as the backdrop and planned style of the setting etc. this goes along with selecting the banner designs and other digital service tools.
Event Execution Strategy
With the selection of the right event management platform, the chances of getting your reach wider globally and making an interactive session increase.
Let's take an example of a hybrid event. In this context, this process includes the setting up of the venue, arrangements, decorations, and other physical aspects.
This is followed by tools and techniques to boost live stream engagement. After all, the addition of the virtual element requires more interactive features for their engagement and connections.
Post Event Work
If you're simply thinking it ends with the completion of the event, you might be wrong this time !!
The post-event process is considered to build the roadmap of your future events. This starts with conducting a survey and getting feedback from the audience who attended your event. The feedback is very important for data collection, event modification & improvisation work, etc.
Parameters for Successful Event Management
For every event to be successful, you need to work on the basics which are essential elements from the audience's point of view. Here are some of them for your reference –
Promotional Activities
Promotional activities are the backbone of any successful event session. These activities decide the number of viewers for your event. This can be achieved with the help of some valuable tools.
One such tool is email marketing. This technique ensures most of your audience gets a reminder mail just before the event day.
Promotional campaigns on leading social media platforms like – Facebook, Instagram, Twitter, etc. can be very fruitful for increasing the audience count for your event session.
Tracking Event ROI
For improvement in the ROI for your event, it is very important for the event management platforms to collect valuable data from the audience and utilize it for future event campaigns.
Hosting live polling sessions in between your event will give you an exact idea of what the audience has felt about your event.
Building to Perfection
This can be easily understood by taking an example of an event in UAE- UAE Innovatives 2022. This event includes government entities along with private ones who made this event successful. With the three keywords of – Theme, Plan, and Goal anything can be accomplished.
It also includes the creation of an attractive website to attract more attendees to register and attend your event.
Summing Up
Event Management is a very crucial part of the event execution process. These works need expertise along with experience. By making the right choice of service providers, you can run successful event sessions.
There are many benefits that come up with a selection of event streaming providers. It includes promotional campaigns, attractive features during the live session, and much more. Going with the trend is a necessity nowadays. But, making a perfect choice is a tough call & has to be considered cautiously.
FAQ
What do you do in Event Management?
An event manager oversees the design, set-up, and execution of events that bring people together.
What are the 5 C's of Event Management?
Here are the 5 C's of event management – 
·         Concept 
·         Coordination
·         Control
·         Culmination
·         Closeout
What are the 5 Stages of Event Planning?
·         Select a location. Make sure your location is appropriate for achieving your goals.
·         Decide on a date.
·         Make a strategy.
·         sending out invitations.
·         On the day of the event, consider.
What makes event management successful?
It's often said that effective planning is the key to any endeavor's success. Therefore, the best place to start whether you're wondering what makes an event successful is to ensure that it is precisely, thoroughly, and correctly organized.
Who is an Event Planner?
A professional in charge of planning and organizing meetings and special events, like weddings, parties, ceremonies, and corporate get-togethers in addition to fundraisers is known as an event planner.