Hosting virtual events is the latest trend in 2020. Most event organizers were caught unprepared when the COVID-19 pandemic hit the world earlier this year and had to pivot their planned events.
Hybrid events were already becoming popular over the last few years. However, hosting a hybrid event seemed more as a way to add value to an event rather than a vital part of the experience itself.
However, if you want to host a virtual event today, you are probably looking for a virtual events platform that can accommodate all your needs and provide a great experience for your event's attendees.
Virtual Event Platform Features
In this blog, we're going to take a look at some of the most important features that you should consider when you're looking for virtual event solutions. The following list includes the key features for virtual event platforms. But it is not ranked in any specific manner.
1. Automation
One of the key features of any virtual event platform is automation. This is due to the fact that automation helps in reducing time and costs when hosting hybrid and virtual events.
Ideally, you want the platform to be automated as much as possible. Some of the things that can be automated include creating event pages, uploading speaker data, and other process and systems of the virtual event platform.
2. Customization
If you want to host a virtual conference, meeting and events, you would require a white-label solution. It allows you to use your own branding. This is why customization is the second key feature that you should be looking out for perfect virtual event platforms.
Any virtual conference platform that you're considering should allow you to use custom branding in all aspects of the event such as the event websites, the virtual conferences, and virtual exhibits.
The idea is that your virtual experiences should feel immersive and have a strong brand identity!
In-Person, Hybrid, Virtual
Create an Extraordinary Event Experience
Across All Event Formats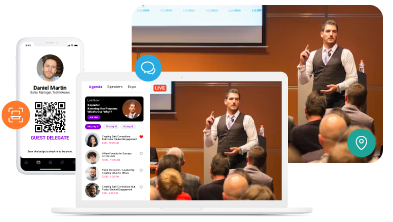 3. Event Management Features
Hosting a virtual conference, meeting, and events should be as easy as possible for event organizers and the right platforms take this into account.
Traditionally events, both online and offline, are managed using dedicated event management software. This is why it is important for virtual event solutions to provide features that help in the management of the overall event such as registrations, marketing, promotions, etc.
Virtual events setup should usually be as easy as possible. You should be looking for a solution that offers an integrated set of features when about managing your event.
4. Different Types of Virtual Spaces
When it comes to a virtual events setup, it is important to have multiple virtual spaces for different purposes. Since a virtual event is more than just a webinar, attendees have to be provided with different spaces for different aspects of the event such as the lobby, the networking room, the meeting room, etc.
In order to create a seamless event experience for the attendees, you have to provide different spaces when it comes to their virtual event walkthrough.
This is why it's a good idea to check if the platforms allow you to create different types of virtual spaces for the virtual event.
5. Live Streaming Video
Live broadcasting sessions are a vital part of hosting virtual events and if you're planning to host a virtual event, it is very likely that it will have at least a few sessions that would be broadcasted live.
Virtual conferences, meetings and events use live sessions as a way to create more engagement and a better experience for the attendees. Additionally, attendees can also interact with the speakers via Q/As, polls, and other engagement features.
This is why it is important for your virtual event platform to provide live video streaming as a key feature.
6. Broadcasting Recorded Content
Of course, not all the sessions of your virtual event can be live. This can be due to many factors such as speakers not being able to stream live, scheduling issues, and more.
Any decent virtual events solution should be able to provide the ability to broadcast content that has been pre-recorded. This is equally important when it comes to completely virtual and hybrid events.
Virtual event solutions should also ideally be able to provide scheduled playback for the pre-recorded content or the ability for the attendees to view the content on-demand.
7. Engagement and Communication Features
One of the major reasons why people attend physical events is networking and engagement. The same applies to virtual and hybrid events.
There are a number of different engagement and communication features that virtual event solutions provide these days. Some of the popular engagement features include Q/A, live polling, feedback surveying.
Engagement is crucial and it's important to use a virtual events solution that provides a wide range of engagement features. For example, some of the engagement features included in the Dreamcast Virtual Events Platform go beyond just communications such as integrated social media with social wall, web games, GIF photo booths, quizzes, and more!
On the communication front, the live event platform should be able to provide a way for the attendees to communicate with each other and the speakers via chatting, messaging, and group chatting features. Read these tips to engage attendees at virtual events.
8. Integrated Social Media
The impact of social media is all-pervasive and the same applies to the event industry too. These days social media is absolutely essential when it comes to marketing and a virtual event promo plan.
Remote meeting technology is just the basic use case of a virtual events platform. However, additional features such as engagement features and social media integration, etc are really important when it comes to the platforms available today.
This is why it is important to check out if the platform you're considering allows you to integrate various social media channels such as Facebook, Instagram, YouTube, etc to make things easier for you when it comes to marketing and promotion.
In-Person, Hybrid, Virtual
Create an Extraordinary Event Experience
Across All Event Formats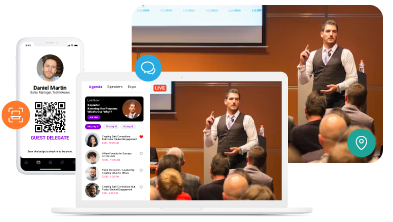 9. Content Backup
As mentioned above, a virtual conference/meeting/event usually involves a wide range of content including both live and pre-recorded content. Regardless of the content's type, it's important for your platform to record the content and store it for future use.
One of the key benefits of virtual events is that the you may create evergreen event content. The content can be used for other purposes in the future such as marketing and promotions.
Thus, do ensure that the virtual event platform you will use allows you to save video backups of your event's content.
10. Monetization
In virtual and hybrid events, there are a lot of different monetization avenues when compared to physical events.
Monetization should be a key feature for any virtual conference platform you're considering for your next virtual event. Some examples of monetization features include the following:
The ability to display ads through the entire virtual event and allow the ads to navigate to virtual spaces and branded virtual experiences.
A hotspot feature to sell sponsorships.
Easy tracking and analytics for advertisements and other monetization channels so the marketing spends and ROI can be calculated precisely.

11. Customer Support
Every virtual event expert will tell you that the most important aspect of the event is the attendees experience. This is why the quality of the platform's customer support is just as important as any of the other features.
Since most virtual events are usually live, it's important to quickly fix anything that might go wrong during the event. This is why it is critical to understand the quality of customer support you can expect to receive from the virtual events platform you're using.
Ideally, you should have a dedicated customer relationship manager ready on call during the live event to ensure that everything goes exactly according to plan.
12. Reporting and Analytics
Analytics and reporting are important for any type of event. This feature help in determining how successful the event was when it comes to fulfilling the goals of the event. Fortunately, when it comes to virtual events, analytics and reporting are much more simplified as every touch point is digital.
While most virtual event platforms offer some basic reporting and analytics features, it is important to select one that goes beyond the basics and offers not only data but also insights. It is also a good idea to go with a virtual events platform that allows you to integrate analytics platforms like Google Analytics and Facebook Pixel too.
Long Term Goals with Virtual Experiences
Let's be honest – virtual events and hybrid events are here to stay. Albeit due to unfortunate circumstances, 2020 really proved how powerful virtual events actually are.
We hope this blog serves as a guideline for identifying the most important features of a virtual events platform. If you're looking for a virtual event platform, get in touch with Dreamcast by clicking here!
In-Person, Hybrid, Virtual
Create an Extraordinary Event Experience
Across All Event Formats