Expo in Dubai is one of the finest exhibitions and is better known as World Expo (Dubai Expo 2020) with the theme of "Connecting Minds, Creating the Future". Moreover, the theme is then divided into three categories, namely: opportunity, mobility, and sustainability. This was originally scheduled for 20 October 2020 to 10 April 2021, which was later changed to 1 October 2021 to 31 March 2022 due to COVID restrictions and witnessed by visitors from more than 178 countries.
Well, the rapid growth and technological advancement by various companies, collaborations, and many individuals in the fields of technology, science, virtual reality, artificial intelligence, arts, and various varied crafts. It is difficult to showcase all of these in one location, host it at a grand scale, and accommodate more than 2 million people. Dubai is known for its mind-blowing concepts; tourism, oil & gas, emerging technology hotspots and creating something big (Burj Khalifa is one example), so no doubt the Dubai Expo took place.
We are all growing, and continuous R&D in science and technology allows us to see, experience, and meet new horizons in the world on a daily basis.
From the trends in technology, every day there is a new improved version of a gadget or piece of technology. As one family, one planet, we have all come a long way in the development of science and technology, from space missions to virtual and augmented reality. In fact, these global expos offer innovators a highly lucrative platform to present their concepts, findings, and innovations that are not that far away from us.
Dubai Expo: A Look Toward the Future and the Working
Dubai Expo was one of the biggest on-ground exhibitions, which ran for six months consecutively and attracted around 24 million people physically. The exhibition showed products and innovations (prototypes, concepts, and thoughts) from across the world by leading companies like Siemens, Pepsico, Nissan, Mastercard, Accenture, Emirates, and many others. The products and services range from healthcare innovations, the future of vehicles (including air vehicles), space missions, sustainability, cutting-edge technology for hotels, artificial rainforests, miniatures, and something beyond the common imagination.
Without any doubt, we are entering into a virtual world which has a metaverse, the power of artificial intelligence and a lot more. Besides the fact of technology, there were lots of fun activities with learning purposes in the fields of art, cultural practices, sports tournaments, educational programmes, architecture and much more.
All the big tech companies nowadays invest a huge amount of money in developing new technology that excites and solves the bigger problems of the world in a sustainable manner. Not just that, as platforms like "World Expo" and other big exhibitions showcase our unpredictable future in a way that excites, fascinates, and takes us to the new dynamics of the world that businesses are trying to create for us.
Not necessarily, but after a point of time, the common issues of travel, communication, healthcare, AI, and others will see extreme changes with time. A decade ago, people thought there would be smartphones with the internet of things, and you could easily connect with anyone around the globe over a video call. Imagination is one of the most powerful powers that we as humans have, and using this power no doubt changes the future in a predictable form. Let's not deep dive into my thoughts and move into the insights of the expo in Dubai.
Dubai Exhibition: Right From The Start To End, Know It All!!
As said at the beginning, the expo in Dubai is scheduled to be held in the year 2020, which was delayed due to the pandemic and took place at the end of the year 2021 and the beginning of 2022, which ran for over six months. The event was so huge that it was divided into three categories, such as the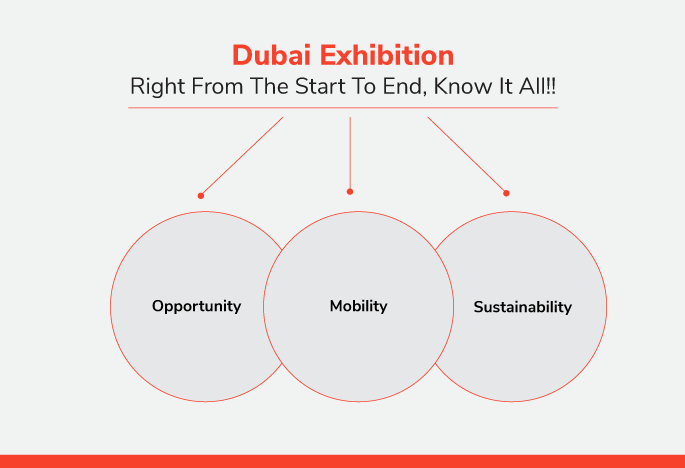 Opportunity
Mobility
Sustainability
These are districts, named for Expo City Dubai.
The infrastructure that was built for the expo site (namely the Dubai Exhibition Centre and Al Wasl Gate) had an estimated area of 4.38 km square metres. The area was well connected with the Dubai metro station and the red line directly. Additionally, the management of the World Expo dedicatedly started the ferry (expo rider) without any tickets to attract visitors from all over the city.
Expo in Dubai: The Centre Of Attention
To name a few, is something I believe is disrespectful to all the innovators around the globe. In this, we will try to cover the most unique and unbelievable innovations and concepts that were introduced and showcased during the World Expo. To make all things simpler for you, we have simplified this in terms of the district as mentioned above.
Sustainability District
Sustainability is what everyone is looking for and not for the things that just come and go. Every development needs to be sustainable and useful for many years to come. Well, the Sustainability district introduced the most advanced technology (potentially a game changer).
With development, we have already lost lots of natural flora and now with advanced high-end technology, companies are introducing unity with nature. These segments have talked about the greener earth. You can see how nature and technology come together in a way that will astound you. Later sustainability is divided into pavilions that is;
Terra
Choices make or break us and the world too, so if we choose sustainability, then it is a crucial decision you are making for the world. Here, a surprising dense forest prototype has been created underneath, where you can even walk with just the use of technology. Furthermore, you can encounter a high-stakes game of pinball as another attraction in this pavilion. After that, you will encounter a giant fish that is incensed by the plastic waste that has clogged its ocean habitat. A 130 m wide canopy, 4912 solar panels, 18 energy trees, and the production of 4 GHWh of energy.
The concept of creating an artificial green ecosystem under a building is a mind blowing and unpredictable concept. Let's see when we can look at this. The combination of solar panels with lots of trees and vegetation is something experience worthy. 
Country Pavilion
In this expo almost 178 countries took part which showcased the innovation of international approach and an idea of how different nations work to make a greener and sustainable environment in their nations. For example;
The Netherlands Pavilion has an integrated climate control system.
The journey to the hanging garden with the Singapore Pavilion and the walk through the forest canopy.
Discover the rich biodiversity of the Amazon basin and its sights, sounds, and scenes with Brazil Pavilion.
Making the vegetation close to our eyes as in hustle bustle lives of metros we forget the nature and taking them all back makes us feel better.
Mobility District
Mobility is a way of transformation that has a connection with the way we live, connecting with people, exchanging ideas and knowledge, and learning about different cultures. You will find many dimensions that uncover all the humankind connections and its growth.
Mobility is one of the methods which refers to a connection in which we are all connected to each other with various things. In terms of exchanging things or ideas with each other, it all comes under the banner of mobility. Earlier, we always heard about the new technology and even a few restaurants used such drone technology for deliveries. Not just the vehicles themselves, but their shapes, sizes, and the powerful features they are supposed to offer.
Fun Fact*  You will be served your drinks and other meals by robots and drone waiters instead of real human beings, which makes the Dubai Expo unique.
Moreover, the mobility district makes you aware of how fast the world is progressing in the mobility sector and the speed of connection will surprisingly increase. The other opportunities come from the smartphone, data, networking, and the internet of things.
Opportunity District
An idea is an opportunity to start something significant, and opportunities are present everywhere. The purpose of the opportunity district, as its name implies, is to educate visitors about youth empowerment, fostering connections, and improving the world. The motto of this district was to inspire people to make their dreams into reality and use their imagination to work on it.
This district is quietly dedicated to cultural discoveries, exhibitions, shopping, and many opportunities for the well-being of the human race. It indicates the situation and matters of concern that every action of ours has some consequences for the world. The beautifully crafted opportunity districts also show the impact of global warming and how to make it better.
There are several themes during these spectacular six months, all of which are based on the current global scenario issues and others. Let's take a look at the subjects covered during the expo in Dubai and the crucial meetings and conferences by global leaders. 
Expo In Dubai Theme Week
Themes gives a broad message to the people and easily understandable points of view. This event's entire theme is customised, giving you a futuristic perspective on a better planet. Every theme offers the chance for a better world and gives you the chance to participate in discussions that influence the future. Lets' see what the themes expo in Dubai talked about.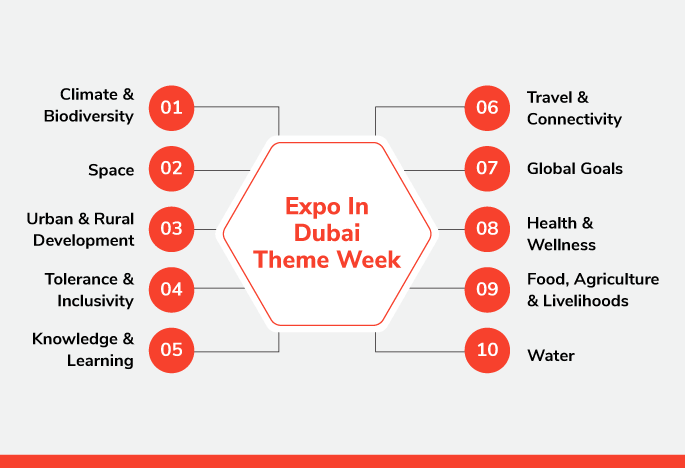 1. Climate & Biodiversity:
This theme talks about the global issue of climate change and its effects on biodiversity due to our actions. Additionally, the methods of how we can all together make a significant impact by changing our small habits of not wasting resources.
2. Space:
As the name itself suggests, space. It is always an interesting topic for everyone to explore space and its elements. So, to attract more audience and to make people aware about the key research going on in the development of space missions.
3. Urban & Rural Development:
Well, the world is like a family and there should be no discrimination with basic needs like roads, transport, healthcare, access to drinking water, education and others. To make a connection to each and every corner of this world in harmony.
4. Tolerance & Inclusivity:
It aims to increase understanding among people to promote inclusive and tolerant societies. Tolerance and inclusion strengthen social bonds and ought to be ingrained in a country's citizens
5. Knowledge & Learning:
The education system always needs a change as the world is growing with different teaching methods and technology needs to implement. This segment addressed the global education challenges and how to make them resolved. Also, the addition of distance learning and educational webinar and other virtual education platforms have been introduced for refined education.
6. Travel & Connectivity:
This addresses maintaining the balance between our physical world and the virtual world. Travel and connectivity are both important aspects and somehow similar too. But as with the rise of virtual reality, travelling is decreasing slowly, which can be challenging in future.
7. Global Goals:
Simply this refers to making unity among the countries which work towards the same goal i.e. making the world a better place till 2030. Well, the concept here is to fight and resolve issues like global warming, carbon emissions and others.
8. Health & Wellness:
In order to create a prosperous life in terms of health and happiness. The theme here is to inspire and motivate people to be healthy and happy with all the possible aspects they can be.
9. Food, Agriculture & Livelihoods:
Agriculture is the backbone of the world without it the world will starve. To give technological solutions and knowledge about producing crops in a sustainable manner is the ultimate motto.
10. Water: 
Water is the essential nutrient of life and saving it is our responsibility. This theme addressed the issues associated with water and the learnings on how to preserve it for the upcoming generation.
Dubai World Expo Tickets
Dubai and the whole United Arab Emirates are famous for their hospitality as they have so many big hotel chains, including the most famous and lavish hotels in the world. Well, the cost of a hotel can't be determined as it varies, but making you aware of the Dubai World Expo tickets, it will surprise you for sure. The tickets are free for children below the age of 18 and students with valid student ID cards. Additionally, people with disabilities and people aged 60 and above also had the privilege of a ticket fee waiver. As the event was running over six months, the ticket pricing was set differently, like AED 495 for the entire six months, AED 195 for consecutive 30 days, and AED 95 for a single day, which is reasonable compared to the experience you will get.
The Immersive Experience With Different Nations Pavilion At Expo In Dubai
The Expo in Dubai is not only for science and technology but a collection of a wide gamut of things at a place. This exhibition in UAE for the very first time is not just an ordinary expo showcasing any particular things but an opportunity for every nation across the globe to participate. The idea of travelling the world is not something that the average person can imagine, but these World Expos with the goal of displaying all of the countries' culture, traditions, art, cuisine, and craft are incredible. Anyone can see, experience and witness the cultural heritage of every individual nation in their well-setup pavilion at Dubai Expo 2020.
Well, if you are thinking that you have missed a lot of things and the chance to visit the Dubai Expo then no. Yes for sure the chance to visit physically and experience is quite satisfactory, but as saying goes we are entering in the virtual world. So what does it mean? As we have given the big clue in the title of this blog post that explores more virtual events experiences. The point here is Expo in Dubai was not just a physical event but an amalgam of both in-person and virtual events or can be called a partial hybrid event. Well, the management of Bureau International des Expositions (BIE) and Dubai Expo 2022 have allowed and created a website which can be accessible to watch and experience the all countries pavilion anytime and anywhere.
Not just organisations, but many countries have participated and showcased a lot of creative ideas and concepts that connect us to the future. The idea behind making the whole event accessible for everyone is that no one should miss the chance to see the future of technology in action and enjoy it. If you are also an event host or a brand and are looking for a solution to make your event come to life after it happens, then Dreamcast is here to help you.
Make Your Event Unique and Virtually Available With Dreamcast
Every business and brand hosts an array of events with different objectives, ranging from marketing to trade fairs, conferences, and a lot more. If you wanted to host an event with virtual elements like Dubai Expo and wanted to reach a wider audience across the globe. Then you need to invest in a professional virtual event platform or hybrid event platform for your next virtual expo in the UAE.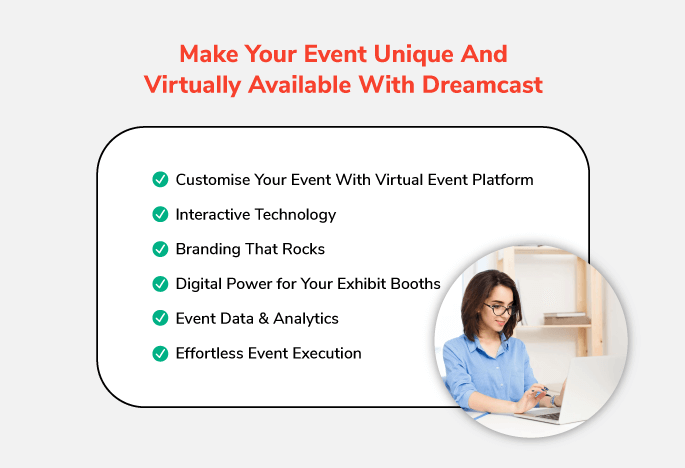 Are you curious about what you can get for your virtual expo with Dreamcast? Here is a complete list of features and functionalities you must not miss!
To ensure the overall success of your event, professional services and tech support are what you need. A cutting-edge technology will help you set up exceptional dynamics in an event that is both appealing and enhances the customer experience. With the help of innovative extensions, interactive elements and by creating a 360-degree space that is quite a replica of what your imagination goes with. Dreamcast offers a wide range of customisable opportunities for your event and makes sure everything goes well with it.
1. Customise Your Event With Virtual Event Platform
Transform your imagination into reality and take the chance to create a dynamic virtual event with our end-to-end customisation. The customization helps you create a theme, style, added features, and integration of platforms you want.
2. Interactive Technology
Interactivity is quite a necessary aspect of a successful event, and with the use of augmented reality, you can nail the event. To make the event more engaging, you can add augmented reality tools and even create 2D/3D social media filters, stickers, gamification, and other things.
Moreover, you can additionally create an avatar for participants, which can be helpful in driving more user engagement. All these combined features for your event will definitely increase the registrations and improve the user experience, as well as create a brand presence. 
3. Branding That Rocks
You have the ability to customise, and together with our knowledgeable team of experts, we can make a remarkable difference in the overall branding. Each segment of your event can be designed in a way that attracts the audience by keeping the aspects of your brands and sponsors in mind.
4. Digital Power for Your Exhibit Booths
Add a touch of AR/VR to your exhibit booths to add a touch of digital elements to your next virtual expo in UAE. This will help you to keep track of prospects and capture data.
5. Event Data & Analytics
You can collect, track, and access all of the event data analytics and reports with the assistance of a qualified technology partner, allowing you to evaluate the effectiveness of your participation. You will gain a deeper understanding of consumer behaviour thanks to this component.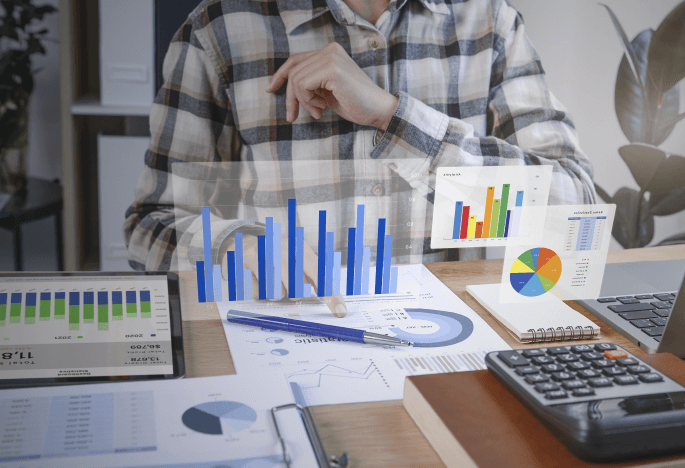 6. Effortless Event Execution
To ensure smooth execution and achieve your goal, our team of certified professionals will offer you complete on-the-ground support.
Conclusion
The world is moving towards virtual technology and the possibility of every event having a virtual element in it is quite preferable just like Dubai Expo did. No matter to which industry you belong if you want to make your event remarkable and make it available later for everyone to enjoy and get value. Then you are at the right place, which will make your on-ground and virtual event a remarkable experience for all your audience.
In-Person, Hybrid, Virtual
Create an Extraordinary Event Experience
Across All Event Formats