The Covid-19 pandemic has changed the way we perceive the idea of organizing events. When planning to host an event, the word virtual or online comes instantly into our minds, almost in reflex. The perfect blend of event experience and technology has facilitated us with multiple opportunities to accomplish our goals without any hassle. The world of expo and exhibition seemed like falling apart when the virtual world came to its rescue.
Let's get a closer understanding of a Virtual Expo.
What is a Virtual Expo?
A Virtual Expo is simply a virtual exposition or exhibition Hall that's easily accessible over a virtual event platform on the internet. The multimedia format of an online expo provides the attendees with a real-time experience of moving around in the 3D hall with exposition booths. The exhibitors are present in these booths all the time, so you can visit to get their product demo or have a chat according to your preferred time.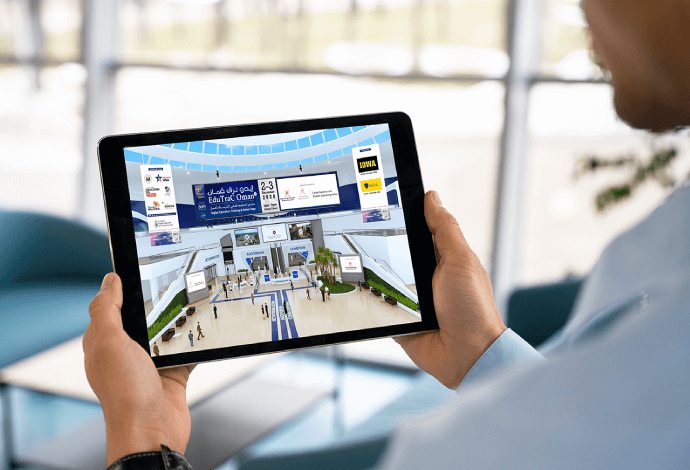 A Virtual Expo allows the participants to browse through and engage with different vendors by visiting their booths. An efficient online event platform also provides the attendees with several ways to create leads and network with each other in the event. Dreamcast offers excellent networking opportunities for the expo audience, elevating their event experience.
One of the best parts of Virtual Expos is that travelling is not an issue and you can easily navigate through the event platform from any remote location. It also eliminates the hassle of renting a physical venue, making the expo even a wider pool so everyone can cast their nets in. Once the participants have reached the booth, they can view any uploaded information of the vendor, like view and engage in the Live or Pre-recorded Demo, have a live chat, or save their contact details. Also, when a participant engages with a vendor, they are added to a list of leads that the exhibitor can access to observe the participant's interest in their product/company.
In-Person, Hybrid, Virtual
Create an Extraordinary Event Experience
Across All Event Formats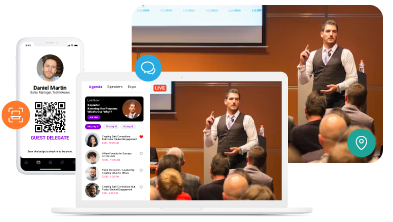 Overall, Virtual Expos can add efficient networking opportunities to your Virtual Event.
Features of a Virtual Expo
Virtual Expos are gaining more and more importance in the modern world and it's the features of these online exhibitions that make them exceptional. Let's look at some of the top features of Virtual Expos:
1. Attractive 3D Design
The stunning venue design can attract your audience to be engaged in the event from the moment they walk in. Beginning from a compelling and beautiful landing page and moving on to see a highly customizable interface can be an experience to remember for both the exhibitors and attendees. Virtual Expos eliminate the need to download data to consume information and instead provides a well-designed environment with all the information enclosed in the platform itself.
2. Customized Expo Booths
Designing attractive booths and making marketing efforts used to be challenging tasks in physical exhibitions. However, Virtual Expos provides exhibitors with the opportunity to brand their booths in countless ways without putting in their precious hours or compromising with anything they wish to incorporate in the physical booths.
In-Person, Hybrid, Virtual
Create an Extraordinary Event Experience
Across All Event Formats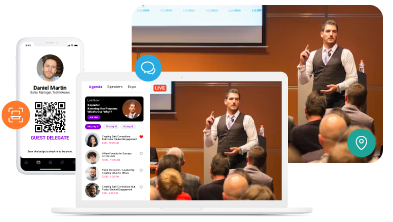 3. On-spot Trade
Virtual Expos can mimic the role of an e-commerce platform. Apart from letting the exhibitors showcase their products and services, Virtual Expos also facilitate them with the prospects of on-spot trade. With the embedded link to the online shop, trade delays can easily be eliminated. It also makes real-time transactions easy at your Virtual Expo.
4. Live Chat tool for Better Networking
The direct or indirect goal of every Expo is to widen your business's reach and contacts. The participants can both be your future customers or allies. The tool of Live Chat not only helps in educating but also keeps the attendees and exhibitors engaged. It eliminates the need to stand in long queues around the booths and easily indulge in a conversation through live video or audio chat.
5. On-Event Announcements
The feature of on-event announcements helps in keeping the attendees informed about the event. The attendees must receive live updates during the event, so they are updated about the ongoing events. The pop-up feature provided in the online event platforms helps in notifying the attendees about upcoming sessions and other important information. This feature makes sure that your participants don't miss out on anything. A virtual expo allows you to grab your audience's attention and keep them informed by popping up notifications.
In-Person, Hybrid, Virtual
Create an Extraordinary Event Experience
Across All Event Formats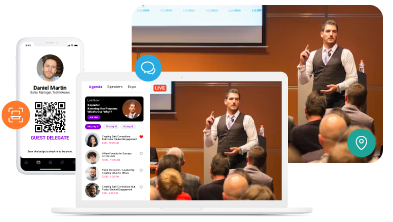 6. Convenient Document Sharing
Virtual Expos makes it possible to share documents conveniently over the virtual event platform. Product resources like release information, spec sheets, use-case data, and tutorials can be shared with the participants easily.
7. Detailed Reports
This feature helps the exhibitor in getting detailed reports of the expo so they can use it to further measure the success of the event. The organizers can ask the providers to generate real-time reports if they wish to monitor some booths closely. This can help them enhance the output they aim to accomplish.
How to Host a Virtual Expo Successfully
Hosting Virtual Expos is becoming more and more prevalent with each passing day. More and more organizers are coming forward to conduct their expos on online event platforms. However, with more acceptance, it is also becoming more significant to explore the situation and develop highly efficient ideas to make the most out of these virtual expos and exhibitions.
Let's explore the steps to hosting a successful Virtual Expo: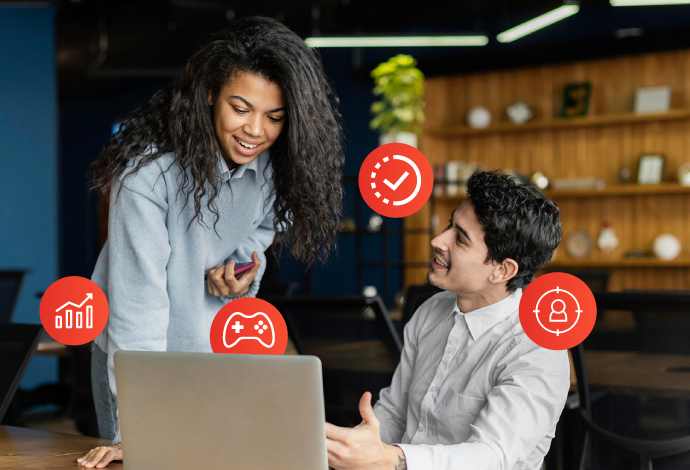 1. Plan Everything in Advance
To be a step ahead in any situation, it's necessary to plan everything before the event. Right from planning to execution, everything should be worked out properly. This step includes making a list of all the exhibitors and all the elements and tools required while the expo goes live. Analyzing the characteristics of exhibitors can help you understand their possible engagement prospects, revenue generation, nature of their products, past track record, trustworthiness, reliability, etc. The success of your event highly depends on the kind of participants involved. Formulating everything will not only help in determining these aspects but also manage monetary or trade-related aspects after the event.
In-Person, Hybrid, Virtual
Create an Extraordinary Event Experience
Across All Event Formats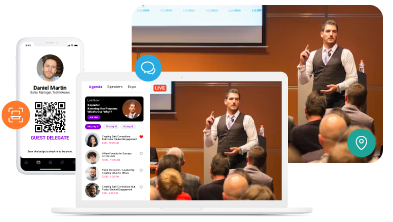 2. Schedule the timings
The next important step is to prepare an on-point schedule and communicate it clearly with all your participants. All the exhibitors and attendees can schedule meetings at their preferred timings even after the event ends. The tool of the B2B meeting scheduler on virtual event platforms facilitates the participants with the option to plan meetings anytime during or after the virtual event. A good schedule will not only ensure the efficiency and success of your expo but also elevate your attendees' experience as none of their time is wasted.
3. Estimate and Understand the Target Audience
Estimate the number of attendees that your 3D Virtual Expo might pull in and try to understand the expectations of your target audience. Planning this aspect is very vital to execute a successful event as you already have an idea of all the elements you're expected to inculcate in the Virtual Expo. Your content should be designed and produced, keeping in mind the preferences of your target audience. Be it the design of your virtual spaces or the images and texts, all of it adds up to the audience's experience.
4. Add Interesting and Up to Date Features
Capturing the interest of the exhibitors and attendees is very important to conduct a virtual expo. Consider adding interesting features to your expo which makes your participants feel engaged. Gamify the exhibition by adding engrossing games and contests. There are so many modern engaging features available to increase the attendees' involvement throughout the event. So, try to keep your 3D Virtual Expo Platform updated with the most advanced interactive features.
In-Person, Hybrid, Virtual
Create an Extraordinary Event Experience
Across All Event Formats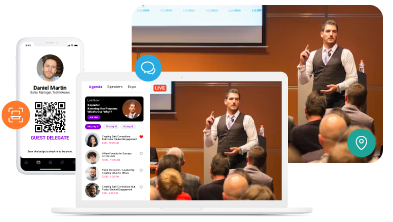 5. Make the Expo Interactive
Increase the interactive elements of your Virtual Expo and design a unique environment in all aspects. From functionality to appearance, everything should catch your participant's attention. However, your attendees must also feel the ease of usage while navigating through the platform.
6. Provide Tips
Some of your attendees might not be able to understand the functionality of a virtual event platform. Make sure you don't rule this possibility out, as it might lead to a lack of registrations. Make sure you provide FAQs or "How to" tips for both the exhibitors and attendees so they can register and participate in your virtual expo smoothly.
In-Person, Hybrid, Virtual
Create an Extraordinary Event Experience
Across All Event Formats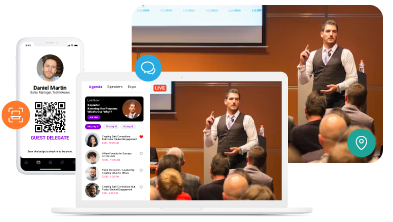 How to Choose the Best Platform for Your Expo
Different types of online event platforms have countless features and characteristics. But how do you choose what's the best for your Virtual Expo?
Following are some of the most important points to keep in mind while choosing an event platform for your virtual expo: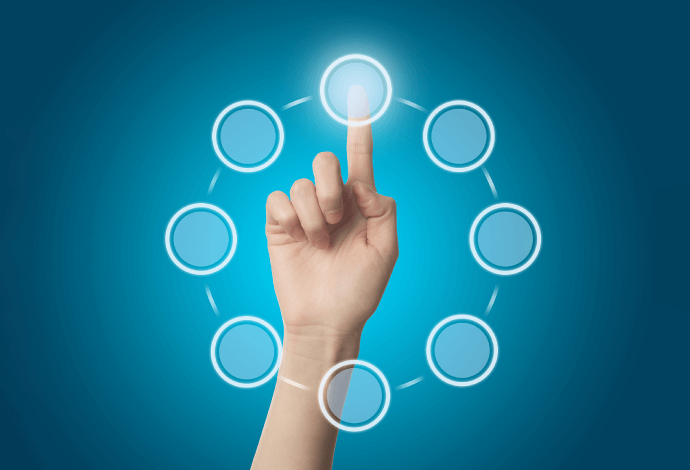 1. Tool Integration
The virtual event platform should be able to smoothly integrate the elements you require in your Virtual Expo. Integrations are necessary when you're adopting a medium into your workflow. For example, you might need a smooth payment tool for the registration activities within the same event platform navigation. So, the platform you opt for must integrate all the tools that you're already using seamlessly.
2. Virtual Networking Tools
The long-term goal of any event is to increase network and collaboration. However, lots of opportunities are limited only to physical events, like bumping into somebody in the coffee line or at the restroom. But don't worry! The virtual sphere of events has come a long way and an efficient online platform will provide you with the best networking tools so you don't miss out on this aspect.
3. Customizable Booths
While shifting online to host an event, you might think that now you won't be able to plan everything according to your requirements but this is absolutely not the case! All you need to do is find a platform that provides you with the option of customizing the elements according to your necessities. Dreamcast is one such platform that not only provides you with the best platform design but also the opportunity to customize each element as per your needs.
4. User Experience
The moment your attendees join the virtual event, they also become a user. From the second your attendee steps in, they begin having a user experience, making positive or negative interpretations about the event. Your responsibility is to make sure they have a positive experience with your Virtual Expo. Keeping this in mind, you need to choose a platform that ensures your attendees find it easy to navigate through the virtual event platform.
In-Person, Hybrid, Virtual
Create an Extraordinary Event Experience
Across All Event Formats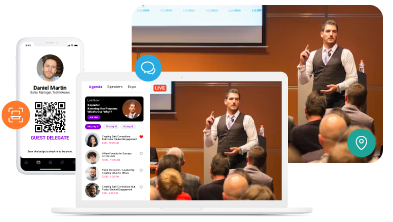 Engagement Ideas
Engagement is one of the most vital elements that determine the success of any Virtual Event. Following are the most exciting ideas to increase audience engagement in your Virtual Expo.
1. Gamification
Try to gamify your entire event by including some exciting games to promote engagement. Games like a scavenger hunt, spin the wheel, or tic-tac-toe not only boosts excitement but also keeps the attendees interested and hooked throughout the event.
2. Interactive Components
Apart from games, add other interactive elements to your virtual event, like live polls, quizzes, contests, and Q&A sessions. Polls and contests related to the theme of your event will help your audience check their knowledge, playfully compete and feel engaged.
3. Social Wall
A social wall curates all the ongoing discussions and posts from the events to be visible in one place through the event hashtag. This way, the attendees feel like sharing their experiences socially to be visible on the wall too. This idea helps the attendees in engaging effortlessly.
In-Person, Hybrid, Virtual
Create an Extraordinary Event Experience
Across All Event Formats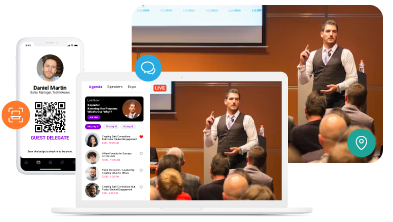 4. Photo Booths
People love to capture moments when they visit any physical event. Photo Booths on virtual platforms facilitate your attendees with the same opportunity to click pictures in branded photo booths to remember their experience and capture the moment. They can also share these pictures instantly with their friends, families, and colleagues on social media.
5. Signature Wall
Provide your attendees a cool signature wall where they can make their signatures or write notes about their event experience. This idea can be a simple and effective engagement tool.
6. Create a Leaderboard
By creating a leaderboard, you can encourage your attendees by assigning them points for each impression they make in the game played. This element will not only engage the audience but also motivate them to participate in the activities.
Benefits of Hosting a Virtual Expo
Investing in a Virtual Expo for your products and services can be very beneficial compared to a physical exhibition.
Let's have a look at some of the top advantages of hosting a Virtual Expo:
1. Cost-Effective
A physical event involves many expenses like setting up the event, traveling, venue, resources, logistics, etc. However, Virtual Expos are way cheaper and have a very cost-effective program. It helps you reach a wider audience with less investment.
2. Environmental Friendly
A virtual event means you are not being a part of a physical venue, have the need to travel or indulge in the physical event activities. However, this helps in saving the natural resources as you're probably using none. For example, in a Virtual Expo, no papers are used as everything is online, no carbon footprint as there's no traveling involved, no garbage is thrown as the expo is organized on an online platform.
In-Person, Hybrid, Virtual
Create an Extraordinary Event Experience
Across All Event Formats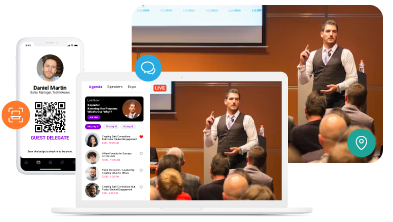 3. Better Reach and Outreach
Virtual Expos can last longer as the exhibitors don't have to worry about rentals or terms and conditions. This allows the exhibitors to get better outreach and exposure to the market.
4. Generate and Track Leads
Each participant of an online event is given a personal login id or link. This helps them in getting direct access to downloadable information with built-in tracking, attendee profile, and lead management system. With the help of the right digital tool, the exhibitors can speculate the attendee's interests and approach them to present their product or service. The same tool also helps the attendees to share their feedback later on.
5. Avoid Any Possible Errors in Your Virtual Expo
Although all the virtual event platforms have proper tech support, the best possible way is to ensure there are no errors before the event.
Perform a dry run by using the virtual platform before the event and notice all the tools, elements, and features to ensure they are working properly. Check your internet connection and make sure that the network backup is efficient. Also, verify your system configuration prior to the event itself so there are no device crashes in the future.
Here are some Popular Virtual Expo Examples
GITEX Dubai 2021
Said to be the most popular tech event, the Gulf Information Technology Exhibition or GITEX is a technology trade show that takes place in Dubai every year. The tech show provides an excellent opportunity for tech companies to present themselves to a global audience. A must-attend event, GITEX Dubai offers all the tech enthusiasts, entrepreneurs, and students a platform to witness some of the craziest innovations in the field of technology. The tech show exhibits the latest smartphones, supercars, robots, and computers. It is the annual technology event of Dubai, UAE, and came into existence in 1981. The 41st edition of GITEX Dubai 2021 was recently concluded and had around 3500 enterprises marking their presence at the event. 
In-Person, Hybrid, Virtual
Create an Extraordinary Event Experience
Across All Event Formats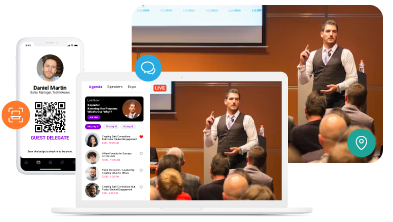 Consumer Goods Expo 2021
The virtual expo provides excellent opportunities for buyers and exhibitors from the sectors of Agriculture, apparel, Automobiles, Chemicals, Electrical Supplies, and many more industries. Its 2020 edition is marked as India's First and largest Indian Business Distributorship Exhibition. The expo connects professionals from different industrial sectors and promotes learning about the latest developments and opportunities in the market. The main objective of the Consumer Goods Expo is to encourage one-on-one interaction between the audience and the exhibitors, allowing them to boost their brand reach.
How to Measure the Success of Your Event?
It is vital to measure the success of your Virtual Expo in all aspects to optimize your future events and know all the rights and wrongs. Following are some ways that can help you measure the success of your virtual expo post the event.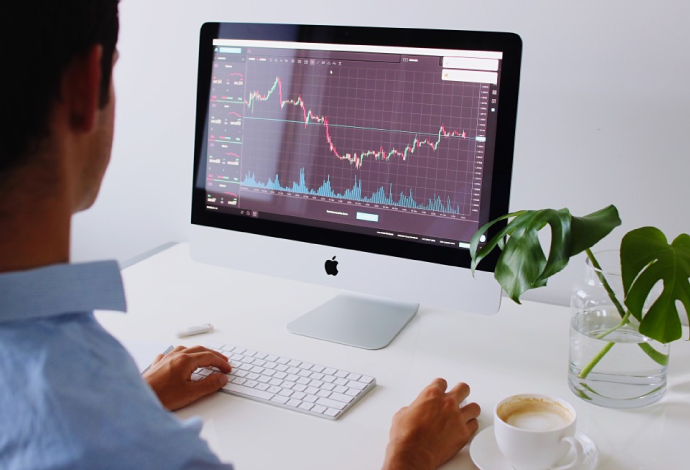 1. Event Registrations
Optimizing the registrations can help you closely track the marketing activities. This way, you can identify the channels or mediums that are bringing in more registrants. Optimizing the event registrations can also help you in understanding how efficient the landing page is.
Measuring success becomes easy once you obtain meaningful analytics.
2. Audience Engagement
Audience engagement is one of the most important determiners of the event's success. You can check your audience's impression data. This way you get to understand if the audience felt engaged or not.
3. Audience Experience and Satisfaction
The satisfaction of your attendees can be recorded with the help of feedback forms, surveys, or live polls.
4. Obtaining the Data Analytics
Studying the data and reports of the amount incurred and the revenue generated can also help you measure the success of your Virtual Expo. All you have to do is keep a record of all the data since the beginning of your event planning.
However, the success of your event depends on the goal too. The number of leads generated and loyal attendees gained can also be an indicator of your event's success.
In case of any more questions or doubts, book a demo with Dreamcast!
In-Person, Hybrid, Virtual
Create an Extraordinary Event Experience
Across All Event Formats