Exhibitions and expos are very helpful in many ways. To begin with, they help in making new contacts. It can also mean that you can come across a potential client. Who knows, you might crack a deal as well? Also, you or your brand get noticed by more and more people in the exhibition. Apart from this, you get a deeper insight into the industry in these events. Like what works and whatnot. But most importantly, exhibition or expos are a great place to launch a product.
But because of the pandemic, many events were cancelled. This includes exhibitions and expos. And it left many people puzzled. But few of those events that were not cancelled shifted digital medium. And adopted virtual event technology. But you must be wondering how it is possible to host an exhibition or expo virtually? Let's see.
Virtual Exhibition/Expo – a Limitless World
A virtual exhibition or expo is a digital alternative to a physical event. Its aim is to recreate the experience of physical events on the digital medium. A virtual event like a virtual exhibition relies on a virtual event platform. And these virtual platforms offer a 3-Dimensional and interactive environment. Also, these platforms provide features and tools dedicated to audience engagement and networking.
Benefits of the Virtual Exhibition
There are lots of benefits to choosing a virtual medium for your exhibition or expo. Some of these are cost efficiency, time-friendliness, global audience, better ROI (Return On Investment), networking opportunities and many more.
Now that you are aware of some of the benefits of the virtual exhibition. Let's see how you can host one by yourself.
Steps to Host a Virtual Exhibition
1. Laying Down Your Goals
You need to decide your goals for your virtual exhibition. Ask yourself questions like What do you want to achieve from the event? Do you want to expand your network? Or want to launch a product? Or is there any other reason? By introspecting, you will get the answer to these questions. Your whole event will depend upon your goals. So, identify your purpose. Once your goals are decided, you can move ahead with the next step.
2. Making the Road Map
After deciding your goals, you need to prepare the strategy for your event. Now you must be wondering what things you should consider while making the strategy? To begin with, the date, time and duration of the event. Also, you need to decide the features you are going to provide to your exhibitors and visitors. Remember, you are planning for a virtual event, so you need to offer lots of features. These features might cover the customisation of the exhibitors' booth or features/tools for the visitors.
3. Allotting the Budget
The strategy for the event will help you to identify the needs for your event. And upon these requirements, you will be able to form the budget. Understand this, the production quality of your event depends upon the budget. And thus the look and feel of your virtual exhibition.
You need to consider things like the expected number of visitors, the features and tools for the exhibitor's booth and other things like equipment.
People often mistake while making the budget. One of the common mistakes is underestimating the expenses. It is acceptable if you are left with some extra money after the event. But it would be a big problem for you if you run out of money while making arrangements.
In-Person, Hybrid, Virtual
Create an Extraordinary Event Experience
Across All Event Formats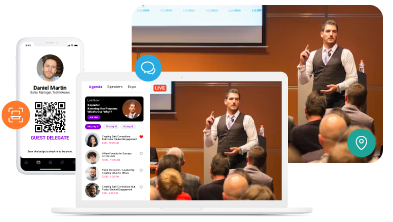 4. Required Tech for the Event
For a virtual event, you would need various things like a camera and microphone. But most importantly, the virtual event platform/software. Don't forget your audience's experience will decide the result of your exhibition. And the audiences' experience can be controlled by the virtual event platform. While selecting the virtual event or software, you need to consider these things
Interface and Navigation
The interface of the virtual event platform needs to be interactive. Also, it needs to be easy to navigate. If the interface is buggy, it will ruin the audiences' experience. Or if it is too complicated to navigate, then people will get confused and leave your event.
Engagement Features
A survey says that those who didn't try to engage the audience were expected to be 150 times more unsuccessful than those who did. So you have to engage your audience to get positive results. You can use features like Gamification, leaderboard, AR photobooth, social wall and many more.
Networking Tools
Networking is very essential for many people, especially if they are going to a virtual event. And that too a virtual exhibition. So provide your audience with the features like Live chats, 2-way interaction, networking lounges and AI Matchmaking etc.
Exhibitor Booth Customisation
Don't forget your exhibitor. You need to give some options to the exhibitor to customise their booths. Also, you can provide them autonomy for customisation. How about a DIY feature? This will allow the exhibitor to select colours, banners, functionality, icons, video recordings and pictures etc.
5. Inviting Exhibitors and Audience
Now that you have made the necessary arrangements, it is time to send invitations. You need to invite exhibitors, guests and the audience in advance. Also, don't forget to mention important information like the date, time and duration of the event. And also, provide them with the link to your virtual exhibition.
6. Spreading Word for Your Event
Promoting your event is as important as deciding the budget. So, you should market your event. But you must be wondering how to promote your event? Use social media. But first, prepare a strategy for social media marketing. Consider the different social media platform formats and the trending content. Now tailor your content according to your social media platforms. Remember your content has to be effective, and it should attract people. Otherwise, you won't see many visitors at your event.
7. Sponsorship
You can also approach the sponsors for your event. There are multiple advantages of getting the sponsorship. Apart from the funds, you can ask your sponsors to promote your event. Remember the reputation of your event will be linked with the sponsors of your event.
8. Rehearsal
The last thing that is left before the event day is rehearsal. Test the virtual event platform. It will help you in identifying the possible issues. Also, You will get the time to eliminate these issues. And also test the technical support provided by the software team. We hope this article will guide you in hosting your virtual exhibition/ expo. Share yours about virtual exhibitions or any other virtual event with us.
If you are looking for comprehensive solutions for your virtual hybrid events, Dreamcast offers endless possibilities. Enquire now!
In-Person, Hybrid, Virtual
Create an Extraordinary Event Experience
Across All Event Formats