In the wake of the Covid-19 Pandemic, the event industry went through complexities that nobody imagined. While many event professionals found themselves on the verge of giving up, various organizations faced millions of losses due to the inconvenience met in hosting events. However, this is when skilled event planners innovated an ideal blend of event and technology, originating the concept of virtual events. After facing countless unpredictable conditions, the event industry is all set to touch greater heights of progress by shifting to the virtual world. Be it a virtual fair or a virtual conference, all types of events are now achievable over a screen with the kit of advanced tools and components.
Hosting a virtual event comes with its own set of pros and cons. Therefore, it is significant to understand all the aspects of a virtual conference that shapes up a successful Virtual Conference.
Let's explore the essential facets of a Virtual Conference that will help you host an unmatched online event.
What is a Virtual Conference?
A Virtual Conference is an interactive event organized over a compelling virtual event platform. A large group of audiences belonging to a common niche interest and industry participate in these conferences to fulfill their goal to plan, discuss, interact, and network with each other. Like a physical conference, a Virtual Conference also includes keynote sessions, networking lounges, panel discussions, training and certification, live entertainment, etc. The only difference is now the event industry has shifted to a virtual medium and all these sessions can be hosted over a screen.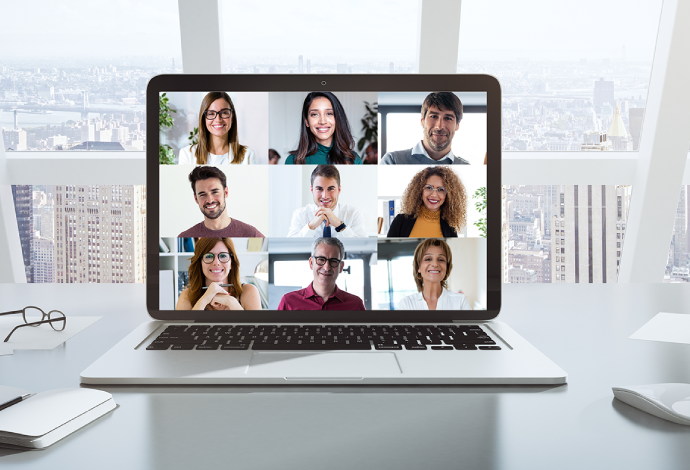 With this shift to the virtual conference platform, it has also become challenging to maintain the same engagement and networking opportunities as a physical event. However, the event experts have come up with productive tools to combat these difficulties and emerge back in the industry with added progression.
Benefits of Hosting a Virtual Conference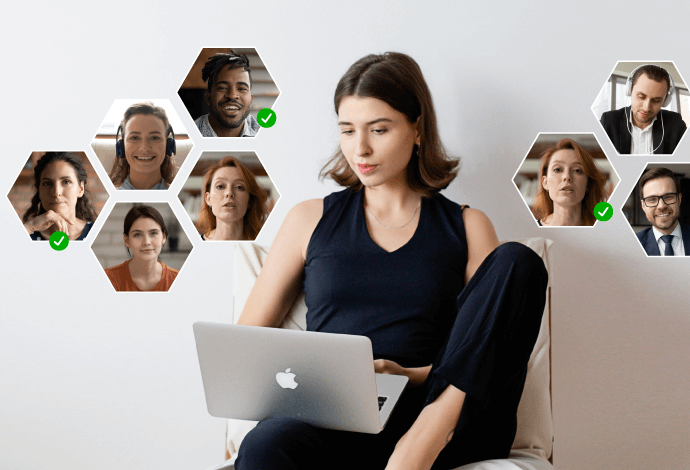 There are countless reasons why organizations prefer to host their events over a virtual 3D conference platform rather than on a physical venue. Let's explore some of the prime benefits of hosting a Virtual Conference.
#1 Maximized Reach
One of the most significant benefits of hosting virtual conferences is that your attendees can attend them from any location, on any device, from anywhere across the world. Therefore, you get the opportunity to address a wider audience without having to spend large sums on resources like accommodation and travel. With the help of the 360 virtual conference platform, you get the opportunity to increase the reach of your virtual conference at an easy trade-off.
#2 Economize Time and Money
Hosting a conference or any other event is usually a stressful job for the organizers. There are various activities that are needed to be taken care of, like booking the venue, arranging meal facilities, structuring the theme, managing the logistics, etc. A Virtual Conference rids the organizer with all this hassle by providing a cost-effective virtual alternative.
Your speakers, presenters, and attendees are also rendered with a far more convenient and schedule-friendly approach. While a high-demand speaker would not be able to provide more time to your conference on a physical event, they can easily dedicate comparatively more time over the virtual platform.
#3 Better Networking Opportunities
A Virtual 3D Conference Platform provides you with multiple networking opportunities that upgrade your attendees' event experience. The right platform for your conference will be well-resourced with advanced tools and elements.
With the help of tools like live text, video & audio chat, virtual breakout rooms, AI matchmaking, advanced search filters, and B2B meeting scheduler, all your participants get a better chance to engage with the industry experts and generate maximum leads.
#4 Environment Friendly
The shift from a physical to a virtual space reduces the requirement of many waste-generating resources. All your participant's ecological footprint is decreased as there is no waste of supplies like electricity and water. For example, while hosting a virtual conference, there is no need for brochures, banners, printed schedules, or any other material that can cause paper waste. Therefore, hosting a virtual conference means taking a step forward in conserving the environment.
#5 Data Collection
A virtual event platform provides you with various tools to record all your event data that can be analyzed after the event. Keeping track of data like attendee footprint, registration details, networking hotspots, poll responses, etc., can be an efficient way to interpret the potency of your strategies. A well-founded online event platform can collect numerous data before, after & during the online conference and later share the records to help you gain a better insight into all your event approaches.
In-Person, Hybrid, Virtual
Create an Extraordinary Event Experience
Across All Event Formats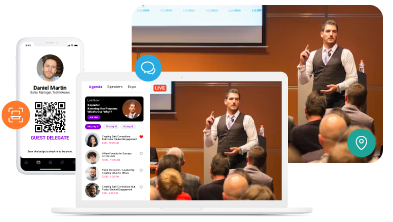 Different Types of Virtual Conferences
A virtual conference is not limited to a specific industry. It can be hosted for different businesses with different agendas. Following are a few types of conferences that can be held on a virtual platform.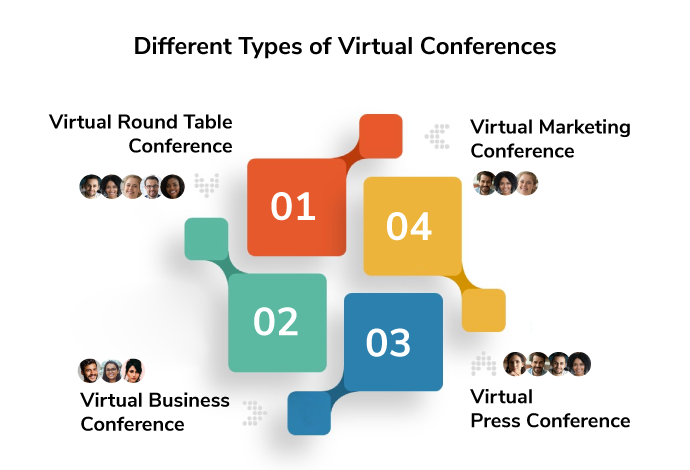 #1 Virtual Marketing Conference
A Virtual Marketing Conference is an online event where experts from the marketing world come together to discuss and plan their niche-related significant topics. It includes key-note sessions, breakout rooms, fun theme-based entertainment sessions, etc.
#2 Virtual Round Table Conference
A virtual round table conference enables its attendees to have a closed discussion, learn and benefit from the shared knowledge over a specific topic. It also promotes networking opportunities for all the participants with the help of online networking tools.
#3 Virtual Business Conference
Business conferences are an integral part of any business. Earlier, hosting a business conference was a bit of a task especially for the organizations spread over different cities or countries. With the help of virtual conference hosting, delegates, stakeholders, and employees from all across the world come together over a screen and attend a Virtual Business Conference.
#4 Virtual Press Conference
We are all aware of the significance and value of a press conference. With the help of a virtual press conference platform, a speaker can share the information while the journalists listen and make a note of the message. The attendees also get the opportunity to raise their hands and ask questions just like a physical press conference, except with a lot less hassle.
How to Host a Virtual Conference Successfully
If organized correctly, virtual conferences can deliver even more profitable results than in-person conferences. Following are the primary steps to host a successful Virtual Conference.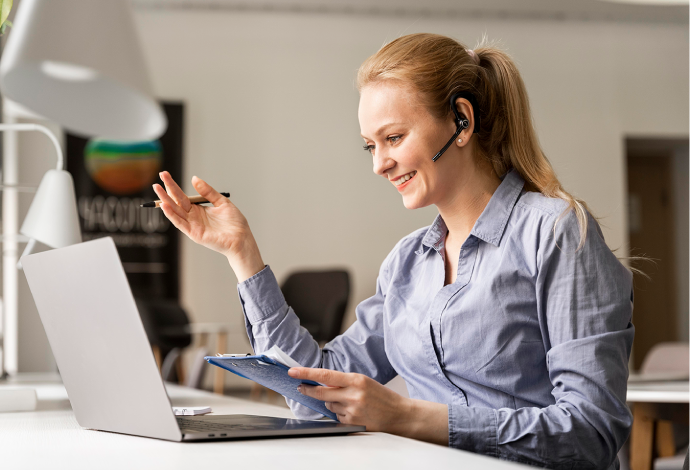 Step #1 Determine the Purpose of Hosting a Virtual Conference
It is very significant to define your goal behind organizing a virtual conference. A specified purpose will not only help you plan and execute the event smoothly but also strategize the content. Ask yourself the following questions to get a better understanding of your objectives:
What do you aim to achieve from this virtual conference?
Who is your target audience?
How will the attendees benefit from this event?
What will be the theme of your virtual event?
Which speakers do you want to include?
How will you measure the success of your virtual conference?
Step #2 Choose the Right Platform
The success of your event is greatly dependent on the tools and elements you use. Radically, the objective of every virtual conference is to maximize the interaction and networking opportunities to create efficient leads, as this is how your event draws value. You have to make sure that your virtual venue partner provides you with advanced engagement & networking tools. The right platform also facilitates you with proactive technical support to ensure seamless operations during the conference.
Step #3 Include Notable Speakers
Choosing the right speakers for your virtual conference adds the much-needed essence to your event. No matter how valuable your topic or content is, the heart of the event lies with the speakers who maintain the interaction with your attendees. As we shift a physical conference to a virtual platform, the need to engage your attendees also increases. Notable and skilled speakers are not only well-versed in content presentation but also understand the importance of interaction. Therefore, choosing notable speakers for your Online Conference will maintain the essential interactivity, further leading to greater engagement.
Step #4 Produce Quality Content
The quality of your content plays one of the most significant roles at a virtual conference. It's vital to understand that the people attending your event from remote locations over a screen have a shorter attention span. Therefore, you need to put higher efforts into the content while hosting a virtual event to ensure that your participants feel engaged and involved throughout the conference. From the banners you update in the background to the audio and video quality, everything performs the essential task of elevating your attendee's event experience.
Step#5 Promote Your Virtual Conference
Promoting your virtual conference along with an efficient marketing strategy does create a social buzz for your event. This element of hosting a virtual event not only maximizes your event's reach but also makes it more engaging. Promotional activities play a major part in bringing in large numbers of registrations during the pre-event phase.
Following are some of the most essential ways to promote a Virtual Conference:
Create a buzz over all the social media platforms like Instagram, Twitter, Facebook, Linked In, etc. Focus more on platforms that the majority of your target audience uses.
Ask all your employees and onboarded speakers to spread the word.
Use your current mailing lists for profitable email marketing.
Add the designed banner with all the required conference details on your official website.
Step #6 Test the Technical Support with a Dry Run
Testing all the tools and elements of your virtual event before going online on the event day is the best way to ensure the smooth execution of your virtual conference. An online conference platform integrates various technical components to host a successful event for you. However, even with the utmost attention and back-end support, there is always an unfortunate possibility of facing technical glitches and errors during the event. Therefore, it's only best to go ahead with the testing process and ensure that there is no scope for any probable errors.
Step #7 Collect Feedback
Collecting feedback from your attendees during and after the event is an effective way to determine the success of your virtual conference. There are various ways to gather your attendee's event review, like running live polls during the event or a feedback form at the end. Feedbacks will not only help you understand the outcome of your virtual conference but also provide an idea for your future online conferences.
How to Choose the Right Virtual Conference Platform
Choosing the right virtual event platform is an all-important part of hosting a virtual conference. There are various things you need to focus on while opting for an online platform on the basis of your event's objectives and requirements. It is also significant to obtain an adequate value for the expenses you're making to host a successful virtual conference. Let's look at the top points to keep in mind while choosing a virtual venue for your event.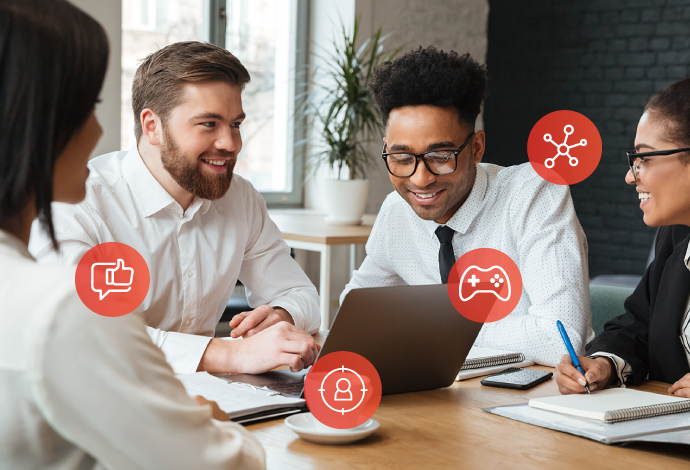 #1 Customizable Properties
Many worthwhile virtual event venues facilitate you with the opportunity to customize the online platform according to your preferences. It is an important aspect because to provide an excellent event experience to your virtual audience, you also need to create a perfect simulation of a physical event. With this component, you can give your virtual event the same touch, so your attendees feel engaged even in this new experience. Also, the more compelling your platform's design, the more it entices your audience.
#2 Strong Tool Integration
Strong tool integration is necessary when you adopt a new medium to your workflow. The virtual event platform you choose should be capable of integrating all the required tools into your virtual conference. For example, your participants might want to navigate through different social media handles while networking with other participants present at your conference; or a smooth payment method while registering for the event. A suitable virtual venue provider will render you with such excellent tool integration facilities that ensure the smooth execution of your virtual conference.
#3 Excellent Networking Opportunities
Virtual events are gaining prevalence amongst businesses as it provides excellent and innovative networking opportunities. While attending your virtual conference, most of your attendees might expect to maximize their reach, generate leads, and network with other participants. The right virtual event platform for your virtual conference should be well-resourced with advanced networking tools. Dreamcast provides you with innovative tools like AI matchmaking, advanced search filters, B2B meeting scheduler, etc., that productively elevates your attendees' networking experience.
#4 Engagement and Interactivity
Engagement and interactivity are the two elements that can determine the potency and success of your virtual conference. Tools like virtual event gamification, live polls, Q&A Sessions, contests, trivia, etc., improve the interactivity and hence, the engagement at your virtual conference. Many virtual event platforms also provide tools like escape room integration and platform calibration so the attendees can collect points with every impression they make. Therefore, make sure the virtual venue you choose renders you with the best engagement tools.
#5 Device Compatibility
Before choosing the virtual technology, ask your virtual venue providers if their platform supports all types of devices to ensure the smooth execution of your virtual conference.
#6 Backend Support
It's possible for your attendees to not be well-versed with the functioning of a virtual conference platform. To ensure that none of your participants face issues while registering or attending the virtual conference, make sure that the virtual venue provider you choose provides systematic backend support.
Measure the Success of Your Virtual Conference
It is significant to measure the success of your virtual conference at the end to optimize your future virtual events. Following are a few ways you can determine the success of your Online Conference.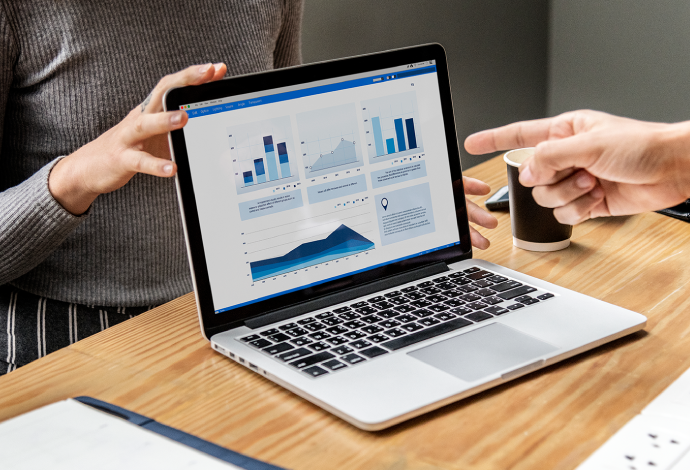 #1 Virtual Conference Registration
Tracking and optimizing the registration activities can help you understand the efficacy of your marketing strategies. This way, you can identify the mediums which grew the most audience attention for your Virtual Conference.
#2 Audience Impressions
A virtual conference platform provides you with the data analytics that represents the record of all the impressions your attendees made. Analyzing your participant's impressions throughout the virtual event can help you discern the potency of various interactive and engaging hotspots.
#3 Attendees' Satisfaction
With the help of your attendee's response to the live polls, surveys, and feedback forms conducted throughout the virtual conference, you can understand the level of your attendee's satisfaction and event experience.
#4 Comparison of Revenue and Expenses
Studying the reports of your revenue and expenses is the easiest way to determine the monetary success of your Virtual Conference. All you have to do is keep a record of all your expenses and revenues since the beginning of your virtual conference planning.
Looking for a one-stop solution to host a successful Virtual Conference? No worries! Dreamcast has got your back with the most advanced virtual event tools and elements. Contact us and Book a Demo Now!
In-Person, Hybrid, Virtual
Create an Extraordinary Event Experience
Across All Event Formats