If we want to run a successful business, we must communicate our organisational goals with the employees. One cannot skip the fact that it is extremely necessary to constantly motivate our workforce in order to yield better results. Each and every department of an organisation has to give their 100% and put in extra efforts to coordinate all their hard work. In order to verbalise the business target and expectancy, the department heads often indulge in conferences and meetings. There is no denying the fact that a group discussion is extremely beneficial in terms of conceptualising.
But, things have changed drastically as the covid-19 pandemic hovering like a sword on people's health. In times like these when the pandemic is an enormous threat to human life, having one-on-one meetings is definitely not an option! The coronavirus came in as a challenge for the entire world and unquestionably organisations around the globe were tremendously affected by it. All the physical meetings and brainstorming sessions had to be postponed but soon this proved to be a quite expensive idea. The employees had to be assigned tasks and all their doubts required to be solved. This was a tedious situation.
In-Person, Hybrid, Virtual
Create an Extraordinary Event Experience
Across All Event Formats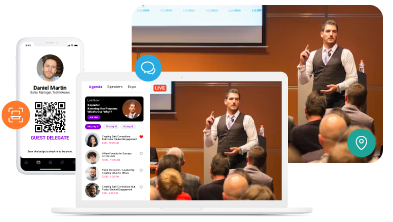 Fortunately, we have technological advancement at our disposal. Organisations soon realised the utmost potential of these digital innovations and leveraged virtual conference technology. Within a fraction of time, hosting virtual conference meetings became the new normal. This led to the significant popularity of virtual conferences and meetings. Firms started to host Online virtual conferences and meetings that enable all their employees to participate seamlessly from their remote locations. This proved to be extremely beneficial as they were able to spread their motive and get extraordinary results.
Well, if you are looking for a virtual conference platform as well as virtual conference providers, to host your organisation's upcoming virtual conference in 2021 & beyond, you have come just to the right place! In this article, we have covered the important virtual conference solutions that must be kept in mind when opting for a virtual conference meeting. With that being said, let us drive straight into it and unravel all the features.
AI Matchmaking
Artificial intelligence or computer-based intelligence matchmaking is perhaps the best feature available in a virtual conference platform. AI Matchmaking is an efficient tool that works well for a virtual conference for companies that are widespread globally. It matches the event attendees with the respective exhibitors as per their interest. This matchmaking tool enables exhibitors to break down all the intrigued applicants and connect with them according to their requirements. Exhibitors use this tool to schedule meetings with the event attendees on a specific date and time.
Virtual Networking Tables
This is one of the most exuberant virtual conference solutions present in virtual platforms as it permits people to adequately conceptualize. Virtual attendees are encouraged to carry forward serious discussions with this immersive roundtable conference. The main idea behind this networking table has been driven by real-life conferences. Moreover, all the virtual participants are facilitated with a video as well as audio call facility that can be utilised as per their requirements. With the help of networking roundtable features, individuals can acquire important data and offer their significant serenity without impeding their comfort.
Customisation
If you're planning to host a virtual conference, make sure that the organisers allow you to customise it as per your requirements. The feature of customisation is extremely important. It allows you to intensify the entire ambience and mould it according to your expectations suiting the brand image. We have listed down few customisation features that you should surely look for in a virtual conference platform to upscale your virtual conference meetings and deliver immersive experiences to attendees.
1. Dynamic Banners
Dynamic banners are usually present in the exhibition hall and the reception area. These represent your sponsors and their contact information. Customisable dynamic banners can compile images and GIFs of your choice.
2. Music in Lobby
This is a great feature that helps in enhancing the overall ambience of a virtual lobby. You can pick a soothing and calming melody that fulfills your intentions in the virtual conference.
3. UI Buttons
This feature allows you to alter the buttons as well as icons available on your virtual conference platform.
Immersive Virtual Space
We all know the impact of an immersive virtual space. It is quite advantageous as it helps to lure in positive reviews from all the virtual attendees. If you want to host an online virtual conference, you must take extra precautions to intensify the overall vibes of the virtual event. Here are some of the virtual spaces that your virtual conference technology must consist of:
1. Lobby
The lobby is a pathway that leads the virtual attendees to different locations. It plays a major role in any virtual event.
2. Exhibition Hall
This space permits all the exhibitors to set up their exhibition booth and showcase their facilities.
3. Auditoriums
These are the places where different virtual events like virtual conferences, sessions, meetups, and so forth take place.
4. Sponsor Space
You must never avoid the sponsor space in any virtual event. These are predefined places that showcase vital information or logos of your sponsored brands and exhibitors.
Engagement Features
Engagement features play a major role in a virtual conference platform. These features are specially designed to boost up the audience interaction and amplify the impact of the entire event. Having a platform with well-embedded engaging features is one of the most exciting virtual conference ideas to keep attendees excited and motivated throughout the online virtual conference. With that said, let us have a look at a few engagement features listed below:
1. Live Chatbox
This feature allows all the virtual participants to put forward their queries and get appropriate solutions to them. The virtual chat box allows individuals to raise their queries. Additionally, they can also clear the doubts with the help of audio as well as video calling features available on the virtual platforms.
2. Live Q&A
Live question and answer sessions usually take place between the virtual attendees and the speakers. This allows individuals to directly raise their queries and get them answered by the professional speakers.
3. Live Polls and Surveys
Live polls as well as surveys are the most intriguing engagement features. They allow attendees to partake in several live polls as well as surveys that include several questions related to the brands. These surveys and live polls provide vital information to the exhibitors and help them in giving adequate attention to every aspect of their virtual event.
4. Gamification
This is an immersive engagement feature offered by the virtual event platforms. It allows the host to include numerous games in their virtual event. Games like spin the wheel, crossword and temple run attract the attendee's attention and thereby increase their engagement in no time.
5. Twitter Wall
This is like a social wall for your virtual platform. It allows all the participants to connect on a Twitter wall and leave their comments. This boosts up the creation of miniature communities within a virtual event. A Twitter wall can comprise of negative as well as positive comments and their messages can be later analysed to take corrective measures as and when required.
Conclusion
Virtual conferences and meetings are getting extensive popularity among the gen-tech freaks. These online sessions allow individuals to partake in the brainstorming sessions from the comfort of their houses. There's no denying the fact that virtual conferences have now become a part of our lifestyle. Thus, it is extremely necessary to indulge with the right virtual conference providers or with a comprehensive virtual conference platform that provides all the necessary key features and exuberant virtual meeting solutions to deliver life-like experiences to attendees. It is undeniably important for an organisation to host virtual meetings and conferences of exuberant quality. Therefore, in the above article, we have covered all the virtual conference platform features that you must look for while hosting a virtual conference in Dubai, India, Australia, or any other continent worldwide.
If you are looking for comprehensive virtual conference solutions for your event, Dreamcast offers endless possibilities.
In-Person, Hybrid, Virtual
Create an Extraordinary Event Experience
Across All Event Formats