Live virtual conferences and events have become really common since the coronavirus pandemic but they've been increasingly used well before 2020 too.
This is due to the fact that there are a number of advantages provided by virtual conferences and events such as saving costs and increasing the reach of the event. Of course, their utility became truly apparent once traveling around the world was rendered almost impossible.
In this introduction, we'll focus on the various different aspects of virtual conferences and events and how to approach them with the right mindset as a host to ensure the best virtual experience for the attendees.
Virtual Events – The New Normal?

However, webinars and live streamings have always been common, virtual events take the virtual experience a step further. With virtual live events, speakers, attendees, and sponsors can interact remotely in a virtual environment just like a physical event. Here are 8 tips for hosting virtual conferences successfully. As mentioned earlier, there are many benefits of hosting a virtual event instead of a traditional physical one. Let's go through some of the most common benefits of utilising virtual event platforms.
Benefits of Virtual Events & Conferences
Virtual Events and conferences have enormous potential and come with many benefits. Here we have uncovered some of the most promising virtual event advantages that help in taking your business a notch-high. Let's have a look:
1. Enhanced Reach
The need to travel and book tickets gets completely resolved with virtual events and conferences. With the adoption of digital technology, businesses can further their reach seamlessly. Unlike traditional conferences, virtual conferences resolve certain obstacles such as geographical restriction, venue capacity, additional staff, arranging food and accommodation and more. Virtual conferences result in attracting a wide spectrum of global attendees, thus enabling them to partake right from their homes without any geographical boundaries. However, Virtual events overcome the barrier of limited space. It can accommodate as many attendees as possible.
2. The Safest Option in the Recent Times
In challenging times like today, health safety is a major concern. The pandemic is not over yet. It becomes the top priority of the event organisers to take care of the health of the staff, shareholders, and attendees. The safest option here is to Go Digital. As virtual conferences and events allow attendees to take part in the event remotely, thus keeping them safe from any health implications.
3. A Cost-Effective Alternative
Doubtful about the fact that swapping to virtual events will result in investing a ton of money? You are quite mistaken over here. The cost involved in physical events right from accommodation, event venue, lightings and arrangements, food and drinks all gets resolved with virtual events. With virtual events, you need to get a strong internet connection and a reliable virtual event platform service provider, and you are all sorted!
In-Person, Hybrid, Virtual
Create an Extraordinary Event Experience
Across All Event Formats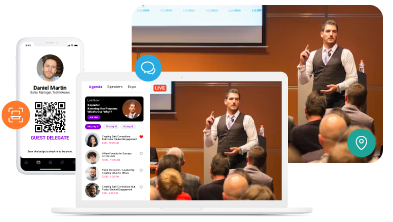 4. An Eco-friendly Alternative to Physical Events
Physical events adversely affect mother nature, resulting in disruption and environmental calamities. Virtual conferences and events have a positive impact on the environment and are more sustainable. The number of carbon footprints, travel fuels, pollution, food wastage, garbage scraps on the floor all gets eliminated with virtual events and conferences. 
5. Better Accessibility
When compared to live physical events virtual events are far more accessible. The major reason behind the enhanced accessibility is no registration fee or a very minimal one to attend an event. However, it has been analysed a majority of virtual events and conferences are free. Thus, resulting in better attendance at an event. 
6. Valuable Data Tracking
Tracking valuable data from the event becomes easy with virtual events. Unlike physical events, a virtual event platform keeps a complete record of attendee footprinting right from how they navigated to what they interacted and what are the most engaging hotspots. The data captured during virtual events and conferences tells a complete story of the virtual attendee journey. It helps in gathering accurate data metrics and find out which segments of the event performed well and which does not. Based on the metrics, you can work upon the impediments to deliver an even better event next time!
How are Virtual Events different from Webinars?
There are a lot of things in common between a virtual event and a webinar. For example, both use virtual conferencing tools. However, there are a few major differences between a webinar and a virtual event and conferences.
A virtual event or virtual conference is much bigger in scope than just a webinar. just a virtual conference or a webinar. Just like an event is a collection of different speakers and seminars, a virtual event is a collection of a wide range of speakers, webinars, panel discussions, etc.
The best virtual conference platforms offer a lot more features than a webinar platform. For example, a virtual platform for events will have a lot more features that are focused on engaging the attendees and creating an event-like experience instead of limiting them to just a single webinar. Here are few key pointers that will help you differentiate between the two:
Webinars are smaller and single virtual sessions with a limited time-span, attended by attendees virtually. Whereas virtual conferences are multi-day conferences that can hold an agenda with a number of sessions. A virtual conference can last for many hours or days.
Webinars are more passive as attendees listen to the speaker during the session. Even though webinar can integrate engaging features such as polls and surveys, but, the interactions are limited. However, virtual conferences enable attendees to connect with other attendees in real-time via audio/video conferencing during sessions.
Webinars are majorly a one-way interactive tool whereas virtual conferences involve two-way interaction. Thus resulting in creating unique and immersive event experiences
Types of Virtual Events
There was a time when live streaming conferences were pretty much all you could when it comes to hosting virtual event. However, with modern platforms available, there's a lot more you can do when it comes to hosting a virtual event.
Here are just some examples of virtual event types:
Industry Conferences
Job Fairs
Sales Conferences
With the right virtual event management, all of these different types of events can be hosted on a virtual space that is open to an audience spread all over the world! Essentially, with some planning and customizing, almost any kind of physical event can now be hosted virtually.
A virtual event platform helps you set up, manage, and execute virtual events of all types and sizes with ease.
How to keep the attendees engaged?
You can use the best video conference live streaming solutions for ensuring the video quality of your virtual event is top-notch but that is not enough to ensure it is engaging for the attendees.
As mentioned above, the best virtual conference platforms and best platforms for virtual events do come with tools that help in engagement such as integration with social media and chatboxes. However, there are also many additional things that you can do to make your virtual event engaging such as:
Focusing on ensuring the content for your virtual event is exciting, engaging, and relevant to the attendee. Getting the best speakers for your virtual event is just a part of the process but getting the most relevant speakers is also really important.
Using the right tools for hosting your virtual event. A virtual conferencing platform is not as useful as a dedicated platform for hosting a virtual event. If you're hosting a multi-speaker event such as a virtual marketing conference that lasts multiple days, you're better off using a dedicated platform for virtual events.
Ensuring promotion of virtual events is as comprehensive and serious as the promotion you would normally do for physical events. A modern virtual event platform should ideally integrate well with social media and some of them even come with in-built marketing features that you can use to ramp up the promotion of the event well before it starts!
Adding an element of gamification to your virtual event. Gamification refers to adding game-like elements to something in order to make it more engaging. Adding things like trivia quizzes, puzzles, or contests to virtual events will make them much more engaging for the attendee.
Learn more about Virtual Conferences and Events
Nowadays, virtual events have gone from being a niche virtual industry to being a part of the mainstream world. A number of major events and conferences had to be hosted virtually this year in order to circumvent the problems that were caused by the coronavirus pandemic.
Are you thinking about hosting virtual conferences and virtual events soon? Team up with Dreamcast to level up your video conference, live streaming, and virtual event game. Host the biggest events using our powerful and scalable virtual event platform. Leverage the best that the virtual world has to offer for your brand or business!