Trade fairs are an excellent sales and marketing opportunity for companies and businesses as they get to display their products and services in all its glory. However, due to the coronavirus pandemic, virtual events are becoming the new normal.
A virtual trade fair might not be as simple as hosting a Zoom call but it is definitely possible. However, with some planning and using the right platform, it is definitely possible.
Let's take a look at how to host a virtual fair and tips for creating the best virtual trade fairs.
Why Host Virtual Trade Fair?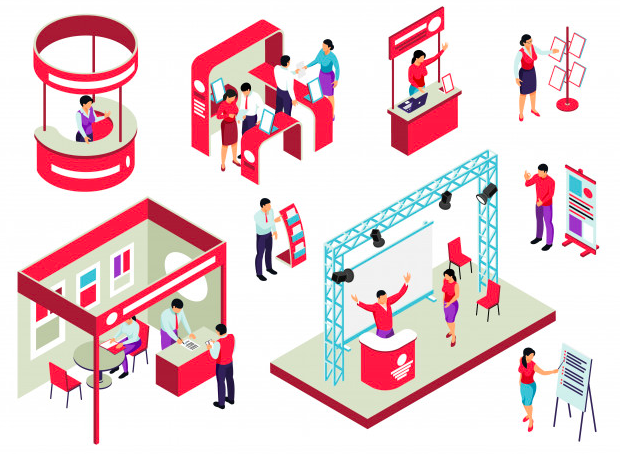 While hosting a virtual fair might be necessary during these times, it actually has a lot of benefits for business. For example, virtual fairs can help in generating leads and increasing the reach of the fair significantly.
So how do virtual fairs work? Instead of going through the process of hiring a venue, setting it up and creating a great event, hosting virtual fairs is pretty easy with the support of a virtual events platform.
What makes such platform different is that it allows you to create more immersive experiences than just a virtual meeting.
In-Person, Hybrid, Virtual
Create an Extraordinary Event Experience
Across All Event Formats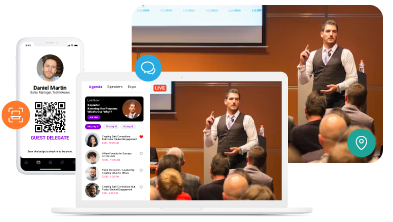 Even though creating virtual fairs is just as easy as webinars these days, there are a couple of things you need to keep in mind to create an immersive and valuable experience for your clients. Here are some of the best tips for creating a virtual trade fair for your business. Read more here about why you need to host a virtual event.
Tips To Create Virtual Trade Fair For Your Business
1. Have a Central Vision for the Entire Event
Virtual events, like real events, are incomplete without a vision that puts the entire thing together. This is why it is important to ensure that the entire experience of any virtual fairs you host is based around the vision you have for the event.
Ideally, you should have a theme for the entire fair. The theme should resonate with your business and the goal you're trying to achieve. For example, a vision for the trade fair of a fitness company could be to demonstrate their latest lineup of fitness products for a specific niche like running.
By having a central vision, not only are virtual events easier to host but also provide a better experience to attendees.
2. Use Quality Content
While the quality of your content is just as important to your physical trade fairs, it becomes more important in the case of virtual trade fairs as the content is the center of attention.
In terms of scope, a virtual trade fair may include product pitches, webinars, presentations, digital content, and much more. As everything will be accessible and right at the forefront, it is very likely that the attendees of the event will keep a closer eye on the content more than ever.
This is why it is best to go big on content when it comes to virtual trade fairs. For example, you can include things like white papers, brochures, datasheets as your attendees are much more likely to go through most of it as it is beamed right into their devices!
3. Pick The Right Team
To be honest, you don't need a large team to manage virtual events, not as many as you need for physical events. However, you still need a team and it is important to pick it wisely.
Just like a traditional trade fair, there will be a lot of different aspects. You should ideally have a dedicated team member ready to manage every major aspect.
For example, one team member can be allocated the responsibility of ensuring all the webinars go smoothly, another can be allocated the responsibility of moderating the group chat, another team member can overlook the tech support, etc. This way every team member will manage their own task in best of their efforts.
You're only as good as your team is and this stands true for virtual events too. It might be a good idea to create a team and go through some training sessions on how to execute a virtual event to ensure they're ready for the job if you're doing it for the first time.

4. Promote The Virtual Trade Fair Event
If you have hosted an event before, you definitely know the value of promoting. Any event without guests is no event at all and the same goes for a virtual event. The beautiful thing about a virtual event is that you're not really limited to specific venue capacity. So, you going overboard with the marketing is not only possible but might actually be a good thing!
Social media platforms are great for promoting traditional events. These platforms are also really, really powerful when it comes to promotion of a virtual event. Popular channels like Facebook, Twitter, Instagram, and LinkedIn should definitely feature heavily in the social media promotions and marketing plan for your virtual trade fair.
Email marketing is another channel that can be used to great effect for promoting your virtual event. You can integrate an RSVP link within the email itself. It allows the receiver of the email to sign-up with just a click. It can also be a good idea to have an email sequence ready so you can build-up to your event and provide more value to the attendee.
In-Person, Hybrid, Virtual
Create an Extraordinary Event Experience
Across All Event Formats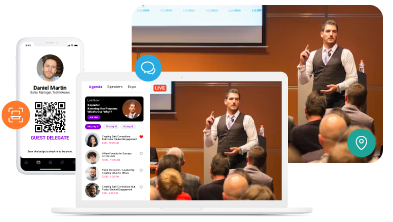 Lastly, word-of-mouth marketing is still pretty big. It's a good idea to use a specific domain name for your trade fair if you want to go overboard. A domain name will help your attendees to get all information about the event on a single click. Sharing an easy domain name to people in the "real" world can actually be a pretty effective strategy for increasing the number of attendees at your event. Never underestimate the power of a good landing page!
5. Use The Correct Platform
Lastly, when it comes to hosting virtual events, it is important to pick a virtual events platform that you can trust. Take the first step of your journey into the virtual event world with Dreamcast today!