An abundance of virtual venues has popped up recently in the past few months. Many organisations were hosting virtual conferences for years to connect with global delegates and remote employees. Whereas for some, it was unexplored territory. The recent pandemic pushed organisations worldwide to leverage virtual conferences to keep running steadily.
Out of several options available in the market today, navigating a perfect virtual conference platform is a tedious task. However, running a virtual conference on a comprehensive virtual conference software platform requires an extensive set of skills.
Virtual event platforms are available in all shapes and sizes and offer a set of distinctive features. A virtual event platform that works wonders for one event might not be the perfect fit for another. Then how to select the perfect platform as per your event?
As event organisers are pivoting to virtual events & conferences massively, In this blog, we are going to take a look at how to pick the right virtual event platform for conferences and make the most of technological investments.
The Recent Trend of Growing Virtual Conferences!
Several tech giants such as Apple, IBM, Accenture, Wolters Kluwer have joined hands in the recent ongoing trend. They have transformed their live physical conferences to virtual conferences. Moving along with the trend, Analytics India Magazine has also launched its one-of-a-kind virtual conference for data science professionals, Undeniably, hosting virtual conferences has become a new norm and is here to stay post-pandemic.
According to Grandview Research, the global market for video conferencing was worth $3.85 billion in 2019. By 2027, the value of video conferencing will grow at a rate of 9.9%, with more people unlocking this functionality than ever before, Hosting virtual conferences does not only come at a lesser expense and time but offers enormous opportunities to connect and network with a wide spectrum of audiences globally. Selecting the right virtual event platform for conferences is vital to ensure a successful event and achieve optimal results.
Tips to Choose the Right Virtual Event Platform for Conferences
Here is a list of some tips you need to keep in mind while weighing virtual conference platform options:
#1. Invest in a Future-Proof Platform
Right before we jump to the functionality of a virtual conference platform, it is a must to look for a future-proof platform. Hybrid events and conferences are on a rapid rise and are the next big thing in the event world!
Many large-scale organisations are hosting hybrid conferences long before the change in dynamics. Whereas some are completely new to it. Hybrid events combine the best elements of both the event worlds i.e virtual as well as in-person events. As we transit into the world post-pandemic, hybrid events will become the new norm.
Considering the future scenarios, invest in a platform that facilitates you to host virtual as well as hybrid events within the same platform.
#2. A User-Friendly Interface with Pleasing Designs
A User-friendly interface along with the aesthetic design is significant to deliver immersive experiences to attendees. Not every attendee is a tech-savvy, complicated interface results in dropping off attendees at quantum numbers. Attendees, speakers, sponsors, and exhibitors will partake in ongoing online sessions over a virtual conference platform.
Before finalising a virtual venue for your virtual conferences look for a user-friendly interface that's easy for your attendees. For a hassle-free transition of your virtual attendees selecting a virtual conference platform that is easy to use and set up is vital.
# 3. Customisable Options for Branding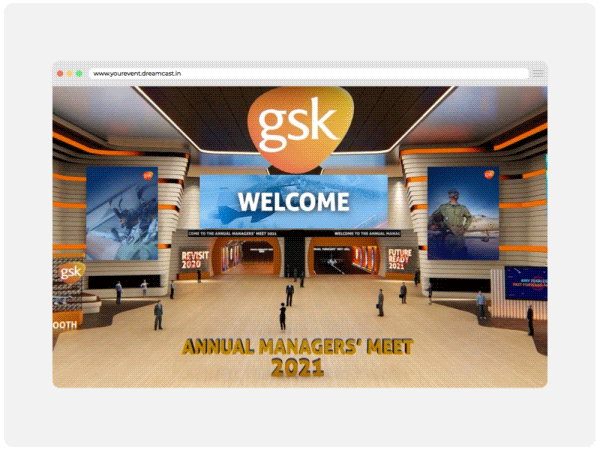 Integrating the look and feel of an organisation's branding across the virtual conference helps in delivering mesmerizing experiences to your attendees. A platform that offers custom branding options helps in delivering the company's or brand message more effectively to attendees. While selecting a virtual event platform for conferences, keep in mind to always look for custom branding options.
#4. Networking Functionalities to Connect in Real-Time
To make the most out of your multi-day virtual conference, select a virtual conference platform that offers seamless networking functionalities. It not only helps in keeping attendees engaged but allows them to connect and network with each other in real-time. The ability to have open discussions during breakout sessions via live chats, WhatsApp integration, or networking tables helps in boosting connections.
A platform that offers different formats of networking offers an opportunity for attendees to foster valuable connections, even after the event ends. Additionally, incorporating networking sessions amid conferences helps in making the virtual conference even more engaging and meaningful.
#5. Look out for Engagement Features
It's a known fact, virtual attendees experience a lot of distractions while attending an event. Attending a virtual conferenceis not as stimulating as live physical conferences where attendees are surrounded by other attendees. However, the attention span of virtual attendees is comparatively less than on-ground attendees due to on and off-screen distractions.
Prioritize a virtual conference platformthat offers a list of engagement features to keep attendees entangled in the conference throughout.  Attendee engagement is a crucial aspect to endure a successful virtual conference. Organising Q&A sessions, live polls, surveys or quizzes help in gaining valuable attendee insights while keeping them hooked.
#6. 24*7 Assistance On-Demand
Technological glitches are part and parcel of Virtual conferences. An unexpected technical hiccup on attendees' front, results in affecting the attendee's experience severely. It may result in dropping off large audiences instantly. Whereas, some find it complicated to navigate throughout the platform to attend the most desired sessions.
You don't want your attendees to get puzzled in a way to navigate the online session they registered for or deal with technical difficulties. While exploring the virtual conference platform options, prioritize a platform that offers 24/7 real-time support and chat options for all queries. However, making the transition of virtual attendees easy and seamless.
#7. Event Data Analytics
Event data analytics is a crucial aspect to measure the performance metrics of a virtual conference.
Capturing real-time and post-event data analytics is one of the biggest advantages of hosting virtual conferences. It helps in determining the overall success of the event and figure out the impediments that need to be worked upon for future conferences.
Selecting a virtual conference platform that offers real-time and post-event data analytics is the right pick.
Wrapping up
Many organisations are hosting virtual conferences for the first time whereas some are following the practice for a long time. Selecting the right virtual conference platformhelps in upscaling the event experiences. In this article, we have summarised some key pointers one needs to emphasise before selecting thevirtual event platform for conferences.
Looking for avirtual conference platform to host your upcoming virtual conference? Partner with Dreamcast for endless possibilities and upscale your virtual attendee experiences. Enquire Now!
If you are looking for comprehensive solutions for your virtual hybrid event launch, Dreamcast offers endless possibilities. Enquire now!
In-Person, Hybrid, Virtual
Create an Extraordinary Event Experience
Across All Event Formats