Talking about the recent times, virtual or hybrid events have gained up its pace and became immensely popular. A rapid increase in hybrid and virtual events platforms has been witnessed recently. Nowadays, the internet is flooded with ample virtual event engagement platforms that offer comprehensive virtual event engagement tools.
With the unforeseen advent of coronavirus global pandemic event industry was at a major halt. The events scheduled up for the entire year either got postponed or cancelled completely. The restrictions and lockdowns have been enforced by the health ministry to ensure the health safety of the public. As a ban has been imposed on mass gatherings and travelling, to prevent the spread of COVID-19 virtual events came into play. Today, it has become the first choice for digital marketers and event planners. Organisations that are widespread around the world are tapping on the most powerful technology to keep the business running.
Virtual Events: The New Normal
Nowadays, virtual events have become an integral part of every event industry. Whether you are planning to host recurring meetings, conferences, or any other event, virtual and hybrid event platforms serve all. Face-to-face interactions in physical events hold their own significance. But virtual events have closely replicated the same. It helps in reaching an ample audience segment at a time located in different geographic locations.
As virtual has become the new normal and is here to stay, amplifying virtual event engagements is a must to achieve the desired results. Everyone must have come across the term virtual events in the past few months, if not here's a brief insight.
About Virtual Events
An event that is organised online on a virtual event platform is known as virtual events. It involves a gathering of people over the internet where they can network in real-time irrespective of geographical boundaries. Virtual events offer many perks that are far beyond the reach of traditional events. It overcomes various roadblocks faced during live physical events such as space limitations and geographical constraints. It helps in reaching a wider segment of the audience seamlessly while maintaining the norms of social distancing. Virtual event audience engagement is a must to ensure the success of the event. Selecting the right platform that offers virtual event engagement tools and features helps in keeping the audience hooked throughout the event.
The cost of accommodation, travel expenses, food & beverage, venue set up, and so on gets reduced considerably with virtual events. Virtual online events serve varied benefits, engaging the audience yet remains the major challenge for marketers. To make the most out of your next virtual event, going for a platform that offers comprehensive virtual event engagement features is a must. It prevents the audience from falling out amid, thus making it easy to measure the success of the event. Dreamcast virtual event platform has helped many organisers with its comprehensive and brilliant virtual events engagement features. It not only amplified incredible connections worldwide but helped in achieving consistent virtual events engagement for the entire event.
Planning to create an immersive and engaging virtual event experience for your audiences? Dreamcast virtual event platform caters to all. To make the most out of your online event, have an insight into virtual event audience engagement tools and features.
How to boost engagement within Virtual Events?
Dreamcast incorporates some effective and brilliant virtual event engagement tools & features, that help any virtual events achieve a milestone. It offers customisable solutions to suit business requirements. The platform offers an end number of innovative games and engaging features for virtual event audience engagement. It helps in keeping the interest of the audience alive throughout the event. Apart from amplifying the engagement, it helps in making an event successful by achieving the desired goals and outcome. To know more about virtual events engagement features offered by Dreamcast, scroll down:
#1. Live Audio & Video Chats
Face-to-face interactions and handshakes have always been an integral part of the event program. But as the scenario has changed completely so does the event formats. Dreamcast virtual event platform enables one to have live audio and video chats to have the same essence of in-person events.
In-Person, Hybrid, Virtual
Create an Extraordinary Event Experience
Across All Event Formats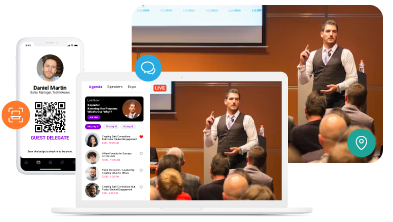 The exquisite and interactive feature offered by the platform enables one to have free-flowing 1:1 or group communications. Attendees can interact with speakers, hosts, exhibitors as well as with other attendees in real-time remotely. It helps in replicating the same look and feel of on-ground events from face-to-face to interface-to-interface. Live audio and video chat functionality can be utilised in any type of virtual or hybrid event. Whether you are hosting a virtual conference, meetings or a trade show, live audio and video chats can be incorporated into all. The platform offers a request for a callback feature for the comfort of virtual attendees. It facilitates attendees to schedule a call as per their choice from the given time slots. However, resulting in making the event ecstatic, interactive & immersive.
#2. Live Polls
Live polls are among the most significant virtual event engagement tools. It helps in boosting engagement within virtual events. Dreamcast virtual event platform offers a live poll functionality that can be incorporated in any type of virtual event. Live polls can be introduced amid long sessions that help in grasping attendees' points of view and know how much they enjoyed the event. It even helps in keeping attendees engaged with the event in real-time. The attendees of the event can look at the results of the poll on their respective screens. Additionally, the live poll functionality is easily customisable depending upon the needs and requirements of the event.
#3. Spin the Wheel
Adding an element of fun amid long monotonous sessions helps in keeping the audience hooked throughout the event. The platform enables you to incorporate games to prevail the excitement in the entire event and keep attendees entertained. Spin the wheel is one such virtual event engagement tool that helps in holding the audience with the event in the most creative way out. You can simply introduce spin the wheel at any point in your event. Attendees can simply spin and play to win virtual giveaways. It helps in engaging the audience with the event along with boosting their morale and making them feel valued.
#4. Quiz
Dreamcast enables you to integrate a variety of virtual event engaging features. Organising a quiz is another feature that helps in keeping attendees involved with the event. Offering gifts to the top 5 winners makes them feel valued and excited to be part of the event. It boosts the morale of other attendees to participate in the same. You can simply design the quiz as per your event requirements. Dreamcast virtual event platform enables you to customise your quiz as per event needs. Introducing quizzes is one of the best virtual and hybrid event ideas to keep attendees hooked and gain their insights.
#5. Q&A Sessions
Q&A sessions are one of the best virtual events engagement tools that help in driving engagements within virtual events. You can introduce Q&A sessions during your virtual events to gain audience insights. It facilitates the organiser to gain insight into attendees in real-time. Moreover, the platform allows one to organise multiple Q&A sessions to boost engagement within virtual events.
#6. Photo Booths or Photo Ops
The ability to organize a virtual photo booth is one of the most innovative virtual events ideas to boost engagements. The functionality of organising virtual photo booths by Dreamcast boosts engagement within virtual events. It enables event attendees to get clicked virtually with branded frames which can later be shared or downloaded. The clicked pictures can later be used by the brand for branding purposes. Virtual photo booths add a little fun to the entire virtual event and keep the audience hooked.
In-Person, Hybrid, Virtual
Create an Extraordinary Event Experience
Across All Event Formats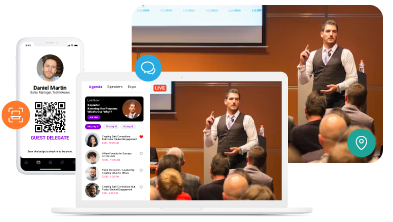 #7. Social Wall
Social wall is another virtual events engagement feature of Dreamcast hybrid and virtual events platform. It engages the audience instantly at virtual events. Social wall encapsulates the feed from all the social media platforms like Facebook, Instagram, LinkedIn, Twitter, etc. that integrates specific event hashtags. It is one of the most brilliant and innovative virtual event engagement features that help in engaging the audience across the globe. Additionally, the platform controls the unwanted content display on the social walls accessed by event attendees. It helps in amplifying the brand awareness.
#8. Twitter Wall
In an endeavor to create something new, Dreamcast offers comprehensive, immersive, and engaging virtual event tools & features. The Twitter wall is one such virtual events engaging features in Dreamcast virtual platform that helps in boosting engagements at online events. It works on the same process as social walls. As the name suggests, Twitter Wall captures the essence of virtual event conversations on twitter feeds with the specific event hashtags. It collates all the feed on Twitter that integrates event hashtags at one spot, thus leaving a lasting impression of the event on attendees. Moreover, it motivates the attendees to take part in the conversations happening over Twitter to be a part of the Twitter Wall.
Final Word
Moving with the times ahead, virtual has become the new normal and an essential part of the event industry. With the advancements in technology and innovations, curating virtual engagement tools for boosting virtual event audience engagement looks seamless. Apart from the above-mentioned tools and features for engagements at virtual events, world cloud, customisable games, mosaic walls are some other engaging tools of a comprehensive platform. The engaging features offered by the platform can be strategically incorporated at any point in your event whether you are hosting a virtual conference or a trade show.
In short, NOW IS THE TIME to enter the virtual world and embrace virtual events. Book a virtual events demo with Dreamcast today & get the most innovative, entertaining, engaging, and interactive features!
In-Person, Hybrid, Virtual
Create an Extraordinary Event Experience
Across All Event Formats