A formal meeting or gathering is often a significant and regular event for many industries & organizations. These gatherings are also known as conferences that take place on a large scale, having multiple interactive & knowledge-sharing sessions. However, after the pandemic, the world came to a hold, and organizing events virtually became a need of the hour. It is when the concept of the virtual conference came into existence. And ever since formal meet-ups shifted to the virtual format, global organizations have realized the benefits of hosting online conference events.
In 2022, virtual conferences have become the go-to option for many organizations with global participants & audiences. According to Owllabs, 58% of organizations switched to online conferencing solutions because of the pandemic.
To know more about a virtual conference, let us walk you through some of its most vital aspects.
What is a Virtual Conference?
A virtual conference is an online meet-up hosted over an immersive virtual environment. An online conference allows the participants to attend meetings and interact during the sessions remotely. It is often a multi-day virtual event that includes keynote sessions, panel discussions, informative & educational sessions, webinars, training and certifications, thought leadership sessions, live entertainment, etc. A Virtual Conference is advantageous as it enables seamless interaction between global participants with the same industry background, niche, and interests; without requiring the attendees to travel or make extra efforts.
How Does a Virtual Conference Work?
A virtual conference works a lot like an in-person conference event. While the theme & goal remains the same, the format & platform of the event differs. A virtual conference takes place on a virtual conference platform that enables the attendees to interact and have an engaging experience throughout the event.
Participants register for the online event and access the virtual conference venue through a link on their browsers. Once your attendees have entered the online event venue, they can interact and experience an engaging virtual conference from the comfort of their homes.
How Long Should a Virtual Conference Last?
A Virtual Conference lasts around 3-5 days. However, this aspect also depends on the overall size of content and sessions. In general, a conference session can last around an hour or two, but you must consider decreasing this length based on the importance of the information.
Pro Tip: Try to include breaks between the sessions to ensure that your attendees do not have a tedious virtual event experience.
Your Virtual Conference Agenda has a prominent role to play when it's about ensuring a memorable experience. It is significant to include variations between the sessions so that your attendees feel engaged in the event until it ends.
In-Person, Hybrid, Virtual
Create an Extraordinary Event Experience
Across All Event Formats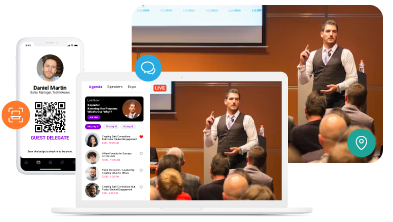 Why host a Virtual Conference?
Hosting a virtual conference has various benefits that can make an organization more potent. Let's explore some of the top benefits of organizing an online conference event.
Top 10 Benefits of a Virtual Conference
Here's how a virtual conference is better than an in-person conference.
One of the most beneficial characteristics of a virtual conference is that it is highly accessible over any device, at any location. Therefore, organizers get to invite & collaborate with global participants without any constraints.
#2 Saves Time & Resources
Organizing any event in a virtual format helps the organizers save lots of time, effort, and resources. From booking a venue to managing logistics and content, hosting a physical conference requires a lot of exertion. Whereas in the case of an online conference event, all an organizer has to do is find the right virtual conference platform.
#3 Flexible Scalability
Hosting a virtual meeting or conference means an event with boundless possibilities. A virtual event has no capacity or scale constraints like an in-person event. Hence, your virtual conference event can have any number of attendees with any number of conference halls or booths.
In-Person, Hybrid, Virtual
Create an Extraordinary Event Experience
Across All Event Formats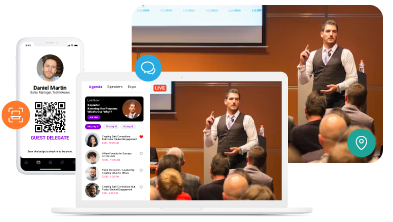 #4 Availability of High-Demand Speakers
At a virtual conference, the organizer gets the opportunity to invite high-profile speakers, unlike in a physical event. The presence of renowned speakers at an online conference event is also a great element that can boost your event's attendee engagement.
#5 Reduced Carbon Footprint
One of the key advantages of virtual events is their environment-friendly format. While a physical event leads to substantial carbon emissions, a virtual event minimizes them. A physical event also leads to a lot of wastage like- food waste, one-time use booths, standings, plastic & papers, and a lot more. All in all, the virtual format of events leads to a reduced carbon footprint for each attendee, further leading to reduced pollution.
#6 Seamless Networking
Virtual Conferences make networking super easy. People might have a common assumption that a physical event is the best way to network, but that's not true anymore. In-person networking or connection building was only the best option until there was no other option. The modern world is more practical, where people want to save time and find fast connections with less effort. A virtual event brings all of these expectations to life through excellent networking tools like live chat rooms, advanced networking filters, meeting schedulers, networking tables, and a lot more.
#7 On-Demand Content Availability
One of the most applauded benefits of organizing an online conference is the long-time availability of event content. Event participants can access and download entire event content even after the event is over. From session recordings to shared documents, everything can be completely available for the users on-demand. This feature does not only help your attendees access vital information but also helps you maximize the reach of your virtual conference.
#8 Quick Lead-Generation
Improved networking, easy interaction, and seamless connection building with global participants boost the lead generation process. While by an in-person conference you can only reach a limited audience, a virtual event helps you reach a wider audience with no limits. Hence, you get the opportunity of generating more leads in less time.
#9 Easy Feedback Collection
The virtual format of a conference event helps you collect relevant feedback in multiple ways. From live polling to feedback forms, you can seamlessly gather your attendees' responses in multiple ways.
In-Person, Hybrid, Virtual
Create an Extraordinary Event Experience
Across All Event Formats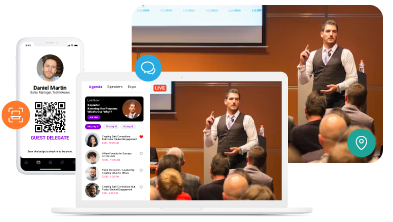 #10 Complete Event Analytics
Digital technology truly brings you the solutions an in-person event never can. The virtual event format helps you get the entire conference data available at your fingertips. You can not only track your attendees' journey throughout the event but also analyze the efficacy of each event aspect. This feature also helps you make better and more practical decisions for your future events.
Moving ahead, explore the easiest and the most proven ways to organize an outcome-driven virtual conference.
Virtual Conference Ideas to Host a Successful Event
Let's explore some of the best virtual conference ideas to make the best out of it. Here are the most useful tips to organize a successful online conference event:
1. Plan a Suitable Schedule that Suits All
Choose a time and day that suits your participants from all global locations. Also, ensure that your event is not scheduled during other prominent events. If you plan your conference while there's another important meet-up planned, your participants might get divided.
2. Create an Attractive Visual Experience
Visual content plays a crucial role in organizing a successful online conference. The visual experience will not only keep your attendees engaged but also improve their overall virtual conference experience. Studies show an attendee is more likely to engage at your event when provided with visuals like branded images, videos, images, interactive presentations, etc. According to a report, 61% of marketers use videos as an interactive element to keep people engaged at online events.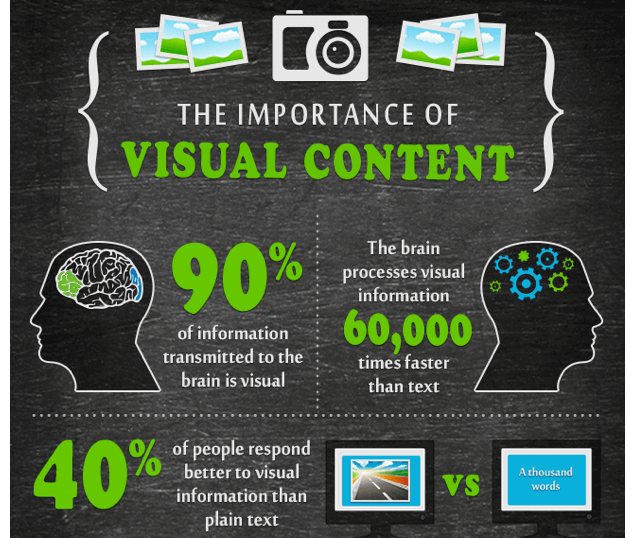 3. Actively Promote Your Virtual Conference
Extensive promotion is one of the most worthwhile virtual conference ideas to maximize your event's reach. Using the right promotional tactics, you can easily ensure that your virtual event reaches out to wider target audiences. Activities like social media contests & relevant sponsorships can guarantee a maximum number of registrants. In addition, it helps you take your event to a greater level of success.
4. Choose the Most Suitable Virtual Conference Platform
The best virtual event solution provides you with the ultimate features that can intensify the success prospects of your conference. For example, the comprehensive virtual event management suite of Dreamcast renders you with top-notch engaging & interactive tools to ensure the success of your event. You must look for the following mentioned elements while choosing the most suitable virtual conference venue for your event:
100% Customization
3D 360-Degree Environment
Scalability
Interactive Features
Highly Engaging Tools
24/7 Backend Support
Excellent Networking Tools
Unlimited Attendees
Live-Streaming
Seamless Integrations
And everything else according to your preferences.
5. Keep the Communication & Interaction Going
Interaction is one of the key elements that can ensure the success of your virtual meet-up. Most of your attendees would look forward to having valuable interactions with other participants. Hence, don't deprive your attendees of this opportunity! Incorporate excellent interactive tools to keep the magic at your event going. Explore some of the top interactive features given by the best virtual conference platforms:
Live Polls
Breakout Rooms
Group chats
Interactive Presentations
Live Q&A sessions
1:1 text, video, and audio chat
Interactive Lobby
Chat Rooms
6. Incorporate the Best Virtual Conference Engagement Ideas
There are countless ways you can create an engaging experience for remote attendees. The virtual event planners have the most innovative ways to ensure that your attendees have a memorable experience at the online conference.
From running live social media contests to sending swag bags, implement multiple virtual conference engagement ideas to keep your attendees enthralled throughout the event. Mentioned below are some of the best engagement tools to level up your online conferences and virtual meetings:
Gamification– To add a fun engagement element during breaks or free sessions.
Interactive presentations– To keep your attendees intrigued by the information.
Live contests– To add a fun-competitive vibe to your conference.
Social media contests & competitions– To break the ice and maximize your event's reach.
Swag bags– To motivate and attract your attendees to the live conference.
Signature wall– To facilitate your participants with an opportunity to share mini-notes of experience.
Photobooth– To help your remote attendees capture the virtual event moments.
Live entertainment sessions– To add variety to the event sessions and lighten up the work vibe.
Social Wall– To collect and curate all the event-related social media posts shared by the attendees into a single space.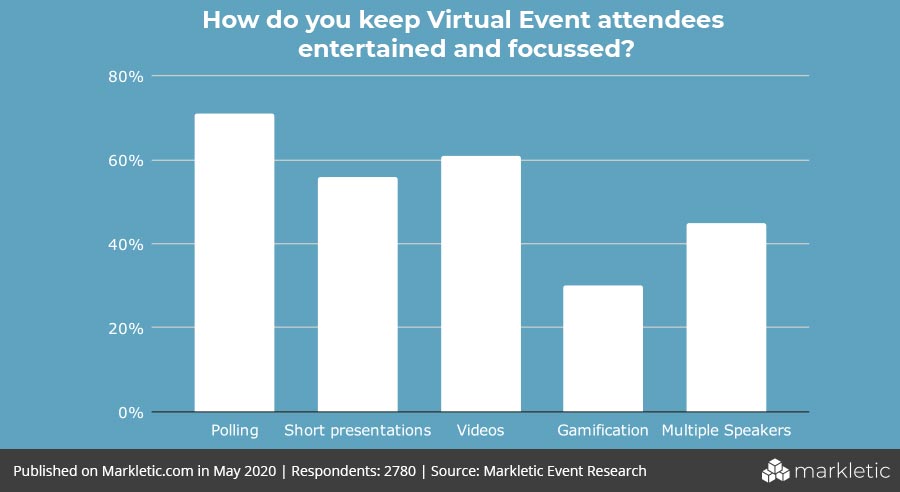 7. Provide Unparalleled Networking Opportunities
The attendees always register for the event with two main expectations- Networking and Information Sharing. There are various advanced ways you create networking opportunities for your remote participants. This idea is significant if you are looking forward to hosting a successful online conference. Following are some of the top networking tools that can strengthen your event:
Virtual Networking Tables
AI Matchmaking
Business Card Exchange
Advanced Search Filters
B2B Meeting Scheduler
Networking Lounges
And a lot more…
8 Accumulate Valuable Feedback
Virtual Conference Evaluation is very significant to determine the success of your event. In addition, it also gives you a greater insight into the efficacy of your virtual event strategies. Therefore, don't forget to collect this valuable virtual conference feedback from all your attendees. Also, thank your attendees for taking their precious time out and attending the event. It will enable your attendees to feel a sense of importance and belongingness.
Want to organize a successful Virtual Conference? Or, need to know anything about the virtual event at all? We have got your back! Connect with us for a quick informative call.
In-Person, Hybrid, Virtual
Create an Extraordinary Event Experience
Across All Event Formats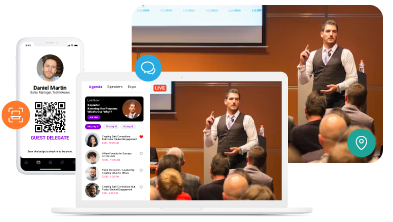 Virtual Conference FAQs
What is meant by virtual conference?
A virtual conference means a formal online meet-up in a virtual environment.
How do you attend a virtual conference?
You can attend a virtual conference by registering for the event and logging in through the registered details or a link given by the organizer.
What is the purpose of the virtual conference?
Virtual Conferences are organized to bring people with common interests or backgrounds to discuss aspects of a specific industry-related topic.
What are the benefits of a virtual conference?
Top 5 benefits of a virtual conference:
●     Provides better Reach & Attendance
●     Saves Time & Resources
●     Completely Scalable
●     Makes Content Available On-Demand
●     Provides Maximum Lead Generation
How effective are virtual conferences?
Virtual Conferences are very effective. They are not only beneficial for organizers but also for the attendees.
What is the best platform for a virtual conference?
The best platform for a virtual conference is the one that provides 100% customization and scalability.
How do you interact with a virtual conference?
You can interact with a virtual conference using interactive tools like live 1:1 and group chats.
How do you engage attendees at a conference?
Here's how you can engage attendees at a conference:
●     Gamification Tools
●     Social & Signature Wall
●     Live Contests
●     Engaging Visual Experience
●     Live Polls