Wedding live streaming has grown in popularity since technology has made it simpler and more accessible for couples to share their special day with friends and family who cannot attend in person. With the help of wedding live streaming services, couples may invite guests from all over the world to their ceremony and reception, bringing everyone together to enjoy the special day in real-time. Additionally, Facebook, Youtube, and Instagram Live streaming services can help you to reach a wider audience. This post will offer tips, ideas, and advantages for wedding Live streaming services so you can make the most of this unique opportunity to bring your loved ones together, no matter where they are.
Tips for a Successful Wedding Live Stream
With the right planning, wedding Live streaming services, and preparation, live streaming can provide an enjoyable and memorable experience for everyone involved. Here, we'll go over some pointers for a flawless and high-quality live broadcast of your wedding that will benefit both you and your guests. These pointers can help you broadcast Wedding online and make sure that your live stream goes without a hitch, whether you're an experienced live streamer or just getting started.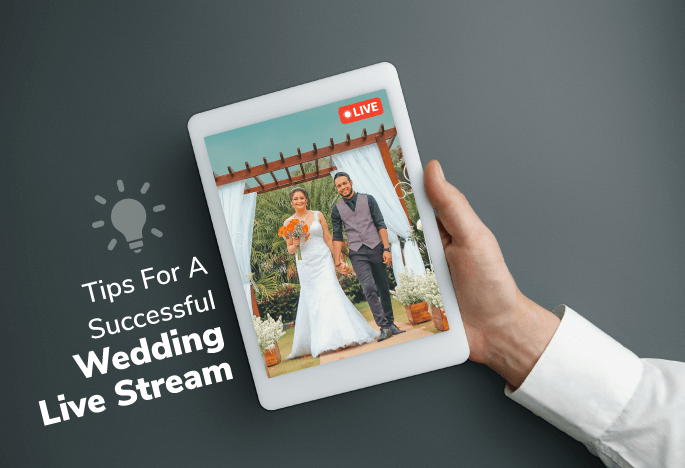 Choose a reliable Live streaming platform
Do your research and pick a platform that delivers high-quality audio and video, is simple to use, and can accommodate plenty of people. Dreamcast, Zoom, YouTube Live, Facebook Live, and Twitch are a few live streaming platforms that are widely used for live broadcasting. Dreamcast is a great alternative if you don't want to download any Live streaming software. It enables event planners to stream live events straight from a web browser. So It is the best way to live stream a wedding.
Test Your Setup and Equipment Before the Big Day
In order to prevent any technical difficulties during the live stream, make sure that your camera, microphone, and internet connection are all in good working order. In order to make sure that everything is functioning well, it is a good idea to test the setup at least a few days before the wedding. Experienced wedding Live streaming service providers always advise investing in top-notch hardware.
A Backup Strategy
It's always a good idea to have a backup plan in case the live stream has technical issues. Having a backup live streaming platform that you can switch to if required or having a camera, microphone, and internet connection on hand are essential to handle technical issues.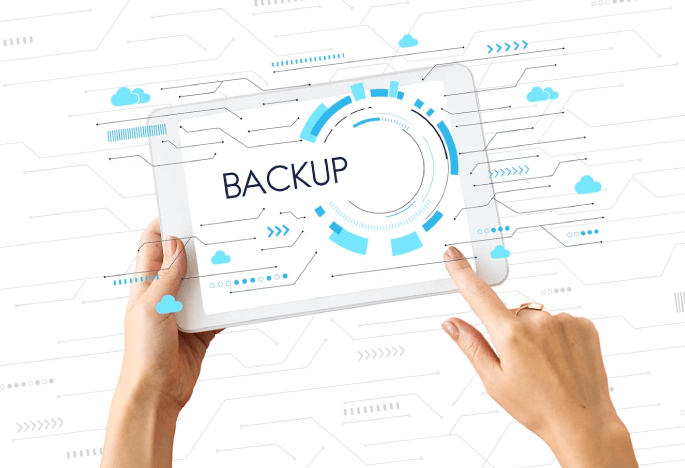 Invite Your Visitors in Advance
Inform your visitors about the live broadcast and provide them with all the information they want, such as the date, time, and link to the live stream. You may send your visitors digital invites using Live streaming services.
Have a Dedicated Person to Manage the Live Stream
Assign someone to be responsible for managing the live stream and troubleshooting any technical issues. This could be a family member or a professional who is experienced with live streaming technology.
Select a Good Camera Angle
Make sure the camera is placed such that it can clearly and unobstructedly record the ceremony, speeches, and other significant events. Consider utilizing many cameras to record various views and angles. Using different cameras will help you to record the event from different angles and broadcast the marriage live streaming effectively.
Proper Lighting
For an excellent live stream, good lighting is necessary. Make sure the ceremony area is well-lit to foster a welcoming mood. If necessary, consider using additional lighting equipment to enhance the lighting in the space.
Sound Quality
Make sure your audio is crystal clear for your visitors to hear. To record crystal-clear audio for your speeches and ceremony music, think about utilizing a microphone. Make sure the speakers are operating correctly and the audio is turned up if you're utilizing a live streaming service that includes audio.
An Additional Internet Connection
In case your primary internet connection drops during the live stream, be sure to have a backup plan in place. This can entail having a mobile hotspot on hand or using a backup Wi-Fi network.
Engage with Your Guests
During the marriage live streaming, invite your viewers to engage with you by asking you questions. This will contribute to making the experience more unique and memorable. To keep your viewers interested during the live stream, you may also include interactive components like online games and tests.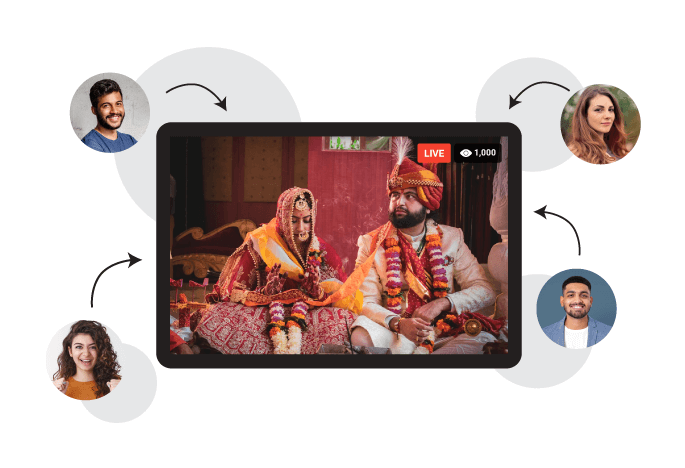 Best Ideas to Make Wedding Live Streaming More Memorable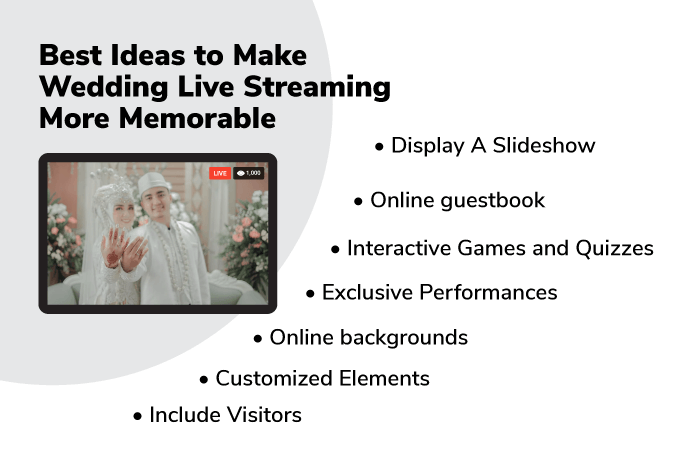 Display A Slideshow
You can play a slideshow with early pictures of the couple and their relationship throughout the event's pre-event or intermission. Since web visitors would be more aware of the couple's love story, this may be a special method to connect with them.
Online Guestbook
During the marriage live streaming, invite your guests to leave the bride and groom notes and well wishes. You may create a chat room or an online guestbook where visitors can leave notes and well wishes. This is a fantastic method to interact with everyone and give the live stream a more intimate feel.
Interactive Games and Quizzes
Include games and quizzes in your marriage live streaming to increase the fun and interactivity. You might ask guests to respond to questions about the couple or play a game of trivia about the bride and groom. While watching the live stream, will keep viewers interested and entertained.
Exclusive Performances
Think of including unique entertainment, such as a musical or dance performance, during the wedding live streaming. This will give your wedding a particular touch and present visitors with an unforgettable experience.
Host an Engaging LIVE Stream
Connect with the Industry's Most Experienced
Live Streaming Service Providers.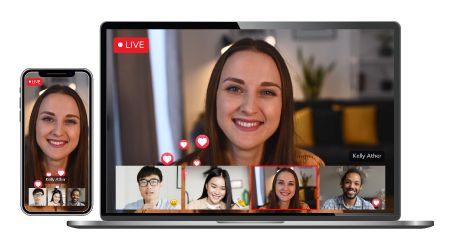 Online Backgrounds
Use virtual backdrops to enhance the live stream's aesthetic appeal. You may either choose a personalized background that highlights your individuality or select a lovely and romantic background that matches the subject of your wedding.
Customized Elements
Personalize the live broadcast by including different elements such as background, color, and more. You may add unique music, readings, or other components to the live stream to make it feel more intimate and personalized.
Include Visitors
Encourage visitors to participate and ask questions during the live stream. As a result, viewers will find the live broadcast to be more interesting and participatory, and they will feel like they know the bride and groom better.
Benefits of Wedding Live Streaming Services
Connects Everyone
Wedding Live streaming services allow couples to connect with friends and family who may not be able to attend the wedding in person. This helps to bring everyone together and creates a feeling of unity and shared experience, even if they are physically apart.
Saves Money
Youtube, Instagram, and Facebook live Streaming services can save couples a significant amount of money compared to traditional wedding arrangements. There is no need to pay for transportation, accommodations, or catering for guests who are attending virtually.
Convenient
Marriage live streaming is a convenient option for couples who want to celebrate their special day without the hassle of traditional wedding arrangements. It eliminates the need for guests to travel, and allows everyone to join in from the comfort of their own homes.
Host an Engaging LIVE Stream
Connect with the Industry's Most Experienced
Live Streaming Service Providers.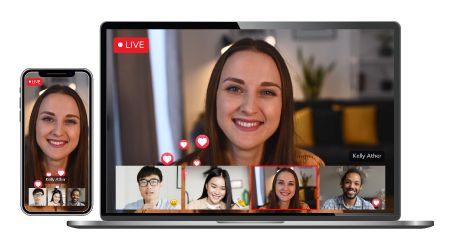 Customizable
Wedding live Streaming service providers such as Dreamcast allow couples to customize the experience to their specific needs and preferences. This includes choosing the music, background, and other elements.
Versatile
Live streaming services can be used to stream the ceremony, reception, or both, making it a versatile option for couples who want to celebrate their special day in their own way.
Accessible
Wedding live Streaming services are accessible to people with disabilities, making it an inclusive option for couples who want to celebrate their special day with everyone, regardless of physical ability.
Multistreaming
Most live Streaming platforms offer Multi streaming features. This feature allows event organizers to stream the same event on different platforms such as Facebook, YouTube, Instagram, and more at the same time.
High-Quality Experience
With advances in technology, wedding live streaming services can provide high-quality audio and video, ensuring a seamless and enjoyable experience for everyone involved.
Multi-Camera Viewing
Wedding live Streaming services often offer multi-camera viewing options, allowing guests to see different angles and perspectives of the wedding ceremony and reception.
Recordings
Many live Streaming service providers offer the option to record the wedding, allowing couples to keep a lasting memory of their special day. Dreamcast can help you to record your memorable event and broadcast it on different social media platforms such as Facebook, Instagram, YouTube, and more.
Privacy
Wedding Live streaming services often provide privacy options, allowing couples to control who has access to the live stream. This is especially helpful for couples who want to keep their wedding intimate and private.
Easy to Use
Live streaming service providers such as Dreamcast offer user-friendly and easy-to-use live streaming solutions. It helps couples to set up and manage their live stream without extra effort.
Hosting and managing a wedding live stream is not an easy task. By considering these tips and ideas, you can host an interactive and memorable live stream. Dreamcast is a great alternative if you're seeking the best live Streaming service for your wedding. Our platform makes it simple for everyone to join and take part in the celebration by using cutting-edge technology with an intuitive UI. We understand that every wedding is different, which is why we provide individualized solutions to satisfy each couple's particular requirements. Dreamcast is committed to making each wedding live broadcast a meaningful and unforgettable experience, whether it is by including unique musical performances or pre-recorded greetings. So what are you waiting for? Contact us today for more information and details.
FAQ
Can I Customize the Live Stream to Match my Wedding Theme?
Yes, most wedding live Streaming service providers such as Dreamcast allow for some level of customization, such as adding branding elements, custom backgrounds, and special effects.
Will My Guests Need Special Equipment or Software to View the Live Stream?
No, your guests will only need a device with an internet connection, such as a computer, tablet, or smartphone, and a web browser to view the live stream. Most live Streaming platforms are designed to be user-friendly and accessible to anyone with a basic understanding of technology.
Can I Still Have a Traditional Wedding Ceremony While Live Streaming It?
Yes, you can have a traditional wedding ceremony while live streaming it. The cameras and live Streaming equipment can be set up in a way that is discreet and does not interfere with the ceremony itself. Additionally, many wedding live streaming services offer professional camera operators to ensure high-quality footage and minimal disruption to the event.
Can I Record the Live Stream for Future Viewing?
Yes, many wedding live streaming services such as Dreamcast offer the option to record the live stream for future viewing. This allows you to keep a digital copy of your wedding ceremony that you can watch anytime, anywhere.
Will My Live Stream be Accessible to a Global Audience?
Yes, as long as your guests have an internet connection, they can tune in to your live stream from anywhere in the world.
Host an Engaging LIVE Stream
Connect with the Industry's Most Experienced
Live Streaming Service Providers.