On-spot events are back to normal! And everything is normal again. With the on-spot events, you will be able to meet, greet and do whatever you want physically and not virtual anymore. But hosting an on-spot event is not an easier task, you need to prepare and do a lot of arrangements strategically. From the proper branding to on-spot event registrations and ticketing, you always need to be prepared for any unpredictable hustle.
Today here in this blog we are going to conclude the most important aspects of the on-spot event, registrations, and best event check-in practices. Before deep diving into the core fundamentals, let's first start with the basics.
On-spot Event Registration: Back To Normal!
On-spot event simply refers to an on-ground event or in-person event. No matter whether the event is online or physical, event registration is essentially the most important factor. Without any registrations, it is hard to know how many people have attended the event. For the event organizers, it is crucial to managing the registration procedure smoothly for all the attendees to attract more attendees.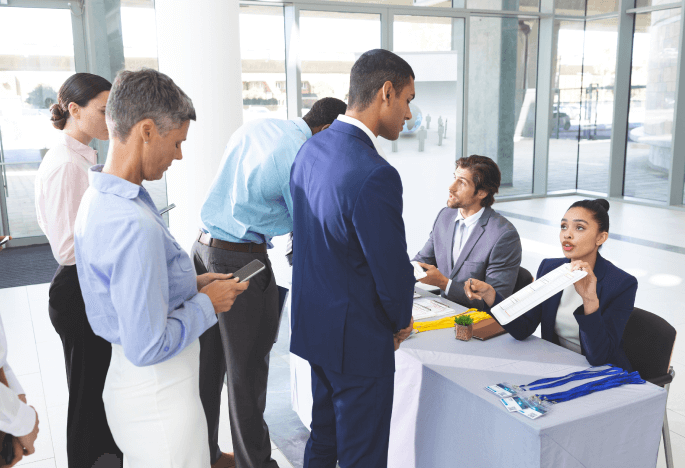 On-spot event registration is the traditional yet effective way to register the audience for the event. As the world is moving towards a digital society there are options for online event registrations too. But not every time they are effective or applicable. Few things in life are good with the sense of on-spot. On-Ground event registrations are quite simpler than we can think and by using smart event tech solutions it will be quite smooth for attendees.
On-Spot Event Ticketing
On-spot event ticketing is quite similar to the registration process. In the on-spot event, you just need to go to the event venue's registration desk and fill out the form with basic information about yourself. The information can be of custom field depending upon the type of event (in general, the information would be like; name, contact details, and others). Thereafter you need to complete the payment procedure (if there are any charges), once it is done. You will be able to receive your ticket with the help of on-spot badge printing.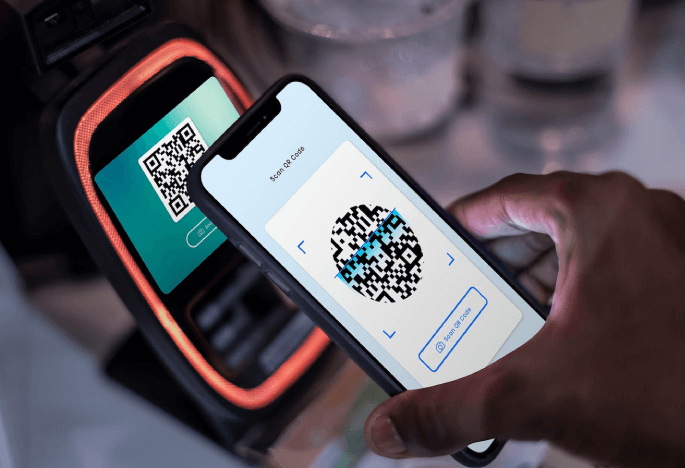 Nowadays, with the help of event tech solutions, the event host should be able to offer you customized tickets like QR-based badges for QR code event attendance. This will help in easy check-in to events and check-out. Additionally, it will also give you event analytics and metrics of the audience to evaluate the event's success.
Now, let's deep down into the best event check-in practices. Usually, an event takes a lot of time, effort and planning, to create the best impression on the guests. Every event host wants to create a positive and memorable impression from the fascinating arrangements and the dynamics of the event.
To make all those possible you need to plan and execute a smooth check-in experience for your event. And for that, you need to incorporate smart event management platform services. Not necessarily but if you are stuck to give a seamless experience to your attendees during the check-in process, you just need to be involved in this. Here are some of the best event check-in practices that are objective in offering an immersive experience to your attendees and lower down your efforts in all the arrangements. 
Best Event Check-In Practices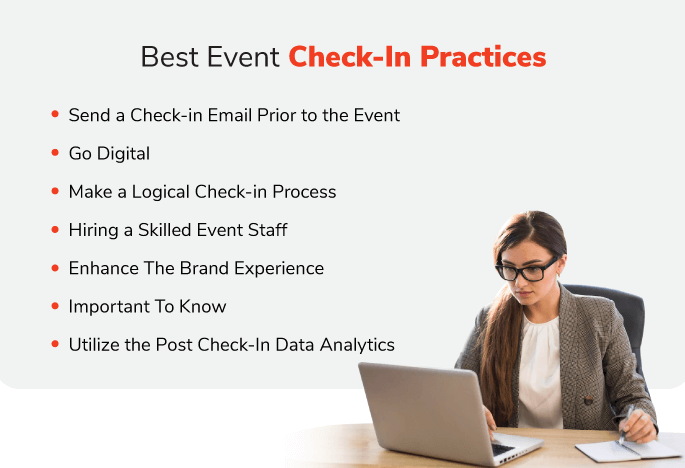 Send a Check-in Email Prior to the Event
Communication is quite a helpful way to eradicate all misunderstandings. Send an email consisting of all the details for a smooth check-in process to all the attendees a few days before the event. This will help in outlining the instructions and awareness to the attendees about what they need to do to check-in.
Additionally, if you want to add a touch of digitalisation as everyone in the industry does then you can introduce the event check-in app. The e-mail will surely encourage a lot of attendees to download and install the application. If your event ticketing is QR-based then it will increase and enhance the check-in process with respect to time.
Go Digital
In this modern age of 2022, it is always preferred as more people encourage this decision of saving nature and trees. Checking into the vent with paper and pen will make the attendees feel a little awkward and you as an outdated event host. So to make it look quite modern, offer a paperless entry by offering an event check-in app or building a microsite for the event. As everyone uses smartphones and using their own device for the registrations and e-ticketing will make them feel good. Additionally, you are saving paper as well making a bigger impact on the environment as well creating a positive impression of your brand.
Integrate Your On-Spot Event Registration with WhatsApp Automation
WhatsApp is one of the popular applications installed on almost everyone's smartphone. To make an impactful yet effective impression on your attendees incorporate WhatsApp Automation. Usually, emails are not something we regularly open whereas Whatsapp on the other side we open regularly and sending the details and instructions over WhatsApp is a good approach.
Make a Logical Check-in Process
Attendees should be aware of exactly where to go to register and check in once they arrive at the on-ground events. In order to prevent long lines and disoriented participants, it will be crucial to arrange the spaces and the on-site check-in flow in an instinctive manner. There should be a bunch of sign boards to make the attendees aware of the location of event registrations place and the orderly flow of all the check-procedures. Make sure your event staff is aware of where to take attendees after completing each stage of the check-in process by outlining the on-spot event registration flow in advance
Hiring a Skilled Event Staff
This is the first thing to think about, and recruiting qualified people is essential. As we've said, selecting the proper personnel makes the registration process more engaging. Make sure to be clear about what you want and how you envision them enhancing the overall event experience when assembling your event personnel. Since they will be establishing the tone for the remainder of the event, the well-trained event crew is extremely crucial for the check-in procedure.
This first impression will probably transfer over to other aspects of the event if participants leave the check-in process feeling taken care of and appropriately helped. Thus, be particular with your in-person event staff and make sure they are fully familiar with the significance of their roles and know how to use digital gadgets. It is hard to find the right staff for the event but for hiring smart event management services isn't that hard. If you are the one who is looking for such a smart and impressive team of individuals for your in-person event, Dreamcast is here to help you.
In-Person, Hybrid, Virtual
Create an Extraordinary Event Experience
Across All Event Formats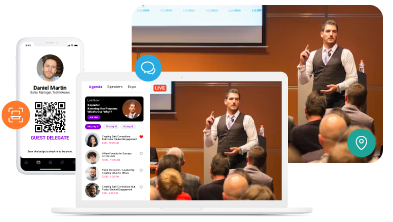 Generate Positive Energy During the Check-In Process
It is quite true that everyone has some sort of preconceived notions in their mind and particularly, especially when someone is attending an event. Every event has its promotion stories over social media and has event websites as well as promotional email campaigns and itineraries to enhance or lower expectations. Well, it is solely your duty as a responsible event host to stand on the expectations by offering a smooth event experience in all terms. By using smart on-spot event registrations with the help of an event tech solution provider you will be able to provide a valuable experience.
The biggest responsibility of the event is over the staff you recruited and if a single attendee faces any issue it will spoil the moment. For this reason, you need to be quite smart with smart tech solutions like QR-based event tickets, Zapping (a type of QR scanning machine) and others.
Enhance The Brand Experience
The event starts the moment guests enter through the door. Due to this reason, your event brand should be reflected in the visitor check-in experience. You should claim the check-in process as a core component of the event brand and make sure that it is being reflected as a branding experience rather than considering it purely a logistical step. The event brand should be displayed at all touchpoints for check-in including QR-based entry and online registration or others.
Important To Know
Once more, the check-in procedure should be considered an independent procedure. Create an event check-in app for each session of your in-person events that has this feature so you can compare the number of people that signed up for the session with the number who really attended. Having this information will be very helpful for upcoming events, particularly when it comes to creating content and preparation for the event.
Utilize the Post Check-In Data Analytics
The purpose of utilizing the smart tech event solutions and management in the on-spot event registrations will offer you lots of data and analytics in the digital form. All these metrics will be helpful for you to evaluate the success of your event as well as your strategy and planning.
Summing Up
On-spot event registration is just the new normal and making it effective and without any queue for the attendees makes a significant impression on your event and brand. While offering on-spot event ticketing makes an impactful scenario for the audience who forgot or got to know about the event later. But on-spot event ticketing will be an impressive move towards your strategic event planning. Hope you understand the best event check-in practices and the importance of smart event management services. If you are looking for such a reliable solution provider and wanted to know all this work contact us and enjoy the free demo.
In-Person, Hybrid, Virtual
Create an Extraordinary Event Experience
Across All Event Formats