In-person event is an effective marketing tool used by businesses and organizations to create connections and spread the brand message. But the global pandemic conditions have forced us to use virtual events instead of physical events. Even while virtual events will always be a component of the marketing and sales processes, they don't connect communities in the same way that actual events do. Although virtual events are here to stay, we should always opt for in-person event solutions for the business growth.
85% of firms hosted a virtual event in 2020, according to LinkedIn statistics. Even though 75% of the event planners expected to deliver virtual events, 78% of them intended to go back to in-person events when it was safe to do so. Most business owners are searching for methods to set up and host in-person events. If you are one of them, you are in the right place. In this session, examples, ideas, and benefits of in-person events will all be discussed.
What Is An In-Person Event?
It is a well-known and traditional option for hosting events like conferences, meetings, lectures, seminars, and more. The majority of attendees and event organizers favor this kind of event since it is the most entertaining and successful. Live events are used by companies and event planners to give the ideal setting for a sizable audience.
An in-person event allows attendees to interact with one another face-to-face, create networks, and share vital information. A physical event, also known as an in-person event, is a large-scale gathering of people where participants discuss a specific topic and share their opinions. Most event organizers use in-person event platforms to level up their in-person events. With the aid of in-person event solutions, it is possible to provide a superb in-person event experience while managing on-site check-ins, event registrations, and cashless transactions.
In-Person, Hybrid, Virtual
Create an Extraordinary Event Experience
Across All Event Formats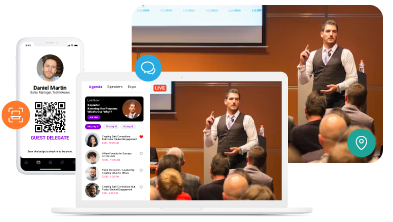 In-Person Events Examples
Conference
One of the greatest in-person events examples that may draw a huge crowd—more than 100 people—is a conference. The purpose of the conference was to talk about a specific subject and make people more aware of a specific issue. A group of listeners, who may be professionals or people with a similar interest, is frequently addressed by one or more presenters who are experts on their subject.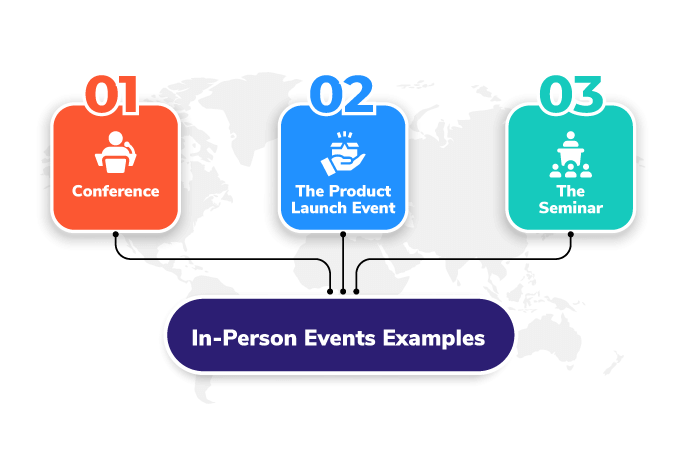 The Product Launch Event
To increase consumer awareness of their products and services, the majority of firms arrange product launches. It arouses interest in a product and frequently uses excellent production to impress viewers. It's a good idea to invite influential people from the media, bloggers, investors, and customers to your product launch event. More people will be inspired to spread the word before, during, and after the launch as a result. It also makes it quicker and simpler for you to get in touch with your target market.
The Seminar
The seminar is yet another in-person event example. People and their traits are highlighted in this event. It's also a wonderful opportunity to thank staff employees for the job they accomplish all year long. The corporate seminar can be designed to foster teamwork. It is also the ideal environment for discussing and establishing brand-new objectives for the future.
In-Person, Hybrid, Virtual
Create an Extraordinary Event Experience
Across All Event Formats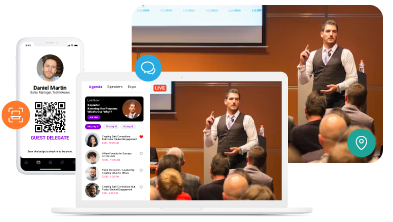 In-Person Event Ideas
After discussing the physical event and its examples, let's look over the following in-person event ideas if you wish to successfully organize a physical event.
Select the suitable location: The most important stage in putting on an in-person event is now choosing a venue that will allow you to meet your capacity and attendance goals.
Focus on social distancing: One of the greatest in-person event ideas is to keep adequate social distance in order to avoid covid conditions. Therefore, pay attention and follow all social distance guidelines if you intend to hold a physical gathering.
Maintain high standards for hygiene: Each event should take the required sanitary precautions according to its unique circumstances and audience expectations.
Get the participant information: By asking staff members or prior attendees, you may determine how many individuals will attend.
Make touch-free check-in and badge printing available: By scanning a QR code or entering the digital wallet information before the event, attendees may check-in and print their badge without touching any devices. This in-person event idea can minimize interaction and preserve the well-being of employees and visitors.
Use high-quality and interesting content: To increase the value and attractiveness of the event content, use captivating and high-quality content. If the information isn't very interesting, people might not want to come to your actual event.
Interact with participants: By including them in a range of activities, you may involve your audience in many different ways. For instance, you may conduct quizzes or Q&A sessions. These activities could motivate your audience to attend your event.
Communicate with participants: An excellent tool for communicating with attendees quickly and efficiently before, during, and after the event is a mobile event app. Attendees may access all relevant material, notifications, and communications via a mobile app for the event.
Promote your in-person event: Use social media to publicize your physical event: You may promote your physical event using social media. You may employ this strategy to increase awareness about your event and increase on-site attendees.
Benefits Of In-Person Events
Socializing
One of the main benefits of in-person events is the chance to talk to and network with other attendees. The perfect environment for networking, keeping up with old friends and acquaintances, meeting colleagues in your industry, and finding new opportunities for your career or personal life is provided by In-person events. One of the positive things about in-person events is that it encourages people to interact and socialize with the community.
In-Person, Hybrid, Virtual
Create an Extraordinary Event Experience
Across All Event Formats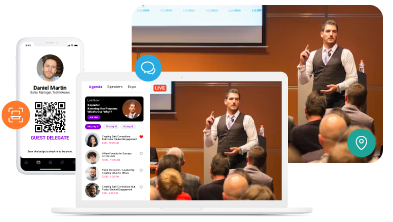 Offer Sponsorship Opportunities
Businesses may support physical events through networking, brand ambassadors, customized products, and physical advertisements. As a consequence, they get a higher ROI and raise their supporting donation. Event planners are able to handle their budget more skillfully thanks to sponsorship opportunities. Sponsorship benefits attendees as well since it allows them to network with companies.
Great Networking Opportunities
Networking opportunities at in-person events provide attendees the chance to meet other professionals who have similar interests. You create the right environment for these sorts of experiences with the in-person event.
More Engagement Opportunities
Attendees and speakers may feel bored at virtual gatherings since there are no face-to-face interactions. Physical events provide opportunities for learning new things and conducting business while having fun.
Final Words
In today's digital environment, virtual events are essential for reaching a wider audience and delivering a brand's message to the general public without any physical constraints. Therefore, the crucial query is: Will online events eventually displace in-person events? No, since we are human, we want connections. We also want convenience and financial savings, though. Hybrid events are the best format for planning offline events with online components. This technology can help by enhancing in-person involvement while broadening the audience reach to internet audiences. Do you want to host in-person event with a virtual one? Dreamcast can be useful in that case. We are a professional and top-rated provider of hybrid and virtual event solutions. Our cloud-based and secure online event platform for the marketing, sales, recruitment, training, and HR communities broadens the audience and encourages in-depth content interaction, leading to successful online events throughout the world.
In-Person, Hybrid, Virtual
Create an Extraordinary Event Experience
Across All Event Formats