The events industry is witnessing a shift as the world is getting unlocked in the post-pandemic phase. Many organizations have already begun hosting in-person events. Clearly, the world is going back to basics as in-person events are back to existence. However, in times of the pandemic, event organizers & agencies saw an incomparable advantage of hosting virtual events. It is so because a virtual event platform provides organizers with various virtual functionalities, enabling a seamless & successful event execution at a minimized cost.
With in-person events becoming a possibility, there are still various ways you can use the digital or virtual aspects to enhance the experience. In this blog, we will help you explore some of the most outstanding in-person event ideas to improve their execution and experience.
Create a Pre-Event Buzz Through a Custom Landing Page
To ensure more registrations and the overall success of your in-person event, it is significant to market your event. Therefore, begin promoting and marketing your in-person event at the right time. The question is, what is the best possible way to do that? If you have been a part of the events industry, you already know the answer! Nothing brings you closer to your target audience than the web & social media.
Therefore, utilize the famous way and reach your target audience the best possible way. With the help of an event-tech platform or service, create a completely customized landing page for your event with a white-labeled URL of your preference. The most experienced service providers will help you with flexible customization of the entire page. Doing this will further help you do the much-required marketing of your event. Not just this, you can easily drive the interest of your audience by including multi-type content like promotional videos, downloadable content, event agendas, speaker details, sponsored content, etc.
Pro-Tip: Make sure your service provider creates a mobile-friendly version of the page, as most of your target audience would opt to access the web through their phone.
Enable Smart Registration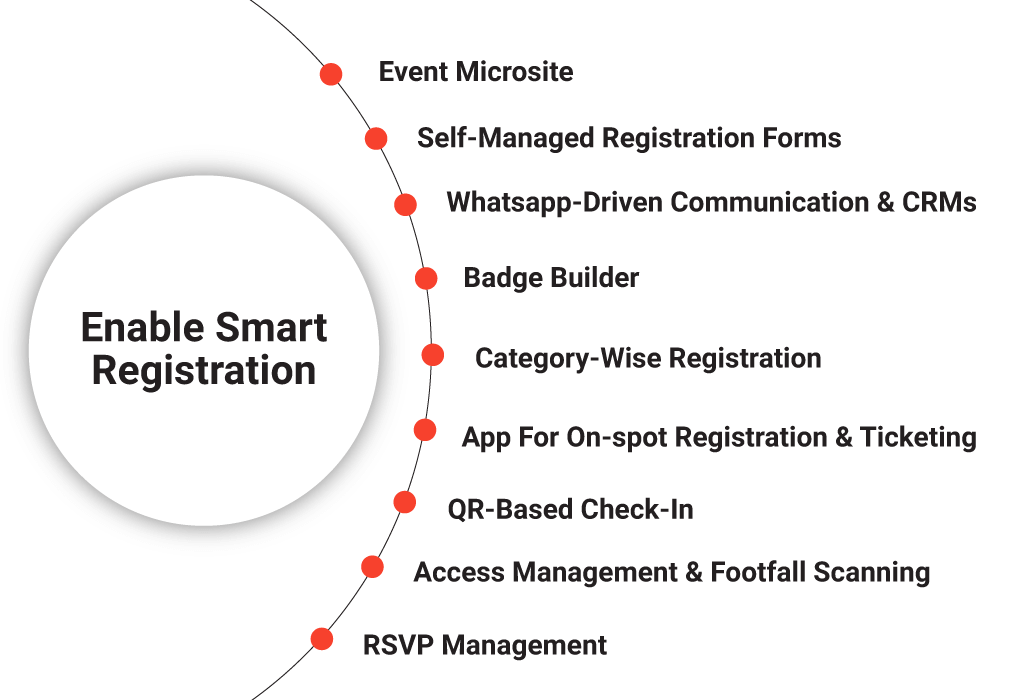 Simplify the registration process of your in-person events with an all-digital approach. Apart from providing a registration or ticketing link & on-spot desk set-up, there are various ways to enable a seamless registration process. Mentioned below are some of the best in-person event ideas to elevate the user experience by adding a digital registration aspect:
Event Microsite – A dedicated event microsite to enable registrations.
Self-Managed Registration Forms – A registration form that the organizer could seamlessly manage at their end.
Whatsapp-Driven Communication & CRMs – Help your event attendees stay updated through Whatsapp & CRM-driven communication.
Badge Builder – Amplify the process using a digital badge builder.
Category-Wise Registration – Ease the process & experience by collecting registrations category-wise.
App For On-spot Registration & Ticketing – You could also just get an app created for on-site event registration & ticketing.
QR-Based Check-In – The world is preferring QR-based login & activations. Create a QR to simplify event registration.
Access Management & Footfall Scanning – Digital functionality will help you scan & analyze complete registration information & data.
RSVP Management – Enable frictionless guest & registrants management using digital RSVP support.
And a Lot More!
Add a Virtual Extension to Reach Global Audience
Maximize your reach to a global audience at a highly reasonable cost. By adding a virtual extension to your in-person event, you can easily ensure the event's success & improved ROI. It is so because using the digital aspect, you can seamlessly target your worldwide audience. This virtual extension can be anything as per your preference. Here are some in-person event ideas to add a digital aspect to your online event:
Webcast the entire on-ground event
Live Stream the event over a third-party app
Create a highly engaging & interactive virtual event platform to stream the live sessions along with other excellent functionalities
Create a basic web-based platform with the event stream
Record the in-person event and make the event content & sessions available on-demand
Partner with a leading live streaming service provider to enable parallel-live streaming of your event across multiple social media platforms.
Enable 2-Way Interaction
Adding a virtual or digital aspect to your on-ground event also helps you invite & connect with global industry experts. By doing this, you can easily drive more registrations and enhance the value provided at the event. It is so because if you invite renowned personalities or professionals, more & more target audiences would want to participate in the event.
The highlight of this aspect is that you can enable 2-way interaction at the virtual platform of your in-person event. Enabling a 2-way interactive functionality will enable both your online & virtual attendees to interact with in-person & virtual speakers.
Elevate Your Presence through Custom-Branding
Organizing any kind of event also has a major characteristic that helps you maximize the reach & identity of your brand or organization. You reach a large audience, and in turn, it helps you elevate your brand's reach and presence in the industry. However, at an in-person event, you can only reach a certain number of attendees as invited to the physical venue. So, an excellent in-person event idea to ensure an outstanding experience is customizing a virtual event platform as per your branding goals. An expert virtual event platform will provide you with a flexible opportunity to personalize the entire venue to meet your branding purposes.
Provide Networking Opportunities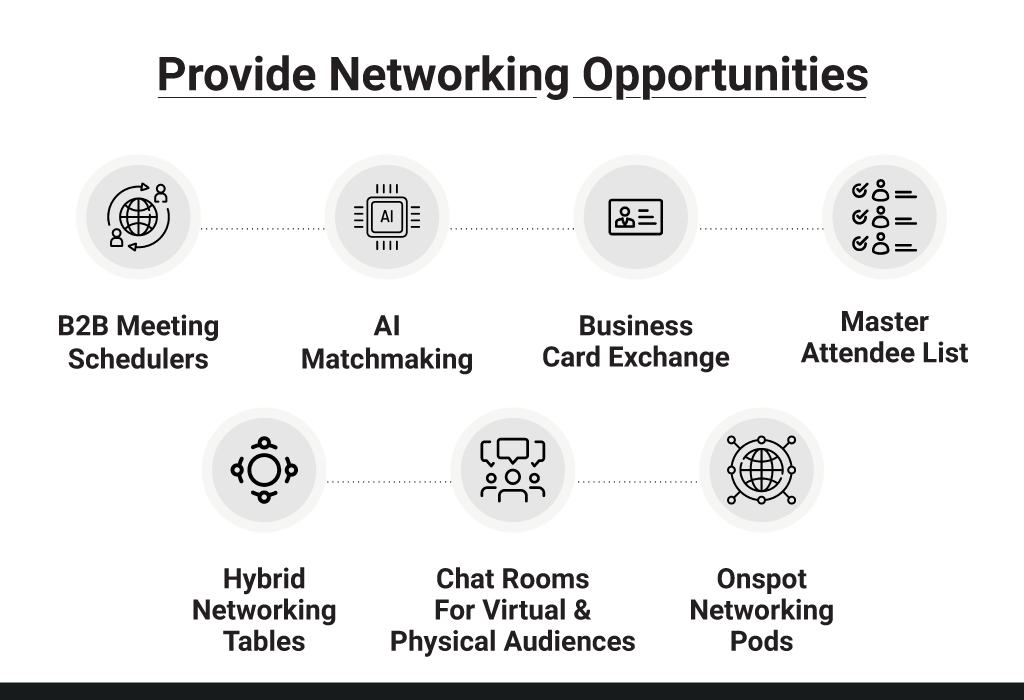 Networking is one amongst the most essential aspects of any event. Your attendees would for sure look for the opportunity to build valuable connections & network with other participants. Taking this aspect digital, you can use various virtual functionalities that enable seamless networking without any on-ground hassle. Here are some of the best networking features that could enrich your in-person event:
B2B Meeting Schedulers
AI Matchmaking
Business Card Exchange
Master Attendee List (Virtual + Onspot)
Hybrid Networking Tables (Bringing online & in-person participants together)
Chat Rooms For Virtual & Physical Audiences
Onspot Networking Pods
The best part of partnering with an event-tech suite is that you get the opportunity to create new functionalities & elements as per your event requirements!
White-Label Mobile Event App
Level up the experience at your in-person event by getting a white-labeled mobile event app created. Using this app, your on-site attendees do not have to go any extra miles to meet their networking, interacting, and engaging goals. For example, using the app and logging in through their registered profiles, your users can swap the contact details by merely using a QR code or finding the attendee details using the list provided in the event app.
(A Must-Know Advantage of Adding a Digital Aspect to your In-Person Event- As the entire event detail is available on the event app, you get to save the environment! How? By minimizing the use of paper-based event documents, notes, event agendas, etc.)
Broaden Your Reach with Multi-Lingual Streaming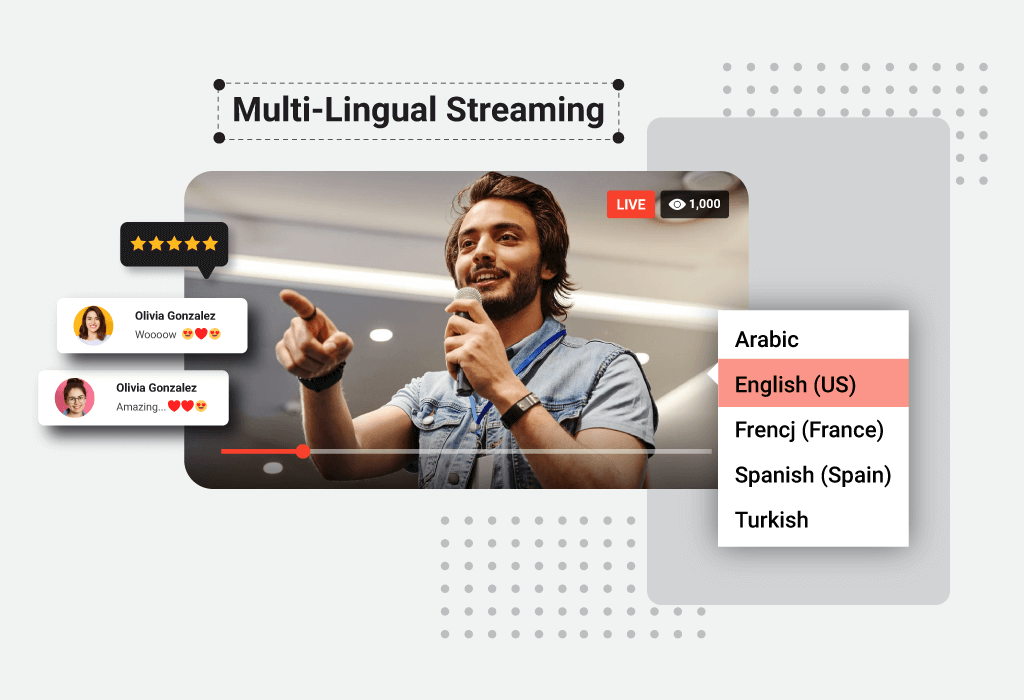 You can further amplify your in-person event by enabling a multi-lingual live streaming functionality. Using this element, you can seamlessly reach a global audience and connect with them in their language. The most expert & experienced live streaming service providers can help you with a super-easy conversion of the sessions into your audiences' preferred language. Hence, this aspect can help you take your in-person event to a whole new level. 
Complete Event Data Tracking & Analytics
A widely accepted & acknowledged disadvantage of organizing an in-person event is that tracking & analyzing the event data & efficacy is next to impossible. However, as you enable a digital facet at your in-person event, tracking the entire event data becomes super easy. Each and every piece of data is available at your fingertips. Not just this, but an excellent virtual event platform also provides you with well-structured reports & analytics, so your experience is further simplified.
The benefit of adding digital aspects to your in-person events can not be ignored as organizers from across the world have witnessed their efficacy. Use these in-person event ideas and we ensure you a super-successful on-ground event of all time!
In-Person, Hybrid, Virtual
Create an Extraordinary Event Experience
Across All Event Formats