The concept of Live Streaming has become popular over time. Be it a corporate event or a social event- Live Streaming helps you reach a wide audience without any restrictions in real-time. It does not only provide numberless advantages for your business but also takes you a step closer to your audience. In this blog, we will help you explore different aspects of Live Streaming in brief. Move ahead and explore all you need to know about Live Streaming.
What is Live Streaming, and How does it Work?
Live Streaming is when any event is recorded and shared LIVE over the internet in real-time. To make a Live Streaming event work, you need some robust equipment and an experienced Live Streaming Service Provider or Platform. These platforms play a key role in enhancing your regular stream to a fully customized, beautified, and controlled Streaming event. Live Streaming Events can be of multiple types and are organized over different platforms based on the event preferences. For example, general audience interaction can be live-streamed across social media platforms. Similarly, a training session or a workshop can be a private event, live-streamed on a specifically created microsite with a managed login page.
Powerful Benefits of Live Streaming for Every Business
1) Easy and Convenient
Live Streaming any event is super easy and convenient for both organizers and attendees. Brands planning to organize a Live Streaming Event have to do nothing but find an experienced Live Streaming Platform. A fully-managed Live Streaming Service provides you with an end-to-end solution, leaving you free to focus on other essential tasks like content strategy and marketing. Hence, Live Streaming is a very convenient option for the organizers. Similarly, the attendees or target audience get to interact with their favorite influencers or brands without traveling or going through any hassle.
Host an Engaging LIVE Stream
Connect with the Industry's Most Experienced
Live Streaming Service Providers.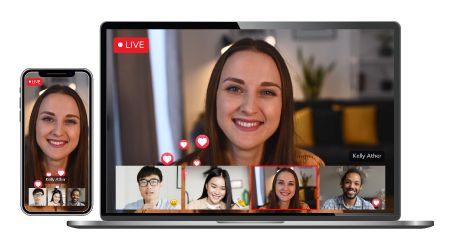 2) Unlimited Global Reach
Live Streaming maximizes your reach to a global level without any restrictions. While on-site event organizers are usually restricted to inviting only a specific number of guests, Live Streaming doesn't bound the organizers with any such limitations. Hence, you with a greater audience potential, enhancing your brand identity & presence across the globe.
3) Live Interaction with Your Audience in Real-Time
Live interaction and engagement are one of the primary reasons why brands & influencers prefer Live Streaming as a way of content marketing. Real-time interaction with your followers, network, and target audience helps in positioning your brand as authentic and trustworthy. This aspect of Live Streaming also boosts audience engagement.
4) Helps in Maintaining Relationships with the Existing Customers
As we all know, retaining the existing customers is easier & more important than trying to gain new customers. Live Streaming enables you to share your niche expertise on a greater and more personal level, helping you engage with your existing customers. As a result, you get an opportunity to maintain relationships & retain your customers.
5) Improved Lead Generation
When your audience interacts with you in real-time, it helps you enhance your brand authenticity & build more trust. This indirect benefit of Live Streaming helps you in collecting more leads. A simple reason behind this is that Live Streaming enables you to engage your customers through excellent customer service, making them want to make a purchase instantly.
Most Popular Types of Live Streaming
Live Streaming can be of different types based on your event needs and requirements.
1) Social Media Live Streaming
Social Media Live Streaming is the real-time broadcast of events, meet-ups, and performances on different social media platforms. At a Social Media Live Stream, users can not only use the interactive features provided by the specific platforms but also enjoy an engaging experience created by the Live Streaming Service Provider. Social Media Streaming is a great way to interact with your followers & maximize your target audience. Mentioned below are some of the top Social Media Streaming Platforms:
Facebook Live Streaming:
Youtube Streaming
Instagram Streaming
LinkedIn Streaming
2) Video-On-Demand Streaming
On-Demand Video Streaming refers to any video content made available for the users so they can access it at their convenience. With the help of video-on-demand Streaming, users can view content whenever they want, without any time restrictions.
3) Virtual Event Streaming
Virtual Event Live Streaming is a type of event hosting that helps you stream your online event in real-time with the help of a live streaming platform. Live Streaming a virtual event efficiently maximizes its reach to a larger target audience.
4) Hybrid Event Streaming
Hybrid Event Streaming is a powerful format in which the event is hosted on-ground, along with a virtual event platform and Live Streaming extension added to it. This event format is very beneficial for the organizers as they get the opportunity to reach a maximum audience through three different platforms: On-site, Virtual Venue, and Live Streaming.
Let's move further and explore some easy steps to organize an exceptional Live Streaming Event.
Host an Engaging LIVE Stream
Connect with the Industry's Most Experienced
Live Streaming Service Providers.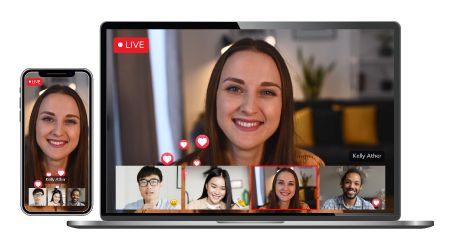 5 Simple Steps to Host an Incredible Live Streaming Event
1) Create a Well-Defined Plan
A well-thought plan for your Live Streaming from the start can help you ensure smooth execution. Identify your event goals and note everything down. Ask yourself some essential questions that help you define the next steps & process. Mentioned below are a few example questions that you should ask while organizing a Live Streaming event:
What is the type of event that you want to Live Stream?
What is your key objective while organizing the Live Stream?
Will it be a private or a public Live Stream?
What is your event budget?
What are the interactive tools that you wish to have in the event?
How do you want to engage your customers during the Live Stream?
How will you market the Live Streaming event?
2) Pick the Best Live Streaming Platform
Choose the most suitable Live Streaming Platform that meets your event needs & requirements based on your event plan. The best Live Streaming Tool for your event is the one that provides a completely managed service that you can rely on. Today, the market has numberless options; but only a few platforms provide you with a comprehensive in-house Live Streaming service. From robust CDNs to an in-house streaming team, an excellent streaming service renders you with end-to-end event solutions. Also, new trends like LIVE Commerce and shopping are coming up. Make sure that the platform you choose is well-updated with the latest features.
Pro Tip: Choose a Live Streaming Service that provides you with both on-ground venue and virtual support. This aspect will help you ensure the seamless execution of your Live Streaming event.
3) Prepare a Content Strategy
Once you have chosen a robust & reliable Live Streaming Platform, you can spend time focusing on the content strategy. Because in the end, it's all about the content you prepare and share with your audience. Therefore, create a well-defined content strategy that keeps your attendees engaged.
4) Promote Your Live Streaming Event
Start creating a buzz for your Live Streaming Event! Plan out the best strategies to promote and market your event. Doing this will not only help you increase your brand presence but also gather more viewers & participants during the live stream.
5) Do a Test Run to Avoid Glitches
Test the technology well before the big event day. From equipment to internet quality, check each and every technological aspect thoroughly. Doing this will not only help you avoid glitches during the event execution but also ensure that you have not missed out on anything essential.
List of Equipment You Need for Seamless Live Streaming
We hope you find a platform that provides an end-to-end live streaming solution with all the essential equipment. However, if you choose to work on the on-ground setup independently, here's a list of top equipment required for a seamless Live Streaming experience.
1) Video Cameras
The quality of your Live Streaming depends majorly on the quality of equipment you use on-ground. Therefore, choose a high-quality HD video camera so that the visuals are clear & appealing for your users, not blurred and dull.
2 ) Microphones
Microphones and the audio quality play the most significant role in your Live Streaming. Many studies also show that the audio quality of your Live Stream is more important than the video quality. It is so because, until your audience can hear you clearly, a little video buffering would not disturb your viewer's experience. However, you need to ensure that everything goes well during the Live Streaming. Therefore, use high-quality microphones that record your voice clearly.
3) Mixing Equipment
Mixing equipment plays a vital role if you are using multiple cameras and mics during the event. It captures the data from audio & video sources and mixes it together, ensuring a frictionless Live Stream.
4) Video Encoders
Video Encoder is another essential tool that helps you host an exceptional Live Streaming event. It enables you to compress the event files & recordings without compromising the quality. Video encoders are significant for a successful Live Stream as they allow you to transmit the content over the internet, enabling the final Live Stream.
Host an Engaging LIVE Stream
Connect with the Industry's Most Experienced
Live Streaming Service Providers.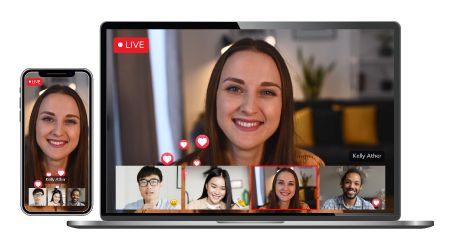 5) Video Streaming Accessories
You will need a few more miscellaneous tools to ensure a frictionless execution. These Live Streaming equipment include accessories like Tripods, Cables, Stands, Batteries, etc.
However, the requirement of Live Streaming Equipment differs from event to event.
Moving ahead, let us explore some of the top reasons why you need a Live Streaming Platform to ensure its success.
Reasons You Need a Live Streaming Platform to Ensure Success
1) Completely Customized Live Streaming
An excellent Live Streaming Platform enables you to create a super engaging & completely-customized Live Stream. From adding tickers & frames to brand logos & custom backgrounds, a Live Streaming Platform helps you with everything. You can share your requirements, and the platform will create a completely personalized virtual event for you.
2) Improved Audience-Engagement
A Live Streaming Service helps you take a step ahead of your regular Streaming event. By creating a completely personalized and branded experience for your event, the platform helps you ensure matchless audience engagement. Not just this, but the level of interactivity enabled by the Live Streaming platform enhances your attendees' experience.
3) Option to Repurpose the Content
While a regular Live Stream can not be managed or repurposed, a platform helps you achieve this goal. Your Live Stream content can be molded into multiple formats & can also be made available on-demand. Using this feature, you get the option to maximize your content availability, accessibility, and reach.
4) Parallel Streaming Across Multiple Platforms
A Live Streaming Service helps you in Live Streaming your event across multiple platforms simultaneously. For example, you are not restricted to Live Streaming your event only on zoom or Instagram, but you can go live across as many platforms you want in real-time.
5) Access to Event Analytics & Reports
A Live Streaming platform provides you access to comprehensive event analytics & reports. With the help of these event reports, you can easily track the performance of your Live Stream and make better decisions in the future.
Essential Tips for an Exceptional Live Streaming Execution
Explore the most helpful Live Streaming tips to ensure seamless execution.
1) Create a Branded & Personalized Streaming
Personalizing your Live Stream and creating a branded experience will help you increase your brand presence. It will also help your attendees have an engaging event experience.
2) Make Sure Your Live Stream Looks & Sounds Great
Ensure that you use high-quality cameras & mics so that your Live Stream looks perfectly fine & sounds great to the audience.
3) Create an Event Agenda & Stick to It
Create a well-planned event agenda & flow so that your Live Stream runs on time. A specified event flow will also help you ensure that you move in a strategic direction.
4) Look into the Camera!
One of the best ways to keep your attendees engaged is to interact with them while maintaining eye contact. Therefore, make sure that you look into the Camera throughout the Live Stream.
5) Interact with Your Audience
Interaction is one of the key aspects that can ensure the success of your Live Streaming. Therefore, connect with your attendees through sessions like live polls, Q&As, live games, etc.
6) Use the Features Presented by Your Live Streaming Service Providers
A professional Live Streaming Platform provides countless extra features to enhance your Live Stream. Therefore, have a clear conversation with the service providers and use as many features as possible.
7) Create a Buzz for Your Live Streaming Event
Use well-strategized promotional activities to create a buzz for your Live Streaming event. Doing this will help you gather more viewers & participants during the Livestream.
8) Plan the Content Strategically
As you plan the content strategy, don't think about the content that YOU want to share with the audience. Instead, think about the content that provides more value to your audience.
9) Have Backup Equipment Available
Arrange backup equipment so that in case of any inconvenience, you already have a backup prepared.
10) Test the Technology Before Going Live
Check all the event aspects thoroughly to ensure that nothing goes wrong during the Livestream. If you find anything that does not look fine, you still have time to make things right.
Host an Engaging LIVE Stream
Connect with the Industry's Most Experienced
Live Streaming Service Providers.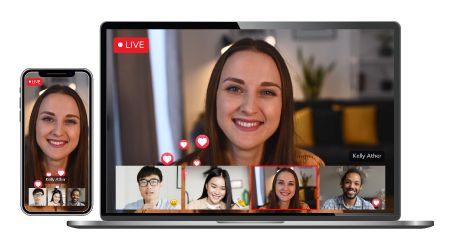 Live Streaming FAQs
How do you engage people in a Live Stream?
You can engage people in your Live Stream by providing them with valuable & helpful content. An excellent idea to make your Live Stream more engaging is making it interactive & communicating with the viewers.
What is the purpose of Streaming?
The purpose of Streaming is to connect with your target audience directly and have a valuable interaction that adds to your brand presence.
What is the easiest way to Live Stream?
The easiest way to Live Stream is by selecting an excellent Live Streaming Service that provides you with an end-to-end solution.
What is the best tool for Live Streaming?
The best tool for Live Streaming is the one that provides you complete support & management throughout the event, ensuring its success.
How do I make my Stream unique?
The easiest way to make your Stream unique is to be real and create your own strategies instead of copying others' strategies. Think from your audience's perspective and provide the content that provides them the most value.