In the past decade, live streaming has gained increased prevalence in the corporate industry. Even when the pandemic didn't accelerate the businesses to shift towards the online world, live streaming was on its way to progress. However, the Covid-19 pandemic made it a more obvious solution to successfully perform business activities online. It also involves the information sharing that had to happen with the employees, stakeholders, department heads, and the target audience in real-time. And, this is when live streaming gained unmatched popularity in the industry.
Nevertheless, the focus is now to ensure the successful execution of the streaming and avoid any possible mistakes. Therefore, let's move ahead and explore some creative ideas for corporate live streaming. Also, after comprehending the basics, we will encircle the most common mistakes and ways to bypass them.
What is Live Streaming?
Live streaming refers to the process of creating and sharing videos with a global audience in real-time. In easy terms, it is the transmission of video content to a vast range of audiences right when it is being recorded. Since these video data can be large and heavy, it requires powerfully supporting streaming devices and platforms. The biggest advantage of live streaming is, you don't have to record and store the content. Instead, you can effectively send it over the internet through live streaming technology.
What is Corporate Live Streaming?
There are several corporate events or business activities that are extremely significant for organizations. Be it internal meetings like a town hall, cross-office communications, or external meetings like a product launch or expo, all of these hold great importance for a business.
"Just like an image is worth a thousand words, a video is worth a thousand images." Therefore, live streaming is the best go-to option for any corporate event. And, this is where the vital corporate live streaming of diverse events gets in on the act.
Principally, corporate live streaming refers to the live-time recording and webcasting of important business events. By collaborating with an advanced live streaming platform, you can reach a global audience in a difference of just a few seconds. It does not only help you live stream your event on the website but also across multiple social channels.
Moving ahead, let's explore some of the best corporate live streaming ideas and tips to enhance your event.
In-Person, Hybrid, Virtual
Create an Extraordinary Event Experience
Across All Event Formats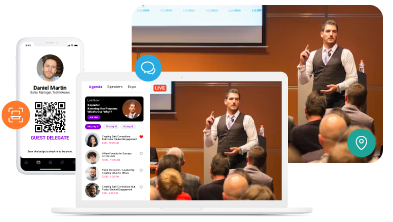 Top 7 Interesting Ideas For a Successful Corporate Live Streaming
#1 Live Stream Parallelly On All Major Platforms
This idea works best when you are looking forward to displaying the fun side of your company or the meeting itself. Include the most suitable tools that can enhance the reach of your corporate event live streaming. If you go ahead with the top ones, there's a greater chance of gaining better exposure to your target audience. For example, you can stream your event over the following platforms simultaneously:
Instagram Live
Facebook Live
Youtube Live
Periscope Live
Also, you can include this idea as a fun session when your meeting is more private. A private corporate meeting can involve important discussions that have to be end to end encrypted with utmost data security. In cases like these, an excellent live streaming platform allows you to live stream the corporate event over your own microsite or company portal. 
Hence, streaming parallelly can be a fun part of such a business meetup wherein you get the chance to interact with your audience.
#2 Promote Live Interaction
Organize live Q&A sessions to include two-way communication. It might sound like a usual activity, but active interaction holds great importance in ensuring the success of any event. Interaction also promotes participation at your event, and hence the engagement too. For example, if you organize a product launch, your viewers would love to have a simple interaction like merely talking about the product.
#3 Organize Happy Hour
You can try and live the experience you would want to in an in-person event. By including a happy hour session, you can not only lighten up the mood but also add a fun element to the event. You can also inform all the participants about the happy hour before the event to build up the excitement.
#4 A Virtual Scavenger Hunt to Make it More Interesting
Organize a virtual scavenger hunt during the live events streaming to add to the fun and joy of the event. You can also create teams and ask them to find the list of all the things from their remote locations. The team which completes the task first wins exciting gifts or coupons. The prize or reward can also be something related to your company, like a branded goodie bag or product.
#5 Bring Social Media Influencers Onboard
As your live streaming takes place over several social media platforms, it could be a great idea to collaborate with an influencer. It will not only add to the effectiveness of your event by driving engagement but also make your event more interesting.
#6 Include Entertainment Sessions
You can include mini entertainment sessions in between the event to keep your viewers enthralled. It will also keep your attendees from having a tedious event experience. For these entertainment breaks, you can collaborate with a famous industry-related talent to enhance the event experience.
#7 Enhance Engagement Through Live Streaming Platform Features
An efficient live streaming platform is well-equipped with top-notch features to amplify your event's success. It also helps you combat the live streaming challenges that can stop your way. Some of the top features include:
Worldwide Reach of Content
Real-Time Archiving
Customizable Experience
Seamless Integration
IP Based Live Streaming
And a lot more!
By bringing the above mentioned ideas together, you can ensure efficient and valuable corporate live streaming. Let's move further to know some tips on avoiding any possible corporate live streaming mistakes.
A Comprehensive Checklist to Resist Live Streaming Challenges
Follow these tips to avoid mistakes during your corporate event live streaming:
#1 Avoid Selecting the Wrong Topics
If you opt for the wrong topics or theme for your corporate event streaming, your audience can feel uninterested. Also, this can minimize your event's value. Therefore, avoid selecting the wrong topic that your audience is not interested in.
#2 Don't Forget to Plan and Strategize the Event Properly
A well-defined plan and strategy for your event can provide it with an essential flow. This flow is also significant for smooth execution.
#3 Don't Stream Low-Quality Audio & Video
A poor quality service can really drive your attendees to sign off from the event. Audiences usually don't sit through buffering, fuzzy, lagging, and scratchy audio & video. Hence it is significant to ensure the quality of the production.
#4 Do Not Overlook the Importance of Interaction
Interaction is one of the many key elements that can either take you to the heights of success or hold it from you. Therefore, make sure you provide interactive opportunities to combat the live streaming challenges.
#5 Avoid Not Promoting the Event Effectively
Promotion plays a significant role in ensuring the success prospects of your event. The more you promote your event, the more your target audience gets to know about it. Hence, it can be a game-changing factor for your organization and the event.
#6 Do Not Keep The Sessions Lengthy
Lengthy sessions lead to a tedious event experience for your audience. There's a possibility that your audience might not even sit through the session. Hence, don't keep the session too long.
#7 Don't Neglect the Significance of Break
The live stream fatigue is real. Therefore, it's significant to give your audience a break in between the sessions. It will provide them the time to freshen up and come back with greater attention.
#8 Don't Forget to Ensure the Upload Speed
High-quality audio and video will be of no use if the upload speed is not good enough. Although it depends on your location sometimes, try to have the highest speed possible.
#9 Avoid Not Testing the Event Tech
Testing the live streaming technology and its features is another important step. It will help you avoid any possible technical errors and glitches at your corporate live stream.
#10 Don't Forget to Follow Up
Don't make the mistake of not following up with your participants as well as the audience. Your follow-up can be a little appreciation post or letter, thanking the audience for their presence. Appreciation can win you a better overall attendee experience as well as audience loyalty.
Organize an unparalleled & exceptional corporate live streaming with Dreamcast's advanced features & tools. Book a demo now!
In-Person, Hybrid, Virtual
Create an Extraordinary Event Experience
Across All Event Formats