Now, the world is returning to normal, which means onsite events in the event industry. The experience and value of an in-person event are something you can not deny. However, virtual technology has taken event industries to another level. They made everything on your fingertip without hassle.
Still, hosts and organizers will not face insurmountable challenges in pivoting back to in-person events. The virtual event solutions offer tremendous ideas that can make your physical event easier than ever.
Here are some in-person events ideas that can be helpful in boosting the in-person event experience like never before.
Start Smart Registrations Both Online and On Spot
Attendees tremble when it comes to registrations for any event. They hate going to counters, standing in the lines, and registering for the upcoming event as they are now habitual to sitting at home and doing everything. So, you need to change and add more easy ways to register and book tickets, just like in virtual events. Hence, here are three ideas to transform and make your event ticketing easy.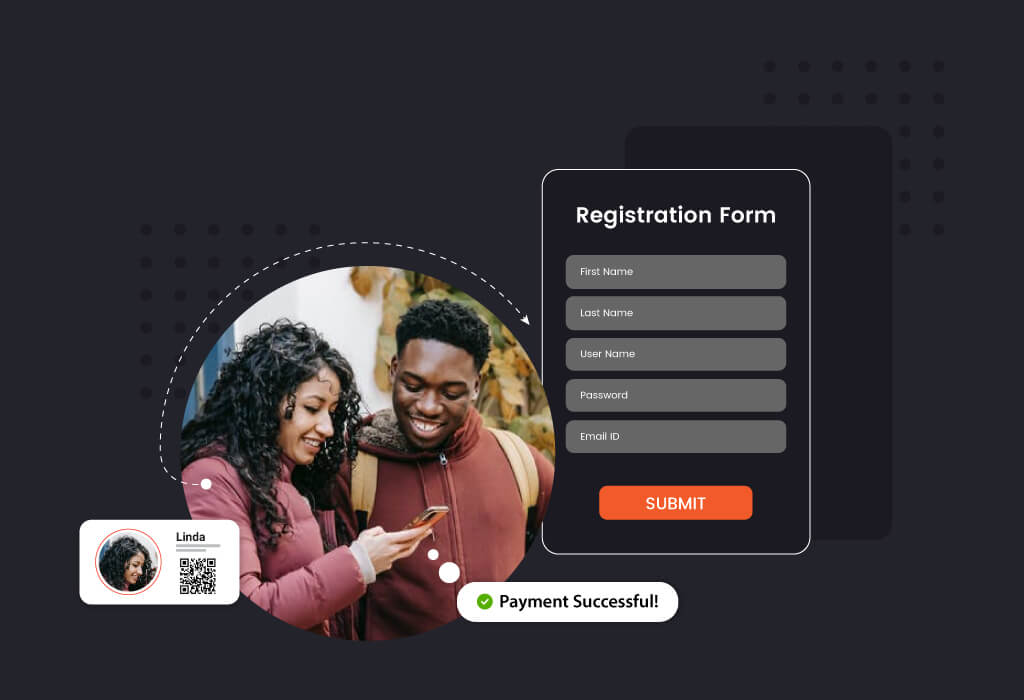 Digitize Your Event Registration
You can create paid and unpaid online registration for the event effectively with a microsite builder and self-managed registration forms. Attendees can see your event registration link on the promotional post that will divert them to your microsite. You can provide a complete overview of your event, including the registration form at the microsite. It empowers both online & on-spot registration with instant response. You can customize the microsite and registration form as per your interest. Include everything as per your choice.
Also, you can use WhatsApp automation, which can be helpful in sending an instant message and registration confirmation. You can continue your conversation with the audience via WhatsApp, sharing all the detailed information via messages.
Transform the Ticketing Experience
Nowadays, everything is paperless. So, why not the event industry convert to e-ticketing as well. You may have already noticed the e-ticketing process for the movies. It is a simple process to just go to the app, book a ticket, and get a QR-based badge for the entrance of the movie hall.
Similarly, you can create and share a QR code-based M badge with the audience via Email, SMS, and WhatsApp. You will scan the QR at the event entrance and welcome the audience.
The host can experience easy reconciliation without leakage and pilferage with e-ticketing. Also, you can create a non-transferable personalized ticket by adding the initials and photos of the users to it.
Digitize Your RSVP Management
You can confirm the seats at the event with the audience by sending them a confirmation link one or two days before the event. It can be helpful in getting in touch with all the people coming to your show.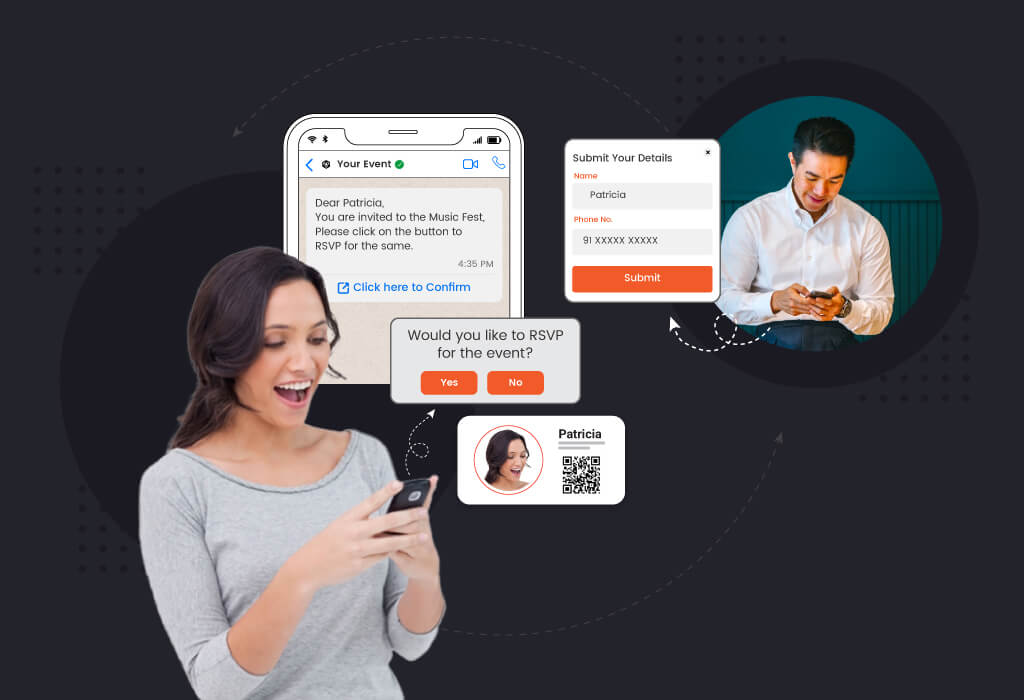 Moreover, you can manage RSVP with both direct invite and approval-based messages. WhatsApp is the best way to communicate and connect with others as it is the most used application across the globe. 
Make Your Event Hybrid & Boundary-Less
You can take your in-person event to audiences across the globe. It can be helpful in making a better reach and increasing the chances of getting more sales. Moreover, you can turn your in-person event into a hybrid or broadcast it live.
The best virtual event platform, like Dreamcast, offers exceptional features and functionalities that change the complete experience for both online and offline audiences.
You can get live chatting, audio, and video calling opportunities that can be helpful in seamless communication among the audience, sponsors, hosts, and everyone present at the event. For a better engagement, you can add gamification, AR photobooth, clap or hoot sound, AI matchmaking, etc. Also, you can increase the networking opportunities with business card exchange, b2b meeting scheduler, networking tables, etc.
On the other hand, you can broadcast your event live on various platforms simultaneously, such as Facebook, Instagram, YouTube, LinkedIn, etc. You can get numerous additional features and functionalities for a seamless experience online.
Create a Powerful Organizer App
You can create an app that provides the complete freedom to host in-person events with online availability. People across the globe can join the event online via the app and enjoy it thoroughly. Also, you can provide a navigation option for onsite attendees that can help them reach your events at ease.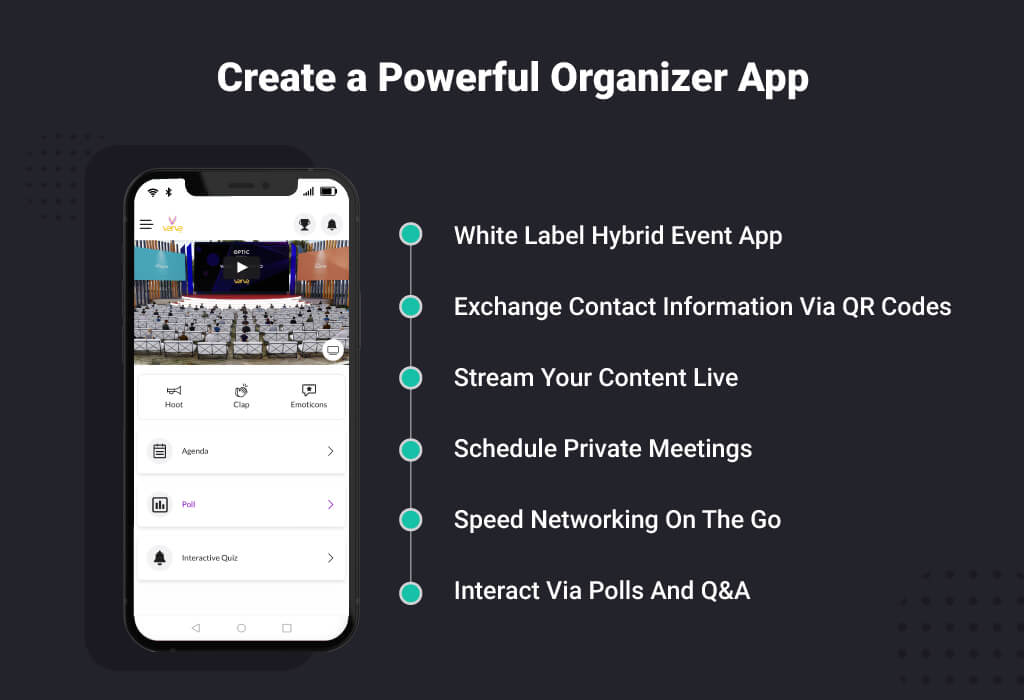 You will get a lot of benefits with a seamless mobile app, such as:
White Label Hybrid Event App
Exchange Contact Information Via QR Codes
Stream Your Content Live
Schedule Private Meetings
Speed Networking on the Go
Interact Via Polls and Q&A
All these features can make your event experience immersive and better.
Make User Journey Easy with WhatsApp Automated Messages
You can automate WhatsApp for better brand and event promotion and audience connection. It will be helpful in making your audience know what you are up to. You can manage everything with WhatsApp automation, from every sales ad to an event invitation.
It can provide you with a continuous conversation to create a better connection and ease for the user. You can use and take advantage of rich media content for better user interaction, such as images, videos, gifs, PDFs, documents, and more. CTA & Quick Reply buttons will be helpful as the message elements to engage customers with the message. Use a twist in every message you send and make a daily messaging schedule with the audience to keep connected with them.
Use Whatsapp Integration for Better ROI & Event Management
WhatsApp automation is the latest and most trending feature to build better revenue for your brand. It is the best way to communicate with your audience and share all the information. Moreover, it is simply two-way communication that can be helpful in clearing all the doubts and facts. Here are three key benefits of planning an in-person event with WhatsApp automation.
Creating Automated Workflows Push Notification: You can send notifications to all the attendees before, during, and after the event without hassle.
Also, you can create multiple automatic WhatsApp messages. It can be helpful to set and send every notification during the attendee's journey.
You can trigger the designed communication over different touchpoints in the event.
Additionally, you can provide answers to all the frequently asked questions with custom replies. It can be helpful in saving your time and efforts of replying to the same answers every time.
Hence, you can make the high volumes of customer conversations efficient with WhatsApp automation.
Database Marketing: You need to boost sales by recalling the attendees with relevant communication after the event.
Build campaigns based on opted-in customer's attributes & events. You can track the complete Monitor campaign performance stats, from sent to read to reply.
It is not essential to send only transactional messages. You can keep some ads related to discounts, offers, back-in-stock alerts, and more.
Powerful Live Engagement Tools: You can integrate numerous engagement tools that can be helpful in making your attendees stay at your event from start to end.
Attendees will only show interest and come to your event if they find your topic impressive. So, you must share the agenda digitally with the event attending audience.
Attendees will definitely have questions about various topics, products, and services. So, you can use WhatsApp, which can be helpful in inviting the attendees to ask questions and connect with the event moderator.
You can conduct live polls to engage the audience. It can be related to the running discussions or other facts related to the event title.
Attendees love to share their experiences, but taking the feedback just after the event will be more beneficial for you. They can write a live review for your event. So, you can also collect feedback in real-time from your audience for every session.
Offer Ease to On-Spot Attendees
You can enjoy numerous benefits of in-person events on spot registrations and ticketing. It can make the user's experience immersive and easy, which attendees always look for. So, here are some ways that can be helpful in making your event more seamless.
Offer On-spot Digital Registration & Zone Access: The in-person event platform provides on-spot registrations and ticketing for the attendees. They can simply scan the QR code or download the app in order to make the registration and book a seat on the spot. Also, they can add various additional members with them. It can be helpful in making the audience not worry about the last-minute registration or getting the tickets.
In addition, many organizations make VIP zones. So, you can ask them and provide the direct entry to that subscription-based session with on-spot up-gradation of their tickets.
Go Cashless At Your Event: You can make online payments with UPI, cards, and other ways. It can be helpful as almost everyone nowadays goes without cash. Moreover, the host can integrate the apps and software, such as Paypal, Razorpay, WhatsApp, and more. You can choose and add various integrations to your event registration page for a seamless ticketing experience.
Provide Real-Time User Support Via WhatsApp
You may know a lot of in-person events examples, doomed because of the bad customer support. So, you need to keep the best team at your attendee's service, and WhatsApp can help you. Here are two ways WhatsApp automation can make your event support more easy.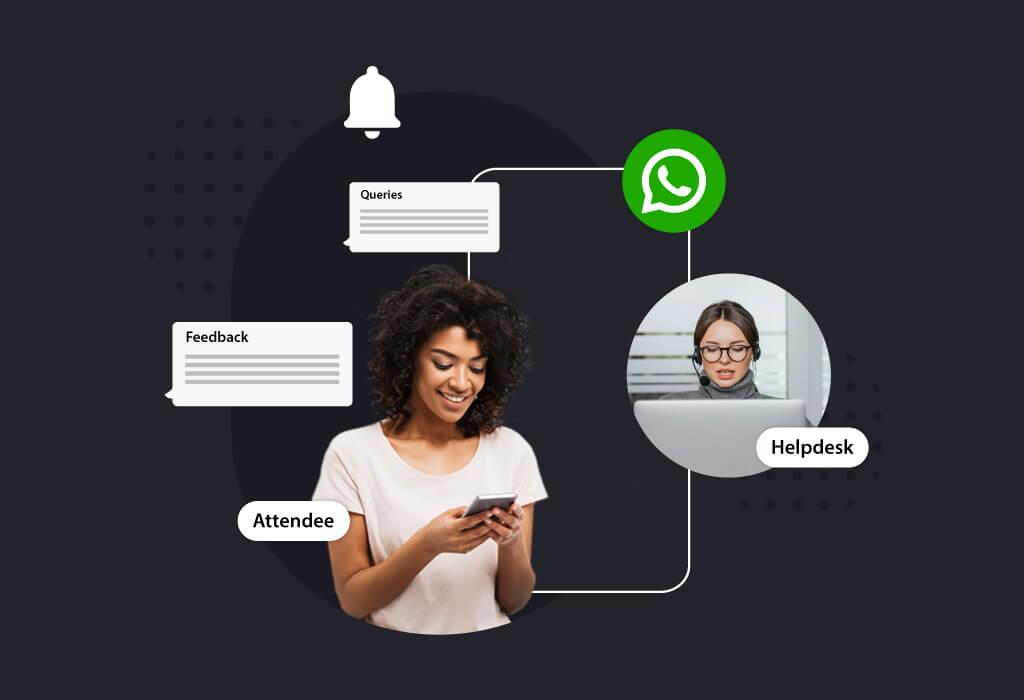 Event Helpdesk Going Digital: You can create proper customer support with a team of representatives who can help the customers with the event and ticketing. All the audiences can reach the experts for real-time help related to the event or any part.
Post Event Feedback: You will need to collect feedback from the customers. So, you can also create a link to a feedback form that you can include in your WhatsApp messages. It will be helpful in taking the follow-up from the attendees.
Start D2C Selling Via WhatsApp in a Live Event
Many organizations conduct live e-commerce events. It is beneficial to sell anything to the audience in your event directly through WhatsApp automation.
You can share the link to the product pages shown in the event so that they can explore and make a purchase.
Moreover, use your authorized event WhatsApp number to solve customer queries on time. Also, you can get these users on board and shop from your brand with instant solutions.
WhatsApp can save your human resources as you can add custom auto-replies for customers' FAQs.
WhatsApp has live integrations, like conversation labels & private notes. Also, assigning and re-assigning chats to a new representative can create a better customer experience.
Also, you can use smart cards, labels, tags & private notes to make your contacts & chat access easy.
So, these are the various in-person event ideas that can transform your onsite event into a completely new experience. Your in-person event can change the way users used to book a ticket, register, or check-in for the events.
Get the Best Integrations with Our Smart In-person Event Services!
Dreamcast, the leading event solution, has launched smart event services to change the usual way of hosting an in-person event. Our experts can make your virtual, hybrid, and in-person events highly engaging and communicative with seamless networking opportunities. So, why wait anymore and search here and there? Reach us today to create a seamless and immersive experience for your event audiences.4