Webinar marketing is the most crucial aspect for every industry when it comes to merging an event and a business. You cannot get more leads, enhance brand awareness, or any other benefit if you do not promote your webinar right. Hence, you need best practices to take your products, events, services, and other facilities to your audience.
Hence, here is your free guide to webinar marketing to help you with the knowledge from start to end. So, without further ado, let's start the blog with a short introduction to webinar marketing.
What Is Webinar Marketing?
Every brand conducts a webinar, live streaming, virtual, hybrid, or in-person event. However, it is a complete waste if you do not reach your targeted audience, asking them to join and knowing what you have for them.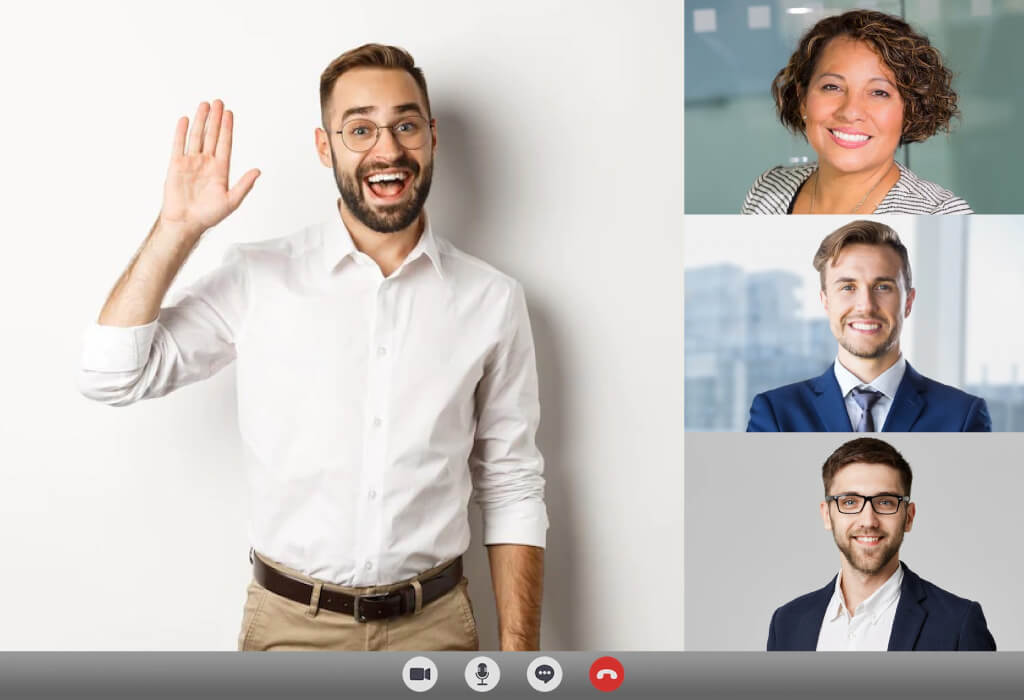 Webinar marketing is an affordable way to connect with potential users and engage them with your brand offerings without hassle. It is the most exciting and fun way to entertain a number of audiences across the globe.
You can get a complete list of interested people as soon as users fill out the registration form on the landing page. Furthermore, you can use these details and make them part of your marketing automation and CRM platforms. The webinar platform experts suggest using webinar marketing as the topmost strategy for better engagement and connection with your audience. Hence, the idea is simple to host a webinar and increase the ROI of your business.
Why Is Webinar Marketing So Important?
There are a lot of benefits of webinar marketing that you can not ignore, such as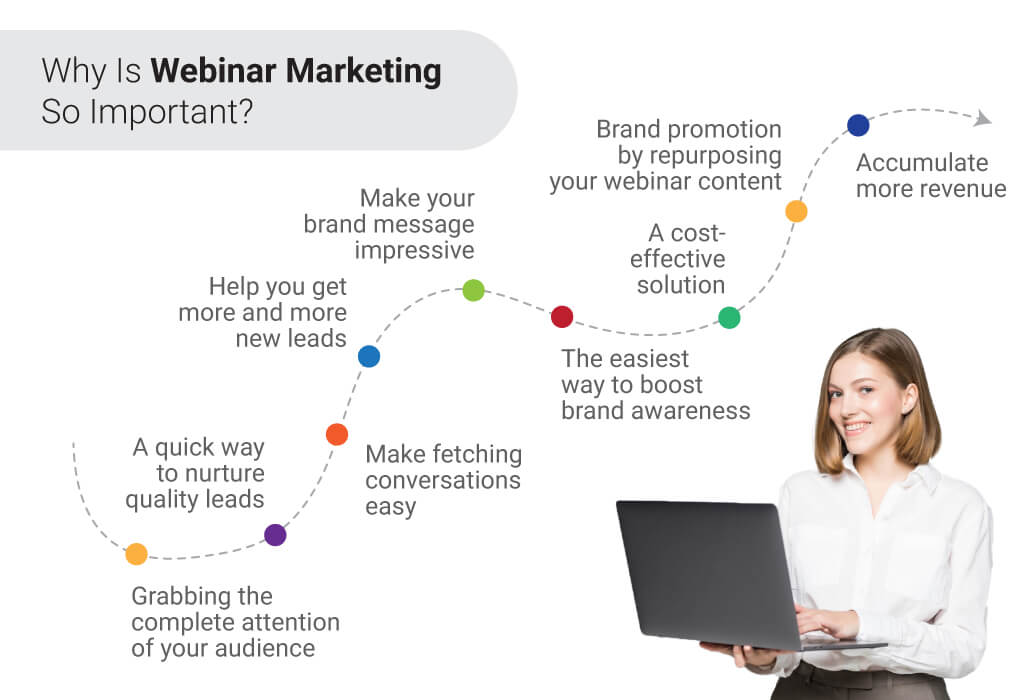 Grabbing the complete attention of your audience.
A quick way to nurture quality leads.
Make fetching conversations easy.
Help you get more and more new leads.
Make your brand message impressive.
The easiest way to boost brand awareness
A cost-effective solution
Brand promotion by repurposing your webinar content
Accumulate more revenue
However, ensure that your chosen webinar services offer you the features and functionalities to make the most of your webinar marketing, such as you must get third-party integration, WhatsApp-Based Communication, and more.
When Should I Use Webinars In Marketing?
You can get seamless solutions for all the challenges you may have faced through webinars. So, you can employ a webinar as a marketing strategy when you:
Find a solution for a particular concern.
Have the expertise to share with your audience.
Need to share how-to information for your products and services
Want to create a relationship with more attendees
Desire to maintain your previous customer relationships
Note: Keep an eye on the online webinar platforms that can provide recorded videos and facilitate an on-demand webinar. It can help you stay for a longer time in the market with your knowledge.
7Cs for Effective Webinar Marketing!
It is essential to develop a webinar marketing plan template that can be helpful in achieving success without hassle. Furthermore, you need to know various aspects to make your event more effective. Hence, here is a list of influential factors that can change your complete marketing strategy.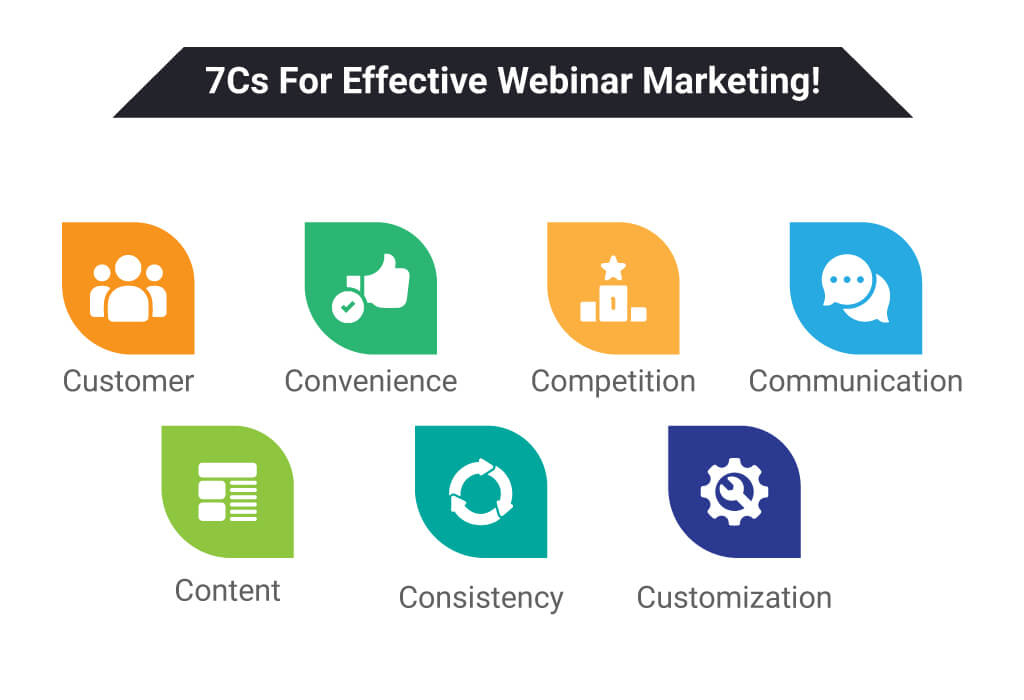 1. Customer:
It is necessary to know your target audience.
What interests them?
What do they like or dislike?
How to grab their attention at your webinar?
How can you offer solutions to the challenges your users face?
2. Convenience:
You have to keep your audience's amenities in your mind. Many users do not like downloading an app or software whenever they have to attend a webinar. Hence, you can switch to a web-based event solution to provide them with as much convenience as possible.
3. Competition:
You have to keep track of your competitors. Try analyzing what kind of digital marketing webinar strategies they are employing. There are plenty of technologies from which you can choose the most preferable and compelling idea for your event promotion.
4. Communication:
You can keep clear and uninterrupted tools for cross-interaction at the webinar. There are numerous interactive webinar platforms that offer several features for direct interaction with anyone at a webinar. Also, you can employ some ideas to know the delivered format and types of transmission, persuasive messages, voice tone, and ambushes in the content of your competitors.
5. Content:
You have to create different styles, types, and formats of content to keep every kind of attendee engaged with a webinar. Whether they need images, infographics, videos, files, documents, manuals, brochures, flyers, or more content, you must have everything ready for them. Different platforms require valuable content; you have to take care of them.
6. Consistency:
The social media platforms, your official website, and various other platforms require consistent posts. Hence, you will need to keep posting different ideas and topics for your audience to keep them engaged in your account.
7. Customization:
You have to keep everything more personalized for your users. It can help maintain a better relationship with your audience. You can even get completely customizable virtual webinar platforms. Hence, you can design, add, or eliminate any element depending on your choice.
13 Tips for Effective Webinar Marketing!
Here is a comprehensive list of tips for marketing webinars free in 2022, 2023, and beyond.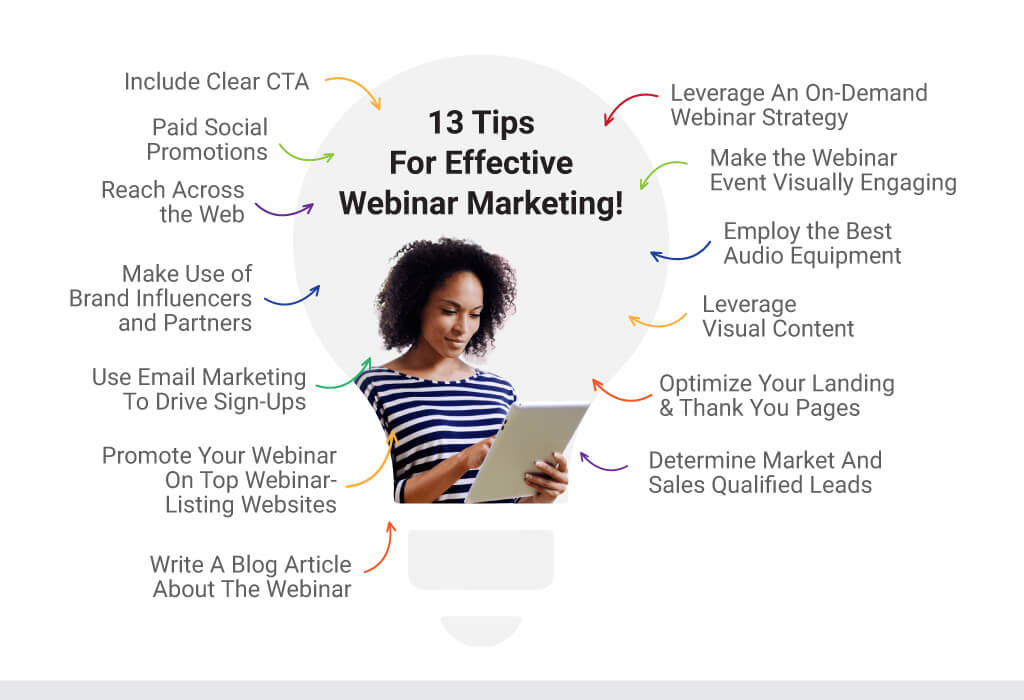 1. Leverage An On-Demand Webinar Strategy
You can create a platform to provide myriad content and webinar recordings, pivoting into edited videos.
2. Make the Webinar Event Visually Engaging
Customize and design your complete webinar and make it more attractive for the attendees.
3. Employ the Best Audio Equipment
You can use microphones instead of in-built mics. It can deliver your voice clearly and eliminate all the background distractions for more professional communication.
4. Leverage Visual Content
Your speakers can create a video presentation with your audience to share examples and facts supporting the topic. Also, you can use different product description videos, teasers, trailers, and myriad other visual and entertaining content.
5. Optimize Your Landing & Thank You Pages
You can ensure that your landing page has complete information about your webinar. Also, you can pop up the thank you after registration, purchase, and more.
6. Determine Market And Sales Qualified Leads
Not every lead can get your purchase. So, you have to understand Mqls and Sqls to measure your webinar goals easily.
7. Include Clear CTA
You have to create numerous Call-to-Actions in order to make your audience do some activity after reading the complete content, attend the sessions, and other things.
8. Paid Social Promotions
Social media platforms are the stages where you can find almost everyone from across the globe. Hence, you can develop creative social media marketing webinar content for better promotion of your event.
9. Reach Across the Web
You can use the display networks to reach a global audience with your webinar. Also, you can opt for free marketing webinars with certificates of joining. It can interest users to attend your webinar and learn something new.
10. Make Use of Brand Influencers and Partners
You can make your brand ambassadors and webinar partners spread the word. Hence, you can involve them in the promotion of your webinar.
11. Use Email Marketing To Drive Sign-Ups
You can promote your webinar using well-curated and written email. It can help you drive several sign-ups if you opt for personalized mailing for your exciting audience or welcome your new leads with their names. Moreover, employing an email verifier can ensure that your email list remains accurate and up-to-date, improving the effectiveness of your promotional campaigns.
12. Promote Your Webinar On Top Webinar-Listing Websites
You can share your webinar details with the top listing websites. They will make your audience know what you are up to something and get you more registrations.
13. Write A Blog Article About The Webinar
Content is king when you want to share any information with the audience. Hence, you can create blogs, articles, social media posts, and other content to promote your webinar via content strategies.
BONUS TIP: Opt for an Automated Webinar
You can take the top webinar marketing examples, and you will find the benefits of video-on-demand streaming events and automated webinars on the top. These are the most efficient ways to let your content do the work of engaging a big crowd and making them come to you.
So, this is a complete guide for more effective webinar marketing. You can definitely create a better impression on your audience if you follow these ideas and tips. However, you are always welcome to ask the experts of Dreamcast, as it is the best webinar platform. People worldwide trust and rely on our services for any online event. You can achieve success with our engagement, interaction, and networking opportunities. So, no more waiting! Reach us Today and change the complete experience into a seamless and immersive webinar.
Attain a Matchless ROI for Your Business.
Pick the Best Webinar Services of the Industry