At some point in time, we have all witnessed or experienced a webinar. For many industries and businesses, webinars are quite useful as they can be used for many purposes. To expand the reach of any brand's products and services or content, many businesses host large-scale customizable webinars. However, to host an error-free webinar, you require a robust webinar platform. And to find the right platform can be tough. And the first key requirement for hosting a webinar is the capability to handle a huge audience. With core technical support that can keep the webinar running hazel free and without any glitches.
Furthermore, hosting a webinar can be done for multiple purposes like conferences, meetings, and presentations. And in order to get a huge coverage of the audience without any geographical restrictions across the globe. And choosing a custom webinar solution with robust technical support, customization, and features is a great advantage.
To host customizable webinars, the platforms should be enriched with features so that you are able to give an immersive experience. In order to bring fun and boost engagement, it should have interactive features like emoticons, chat support, hand-raising, polls, and surveys. Along with branding, production, recording, advanced analytics, and insights. With these webinar features, you will be able to host an engaging and successful event. But there are certain other aspects that should be looked out for, and robust technical support is needed. So when you want to host a very large webinar, you are able to solve the problem of attendees and streamline the hosting experience.
In this blog, we will take a deep dive into the essential features and technical support solutions. That is needed for large-scale webinars, along with customizations for a robust and enhanced experience.
What Comprehensive Features and Technical Support Can Be Provided?
Hosting a webinar can be done for the end number of users and there are certain advantages that can be achieved. A customizable webinars solution should be able to provide a smooth and enhanced hosting experience with its great features and robust technical support.
Attain a Matchless ROI for Your Business.
Pick the Best Webinar Services of the Industry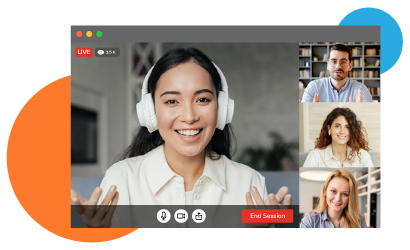 Team Deployment
When you want to host large-scale webinars that can have an attendance of thousands. You will definitely need a support team that can handle all the technical problems and issues to resolve. Since there can be attendees that will be joining from different geographical locations and with different connectivity. There are chances of having any kind of technical glitch or someone facing any kind of issue. That can be related to joining the webinar or accessing the platform, so a specific team to solve the issue can be of great help. They can be available 24/7 at the service, so no one will have any problem accessing them for any kind of help. Hosting webinars with technical support can help in resolving any kind of issue that can be faced throughout the session.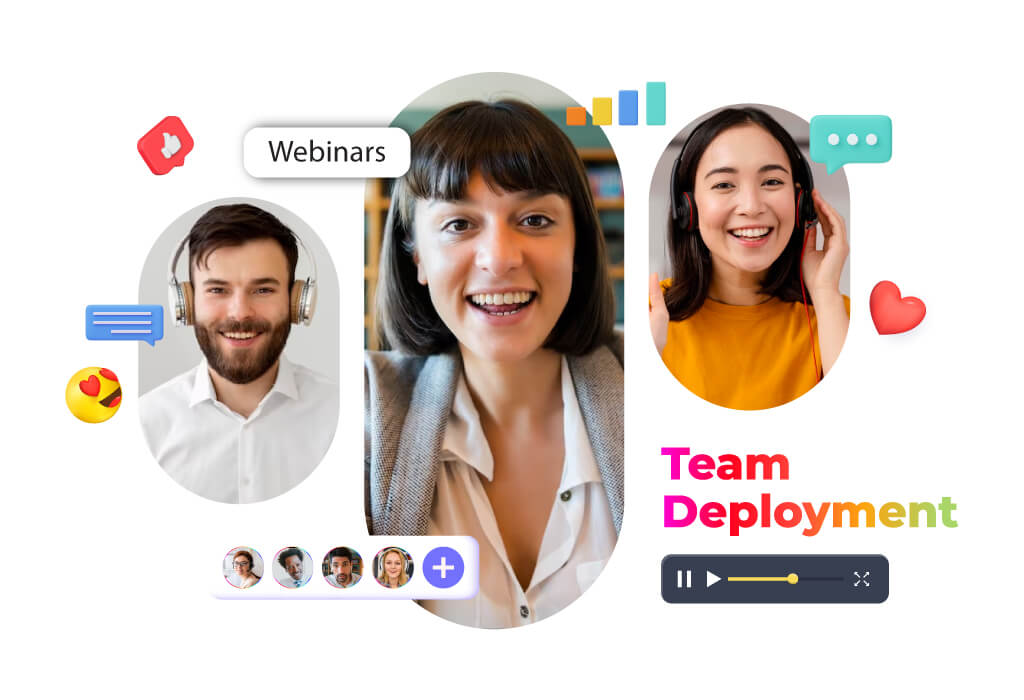 Registration and Ticketing
To fulfill the requirement of registration and ticketing, the custom webinar solution should be able to fulfill the requirement of providing proper support. During large-scale webinars, they should be able to handle all the queries of the attendees with ease. And can easily manage the hazel-free process of registration and ticketing. 
Recording and Repurposing
The recording capabilities of the platform are a very significant part of a custom webinar solution. Because with the help of this functionality, you will be able to host and the presenters may want to record the whole event. This comes in handy when you need to use it later for other purposes like you can provide it to the attendees who couldn't make it. Or it can be used for marketing purposes or as an automated webinar, this capability is a benefit for large-scale business webinars. It enables the hosting and reuse of the information by transforming it into other formats for subsequent events. With this, you can save time and effort or create new content by providing it on demand to whoever needs it.
When very large customizable webinars are being hosted, the platform should provide a single click to direct download functionality. This extraordinary webinar feature can be very useful for educational institutions, training purposes, product launches, and similar fields. Where the content can be complex but the same and requires repetition for a better understanding.
Session Analytics & Actionable Insights
Analyzing the webinar for analytics and insights is a must-have and comes under technical support. No matter if you want to host large-scale webinars with thousands of attendees or a small one with hundreds of attendees. The webinar solution should offer you all the analytics by keeping track of certain aspects that are discussed below.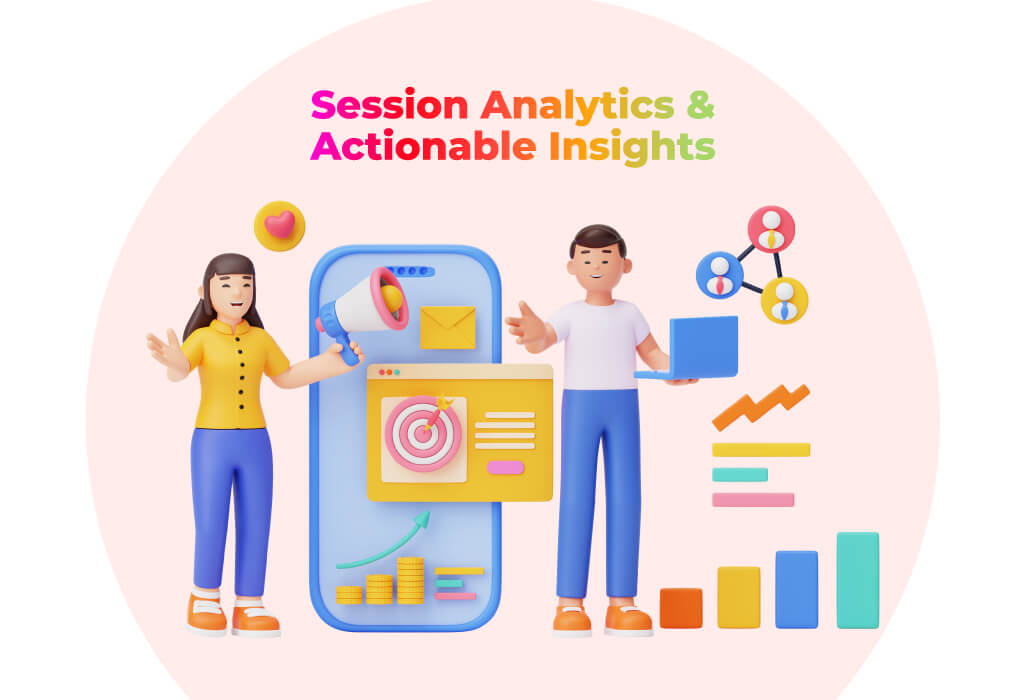 Attendee Analytics
To host customizable webinars, it is important to keep tabs on the attendees. It includes how many attendees have joined the session and for how long they have stayed. This report helps in knowing where the attendees have lost interest and which part of the webinar requires more attention.
Registration Analytics
The webinar solution should be able to provide all the necessary information about the registrations. Which includes the number of registrants, source of registrations, and geographical location to see the reach of the webinar. This is a very important factor or support that is necessary when you opt to host very large webinars. 
Engagement Analytics
Monitoring the behavior of the attendees throughout the webinar, such as their participation, chat activity, Q&A interactivity, run time, and engagement. It is important to know because these insights can help in identifying the improvement areas of the webinar. And when you are hosting a very large webinar attendee engagement is a key factor to look for because the success ratio also depends on it.
Performance and Conversion Analytics
Performance analytics of the webinar can help in keeping track of how effective the session was. It means the overall performance is being calculated, which includes the number of viewers, attendee engagement, and tracking. This comes effective when you want to host large-scale webinars, and the solution provider should also be able to provide conversion analytics. By tracking the number of leads generated, and the sales made, that helps in calculating the ROI.
Security & Data Encryption
Keeping everything secure is an important factor for any event because you don't want your personal data to be shared by anyone. So when you host a customizable webinar with the help of a professional service provider. Their tech support team should be capable enough to keep everything secured. No matter if there are a hundred or thousand attendees, all the information and data related to the webinar should be kept confidential. The customizable webinars solution should have outstanding encryption technology that can safeguard vital information. This means that it should provide encryption to each data type, from usernames to IP addresses. So that you can have peace of mind knowing that everything is in safe hands and protected.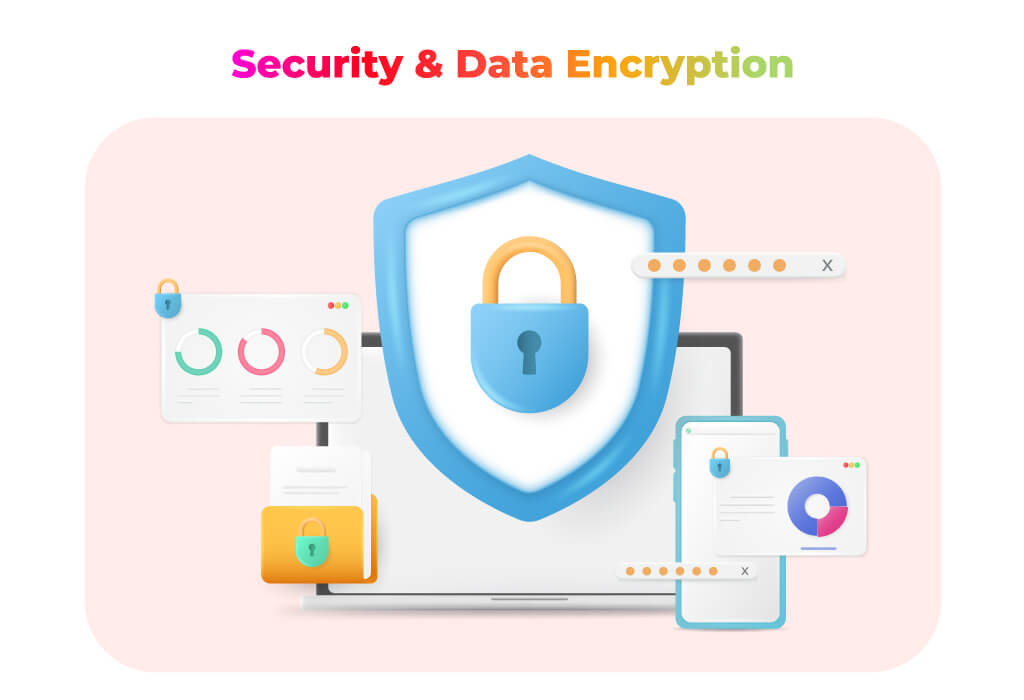 Features and Functionalities
No matter if you want to host a very large webinar or a small one, you always want the best features from the platform. So that it can be made interactive, solves your purpose, and can make the most out of the webinar. The best features and the key working factors that should be handled with proper technical support and customization are discussed below.
Engagement Features
For many hosts and presenters, it is necessary to engage the audience. Whether you are hosting a large or small webinar, there should be engagement with the attendees. And with features that can help in keeping them engaged and entertained, here are the essential features that should be available.
Polls and surveys
Live chat
Q&A session
Hand raising
Emoticons
Branding Options
What is the point of hosting very large customizable webinars when you can even show off your brand? The platform should provide some great branding tools so that you can develop a professional brand experience. There should be a variety of features with customization options that should help you customize your online event and align your brand identity. Here are some key features that should be included in order to highlight your brand.
Add your brand colors
Background customization
Custom name tags
Highlighting your logo
Adding music
Lobby Customization
Lobby customization is a great feature that should be offered by a custom webinar solution provider. This feature allows you to create a customized experience for the attendees before starting the webinar. The attendees can wait in the lobby, which can be tailored to a formal, engaging environment. You can even add your logo and other branding elements to make the webinar look more attractive. Along with this customization, you can also add a personalized message for the attendees to greet them or provide some information that is required. This feature of the webinar platform is helpful in setting a tone and giving a great first impression.
Breakout Rooms and Individual Networking
One of the interesting and useful functionalities of the webinar solution is a breakout room feature. With this, you are able to divide the attendees into smaller groups, creating a separate room for them where they can engage in more private conversations. When you host large-scale webinars, this feature is of great use to promote interaction and teamwork among the guests.
You can even set the time for a breakout room, after which they can be returned to the main screens. And during this session, they can interact with each other through videos, audio, and chats for a more engaging experience. You can even keep tabs on each breakout room and if necessary join them to provide assistance. But in order to keep this streamlined, great backend technical support is required in case of any issue. Like if a user is logged-out during the session or breakout room and is unable to join back, he can have assistance.
Final Words
In order to host a large-scale webinar, along with end-to-end customization to provide a seamless experience to the attendees. Then you require a feature-loaded webinar platform, with a great technical support team to handle all your difficulties and issues that arise before, and in between the sessions. If you are looking for such advanced functionality that is mentioned above, then you are at the right place. Dreamcast got all this covered with its advanced features and enriched webinar platform. To know more about our services, book your free demo now and get all your queries answered.
FAQs
What is the attendee holding capacity for a large-scale webinar platform?
Different webinar platforms have different capabilities and capacities of audiences. There are multiple platforms available in the industry, but not many can streamline the experience for thousands of attendees. They claim to handle it, but if the capacity is for 10 thousand attendees and the traffic is 12 thousand, their platform fails to deliver a streamlined experience.
Is technical support necessary for large webinars?
Yes, technical support is very important to host very large customizable webinars so that you can provide a streamlined experience to thousands of attendees. Since the traffic can be very high, there can be many kinds of issues that require support.
What kind of things to look for in webinar technical support?
The technical support for a webinar should be able to handle any kind of technical issue related to the platform. Such as the platform not working properly, attendees facing issues accessing the webinar, or there are network glitches. The technical support should be strong enough to handle the capacity of the audience more than the defined limit.
What features make a webinar platform good?
There are certain features that can be included while choosing the platform. Such as branding options, engagement features, production, recording, analytics, and insight. Other than this, they should have a proper backend technical support system to handle the queries.
Attain a Matchless ROI for Your Business.
Pick the Best Webinar Services of the Industry