What is the most important thing that determines the success of an event? Well, it's event data reports. They are the most valuable and useful tool for conducting remarkable and successful events. Event data analytics provides an opportunity to identify the strengths and weaknesses of the event. Moreover, event data helps to make necessary adjustments and improvements to achieve the desired results.
Furthermore, event data tracking aids in searching the areas that need to refine the event content and develop innovative strategies for success. However, there's a wide range of events out there, which simply means 'different metrics according to different types of events'.
In this article, we are going to delve into the types of event data tracking which can be used to enhance the event's performance. So without further ado, let's start.
What Do You Understand By Event Data Analytics?
Event data analytics vary from event to event. In the case of virtual events, in-person events, and hybrid events, it's the data & demographics collection that is related to the overall performance of the event. It includes data-driven analysis of event ticket sales, engagement ratio, overall attendance ratio, social media interactions, event attendees' registration, marketing material, and promotional activities. Also, data collection can be connected to the whole impact of the event on various areas.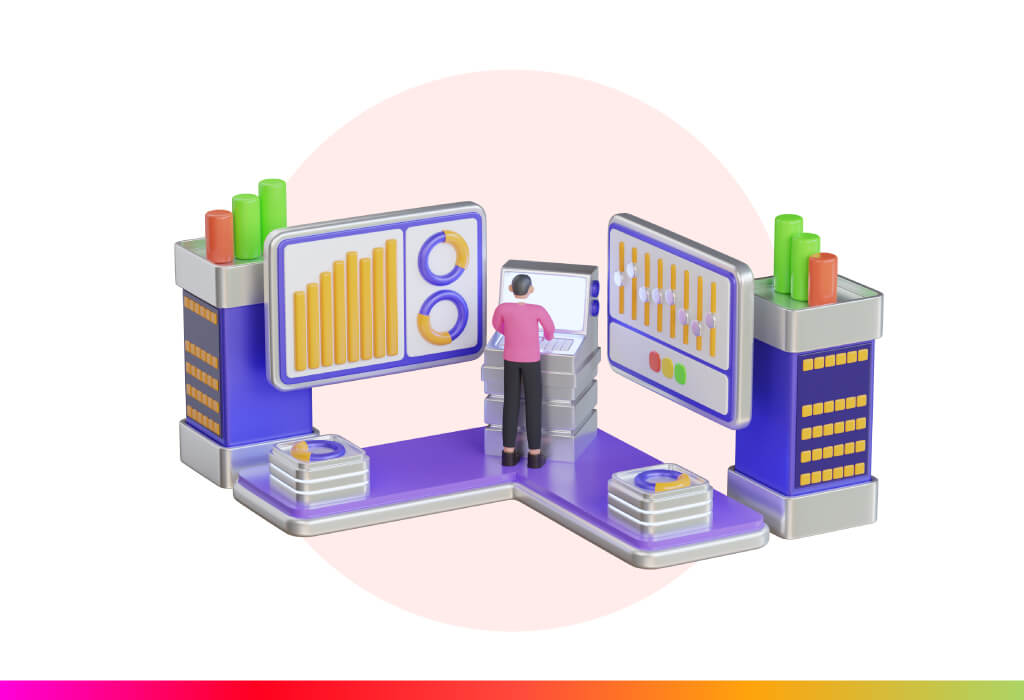 Now, the question arises what you can do with these event data analytics? You can simply use the data insights to determine and deeply identify the aspects that need to be improved for all those upcoming events. Also, you can make data-driven strategies to make your event a remarkable one! Find creative and promotional ways to generate leads, and increase engagement with these insights.
What Kind Of Data You Can Extract From Event Data Analytics?
Undoubtedly, there's a wide variety of demographics and metrics that can be used in event data tracking. It simply gives you access to directly tap into the overall performance of each area from beginning to end.
Here are some of the metrics mentioned for the event success measurement in terms of event registration, event attendee participation, and engagement data.
Registration-Based Event Data Analysis
Event registration data gives you access to directly check into your event even before it actually takes place. This part of the process gives you the opportunity to gauge the success of your advertising efforts. As it shows, if your efforts are reaching out to the right people or not. If not, then it provides you with the opportunity to analyze your marketing strategies, and you can develop effective ways to reach out.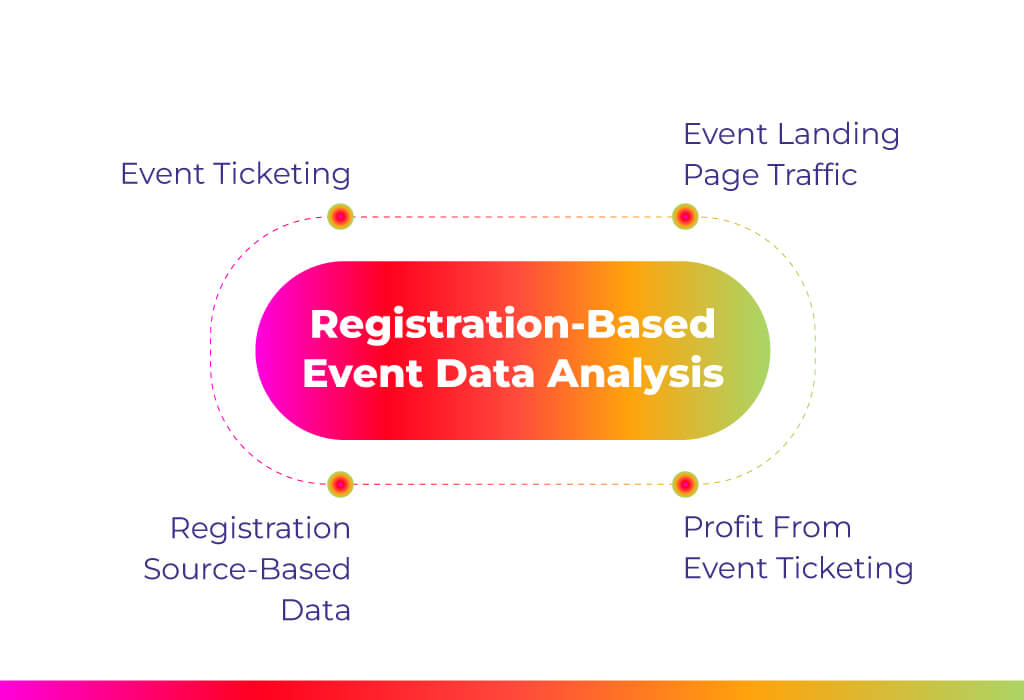 Event Ticketing
The number of event tickets sold is one of the components that you'll use to gauge the event's success. Not only this helps in knowing the number of tickets sold but also contributes to creating hype about the event with the fastest ticket-selling. In the case of in-person events, these metrics can be used to fix the accommodation of the place according to the number of attendees.
Event Landing Page Traffic
Nowadays, almost every event has that dedicated landing page or microsite along with its website. It's one of the key metrics which you use to track the amount of traffic on the website or on the landing page. However, there are varieties of tools available in the market that help in measuring traffic. Here mentioned are a few things that you can measure
The number of visitors
The cause of heavy traffic
The number of responses.
Number of times attendees visited the website
Time when the landing page gets more traffic
Registration Source-Based Data
Next up, comes another metric of registration data. It's the source of each attendee's event registration. This involves tracking attendees during the registration in terms of, from where they belong, how they got to know about the event landing page & what's persuading them to enroll for the event.
Undoubtedly, this concludes really valuable and useful insight into event data because it allows you to gauge the effectiveness of marketing strategies. Also, registration source-based data provides the opportunity to identify those links that made it to the landing page with the most clicks. As a result of this, you'll know about the marketing efforts that reached your target audience and made them visit your site.
Moreover, you can use these event data tracking metrics to identify your potential audience. You can track where they are spending their time and how to reach them while developing more effective ways for the event promotion.
Profit From Event Ticketing
How can we forget about the profits of ticket sales? It's one of the important key metrics if your event's purpose is to make money or generate revenue. Also, it gives you a chance to check overall event ROI measurements. Moreover, with these metrics, you can calculate the total funding spent and return on your investments too.
Attendee-Based Event Data Analysis
Indulging your attendees and their information always gives better clarity regarding the target audience. Well, what's the purpose of hosting an event in which the audience remains uninterested & bored? Therefore, to give you a better vision we've mentioned some best metrics you can use: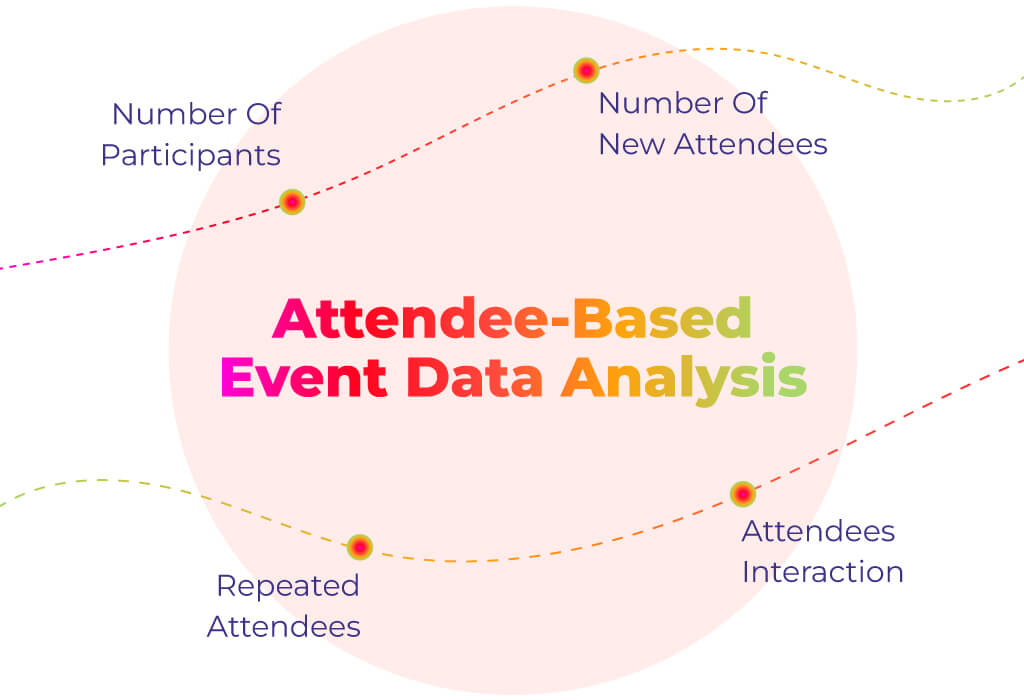 Number Of Participants
One of the most important and main metrics, in any event, is the number of attendees. With these analytical metrics, you can make comparisons based on the number of tickets still available and the predicted number of attendees. Also, you can calculate the number of attendees who participated in the previous events. Moreover, measuring the number of visitors is considered a challenging task similar to concluding the whole event success measurements.
Number Of New Attendees
Analyzing the number of new visitors can give a great insight to track if marketing efforts and other promotional activities are working or not. What's the purpose of attracting new attendees? To grow the existing audience and increase event awareness. In order to make these insights more effective, you can interact with the new visitors and ask them how they heard about the event. As a result, these insights and interactions will disclose the path from where the visitors are coming.
Repeated Attendees
If you are doing well at getting all the engagement and reach then know that you're making the event remarkable by retaining the visitors. The number of returning attendees points to unforgettable and enjoyable experiences. Just like mentioned in the above metrics, it's important in identifying the path/track which is bringing the attendees back to events. Also, this ensures that you offer the same privileges in future events.
Attendees Interaction
Event data analytics in terms of engagement from attendees can be a tricky task/metrics to gauge success. As we know, attendee engagement is completely subjective and varies from person to person. However, the event data analysis won't be able to conclude if your event was enjoyable or not. And this is because the data collected here will be completely based on qualitative data.
Moreover, it's a little tough to decide if attendees have enjoyed the event or not. These facts solely depend on attendees and why they are attending the event. For instance, attendees can participate in an event because they want to meet new people or learn new things for many reasons.
Therefore, analysis of attendee enjoyment data can be directly collected by attendees by asking them to review their experience. Also, send emails, and ask for review messages to ask about their level of satisfaction with the event.
Engagement And Reach-Based Event Data Analysis
Collecting data on engagement and reach is one of the toughest areas of event data analytics. As it is hard to measure the engagement and reach in a quantitative manner. Here mentioned are some ways by which you can track engagement and reach and that will help you in clarity of attendees.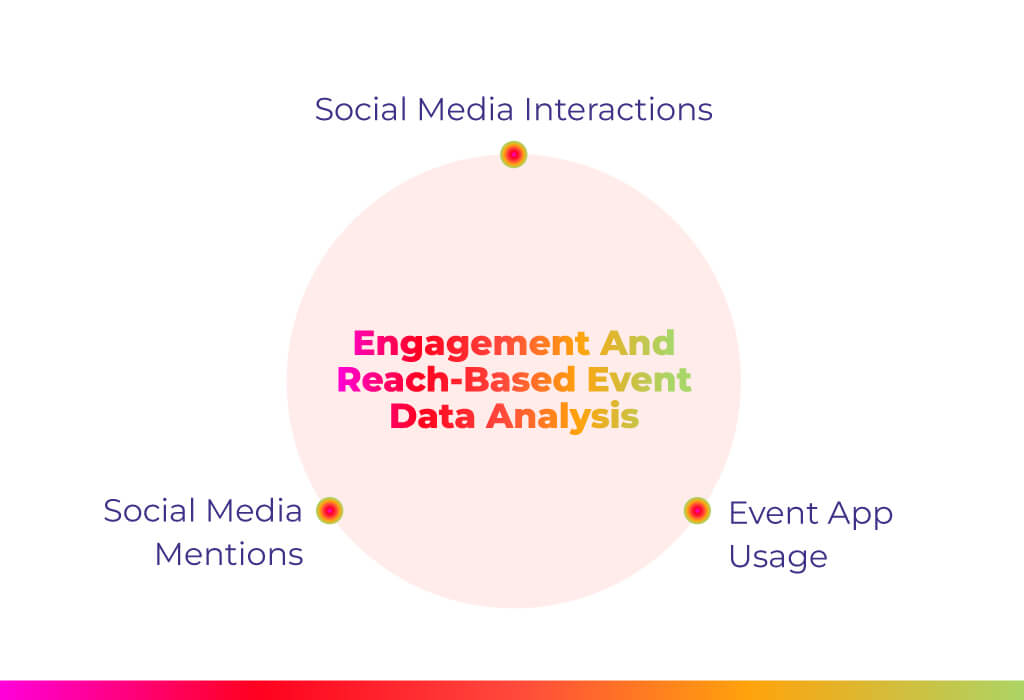 Social Media Interactions
Social media is the most powerful tool when it comes to event marketing strategy. Social media engagement is the classic metric which allows you to know about your content reach on social media. Also, it adds value to visitors and contributes to modifying the approach by determining the features of successful content.
However, you can gauge the success of your event by likes, shares, comments, and views on social media handles. Plus, with the advancement, social media platforms like Facebook, YouTube, Instagram, and Twitter, etc., offer their own metrics to keep track of engagement and other interactive activities. Therefore, use social media interactions to keep a check on overall event success measurements. Also, develop some data-driven event strategies to get more interaction.
Social Media Mentions
Another important metric that's connected with your engagement data is social media mentions. How many mentions does your event get on social media? How many brands mentioned your event? However, social media mentions involve all the mentions from start to end and especially during the event.
More mentions mean more content getting viral about the event on social media. As a result, you'll have greater reach and more potential attendees for your event. Moreover, creating a lot of hype on social media handles can be considered one of the best ways to make your event more noticeable and reach more people.
Event App Usage
How can we forget the main source to find out engagement data? Event apps are one of those sources which provide useful and valuable information regarding the event. No doubt in the fact that mobile event apps are becoming popular for large event registrations. Nowadays, you can get your engagement insights directly from the event app.
Therefore, gather all the information about the most used features in the mobile event app. After this, you can use this event data analytics to improve the whole mobile event app experience for upcoming events
Final Thoughts
Gathering all the event data analytics can make your event a more successful and remarkable one! The best advantage of having all these valuable insights is that you can have better knowledge regarding different aspects of the event. However, by analysing event metrics, you'll be able to develop data-driven strategies for a successful experience for your attendees.
If you are looking for a supportive partner in the process then you can book your free demo with Dreamcast for complete data-driven insights into the event and other services. In the end, understand the event data thoroughly and deliver the best engaging experiences while growing your audience.
Hope you liked the blog. Thank you for reading!
FAQs
How do you analyze event data?
You can analyse event data by gathering all the useful and valuable data from each & every aspect of the event. Events mostly include three types of data that are, registration data, attendee data, and overall event data. Therefore, understand all the aspects thoroughly and analyse the data to make your event remarkable.
How would you measure the success of your event?
To measure the success of your event, indulge in attendee engagement data along with overall registration data. Also, you can consider social media interactions, mentions and pre-event communications/interactions.
Why is event analytics important?
Event analytics are important because they provide real insights into the events along with the aspects that worked well or didn't work at all. Also, event analytics are important as they help in determining the success and weak points of the events. Therefore, to make necessary adjustments and modifications for an amazing experience we need a complete event analysis.
What is an example of event data?
Event data include varieties of data collection such as event registration data which includes the number of participants, source of registration, and landing registration page. Also, attendees' data and engagement data are examples of event data. In attendee data, we have details about attendees, the source of their registration, etc. Additionally, talking about engagement data, which includes the source of engagements through social media, mentions, press conferences and many more.
In-Person, Hybrid, Virtual
Create an Extraordinary Event Experience
Across All Event Formats