Online events like webinars have become popular for hosting presentations, lectures, and other activities. However, with the shift to virtual environments, it has become more challenging to keep attendees engaged and interested. As a result, a lot of event organizers are using interactive features to promote participation, teamwork, and conversation. Most of them use the Webinar Breakout rooms. This interactive feature enables moderators or presenters to divide attendees into smaller groups, resulting in a more individualized and intimate experience.
These smaller groups encourage interaction and cooperation, which can strengthen bonds and boost engagement. Additionally, the breakout room is an amazing option to make the experience more dynamic and interesting.
In this blog post, we'll explore the benefits of webinar breakout rooms and provide step-by-step instructions for setting them up. We'll also discuss the best practices for using breakout rooms effectively. Let's get started and discover how to use webinar breakout rooms to improve attendee participation and interaction.
What are Webinar Breakout Rooms?
Webinar breakout rooms are virtual spaces that allow webinar attendees to split into smaller groups to participate in discussions, brainstorming sessions, or collaborative activities during a webinar. In fact, these breakout sessions provide participants the chance to interact with each other and the webinar presenter in an effective manner.
"In simple words, Webinar Breakout rooms are an excellent way to boost participant engagement in an online event which is often not possible in a larger webinar setting."
The webinar host or moderator can set up a webinar with breakout rooms and then place participants in their assigned rooms. This feature offers a tailored educational experience, promotes active involvement, and enhances participant cooperation. By dividing participants into smaller groups, the host may better manage the time while allowing for questions and input from both the participants and the host.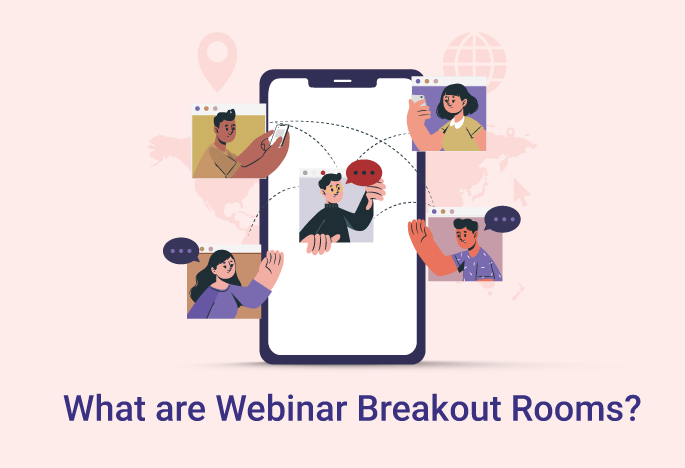 Benefits of Webinar Breakout Rooms
Webinar organizers may make sure that attendees get the most out of the event and leave with a stronger grasp of the topic by including breakout rooms in their webinars. In short, here are different benefits of Webinar Breakout Rooms. And some of them are given below:
➔ Facilitate Small Group Discussions
Breakout rooms allow hosts to divide the large webinar audience into smaller groups. This creates an intimate and focused setting where participants can engage in more meaningful discussions. Small group settings encourage active participation, ensuring that attendees feel heard and have the opportunity to share their thoughts and ideas.
➔ Networking and Relationship Building
Breakout rooms provide an excellent opportunity for networking and relationship building. Participants can interact with each other on a more personal level, exchange contact information, and establish connections with like-minded individuals.
➔ Increase Audience Engagement
Webinar breakout room encourage the attendees to participate more actively and work together. Webinar platform breakout rooms foster a more personal environment where participants may exchange ideas, ask questions, and offer feedback by allowing them to work in smaller groups.
➔ Personalize Learning Experience
Webinars with breakout rooms offer a customized learning experience by enabling participants to concentrate on particular subjects associated with the webinar's primary topic. A greater grasp of the topic might result from participants interacting with their peers and the host in a more targeted and concentrated manner.
➔ Better Interaction
Webinar platform breakout rooms encourage participant cooperation and teamwork. Participants may share their knowledge and skills, generate ideas, and give feedback to each other by working in smaller groups.
➔ Management of Time
Hosts can better manage time by dividing people into smaller groups. They may offer each group particular time intervals to finish their conversations or assignments, ensuring that everyone has a chance to participate.
➔ Improve Learning Results
Participants are more likely to retain the information and use it in their tasks or personal life when they actively participate in conversations and work with their peers. Webinar with breakout rooms offers the chance for in-depth study and better comprehension of the webinar's subject.
How to Set Up Webinar Breakout Rooms (Step-by-step guide)
Want to create and manage a successful webinar platform breakout rooms? If yes, you are in the right place. To help you to create and use breakout rooms with ease, we have provided a detailed guide below: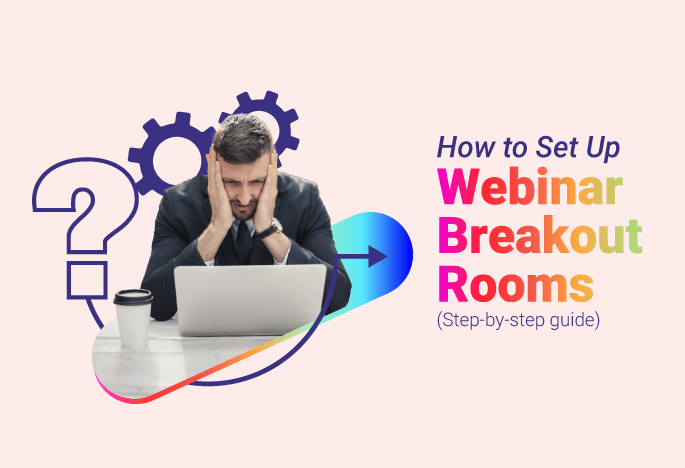 Step 1: Choose a Reliable Webinar Platform That Offers Breakout Room
If you are looking to create a breakout room, it is important to choose a webinar platform with breakout rooms such as Webinar Plus. Additionally, the number of breakout rooms or the maximum number of users in each room may be restricted on some systems. In addition, when choosing a platform, make sure to consider its features and restrictions.
Step 2: Set up Your Webinar
Be sure you set up your main event first, then the breakout rooms. This involves making the schedule, extending invitations, and putting any essential features—like surveys, live polls, chat rooms, or Q&A sessions.
Step 3: Create a Webinar Breakout Room
Create the webinar platform breakout rooms when the main webinar has been configured. You might be able to establish the rooms beforehand or during the webinar, depending on the platform. Additionally,, think about the number of attendees, the length of the breakout session, and the webinar topic or activities you wish to cover while planning the rooms.
Step 4: Assign Participants to Breakout Rooms
You may manually allocate participants to breakout rooms depending on the platform. If you are assigning participants, make sure to have a list of participants and the breakout rooms they are assigned to. Also, you may let attendees pick whatever breakout session they wish to attend.
Step 5: Give Guidelines
Give participants specific instructions for what to accomplish in their breakout rooms before the breakout sessions begin. These might contain exercises, discussion topics, or discussion questions. Additionally, be sure to include instructions on how to enter and exit the breakout space.
Step 6: Start the Breakout Sessions
Once everything is set up and everyone is ready, start the breakout sessions. Depending on the platform, you may be able to monitor the sessions or join the sessions to observe or participate.
Step 7: Wrap Up
Bring everyone back to the main webinar after the breakout sessions, then finish the session. In addition, this is a wonderful chance to recap the breakout room discussions and offer any further resources or information. To make future webinars better, you can also ask for feedback on the breakout sessions.
The breakout sessions can be effective and advantageous for everyone involved if you follow these guidelines and give clear instructions and assistance. Additionally, webinar platform breakout rooms may be the best method to engage participants and promote discussions with careful planning and preparation.
Strategies for Maximizing Interaction in Webinar Breakout Rooms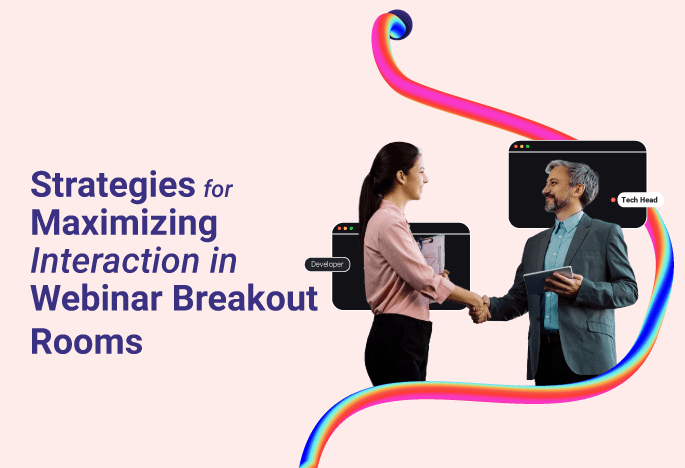 ➔ Assign a Facilitator
Assign one individual to serve as the facilitator in each breakout space. They should guide the discussion, make sure everyone gets an opportunity to speak, and keep the topic on track. Additionally, this can guarantee that the conversation is productive and interesting for all attendees involved.
➔ Continue the Conversation
The most important, keep the conversation continuing with a breakout session that enables participants to ask questions and develop deeper relationships with presenters and other attendees after an insightful presentation by an expert. As attendees enter the virtual room, you can start a few general talks about the subject of the breakout session. For instance, you may invite guests to consider the following if your event is about digital marketing:
Where they struggle with digital marketing
How do they carry out SEO activities
Their preferred outcomes from using digital marketing
Even better, you may use the backend Q&A feature for your event to pull questions.
➔ Use Icebreakers
An icebreaker can help attendees feel more at ease with others and start a conversation during the webinar with breakout rooms. To encourage conversation and assist people to break the ice, think about employing a fun question or activity.
➔ Use Breakout Room Activities
It is the best option to use breakout room activities that demand cooperation and participation from each member. To promote involvement and engagement, you may utilize a brainstorming session, a group project, or a discussion. Webinar platform with breakout rooms can help you to perform different activities such as:
Group Discussions
Brainstorms
Virtual Tours
Photo Sharing
Team trivia and more
➔ Include Multimedia
Think about including multimedia in your breakout room session, such as video, photographs, or audio recordings. This can help break up the discussion and provide a visual or auditory component to the conversation.
➔ Use Polls or Quizzes
Consider using polls or quizzes to gauge participant understanding and engagement. For example, you can ask participants to answer a question related to the topic of discussion or to rank their level of agreement on a particular statement. A Q&A session is the most commonly used engagement tool during a webinar presentation, employed by 81% of hosts.
➔ Set a time limit
Set a time limit for the breakout sessions to ensure that everyone has an equal amount of time to participate. Additionally, this can also help keep the discussion focused and on-topic.
➔ Provide Additional Resources
Webinar platform breakout rooms aren't simply for chatting! Include links to websites, surveys, and other calls to action in each of your breakout sessions to provide attendees access to further information and useful resources. According to the research, 50% of attendees download presentation slides.
➔ Provide a Summary
Ask the facilitator of each room to deliver a summary of the conversation when the breakout sessions are over. Additionally, this can assist to make sure that everyone is on the same page and give them the chance to ask more questions or make further remarks.
➔ Monitor Breakout Room Activities
Analyzing the data is the only method to determine how effective your breakout rooms are. You can monitor all breakout room interactions across all of your webinars and virtual events with Webinar Plus. Take note of who attended the breakout, how long they remained, and which interactive elements and content offerings they interacted with; utilize this data to shape your follow-up campaigns.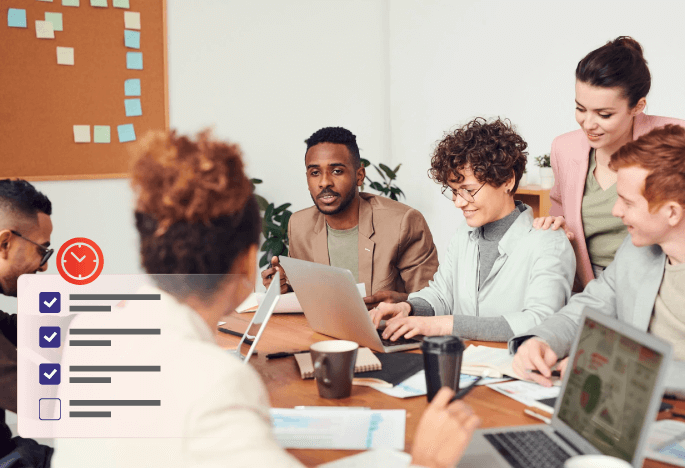 You can improve interaction and participation in webinar breakout rooms by implementing these strategies.
Participants can interact with each other and learn more about the webinar topic by breaking up large groups into smaller ones. Yet, it's crucial to prepare ahead of time, establish clear expectations, and give clear directions to create a good breakout room experience. Monitoring the webinar platform breakout rooms is also essential to make sure that everyone gets an equal chance to engage and participate. With proper planning and execution, breakout rooms may be a useful tool for increasing participation and interaction in webinars.
Pick the suitable tool for your business
As every business is unique, your specific demands will determine which webinar solution is ideal for you. For your company, think about going with a scalable solution like Webinar Plus. Webinar Plus' Breakout Room feature enables participants to hold meetings in smaller groups that are entirely separate from the main webinar. It can be a valuable tool for collaboration and discussions. Breakout rooms on a webinar platform is suitable for any kind of conversation. Webinar Plus can also help you exchange ideas, give specific feedback, or hold a more intimate brainstorming session during a webinar. For further information and details, get in touch with us.
FAQs:-
How Can Breakout Rooms Be Used In Online Meetings?
In online meetings, breakout rooms may be utilized for a range of activities, including brainstorming sessions, group discussions, team-building exercises, and virtual networking events.
How Do Breakout Rooms Work?
The host or moderator of the online conference can create breakout rooms and assign participants to specific rooms. After that, participants can enter the room that has been given to them and begin working with the others in that group.
Which Webinar Platforms Support Breakout Rooms?
Many webinar platforms support breakout rooms, including Webinar Plus, Zoom, Google Meet, and more.
How Many Participants Can Join A Breakout Room?
The number of participants that can join a breakout room depends on the webinar platform being used. Some platforms allow for up to 50 participants per breakout room, while others may have a higher limit.
Can Participants Move Between Breakout Rooms?
Depending on the settings chosen by the host or moderator, participants may or may not be able to move between breakout rooms.
Can Breakout Rooms Be Recorded?
Depending on the webinar platform being used, breakout rooms can be recorded, but this feature may need to be enabled by the host or moderator.