Ensuring a Notable Virtual Summit Across Diverse Scales
Dreamcast's advanced virtual summit platform offers you a highly scalable & customizable service that lets you create an unforgettable virtual experience irrespective of your event size.
Small Scale
Deliver an authentic and immersive event to a small-scale audience with the most compelling 3D virtual summit platform. Integrate the most engaging & interactive features to make the best out of your online event.
Mid Scale
Bring your ideas and imagination to our online summit platform and cause a stir among your global audience. Scale-up your virtual event by adding further more features, enhancing the value of your virtual summit.
The Ultimate
Design your virtual summit the way you imagined! Take a step ahead and create a life-like experience for your attendees. Customize your virtual summit just the way you want and make your audience go wow!
Boost Your Professional Network with a Super Interactive Virtual Summit!
Top-Grade Functionalities to Help You Explore Endless Possibilities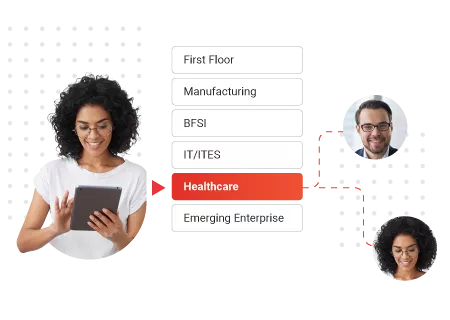 Enjoy a Life-Like Experience
Dynamic Lobby - Add lighting, GIFs, music, banners and a lot more in your virtual lobby, adding to the value of your event
Customized Space - Plan your event just the way you want. Decide the layout keeping your summit requirements in mind.
User-Friendly Navigation - Help your attendees find it easy to move from one point to another. We assure you the easiest navigation.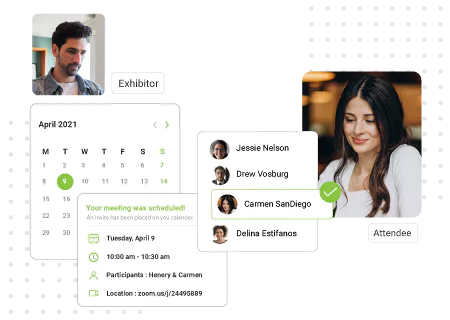 Ample Networking Opportunities
Networking Tables - Help your remote attendees network with the exceptional feature of networking tables.
B2B Meeting Scheduler - Make networking and interaction easy with the option to schedule meetings as per preferences.
AI Matchmaking - Help your attendees e-meet and interact with fellow attendees having the same interest areas.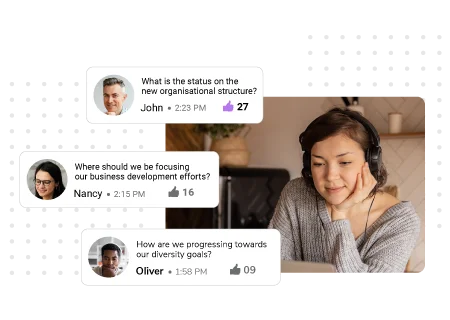 Multiple Format Communication
Live Q&A sessions - Encourage direct knowledge sharing & two-way communication; further boosting audience engagement.
External Integration - Enhance the engagement with third-party platform integration to ensure a better event experience
Live Chat - This feature allows the attendees to have effective real-time communication with fellow attendees.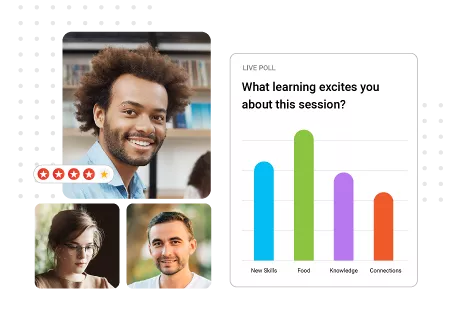 Excellent Audience Engagement
Customized AR/VR Games - Shoot up audience engagement rate by including AR/VR games; select from available options or come up with your choice.
Leaderboard - -Drive increased audience engagement rates and keep the organizers updated with the attendees' count.
Live Polls - -Help increase audience involvement, collect honest feedback, and plan future strategies accordingly.
Frequently Asked Questions
What is the meaning of a Virtual Summit?
A virtual summit is an online collaborative event that includes expert sessions & interviews by global leaders. It is a valuable event that takes place over a virtual summit platform and brings together specialists from across the world in common online software.
How to create a Virtual Summit?
To create a virtual summit, follow these quick steps:
Determine your goals
Create speakers collateral
Pick a suitable virtual summit platform
Promote your event
Check the technology before going live
How to host a successful Virtual Summit?
To host a successful virtual summit, you need to choose the most advanced and experienced virtual summit platform. An expert virtual summit platform renders the users with the most innovative networking, interactive, and engaging tools that help you host an exceptional virtual event.
How does an Online Summit work?
An online summit is hosted over a virtual event platform that is well-equipped with diverse features, an immersive 360-degree environment, and an easy-to-use virtual venue. By getting in touch with a suitable online summit platform, you can easily unlock a simple process to host your event, unlike a physical summit where you have to arrange every aspect on your own.
Ready to Host a Notable Virtual Summit and Collaborate with Global Leaders?
Get on board with a globally-trusted virtual summit platform and ensure an end result that is no less than spectacular. Get in touch with Dreamcast and host an engagement driven virtual summit!