Efficiency, Reliability, a Seamless Attendee Experience, Zero-Error Check-Ins, and several other aspects are not merely words but essential terms in the world of event management. Many areas in an event require modern-day technology, such as microsites and mobile event apps for registration and ticketing. Additionally, for smooth check-in, self-event check-in Kiosks are gaining popularity. The smoother the check-in process, the better the attendee experience, for which every event organizer or host strives.
In this blog, we will explore the diverse aspects of event check-in kiosks, starting from the basics, such as what they are and how they can be beneficial for you. We will also delve into the various types of event check-in kiosks and other related aspects. So, without further ado, let's get started.
What is a Self Event Check-In Kiosk?
A self-event check-in kiosk is typically used at in-person events, summits, conferences, and similar gatherings to streamline the check-in process for attendees. These kiosks enable attendees to check themselves into the event without requiring manual assistance from event staff. Moreover, they reduce wait times, enhance the overall experience, capture session analytics, and track attendee movements. For larger events such as conferences, expos, trade fairs, or similar gatherings, self-event check-in kiosks make management more efficient.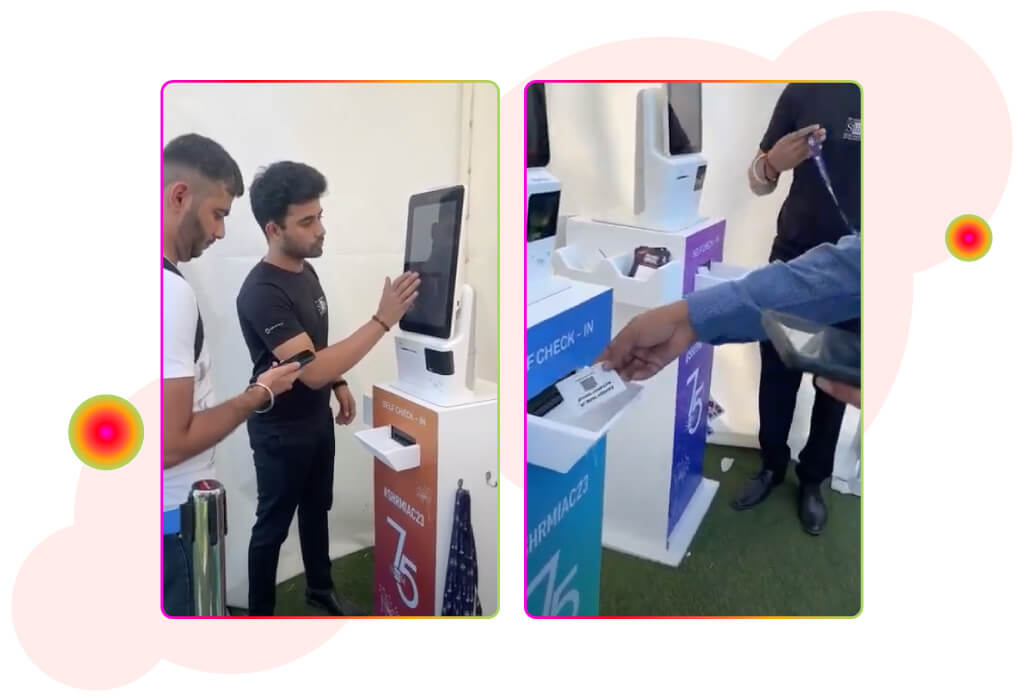 In addition, there are event registration kiosks available for last-minute attendees or on-the-spot registrations and ticketing. Deploying such registration and ticketing kiosks at the entry provides attendees with added convenience and helps organizers enhance the return on investment.
How to Use Self-Event Check-in Kiosk
The use of a self-event check-in kiosk is the best way to enhance the efficiency of event check-ins. These kiosks are commonly used at conferences, expos, trade shows, seminars, and other in-person gatherings. They allow attendees to check themselves in without requiring manual assistance from event staff. Below are the steps on how to use a self-event check-in kiosk:
Approach the Kiosk: Locate the self-event check-in kiosk at the event entrance or registration area.
Touch Screen Interface: Most kiosks feature user-friendly touch screen interfaces. Here's what to do:
Tap the screen to begin.
Select the event or session you're attending (if required).
Enter your details, which may include your name, email, or a registration code.
QR Code Scanning (if applicable): Some events provide attendees with QR codes in advance. You can expedite the check-in process by scanning the QR code from your event ticket or confirmation email.
Confirmation and Badge/Ticket Printing: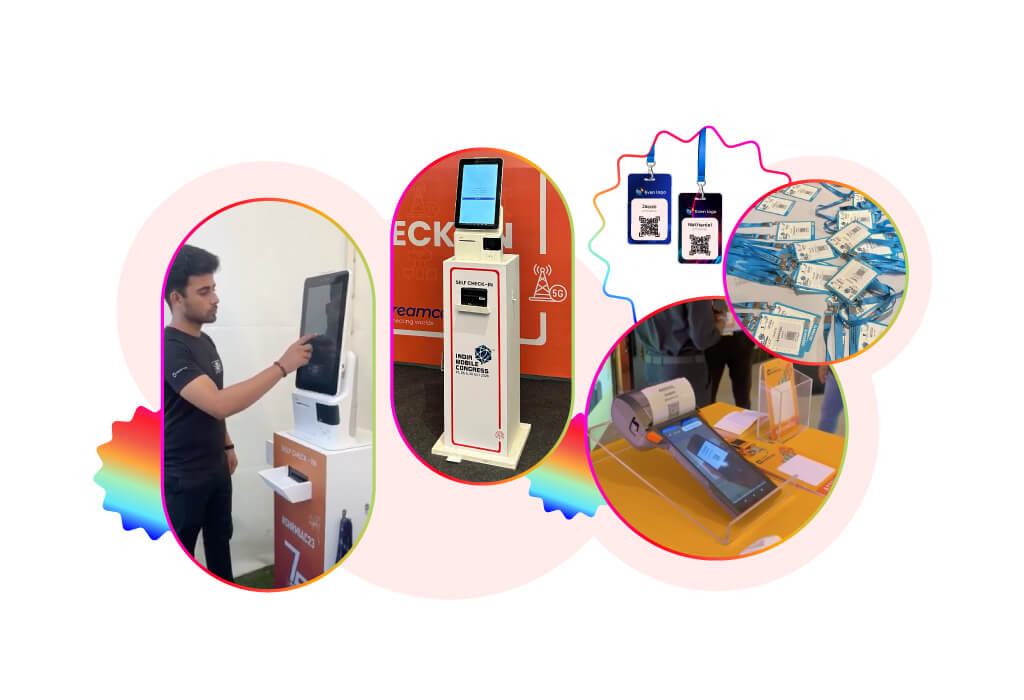 After entering your details, the kiosk will verify your registration.
If your details are correct and registration is confirmed, the kiosk will prompt you to print your event badge or ticket.
The badge or ticket may include your name, event details, and a unique identifier (like a barcode or QR code).
Collect Your Badge/Ticket:
Retrieve your printed event badge or ticket from the kiosk.
Keep it handy for the duration of the event, as it may be required for entry to sessions or other activities.
Enjoy the Event: With your badge or ticket in hand, you're all set to enjoy the event. Feel free to explore, attend sessions, network with fellow attendees, and participate in various activities.
Get Assistance (if needed): If you encounter any issues during the check-in process, event staff or kiosk attendants are usually nearby to provide assistance.
Types Of Self Event Check-In Kiosk
Many types of event check-in kiosks exist, and event organizers can customize only a few of them to meet their specific requirements or unique needs. Furthermore, event organizers can seize branding and sponsor opportunities over the surface area of such a system, along with other benefits we will discuss shortly. Let's first explore all types of check-in kiosks for events.
Seeking Simplified Event Check-In and Badging?
Discover Self-Serve and Volunteer-Based Event Solutions.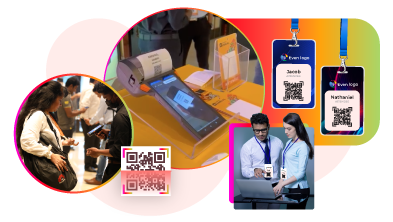 Basic Check-In Kiosk:
These kiosks offer essential check-in features with attendee input and badge or ticket printing capabilities. Ideal for straightforward check-ins at various events.
QR Code Scanners:
Designed for events utilizing QR codes on tickets or confirmations, these kiosks allow attendees to swiftly scan their QR codes for speedy check-ins. In general, this has a scanner with a screen that captures and authenticates the participants.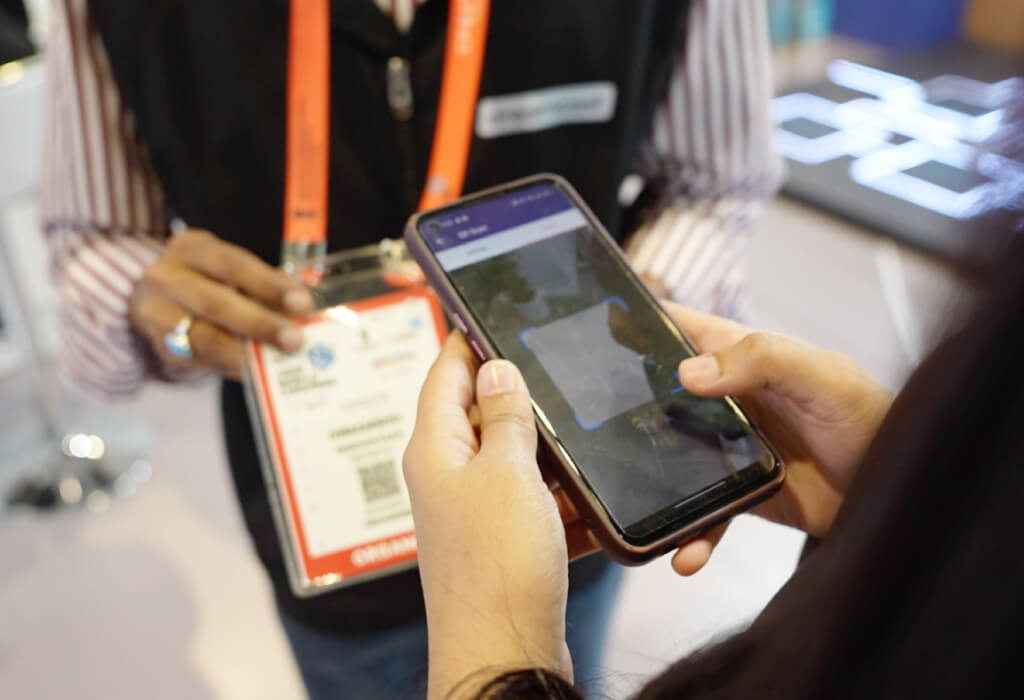 Badge Printing Kiosk:
Focusing on badge generation, these kiosks offer attendees the ability to input information or scan QR codes for badge printing, commonly used for security and networking at events.
Ticketing and Registration Kiosk:
Ideal for last-minute registrants and ticket purchasers, these kiosks allow on-site registrations and immediate ticket issuance. Additionally, deploying multiple kiosks in big-scale events can help manage the crowd.
Event Registration & Ticketing Suite
Cut Attendee Wait Times with Our Simplified Onsite & Online Registration Solution.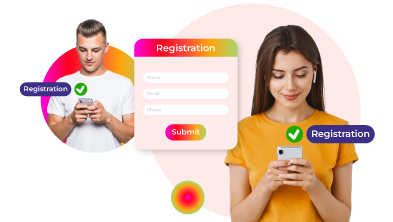 Biometric Kiosk:
Utilizing biometric data like fingerprints or facial recognition, these kiosks provide secure and convenient check-in solutions for various events. This is not for general events but more for events that require a high level of security like nation or international conferences or others. Also, for this to be utilized the facial or fingerprint data of all attendees is required.
Multi-Purpose Kiosk:
Offering diverse functions, from registration and ticketing to badge printing and payment processing, these versatile kiosks are suitable for events with multifaceted requirements.
Outdoor Check-In Kiosk:
These kiosks are designed to withstand outdoor conditions for events held in open-air settings, ensuring durability and functionality.
Tablet-Based Check-In:
Event staff or volunteers manage these systems by using portable tablets to replace traditional kiosks with tablets and check-in apps.
Express Check-In Kiosk:
Tailored for events with pre-registered attendees, these kiosks expedite check-in with minimal input, ensuring swift entry.
Custom Branded Kiosk:
This are basically, customizable kiosks with an event's branding elements, including logos and colors, to enhance the event's theme and provide a professional appearance.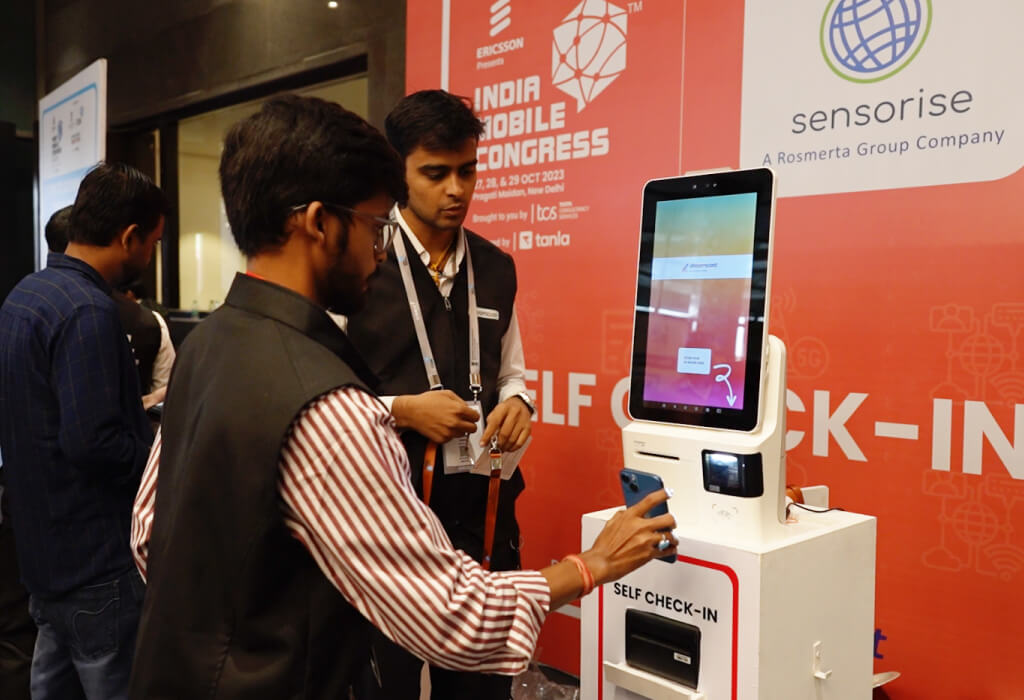 Hybrid Event Kiosk:
Designed to handle both virtual and in-person events, these kiosks can generate QR codes for virtual event access while also providing physical badges or tickets for in-person attendees.
Why is it important to deploy the Self-Event Check-In Kiosks for Organisers?
Deploying Self-Event Check-In Kiosks for organizers offers numerous benefits and advantages. These automated systems streamline the event management process, enhance the attendee experience, and provide valuable insights for organizers. Here are five crucial benefits:
Efficiency: Self-event check-in kiosks expedite the registration and check-in process, reducing long queues and wait times, and resulting in a smoother and more efficient event start.
Improved Attendee Experience: Attendees appreciate the convenience and speed of self-check-in kiosks, leaving a positive impression and increasing overall satisfaction.
Data Collection: Kiosks collect valuable data on attendance patterns and demographics, allowing organizers to make data-driven decisions for future events.
Reduced Staffing Needs: With automated check-in, organizers can reallocate staff to more critical tasks, saving time and labor costs.
Real-time Updates: Kiosks can provide real-time updates and information to attendees, ensuring they are well informed about any changes or important event details.
In summary, Self-Event Check-In Kiosks are crucial for organizers as they enhance efficiency, improve attendee experience, gather valuable data, reduce staffing needs, and provide real-time updates, making event management more effective and enjoyable for all involved.
Summing Up

Self-Event Check-In Kiosks are indispensable tools for event organizers, offering efficiency, convenience, and valuable insights. These automated systems not only streamline the check-in process but also enhance the overall attendee experience while reducing staffing needs. Their ability to collect data and provide real-time updates makes them an essential asset in the modern world of event management. By deploying self-event check-in kiosks, organizers can ensure a smoother and more successful event, ultimately benefiting both organizers and attendees alike. If you are looking forward to giving conveniences while gathering valuable attendee satisfaction, then Dreamcast is the right event tech partner to get in touch with. Book your free demo now and discuss with our product expert about all your queries.
In-Person, Hybrid, Virtual
Create an Extraordinary Event Experience
Across All Event Formats