During the pre-pandemic era, visitor or attendee registrations at on-ground events used to be a task. From website-based registration drives to on-ground registration processes, the whole registration process used to get lengthy and difficult for the organizers. However, as the events industry shifted to virtual event platforms, the process became easier as event marketing, registration, and ticketing procedures shifted to the digital world. However, now in the post-pandemic times when in-person events are coming back into existence, the same old hassle of on-spot registrations is also coming back.
Introducing – Smart Registration Solutions
Eliminating the hassle of lengthy & complicated registration procedures, our platform is here with a perfect combination of digital and on-ground support to ensure a seamless in-person event. With the smart registration solutions of Dreamcast, you get the opportunity to create categories of registrations for both online and on-site attendees. Explore our digital approach to simplifying the registration, ticketing, and RSVP procedure at your in-person event.
Event Microsite Builder
Create your own customized event microsite with a uniform design for your entire event and drive registrations from across the globe. Provide all the necessary event details & information to your target audience in one go and gather more & more registrations. The content and data in these self-managed registration forms are independently determined by you as per your preference, eliminating the hassle of communicating with various users. Mentioned below are some of the most significant elements of the event microsite:
Images & Graphics
Event Details & Overview
Date & Time of the Event
Venue Details with Google Map Integration
Event Website
Shareable Link
Terms & Conditions
Organizer Details & Customer Support
Payment Details
Multi-Attendee Registration System
Multi-Category Ticket Purchase
Cart-Based System
Registrant's Data Capture
Payment Gateway System
Once the user has registered for an event, they would receive complete detail about their event tickets through the mail, including an M-Badge.
M-Badge
Just like an M-Ticket, we provide your event attendees with a QR-Based M-Badge. This digitally available badge is scannable and is enriched with a multi-entry system, providing each attendee from a common registration account with a QR Code. Hence, attendees at the in-person event use this QR Code while entering the venue.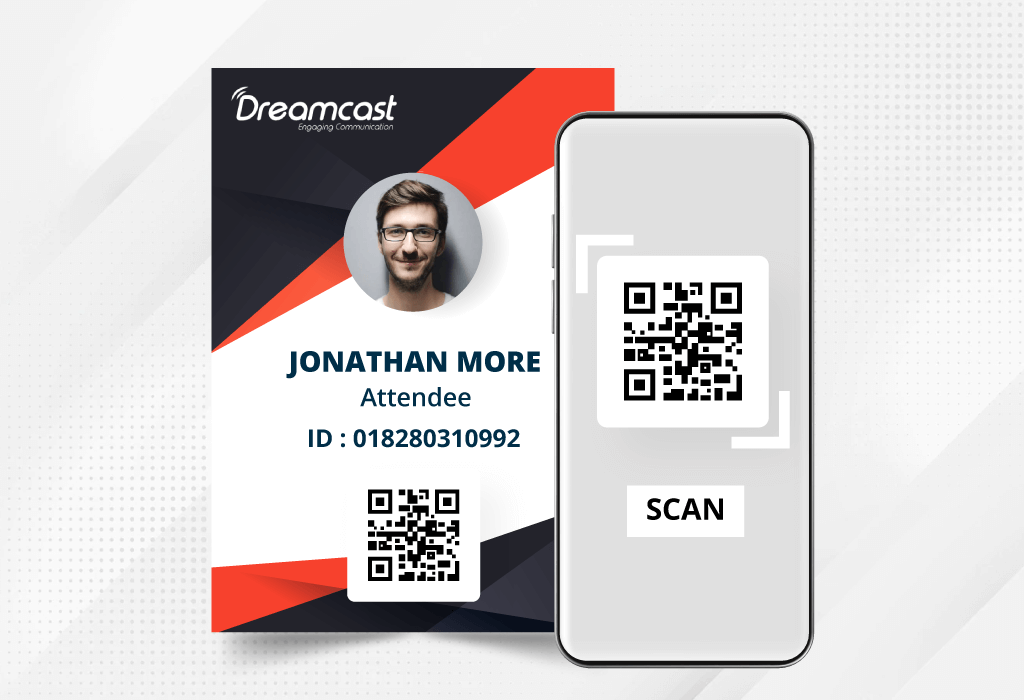 Zoning System
You can also enable a zoning system through the M-Badge. For example, if your in-person event is divided into various zones and only certain attendees are allowed to enter the specific zones, you can provide this information in the M-Badge itself. With the use of this functionality, you can easily simplify the event execution as no extra management is required to see which attendee is entering which zone.
Modules For E-commerce, Hotel Booking & Packages
Enhance your attendees' event registration process by integrating segments like E-commerce, Merchandise, Hotel Listings, etc. The organizer can list and manage the specified inventory & their prices from the backend, and users can access these details over the same event microsite or self-managed registration form. This aspect also gives way to various marketing, promotional, and sponsorship activities.
Whatsapp Driven Communication & CRM
Whatsapp is undoubtedly one of the best and the most efficient communication channels when it comes to updates & notifications. While there is a possibility that users will overlook a text message or an e-mail, they certainly don't miss out on a Whatsapp-based notification. Therefore, we have enabled a professional Whatsapp-driven communication process to keep the users updated with all kinds of event-related information and notification over Whatsapp.
Marketing Automation
Using the activation of Whatsapp-enabled communication, you can also accomplish your marketing & promotional goals.
Options For On-spot Print Badge Over Simple Hardware
No matter how and to what extent you go digital, there is always a possibility that you will require a hard copy of the details. For example, there is a possibility that your attendee's phone battery dies and the scanning of the badge to enter a zone is no more an option. To solve such a situation, we have enabled on-spot badge printing over simple hardware. Using this solution, you are not only eliminating the use of paper for as long as possible but also providing your attendees with a seamless event experience.
Category Wise Registration
Streamline the registration process by enabling category-based registration. Using this functionality, you can drive registrations of users across different categories and bifurcations.
Speakers Management Module
Set up, manage, and provide necessary speaker details to your users. You can also add other content like the profile images, session topics & details in this section, enhancing the experience of your event attendees.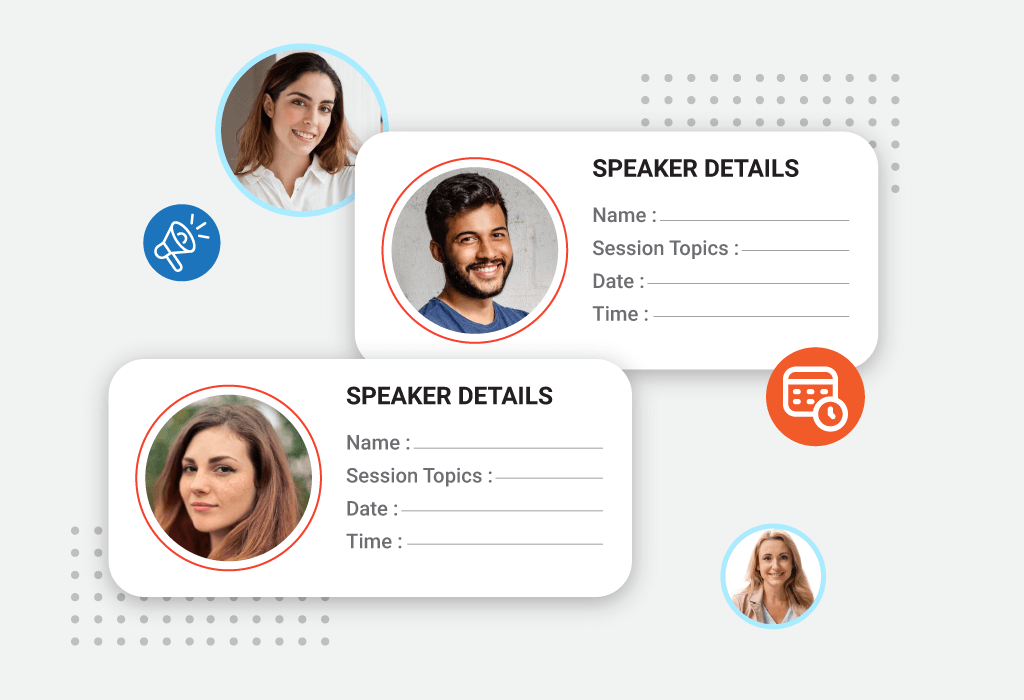 App For On-Spot Registration & Ticketing
Taking a step ahead of the event microsite and registration forms, we also provide a dedicated event app to enable seamless on-spot registration & ticketing. This aspect of the smart registration solution helps you save time and effort by employing a simple process. The solution is also enriched with API payment integration to further facilitate the process.
Access Management & Footfall Scanning
The solution QR-based check-in and zonal management lead to seamless access management. In addition, as the badge is scanned across the venue, you also get to track the attendee footfall and analyze the event execution.
RSVP Management
Digital RSVP management possibility is another excellent smart registration solution that helps you ensure the number of attendees arriving at the in-person event. Using this solution, you can not only save a lot of time but also make the on-ground event arrangements accordingly.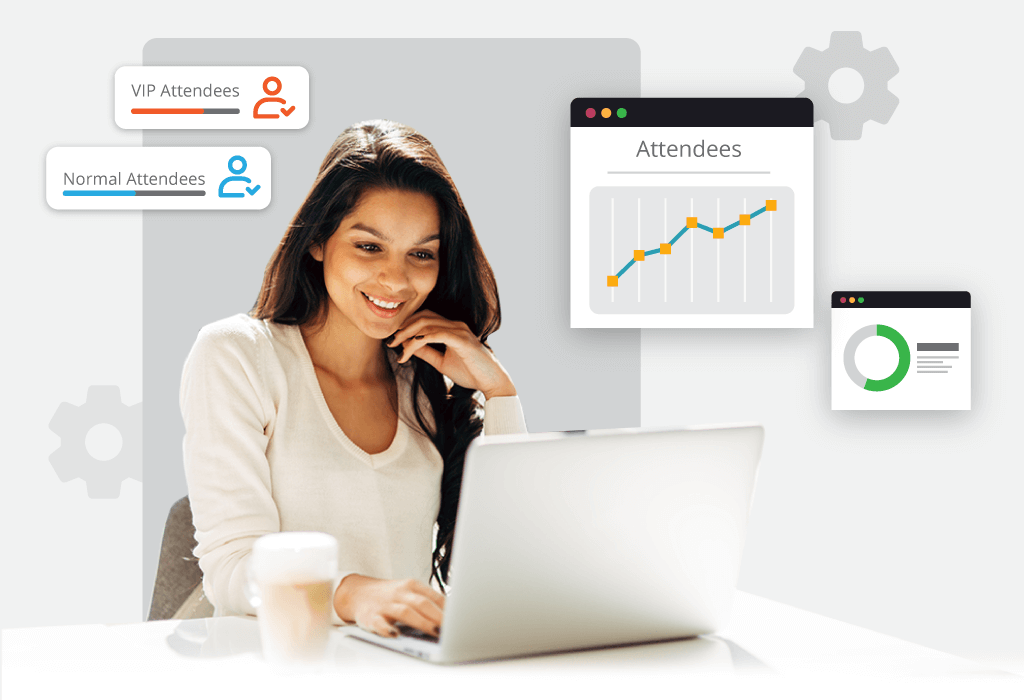 Self Check-in App
Entering and accessing an event can not get any easier! Apart from multiple registration and ticketing solutions, we also help you create a self-check-in app. Using this solution, users can check themselves in the in-person event using the on-spot tech support. Let us create a seamless in-person event experience for your users by enriching your event with the world's most efficient digital & tech event registration solutions!
In-Person, Hybrid, Virtual
Create an Extraordinary Event Experience
Across All Event Formats