The event industry is growing at a fast pace and event organizers are always looking for unique and innovative ways for engaging their attendees. Now the social wall for events is in boom. If you are hosting a hybrid or in-person event and want to engage more audience with your brand then a social wall for event can be the perfect tool for you. The social wall for events has various benefits and that is why they are becoming popular in the industry.
In this article, we are going to give you an overview of the social media wall for the event and we are going to discuss social Wall ideas for the event and social wall examples for the event.
Overview Of Social Wall For Event
Social wall for events also known as a social wall for events is a large screen that displays social content in events. These walls are used to engage the audience at your events. You can connect your social media wall with social platforms like Facebook, Twitter, Instagram, Snapchat, LinkedIn, etc to display their content. You can create a hashtag for your event and the social media wall will display that content in real time at the event. There are various ways in which organizers can use the social wall for event for instance for displaying speakers' profiles, contest results, industry news, etc.
Social Wall Ideas For Event
If you are hosting an event and want to offer a unique visual experience to your audience social media wall is perfect for you here are some ideas for social walls for the event: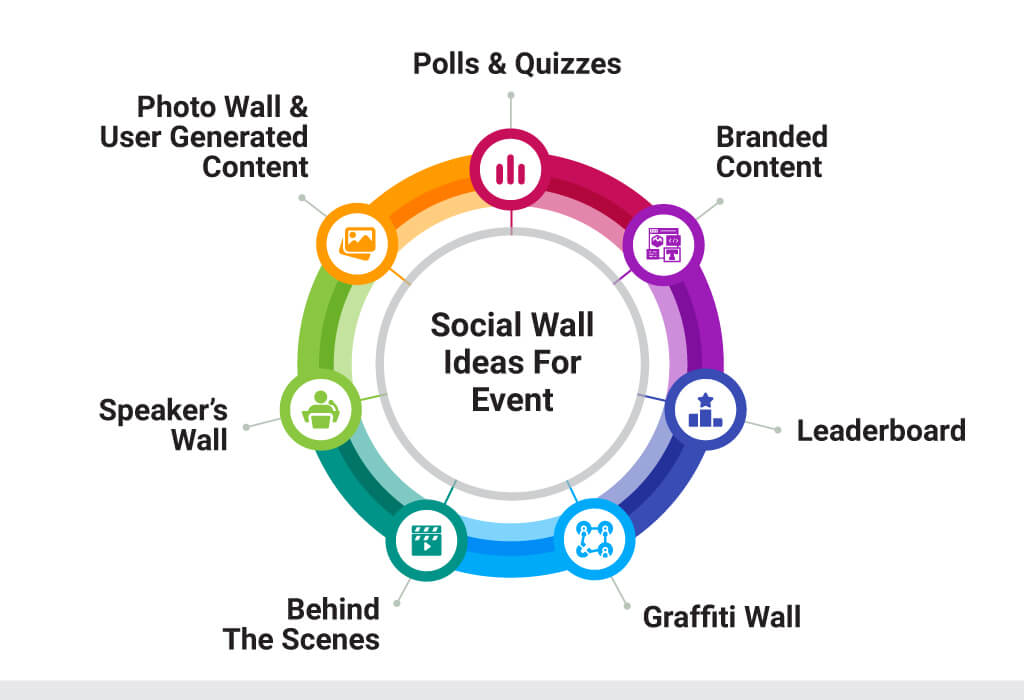 1. Polls & Quizzes
The first idea that we have for the social media wall is polls & quizzes. You can have a wall at your event for polls and quizzes to attract and engage your audience. With the help of these polls and quizzes, you will be able to gather important information and feedback from your audience. This social wall for events is a win-win situation for you as you will be able to engage your audience and you can also know their opinions on your brand or business. You can also offer some rewards or discounts to the winners.
2. Photo Wall & User Generated Content
The next idea we have for a social media wall is a photo wall. Setting up a photo wall at an event is a fun and effective way of attracting an audience. You can set up a photo booth at your event and ask your audience to take pictures, you can also provide them with some props and then you can display the photos captured by your attendees on the photo wall. Not just that you can use a photo wall to share user-generated content. Display photos and videos that your audience shares with your hashtag on the photo wall.
3. Branded Content
If you want your brand to reach a large audience then you can use social media walls to display branded content. Customize your social media wall according to your brand theme. You can share the journey of your brand, the motto of your brand, and how your brand can positively impact the life of users. Try to talk with your attendees through your brand with the help of a social wall for events . Use high-quality images and visuals. Not just that you can also add short clips of your existing users and their experience with your brand. Try to promote your brand but in a generic way.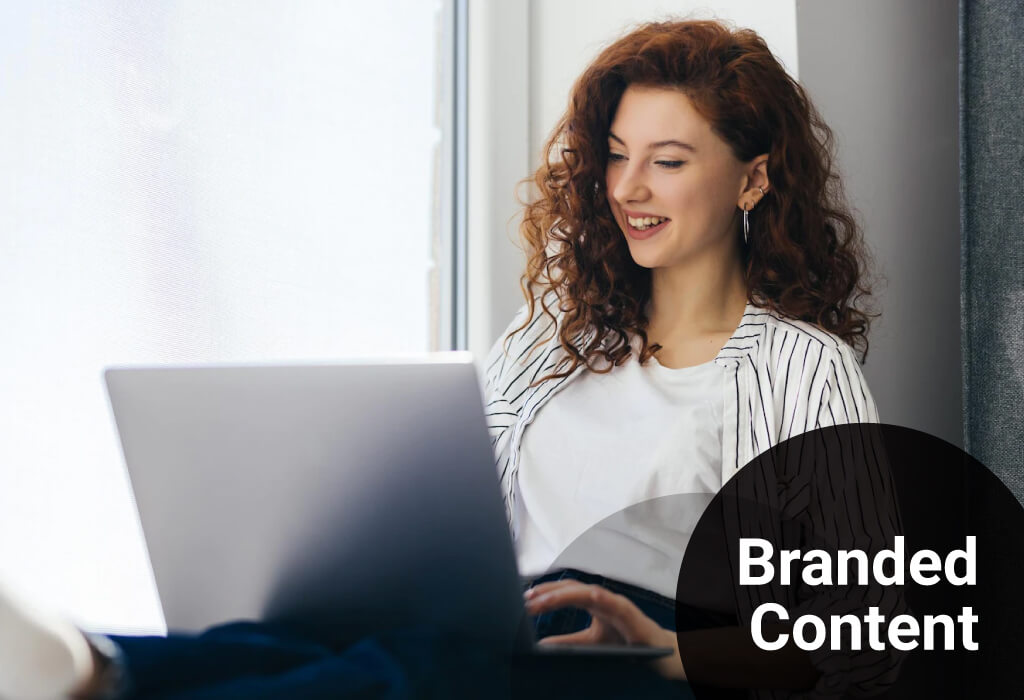 4. Speaker's Wall
The next social wall for event ideas that we have is the speaker's wall. At your event, there can be one or more speakers and your audience might want to know about your speaker so it's a good idea to have a wall step up that offers your audience all the information they might be looking for regarding the speakers of the event.
You can share a video introducing your speaker and some of their previous work so that your event attendees can connect. Sharing their social media profile or email with your audience can also be helpful.
5. Leaderboard
The leaderboard is the next social media wall idea that we have on the list. If you are adding some games to your event you can use the leaderboard at your event.
Leaderboards usually display the participants of games, the winners, and runner ups. You can also use the leaderboard to showcase the rewards for the games. The leaderboard is perfect for creating a buzz at the event. When attendees will see the pictures of winners and other contestants on the board they will be motivated to take part in games which will increase their engagement with your brand.
6. Behind-The-Scenes
Behind the scenes, a social media wall is an amazing social wall idea for the event. Behind the scene can be the perfect social wall for in-person events. You can offer your attendees some raw clicks of event presentations. Offering glimpses of your planning and preparation of an event can be an amazing way of connecting with your audience. It can create excitement among your audience. Your audience will appreciate your event more when they see the amount of time and effort that you have put into your event.
7. Graffiti Wall
Next, we have graffiti walls, it's a unique and amazing way of engaging your audience. Your attendees can use digital tools and spray paints to paint the wall and to create something of their own. You can host a graffiti competition to attract more attendees to your event. Your attendees can also share the graffiti on their social media and in that way you will be able to reach a wider audience. Not just that you can also connect your graffiti wall to your social media account.
Social Wall Examples For Event
If you are looking for some popular examples for social media walls, here are some social wall for event examples that can be helpful for your event: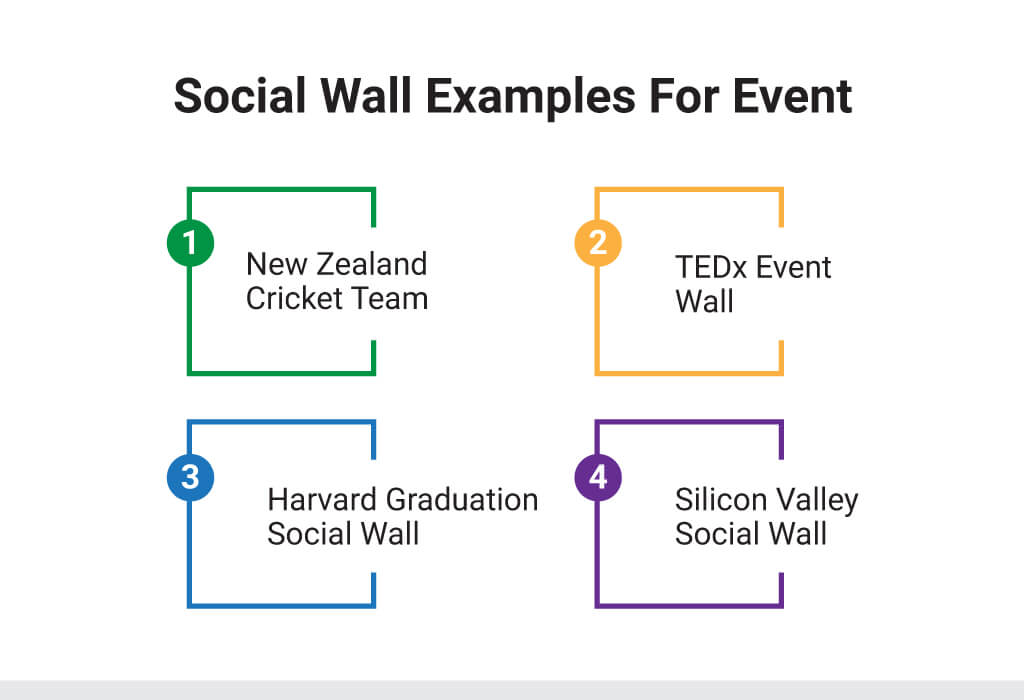 1. New Zealand Cricket Team
The first example that we have for the social wall is a sports experience. The black caps also known as the New Zealand national cricket team created a buzz in the industry by creating a social wall. They collected content from different social platforms and displayed it on the homepage of their website.
The social wall showcased news related to the team. updates by the national players and user-generated content.
2. TEDx Event Wall
The next social wall example that you can look up to for inspiration is the TEDx community event wall. TEDx is a huge supporter of social walls and various TED organizations use social walls for their events. TEDx organizations use social walls to display the comments of their audience, they display different stories that are shared by their users, which we think is a great way to encourage your audience to comment or talk about your business or organization.
3. Harvard Graduation Social Wall
When we are talking about popular social wall examples we can't skip Harvard's social wall for graduation. The university created a social media wall for their graduating students and asked them, their family, and their friends to share their experiences and joy. It was a huge success for the university. The wall displayed images of students celebrating their graduation with joy.
4. Silicon Valley Social Wall
The next social wall example that we have is Silicon valley's social media feed wall. The famous bank offers financial services and funds to tech companies. The bank installed a social media wall to display real-time news, industry trends, and other important updates. Social media wall has become a huge part of Silicon valley.
The Bottom Line
Social media walls are becoming a part of the event industry. Organizers prefer social media walls to market their brand, engage their audience, attract a new audience, and communicate with their audience. In this article, we have mentioned some of the best ideas for social walls and some popular social wall examples that you can use for inspiration.

As the social wall for events offers various benefits you should also give them a chance for your event. If you are looking for a platform that can help you step up your social wall for events then you contact Dreamcast, as we offer the best services for all kinds of events. Contact us and book your free demo.
Frequently Asked Questions
What are the benefits of the social wall for events?
The social wall for events is very beneficial as it helps event organizers attract more audience, they can generate better leads, engage an audience and build a strong market presence.
What is the use of social media wall for events?
Social media wall for event can be used to display user-generated content, it can be used as a leaderboard, display information about products or service offers, information about speakers, etc.
Can I use third-party integration for the social wall for events?
Yes, social wall for events allow third-party integration, event organizers can integrate social media platforms, their website, photo booths, etc with social walls.
How to set up a social wall for events?
To set up a social wall for an event, you can opt for a cost-effective platform like Dreamcast which provides top-notch customization and branding services for social walls at the event.
In-Person, Hybrid, Virtual
Create an Extraordinary Event Experience
Across All Event Formats