People watch 23 minutes of video on their gadgets (mobile phones, tablets, computers, etc.) every day, according to the report. So utilizing video content is undoubtedly a smart and effective marketing strategy for businesses and brands. In today's competitive world, live video is being used for conferences, online concerts, webinars, training sessions, business meetings, and more. Make your live video more effective and efficient if you want to maintain your lead in the industry.
Live streaming has developed into a significant source of digital content on social networking sites and other platforms. In order to reach target audiences, spread brand messages, share knowledge, and turn digital footprints into business results, many organizations and businesses are using live streaming services and platforms.
Host an Engaging LIVE Stream
Connect with the Industry's Most Experienced
Live Streaming Service Providers.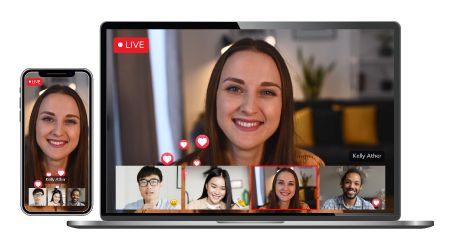 Should you use popular social live streaming platforms like Facebook Live or YouTube, or should you consider paid or more advanced options? At first, selecting a live streaming platform may seem difficult because there are so many options and it's not always evident what makes a good decision. However, choosing the best live streaming platform becomes much simpler after you choose which features and options you require and which you do not. If you are looking for the best live streaming platform for your event, this blog will help you to choose the right platform according to your requirement. 
5 Important Things To Consider Before Selecting The Best Live Streaming Platform
Streaming Channels Support
Different streaming services provide different functionalities, features, and support. Making your live streaming successful requires choosing a live streaming platform that supports a variety of streaming requirements. Because social media marketers and businesses frequently employ streaming on these platforms.
Before choosing live streaming software, choose the location where you wish to broadcast. Select the top live streaming platform that will provide your brand with the most exposure and interactive opportunities for the users. Once that has been established, you or your company can choose a suitable live streaming platform.
Visual Elements
Many companies that offer event live streaming services offer a variety of visual experiences, including screen sharing, or they can add extras like a virtual background, a header with a personalized logo, video players, music, test runners, etc. Choose a live streaming platform that has all the necessary visual characteristics to present your audience with a wonderful and unforgettable experience.
Features
In order to help businesses and brands reach their goals, streaming platforms come with a wide range of functionality and features. Here are some features that you should consider before selecting a live streaming platform for your event. 
Ability to embed video content
Monetization of the video content
Live streaming APIs for enhanced content management
Privacy control
Advanced real-time and post analytics
Content delivery network for professional live streaming quality
Social media integration
Secure video streaming solutions
Video content management tools
Low latency streaming for live video delivery without delays
Cloud video encoding and transcoding for live
White-labeling of video content
Ease Of Use
To simplify your choice, the next recommendation is to look for a streaming platform that is easy to use. Streaming a live video is such a complex technology. That's why choosing an easy-to-use streaming platform is vital for smooth operations. Live video is built on different parts, and these parts are linked by a complex set of hardware tools and software, including:
Event live streaming services
Video streaming protocols
Video cameras
Cabling and data transmissions
Encoding software
Audio recording equipment
Codecs and compression
These are the basic elements of live streaming that are universal. To organize a live event, you must be familiar with these elements. There is a widespread misconception regarding live streaming, though. Live streaming is sometimes perceived as being extremely difficult to conduct. With the correct platform, live streaming may be rather simple and uncomplicated.
It makes sense to experience some discomfort when using a new streaming platform. Since you may experiment with the user interface and the settings to see if it's the appropriate match, it's advantageous to identify platforms that you can use for free or that give free trials.
Therefore, when choosing the finest streaming tool for businesses, brands, and individuals, these factors should be taken into consideration. Test out several services with a free account before settling on one, and then try live streaming with a small number of people to see which one works best.
Customer Support
If your broadcast crashes while you are live, people won't wait for you to return for very long. Choose a live streaming service provider that offers round-the-clock help at all times. Even if your streaming setup is of the finest standard, additional stream components may experience technical difficulties. Tech support can help you with this. This is one of the crucial suggestions for picking the best live streaming software because troubleshooting a glitch without technical support will certainly take longer and be more stressful.
Conclusion
In the market, a wide range of live video streaming options is available. Therefore, choosing the best live streaming service may be a challenge for you. Because all streaming platforms have benefits and drawbacks, it entirely depends on the goals of your unique business.
Still not sure about the streaming service? You can use the Dreamcast free demo to stream live, so don't worry. Dreamcast is a reliable live streaming service provider that helps businesses around the world scale and monetize their online video content. Our streaming solution can help you to expand your reach, increase brand awareness, improve your brand value, generate leads, and maximize your revenue.  What do you think? Do you have any recommendations and tips for others looking to select a suitable streaming platform? If so, feel free to share with us in the comment section below. We love to hear from you. Happy streaming, and thanks for reading!