We all live in a world of digitalisation and live streaming, but the popularity of in-person events is still no less. The point of discussion to this is necessary in recent times where the world is facing lots of environmental challenges, pollution and a lot of severe global warming effects. Well, all this is indirectly connected and possibly by using live streaming solutions, we can help in reducing the bit of severity the world is facing.
Here today, in this blog we are going to talk about the huge benefits of live streaming services and how we can reduce the carbon footprint. But before going further we wanted you to just think about how much resources we waste during in-person events.
Well, we are not denying the fact that meeting in person or to host on-ground events is quite necessary and important. But somehow not good for the environment and as responsible citizens of the world we need to understand our duties and need work in the field to reduce carbon emissions.
Go Live With Eco-Friendly Live Streaming Features
Continuing to talk about the factual concept of how live streaming can reduce pollution is simple enough to understand. Okay! Let's answer a few question's answers. How much pollution and hazardous gases emit into the environment while you travel from one place to another? Catering? Paper waste? Unnecessary expenses for hotels, accommodation and other kinds of stuff.
Host an Engaging LIVE Stream
Connect with the Industry's Most Experienced
Live Streaming Service Providers.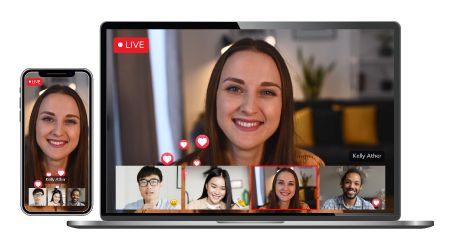 But as said earlier we do care about your feelings and understand the necessity of meeting, so we called to Livestream your event. Not just go completely with the virtual events (until it's not necessary or required) but having live streaming of the event can help to minimise the carbon footprints of the event to some level.
Nowadays it is common for people to know how their lifestyle is affecting the environment for many reasons. The event industry is also taking steps in order to find sustainability. Well, the trend may sound old but the technological advancement in the event especially in the event tech industry is humongous and making some salient waves. All sorts of institutions and organisations can make it possible to host events greener in several ways with event streaming services.
4 Salient Features of Eco-Friendly Live Streaming Services
If you are planning an on-ground event make it available to a greater audience with the live stream. So whoever doesn't want to come can have the liberty to attend the event and gain knowledge from the ease of their home. And will help in the reduction of carbon emissions.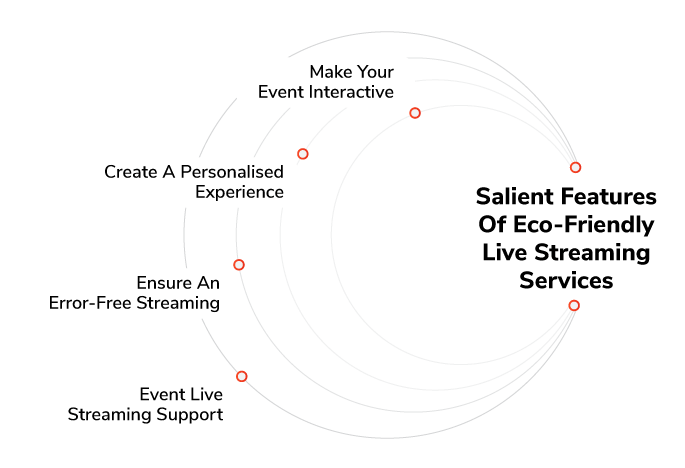 What you can incorporate in your live stream to give your attendees an immersive experience for your event? Well, there are many features you should add by leveraging Dreamcast's event live streaming services some of them are mentioned below;
1. Make Your Event Interactive
Live Chat
Emoticon Reactions
Like and comment
Live audience interactivity
2. Create A Personalised Experience
Personalised Ticker
Branded Logos
Branded Frames
Countdown Timer
3. Ensure an Error-Free Streaming
Real-Time Archiving
Content Delivery Network
Multi-Bitrate IP Encoding
Internet Connectivity Solution
4. Event Live Streaming Support
Customer Support
Unlimited Streaming
Third-Party Integration
High Definition Work System
Insightful Data & Analytics
Event Live Streaming
Event live streaming can help you in various ways as it has greater reach and can be streamed over different geographic areas. Many times there are some physical and geographic barriers that avert valuable viewers from attending which can be resolved by streaming the event live. While for many businesses it is a win-win deal as they are achieving both objectives of reaching a wider audience as well as reducing their environmental footprints. Here are the mentioned benefits of live streaming for corporates, non-corporates, associations, and others.
Host an Engaging LIVE Stream
Connect with the Industry's Most Experienced
Live Streaming Service Providers.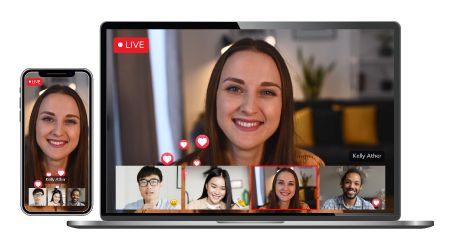 Why Is Live Streaming Your on-Ground Event Important?
Every event organiser faces several challenges out of which low registrations are common. But if you want to hit the targets there is still a huge opportunity as several times someone wants to appear at your event but due to some reasons, it won't be possible.  So, their live streaming services come into effective consideration. In the past few years live streaming technology has improved a lot making it possible to do a lot more now. As seen above there are several features you can incorporate into your live stream for better engagement and experience.
4 Benefits of Live Streaming Event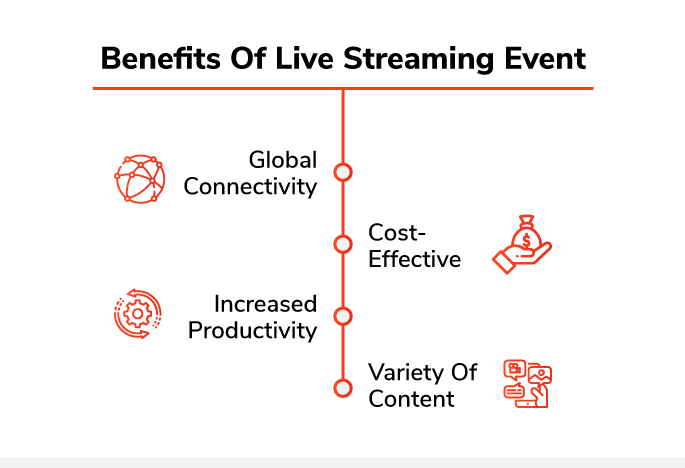 1. Global Connectivity
As discussed above you can connect to a wider audience by hosting live streaming, virtual events or hybrid events. Well, the concept here is to utilise technology more and give people a chance to think about the environment too. For example, if there is a meeting, conference or other sorts of event, what is the need to travel to a place and then do a meeting when you can simply have the meeting virtually or stream it to your viewers and can talk?
Live streaming solutions offer to hear and communicate with anyone in real-time. No matter what your event is, you can attend and have the same conversation.
2. Cost-Effective
Organisations work with cost-effective budgets and productivity. Without a doubt, live streaming is claimed to be cost-effective. How?  You can reduce the operational cost of arranging an event in terms of travelling, food, catering, hotels, paper, electricity, and an auditorium (any space where the event is going to happen).
Host an Engaging LIVE Stream
Connect with the Industry's Most Experienced
Live Streaming Service Providers.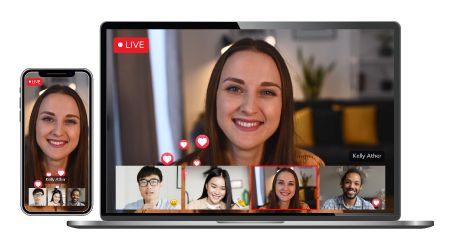 At many trade fairs, expos, and exhibitions we waste tons of money just accommodating and arranging the event. If you stream it over the internet you don't have to do all things without sacrificing or compromising the outcomes. Just need to hire a streaming media service that offers end-to-end customisation as per your requirements and desires just like we do at Dreamcast.
3. Increased Productivity
Live streaming is a simple and easier way to share ideas and connect with your team members, clients or others. Us it shares information, dealings easily without worrying of travelling to other places and other tasks. This leads to an increase in productivity as it saves time and effort allowing one to concentrate on other tasks.
4. Variety of Content
If you are a broadcaster and want to stream a wide variety of content then it is easier with live streaming solutions. There are always new and trending ways you can do with live streaming.
Go Live! Go Green With Live Streaming
Not for individuals like us or for broadcasters but for businesses it is important to work in reducing environmental footprint. This can be a potential business strategy as people like them who think about brands who think about nature. Live streaming gives you an opportunity to cut down on using material products (disposal cutlery, paper, ink, and others) during any function. Ultimately this approach saves a lot of natural resources and costs to the company.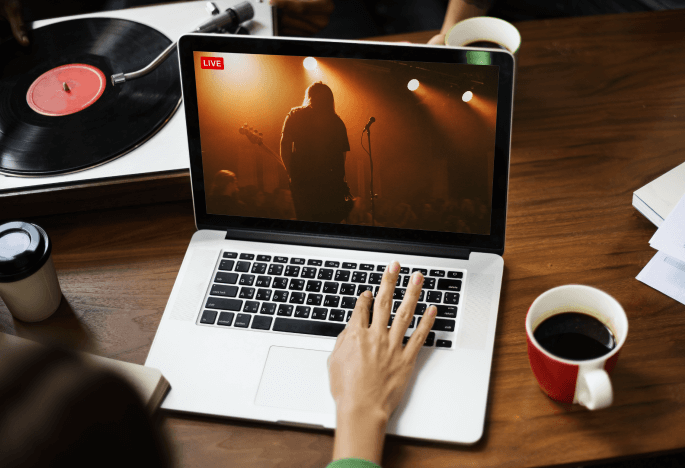 Keynote
Live streaming platforms provide many opportunities that increase your audience size, ROI, lowering carbon emission, and much more. There are many individuals and influencers who are using free platforms such as Instagram, Youtube, Facebook, and others for live streaming their live moments or for training and sessions. So, as a business or corporation why are you waiting for it?
Businesses and event organisers need to increase the means of communication and efficiency with live streaming. But the fact is to do a live stream you need to rely on technology and technology can go wrong if you are not fully skilled and trained. So, if you are looking for such a technological advanced team of individuals who can stream your event with increased engagement then don't look for anything as we are here to help you. Dreamcast is continuously putting efforts into this industry and achieved a huge experience in broadcasting many of the events with all the customisation one needs.
Host an Engaging LIVE Stream
Connect with the Industry's Most Experienced
Live Streaming Service Providers.