Social media has come to be seen as a great asset for the corporate and business world. Centralizing ideas and energy for a brand, social media can be effectively used for pre-event, post-event and for the ongoing event planning. Social media is beneficial for event planning and promotion, requesting for feedback and opinions, generating user-engagement and attendance and building a healthy relationship with the followers and potential customers.
The reason why is because a larger part of the global population spends considerable time on social media. Chances are your event gathers a large follower base online without spending huge business savings than choosing to advertise offline for socializing with the audience.
Plan your product launch, organize an internal training live webinar, deliver a presentation across your corporate branch via webcasting, organize an annual general meeting, corporate annual cultural programme and more by using social media's live streaming and webcasting services effectively for your business where you can post event updates, timings, teasers and more.
Host an Engaging LIVE Stream
Connect with the Industry's Most Experienced
Live Streaming Service Providers.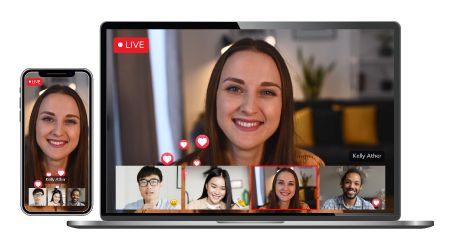 Social media, however, is scattered. With a variety of social media networks like Facebook, Twitter, Google+, Pinterest, LinkedIn and YouTube, a business may find it difficult to choose the right network to plan their business webcast on. Facebook with 1 billion users and growing has a far reach among people and clients. Twitter limits the tweets to 140 characters and is only useful for concise updates. LinkedIn is a successful professional network and can be utilized for training webinars and conferences and YouTube and Pinterest for videos and images. We're choosing Facebook Live-
PLANNING THE EVENT WEBCAST
Facebook and Facebook Live can be utilized to share the event details and create a buzz among the followers. Event date, session timings, guest speakers, contest alerts, campaigns etc. a brand can request for suggestions and feedback on how to conduct an event, ask the audience to send in their queries, questions and more. This helps a brand in creating a relationship with the followers and interacting with them. A brand can post 'save-the-date'for an upcoming event to let people add the brand event to their calendars. Speakers, sponsors and more can be requested to spread the word about the brand event on their social handles.
EVENT PROMOTION
Facebook Live is an abundantly used platform for event promotion. Event pages are updated with banners, catchy and interactive graphics, giveaway alerts and more such event marketing gimmicks. To gain more user-engagement, event updates are posted in social groups on Facebook where these attract potential customers and people who are interested to follow the event page and attend it over Facebook Live Webcasting. Promotions can include perks and rewards for early-bird registrants, people submitting unique responses and ideas for brand event promotion or sharing about the event with more and more people like friends, family etc.
INDULGING IN INTERACTION AND ENGAGEMENT
Event broadcasting with Facebook Live has a wide reach impact. The live streaming allows text chat and conversations encouraging brand-follower engagement. A brand can conduct live chats before the final event. Audience questions can be addressed via the Facebook Live webcast, quick information about the event can be shared via Facebook. The audience must be encouraged to share about the event, share their feedback, pictures and more for creating a brand story which the audience can be a part of.
EVENT WINDUP
Post-event and its windup, a brand must take to Facebook and Facebook Live for thanking the event attendees and also the attendees for the Facebook Live webcast session. The audience can also be updated about other webcasts that a brand is planning to organize in the future. They can be asked to send in their experiences and moments from the event for an exciting brand video or send in their suggestions for the upcoming Facebook Live webcast. Monitor and analyse customer feedback, viewer experience and engagement, their likes, dislikes etc.
Host an Engaging LIVE Stream
Connect with the Industry's Most Experienced
Live Streaming Service Providers.