Live Commerce, Livestream Shopping, Live Commerce Streaming, and many more similar terms are rising in popularity. The world is frequently shifting to instant technology standards, as people are keener to find easy & fast solutions. Given that, the e-commerce industry has found a new mode of taking services closer to the target audiences with Live Shopping. Experts also believe that Live eCommerce can bring a revolution in the retail realm & consumer shopping habits!
Curious to know more about this latest concept? Let us explore all about Live shopping and how you can make the best use of it for your brand.
What is Live Commerce?
Live Commerce is the buying and selling of products directly through live streaming or live video. Live shopping is also helping the e-commerce brands level up by adding a personal touch to their services through Live consumer interaction. With this, the consumers get an opportunity to share their queries directly with the sellers and find quick responses. In addition, it also boosts the sale of products once the consumer gains trust. In short, Live commerce means Live Interaction (through Livestream) + E-Commerce.
The Rapid Growth of Live Commerce – How did it begin?
Just like online shopping and e-commerce simplified the retail shopping habit of consumers, now Live commerce is further streamlining online shopping. While technological development can be considered the reason behind this, the purpose is always to ensure consumer satisfaction. Another reason why the concept is gaining matchless popularity is: that it helps brands reach wide horizons by maximizing their reach.
After the pandemic outbreak, more than 15,000 retail stores had to close because of losses. Not just this, around 80,000 stores are predicted to shut down by 2026. As the data only covers a limited geographical region, it clearly shows that a change has come in the consumers' shopping patterns. However, making your brand work depends on the level of consumer satisfaction. And that is what Live Shopping Enablers and Platforms are here for!
But how did this actually begin?
Live Commerce is doing superbly well in the Asian market. It all began in 2016 when Alibaba's Taobao first launched Livestream shopping and gained instant success. The platform grew, developing a culture of influencers sharing details & values of products across industries. While the industry has conquered China in terms of popularity, it is now time for the world. The total revenue from live commerce in the U.S. was estimated to be $1 billion as of 2018, and the number is undoubtedly growing exponentially.
Further, let us explore some of the top benefits of using Live Commerce Platforms & Enablers.
In-Person, Hybrid, Virtual
Create an Extraordinary Event Experience
Across All Event Formats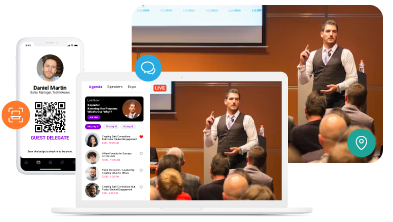 7 Benefits of Livestream Shopping
Here are the top-most advantages of Live Commerce:
1) Minimized Costs
Approaching your consumers directly through customized Livestream events helps you with better conversion at a lesser cost. For the level of revenue that can be generated from Live Commerce, the cost incurred is less than any method. A great example is: China's leading influencer, Viya generated approx $51 million in one day by partnering with Kim Kardashian in a live stream to sell 15,000 bottles of perfume. A Live Commerce platform provides customization to make your Livestream more interesting & engaging.
2) Speeds Up the Sales
Live eCommerce helps you in accelerating your sales to an unparalleled level. Showcasing & demonstrating your product to a limitless number of target audiences can help you gain the maximum sales in no time.
3) Better Consumer Engagement
Livestream Commerce enablers or platforms help you turn your regular & boring Livestream into a super engaging & interactive event. Also, as an influencer directly shares the details of the product, users feel more engaged, having an improved buyer experience.
4) Boosts Impulse Buying
Consumers feel more fascinated as they participate in an exclusive Livestream event where they can directly buy something they like. Hence, the option of making an order with no extra effort or delay excellently boosts impulsive buying activity.
5) Long-Term Brand Loyalty
Live eCommerce helps you generate unparalleled brand awareness & loyalty. It adds a personal & human touch to your consumers' shopping experience as they develop a direct connection with your brand.
6) Better Outreach & Scaling
Live Commerce means no limitations & boundaries when it comes to scaling. It provides you maximum outreach and easy access to a wider target audience.
7) Builds Brand Trust & Authenticity
The option to interact directly with the influencers to clear any queries in real-time helps ensure consumer satisfaction. The live visual demonstration facilitated by the Live eCommerce platform further improves the brand trust of your audience.
Explore the best ideas for a successful Live shopping event that generates maximum engagement & leads.
In-Person, Hybrid, Virtual
Create an Extraordinary Event Experience
Across All Event Formats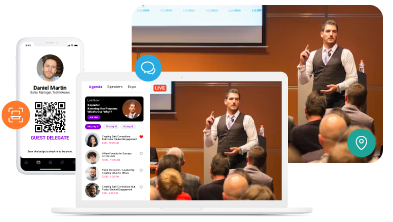 Live Commerce Trends and Ideas to Follow in 2022
1) Omnichannel Live Streaming
Omnichannel Livestreaming helps you create a completely integrated consumer experience across all channels & platforms. You can organize a super-engaging Livestream shopping that is 100% customized basis your brand or product. Further, you can make the Livestream available across all platforms through the multi-platform streaming feature of the live commerce solution. From different social media platforms to your official website, you can host live shopping across all platforms.
2) Live Q&A Sessions
A Live Q&A session with your consumers can help you solve all the user queries quickly. 82% of the consumers prefer immediate or fast responses to their marketing or sales-related questions. Through a robust Live commerce enabler, you can easily host a live chat or discussion to answer the questions. This aspect also boosts the decision-making of your consumers, enabling them to buy the product right away.
3) One-to-One Live Shopping
One-on-one live video interaction can be an excellent way of selling in case of high-consideration purchases. With the help of a Livestream shopping platform, you can seamlessly execute a detailed demonstration of the product. It further helps you connect with the buyer in a more engaging mode.
4) Influencer Marketing
Collaborating with an influencer is a great way to drive more engagement and maximize your reach. In the case of influencer marketing, you can organize a one-to-many live commerce activity that simplifies live interaction & buying.
5) Livestream Shopping Event
Best, you can organize a live virtual event that enables live commerce with additional engaging features. Moreover, it can be advantageous as users would love to interact in a 3D immersive virtual environment. The industry's best Livestream shopping platforms provide complete online event solutions to ensure an event that misses no interactive or engaging tool.
6) Virtual Reality Live Commerce
Ever since the concept of Metaverse has come to function, brands are taking their service live on it. Even consumers are excited to interact over Metaverse as it is a new technology. Taking a step ahead from a virtual event, you can create a metaverse event for enabling Live shopping. From Ikea to Gucci, different brands have planned and taken their eCommerce activities Live on the Metaverse.
Preparing for Live Commerce in 2022
Live Commerce is transforming online shopping and marketing activities indeed. It is significant to choose Live Commerce activities to keep up with the trend and build long-term consumer trust. Need to know how & where to start? We have got your back! Reach out to us, and we will help you from start to finish. Connect for a quick call.
In-Person, Hybrid, Virtual
Create an Extraordinary Event Experience
Across All Event Formats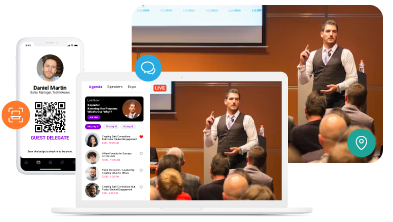 Live Commerce FAQs
What is Livestreaming in e-commerce?
Live streaming in e-commerce is showcasing & sharing details of a product while interacting with the consumers in real-time through a live-streaming tool.
Why is live shopping the future of eCommerce?
Live shopping can be the future of eCommerce as it provides greater value to consumers. Also, consumers prefer direct interaction to solve their queries quickly.
How do you do Instagram live shopping?
You can do Instagram live shopping by getting in touch with a Live Commerce enabler or platform that provides completely interactive solutions.
What is eCommerce Live streaming?
Ecommerce live streaming refers to the live real-time interaction with consumers, enabling direct buying & selling of products during the Livestream.
What is Live stream selling?
Live stream selling refers to the real-time selling of products during an interactive & informative Livestream event.