There are many various types and sizes of content marketing. You and other creators have a wide range of possibilities, including blog entries, social network updates, images, videos, slide presentations, and more. Even podcasting can be included in this mix. One of the most widely used content marketing techniques worldwide is live podcasting. Did you realize that there are more than two million podcasts available worldwide? To reach a larger audience without any geographic limits, the majority of marketers and event planners use live podcast shows. Because of this, producing live podcasts is one of the finest ways to differentiate yourself from the competition this year, regardless of the sector or line of work you're in.
Live podcasts will always exist. Have you given any thought to launching your own? In such a case, you are where you need to be. We'll go through all you need to know about producing a video podcast for your company during this session. Ready? Let's start now.
What is Podcasting?
The podcast is a pre-recorded version of an episode or event. This pre-recorded event or episode covers a specific topic. Podcasts can be divided into different sessions like TV shows. The live podcast platform helps business to record their episodes and broadcast them to a large group audience. Some people or businesses host live episodes once a week or a month, while others broadcast all their episodes live. Through ads and sponsorship, podcasts can help the business to generate good revenue. This marketing strategy can help to increase brand awareness and increase the audience base.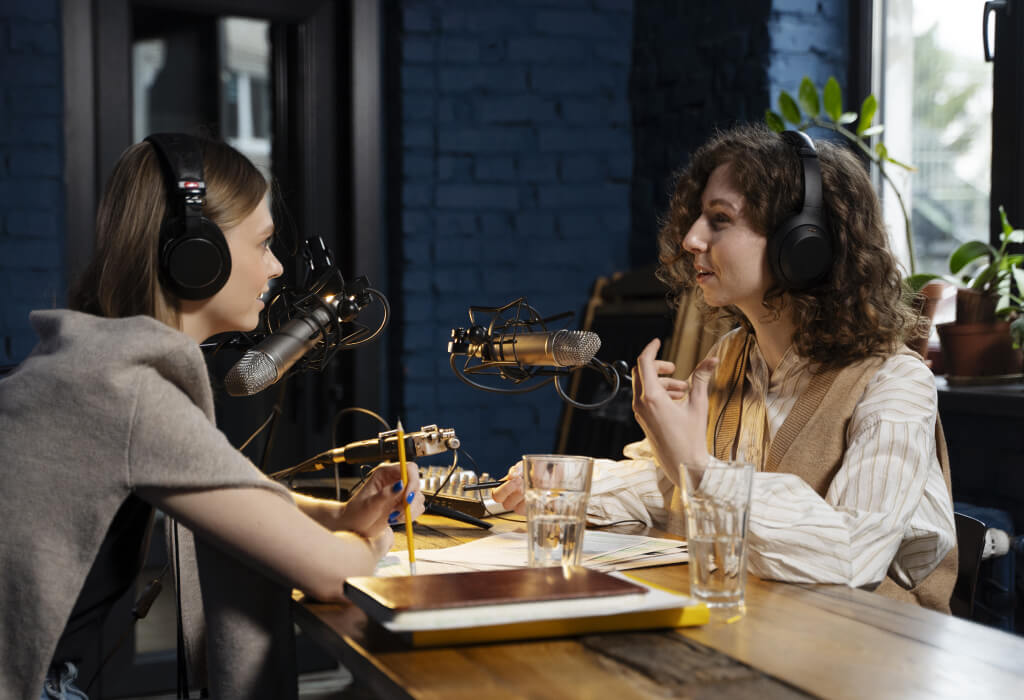 Whether it is a live video podcast or an audio podcast, It can be live or recorded. Most businesses use audio podcasts because they consume less bandwidth compared to video podcasts.
Audio & Video Podcast Streaming
Audio Podcast Streaming
By broadcasting in real-time, live audio podcasts allow listeners to hear what you are saying as you are saying it. This entails no post-production or editing, no edits, just a genuine, uncut connection. Most of the time, you can save your live audio recordings afterward to permanently publish them, in which case you may edit and chop them afterward.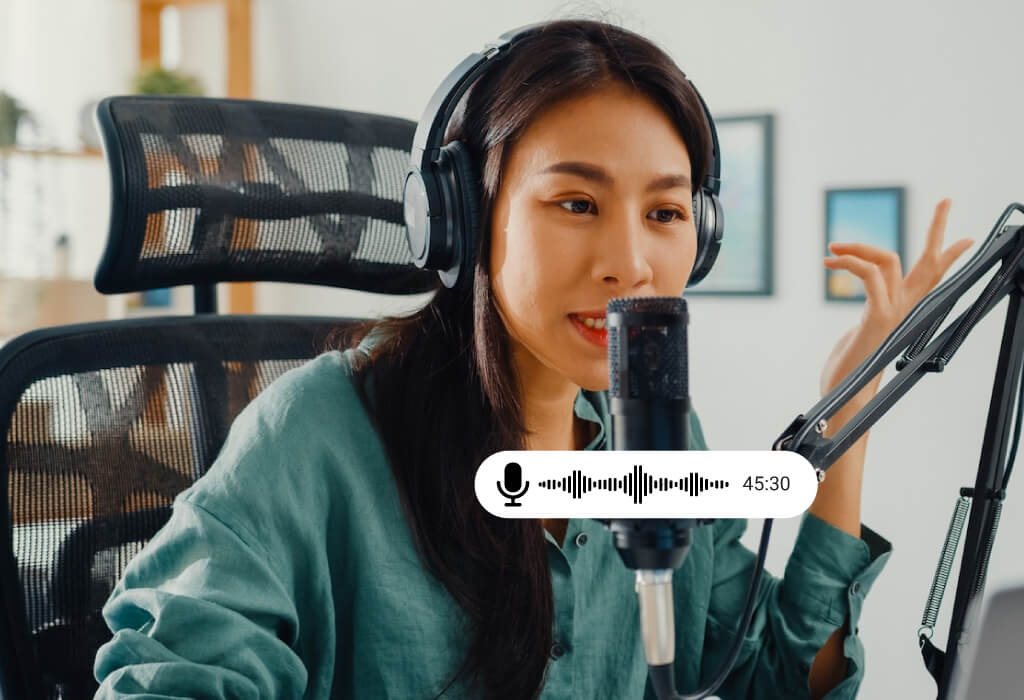 Audio podcasts are a fantastic method of reaching your intended audience wherever they are because of their format and delivery method flexibility. Businesses wishing to expand their connectivity choices find audio podcasts to be very tempting since they can be downloaded or listened to online from a mobile device anytime and anywhere you choose (at the workplace, college, gym, or in the car).
Video Podcast Streaming
Video podcasts can include video recordings of the podcast guests and hosts and single static images. Businesses and podcasters use the format of podcasts due to different reasons, including: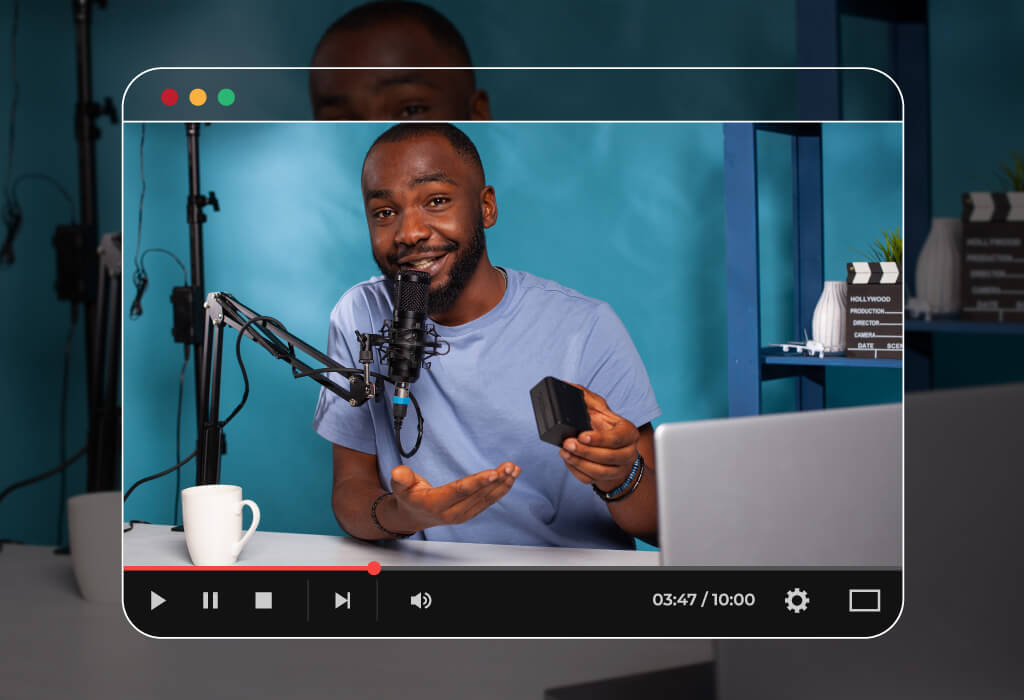 Adding visual elements to the podcast allows podcasters to access genuine and broader audiences.
Broadcasting video podcast on different social media platforms allows podcasters to engage their audience.
It is a cost-effective method to share your brand message and improve brand awareness
Podcasters can establish a good relationship with their audience by adding video elements where faces appear.
Live Streaming VS Podcasting
How you enjoy the audio and video experience differentiates live streaming and podcasting. Some common differences between live streaming and podcasting are:
In podcasting, an Internet connection is required to upload and download the content. After downloading the audio or video content, the audience can listen to or watch it on their player without an internet connection. On the other hand, a High-speed internet connection is required for live streaming your content.
The primary distinction between live streaming and podcasting is that live streams are captured and disseminated in real-time, whereas podcasts are often pre-recorded. Whether you want to express your political views, personal opinions, or just for sheer enjoyment, podcasting is an amazing method to do it. Filmmakers, animators, and aspiring authors make up a large portion of those who use streaming as a distribution strategy.
There are no restrictions on how you may utilize podcasts. However, rather than covering events, they usually serve to disseminate information. On the other hand, live broadcasting is endless yet is frequently utilized to let remote users "attend" live events.
While a live stream would be utilized to broadcast significant meetings, business events, lectures, sporting events, or concerts, a podcast may be used to share a talk show-style chat.
Typically, live streams and podcasts are distributed online. They may be provided and hosted on a public platform or a private website. In order to share both types of streams, most businesses or broadcasters use the best live streaming platforms.
Types of Live Podcasts
There are different types of live podcasts. You can use creativity and different formats in order to make your podcasts more interesting and engaging. The following can be hosted as live podcasts:
Monologues Podcast
In this format of the podcast, an experienced speaker speaks for the entirety of the session. If you are a creator with an interesting story, a monologues podcast is perfect for you. Normally in this type of podcast, hosts share their experiences, thoughts, future ideas, and more. In order to share expert insight on a subject, businesses can also use this format.
In-studio interview
The most famous type of live podcast is an in-studio interview. An in-studio interview is the most well-known style of live podcast. Typically, there is a rotation of various visitors and one or more regular hosts. Your presentation often has a central subject that unifies all of the participants. Since everyone's mind is a unique universe unto itself, one of the most exciting advantages of the interview style is that you'll constantly have fresh material! Remember that planning might get more difficult the more guests you invite. There would be additional microphones, cameras, chairs, lighting, and attendees.
Talking Heads or Remote Interview
Compared to other formats of podcasts, the remote interview is easier to record. This type of podcast includes a video call with your podcast attendees utilizing live streaming services.  All you need to do to start recording is choose the "record" option on the platform you're using to hold your call because this type of podcast is essentially a remote interview. A remote podcast may effortlessly host a large audience because no physical preparations are required. To make this work, you don't even need to set up microphones and lighting.
Educational show
Two professionals often offer their expertise and perspectives on a certain sector in this sort of presentation. The audience attends in order to learn more and acquire useful knowledge and skills they may use in their daily lives.
Reasons to go for Live Podcasting
There are different reasons to consider live podcasting, including:
This marketing tool helps to connect and engage with the audience
Broadcasting a live podcast can help you to increase your audience reach
Live podcasting is an effective and easiest way to share information with a large group audience without any geographical restrictions.
It is one of the best marketing tools that can help you to increase your brand awareness and enhance your brand value.
This strategy can offer an opportunity to establish yourself as an expert in your industry.
Reuse of audio or video podcasts can help you to extend the life of your content.
It offers different opportunities for monetization via sponsorships and ads.
It is a cost-effective option to share your brand message.
You can host live podcasting for community building.
5 Steps to Broadcast a Podcast
Choose your live podcast topic
Choosing a specialty and identifying your target market should come first. What subjects might you go on and on about? What kind of audience would benefit from or like your ideas or knowledge? Therefore, the first thing you must do if you intend to broadcast a live podcast is to choose an engaging subject. If your subject is uninteresting, it's unlikely that people would even click on your link, much less listen and watch the full podcast.
Choose Your Podcast Format
We covered a number of popular video podcast formats in the last section, both for private use and for commercial purposes. Prior to selecting the ideal podcasting format, make sure to take your subject and audience into account. Ensure you have all the tools necessary to execute your chosen format as effectively as you can. for instance, hosting an interview podcast might not be a smart idea If you don't have a high-quality camera and mic,
Promote Your Live Podcast in Advance
Promoting your live podcast on different social media platforms is one of the best ways to increase viewership. You can inform your audience about your upcoming podcast by posting different information about it such as the title, time, the reason to host, and more.
Select the Best Live Streaming Platform
A live streaming platform is essential to broadcast your live podcast over the internet. If you are thinking to host a live podcast, you need to choose a trusted and feature-reach live streaming platform. An experienced live streaming service provider such as Dreamcast can help you to customize your live podcast and broadcast it effectively on multiple channels.   
Reuse Your Live Podcast Content
You can record your live podcast and share it later in order to increase your brand awareness and reach a wide audience. This strategy allows your audience to access your content according to their convenience if they are not available to access your live podcast due to any reason. You can also edit your podcast content and enhance its look with video editing tools. You can use tools to tweak audio levels, adjust colors, include transitions and titles, stitch video clips, and more. Some examples of amazing video editing tools are Apple Final Cut Pro, Adobe Premiere Pro, Adobe Premiere Elements, etc.
Final words:
Live streaming and starting a podcast are two great methods to interact with your audience. These two methods of media distribution are interesting and useful whether you're attempting to increase brand recognition or produce content as a passion project. Dreamcast is the best option if you're seeking a reputable way to host your podcasts or live streaming. We have a wide range of streaming tools available to us as a top provider of streaming services, including superior streaming security, monetization assistance, and more.
Host an Engaging LIVE Stream
Connect with the Industry's Most Experienced
Live Streaming Service Providers.