In the era of social networking sites and booming live streaming popularity, there are special needs for broadcaster software. The OBS Studio which stands for 'Open Broadcaster Software' is a powerful and versatile tool. The OBS studio live streaming is specifically used to capture the audio-video feed from different sources like webcams, microphones, and your computer screen. This can further be mixed and transmitted as actual footage that is of high-quality audio-video feed on streaming platforms. This broadcaster software can be used in delivering content over multi-diverse platforms like; Facebook, Instagram, Linked, Twitter, and others. Even for simultaneous multi-streaming OBS studio is your go-to companion.
Here in this blog, we are going to deeply explore the OBS studio live streaming, and how it works to stream on multiple platforms. Additionally, we will explore the tips, tricks, advantages, OBS stream, multiple platforms, and other key aspects. But before we learn all that let's start with the basics. 
What is OBS Studio Live Streaming?
OBS is generally an open-source broadcaster software that is completely free to use by anyone. It is a kind of screencasting or streaming application which can be used in most operating systems. Like Windows, macOS, Linux distributions, and BSD. The OBS Studio allows the creators to capture, record, and broadcast their audio and video content live over the internet. This broadcaster software is widely used by content creators, gamers, and professionals for various purposes, including live streaming to social media platforms.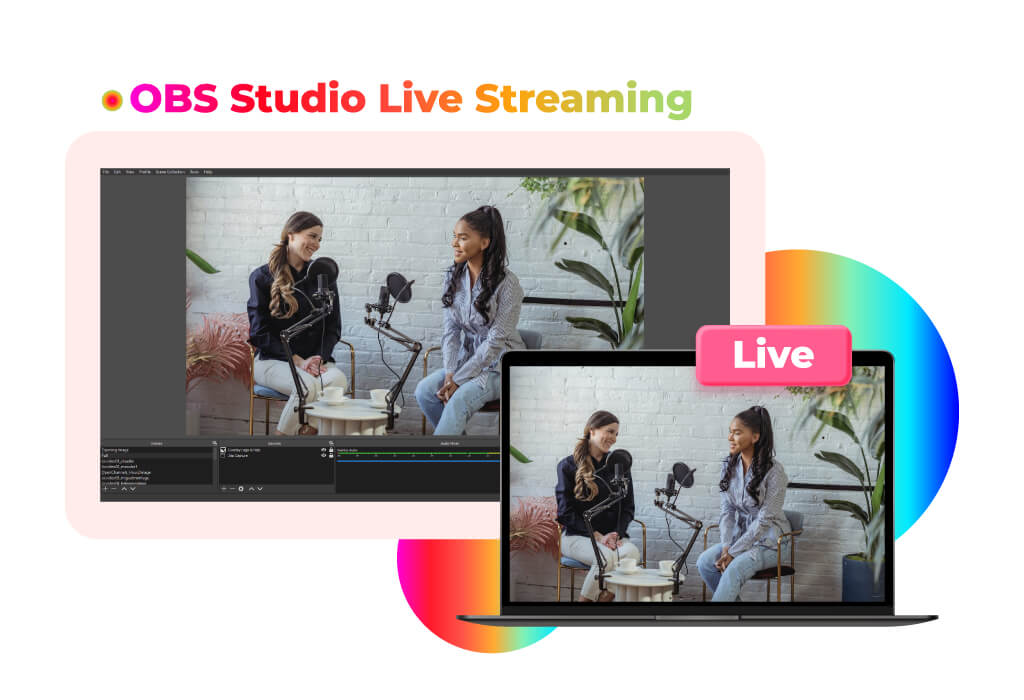 In simple words, we can say, "OBS Studio live streaming is free software that helps you stream your videos, games, in-person event feeds, or presentations on any live streaming platform in real-time."
Furthermore, the OBS Studio offers multi-diverse functionalities to adjust the background, audio, and video settings. This helps in optimizing the stream quality and the kind of interaction the presenter wants from their viewers or audiences. In short, the versatility and functional features make it a perfect tool to use for any size of organization or even as an individual. Also, to host various types of seminars, events, workshops, sessions, and many more in high-end quality.
OBS Studio For Multi-Platform Live Streaming: Reaching Your Audience Everywhere
In today's interconnected world with booming social media influence, reaching a widespread audience for content creators, businesses, educators, and gamers is important. This is where the OBS studio live streaming comes into place. It enables the host to mix their audio-video feed in the best possible manner as well in good quality and stream across platforms. From social media giants to specialized gaming platforms, OBS Studio empowers you to connect, engage, and captivate audiences across the following prominent platforms: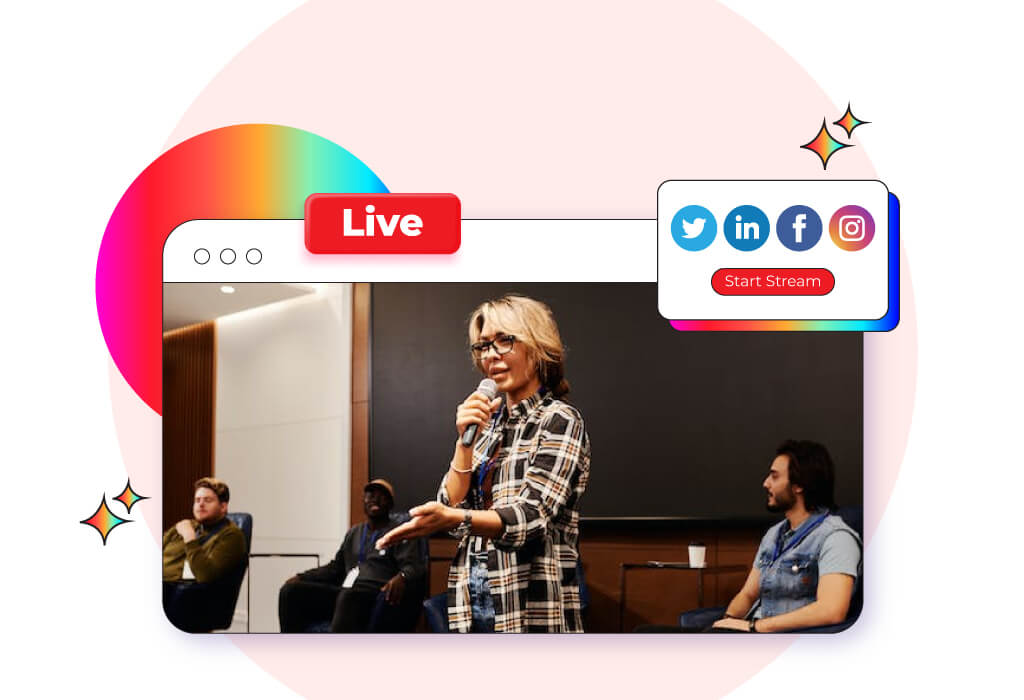 Twitch Live Streaming
For gamers and creators Twitch live streaming is the most used platform. It lets you stream the gameplay in real-time as well as creative content with discussion to build a sense of community. The OBS Studio's advanced functionality helps in improving the feeds to look like professional ones. With customization, Hotkeys, overlays, transitions, and other widgets high-quality content feed can be ensured. Additionally, audio mixing and mastering options empower the creators to control the volumes, and balance in both recording and live streaming.
OBS studio YouTube live
YouTube is considerably the largest video-sharing platform in the world with over 2 billion monthly active users. This platform is useful for creators who live stream, broadcast, or share recorded videos. To all the businesses, organizations, educators, creators, and more. Everyone has their share of the audience (also, due to its widely spread popularity catering to new audiences is easy here). The YouTube live-streaming services can be further utilized to share event feeds, tutorials, product launches, and more. The use of OBS studio YouTube Live is worth it to create top-notch quality audio-video feeds that smoothly capture the attention of the scroller. Although, you need to know the basics of creating the thumbnail, #hashtags, and description for ranking factors.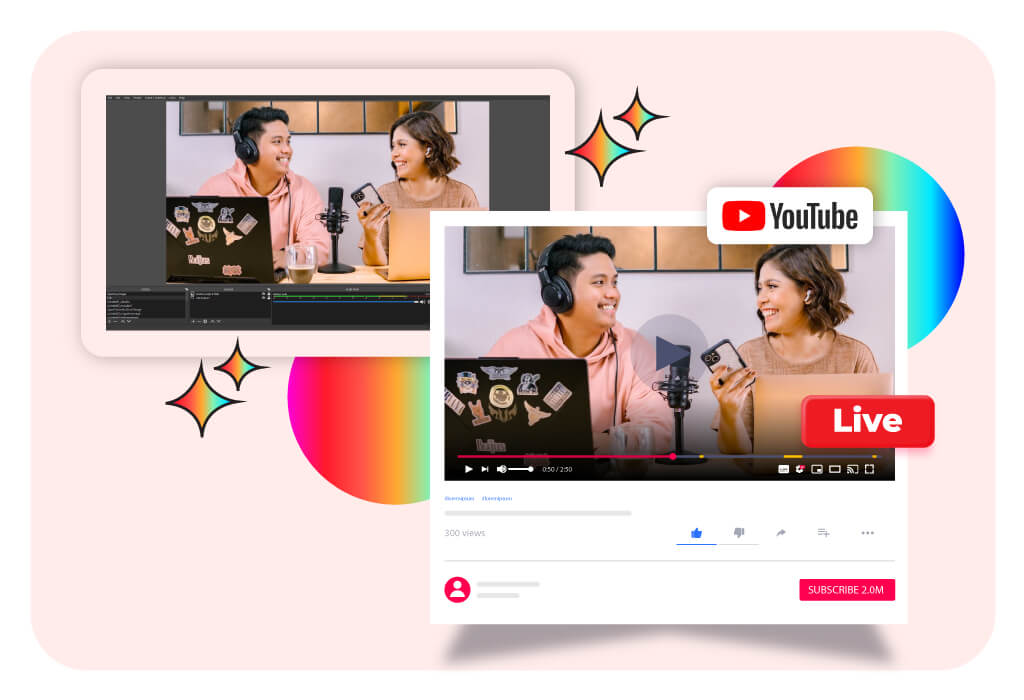 OBS Studio Facebook Live
We all might have accounts on Facebook. One of the oldest social networking sites, first created to share images and short videos. But now due to the increased rise of 2.9 billion monthly active users messaging, Facebook live-streaming services have been later launched. Facebook is a widely spread community for creators and businesses to connect with their audience. With the use of OBS studio live streaming a seamless feed can be delivered to give an immersive experience with a lot of interactions. Like with the host of Q&A sessions, many audience questions can be addressed. Additionally, you can share your expertise with a diverse audience with easy use of OBS studio Facebook Live.
Twitter Live Streaming 
After the takeover of Twitter by Elon Musk, the popularity has been a little bit affected. But not much as it is still the best to use it for real-time communication with Twitter Live streaming. Twitter's live streaming feature is quite helpful for media houses and for those who want to broadcast breaking news, or for a brand who wants to showcase behind-the-scenes glimpses. Furthermore, OBS studio live streaming facilitates direct engagement with your followers on this fast-paced platform. As the OBS lets you customize the feed with a perfect aspect ratio and integration with Twitter in just a few clicks.
Mixer Live Streaming: The Lesser-Known Gem
Mixer is now integrated with Facebook's gaming platform. It is lesser known due to its community-driven atmosphere specifically for gamers. For those gamers who want to showcase their gameplay, and tactical skills in video games or online or need to connect with fellow gamers it is best. The OBS studios can be used to mix the gameplay feed and your webcam (for the live commentary). This approach is best to boost the interactivity of your love streaming. And also the comment and reply can also be managed easily.
OBS Studio Instagram Live 
Instagram is a quite popular yet trending platform in social media. Currently, it is trending due to its official release of Thread (Twitter's rival). With so many added functionalities like messaging, photo sharing with or without music, IGTV, Reels, and of course live streaming. Instagram has around 2.35 billion monthly active users as per the latest reports making it a wonderful place to live stream your in-person event feed (to reach a wider audience) or simply any other kind of topic to stream. With the OBS studio live streaming you can broadcast your session in the most aesthetic way to engage more users.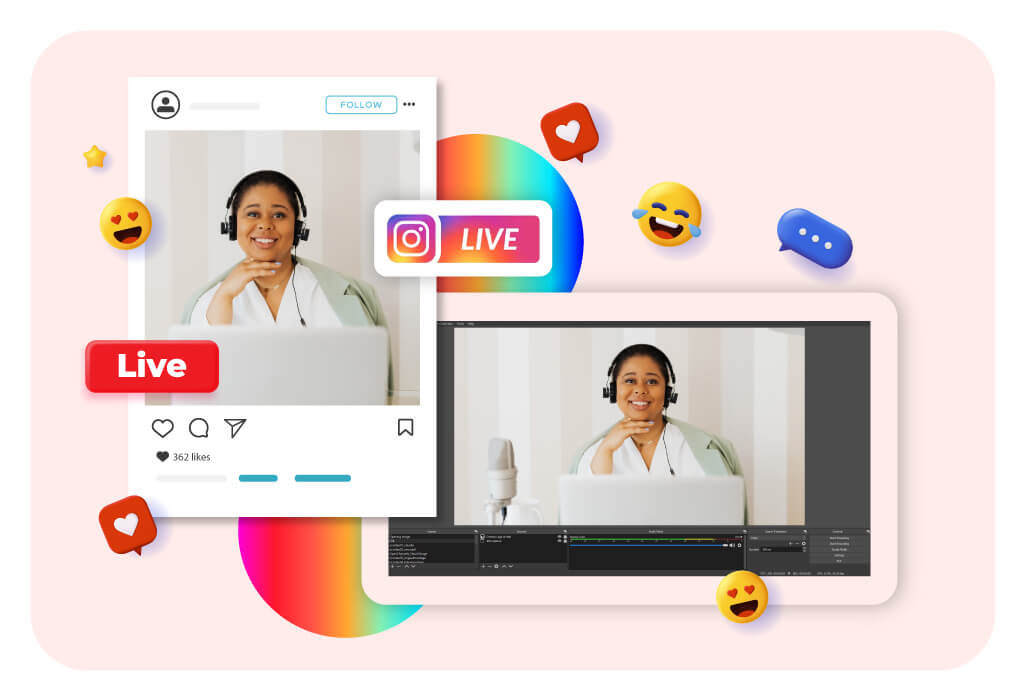 Ultimately, the OBS Studio is perfect for multi-platform streaming and serves as the complete solution. You can easily break your content into any geographical boundaries and tap into diverse communities. Unleash your creativity, connect with your audience, and make your mark across the digital landscape with OBS Studio's versatile and comprehensive streaming capabilities.
Effortless Multi-Streaming Made Possible with OBS Studio
It is generally observed that all the live-streaming platforms have their own requirements and optimizations. But with the setting up of OBS Studio all can be easily manageable. There are around 20+ live-streaming platforms that are quite famous in the world and have a shared audience. If you are an event organizer or brand or business who is looking to host a session and display your session to a wider audience then simultaneous or multi-streaming is much needed. The OBS studio gives this opportunity to multi-stream free of cost. By integrating your Google account in the studio and choosing the list of platforms to stream you can easily send your feeds to both platforms separately. Additionally, this free tool gives you the flexibility to simply configure separate streaming profiles for each platform, enabling you to reach a wider audience.
Quick Guide to Multi-Streaming with OBS Studio
Here are the simple steps to use the OBS stream on multiple platforms.
Prepare Your Content: Set up all your cameras, webcams, microphones, and other video and audio sources in the OBS studio.
Platform Accounts: To multi-stream or simultaneous streaming make sure you have accounts on all platforms. Like on Facebook, LinkedIn, Instagram, Vimeo, and all others.
Install Plugins (if needed): If your chosen platforms require extra tools, install the necessary plugins within OBS.
Settings Setup;
Click on "Settings" in OBS Studio.
Choose "Output" from the left sidebar.
In the "Streaming" section, select "Output Mode" as "Advanced".
Set your desired streaming quality like resolution and encoder settings.
Stream Key Setup:
For each platform, you need a unique stream key.
Go to your platform's streaming settings and find your stream key.
Copy the stream key.
Configure OBS for Multistreaming:
In OBS, click on "Settings" again.
Choose "Stream" from the left sidebar.
Under "Service", select "Custom…".
For the "Server" field, enter the multistream service URL (provided by your chosen platform).
Paste the appropriate stream key for each platform in the "Stream key" field.
Start Streaming:
Click "OK" in the Settings window.
In the main OBS Studio window, click "Start Streaming" to go live on all selected platforms simultaneously.
Monitoring and Interaction:
In the meantime when you are live on all the selected platforms. Keep monitoring whether your streaming is correctly streaming or not. Also, to boost engagement keep giving the response to chats and comments.
End the Stream:
By simply clicking to "Stop Streaming" in OBS Studio you end your feed.
At last, make sure that you use the latest version of IBS Studio to get more updated functionalities. Also, as per the regions and versions, a few features and settings might be seen changed. So, refer to the user manual of OBS studio.
Last Thought
The free broadcasting software is undoubtedly a fantastic tool for marketers and creators to engage their audience on all social networking platforms in real-time. This simultaneous nature creates a win-win situation for many event organizers. For instance, if someone is hosting an in-person event with specific guests and participants, they can increase their reach by utilizing robust live streaming services and setting up a multi-camera feed integrated with OBS Studio. This becomes possible.

Moreover, live streaming an event can extend the reach of your product launches, conferences, and seminars to a wider audience, including global viewers, with minimal effort. If you're considering increasing audience engagement or capturing a global audience by streaming your event content, then you've come to the right place. At Dreamcast, we provide end-to-end customizable live streaming services that can be harnessed to transform your next stream into a professional-looking production. So, why wait any longer? Book your free demo now and have all your queries resolved by our experts.
FAQs
What does OBS do for Streaming?
The OBS (Open Broadcaster Software) helps you to broadcast your audio-video feed to multiple platforms in good quality by mixing multiple camera feeds in real-time.
Can I use OBS to Record the Video?
Yes OBS can be used to record the videos too. It can capture the footage and locally save it to your computer.
What's the difference between OBS and OBS Studio?
The basic difference between the OBS and OBS Studio lies within the functionality and features they offer. In general, OBS is the updated version of the OBS studio and is more feature-rich, user-friendly, and actively developed, offering improved performance and additional tools.
What platforms can I use OBS Studio to stream On?
OBS Studio can stream on a wide range of platforms, including;
Twitch
YouTube
Facebook Live
Instagram
Linkedin
Mixer (now integrated with Facebook Gaming)
Periscope (Twitter Live)
Tik Tok
Vimeo Live
Restream
Trovo
Smashcast
And many more!
Why Should I Consider OBS Studio for Multi-Platform Streaming?
OBS Studio live streaming enables the creator to stream on multiple platforms simultaneously. With many features, resolution aspects, and fit the frame capabilities as per the platform needs it can be used for simultaneous streaming.
What are Some Alternatives to OBS Studio?
Some alternatives to OBS Studio are;
 XSplit, Streamlabs OBS (SLOBS)
Wirecast
vMix
Host an Engaging LIVE Stream
Connect with the Industry's Most Experienced
Live Streaming Service Providers.