The times have been hard for all, and so is in the case of students & scholars. It has been a challenging task to keep up with the studies while ensuring the quality of learning. Not just students, even the faculties and administrative departments have worked hard to ensure that the pandemic doesn't come in the way of anybody's career.
However, for many, the time for a reward has come. And not just for working hard, but also accomplishing goals even in times of the pandemic.
Yes! It's time to organize a virtual graduation ceremony!
In this blog, we will enlighten you with all you need to know about convocation live streaming and a digital graduation ceremony. So, let us move onward to explore the hows and whats of a convocation & graduation broadcast.
What is a Virtual Graduation Ceremony?
A Virtual Graduation Ceremony is an online celebration of students who graduated in the current year. It is organized over a virtual graduation ceremony platform or a live streaming software that provides users with a comprehensive set of interactive & engaging features. 
In-Person, Hybrid, Virtual
Create an Extraordinary Event Experience
Across All Event Formats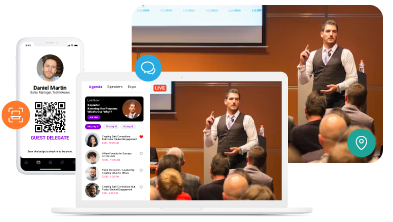 Introduction to a Virtual Graduation or Convocation Live Streaming
A convocation ceremony and a digital graduation event can be organized in different forms. However, it is the digital graduation & convocation live streaming feature that makes a successful event execution possible. The real-time broadcast component of a virtual celebration further enhances the experience for all the participants. Adding to the advantages, the convocation broadcast through live streaming also helps all the participants attend the event, who otherwise could not attend the graduation ceremony because of the pandemic restrictions.
Although the terms; convocation and graduation ceremony are used differently, it is highly interrelated and has no difference apart from the fundamental meaning. Also, the two events are celebrated together at the same event. However, to help you comprehend the idea easily, let us understand both concepts separately:
What is a Digital Graduation Live Streaming?
A Digital Graduation Live Streaming refers to the online event where all the prospective graduates & faculty members gather to celebrate the degree accomplishment of the students. The organizers collaborate with a live streaming service provider to broadcast the online event across different social media platforms.
What is Convocation Live Streaming?
A Convocation Live Streaming is the same graduation celebration where the prospective graduates are given their respective degrees. It also includes various fun elements to make the event more engaging and meaningful.
Moving ahead, let us know how to host a successful virtual graduation ceremony live stream.
How Do You Do a Virtual Convocation Ceremony?
A Virtual Convocation Ceremony requires the organizers to focus on various aspects to ensure its success and efficacy. Following are the well-curated steps to hosting a virtual graduation ceremony live streaming:
In-Person, Hybrid, Virtual
Create an Extraordinary Event Experience
Across All Event Formats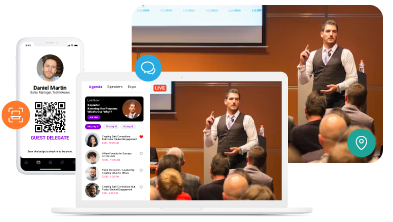 5 Steps to Organize a Successful Virtual Graduation Ceremony
#1 Work on Preplanning the Ceremony
Preplanning all the aspects and components of your digital graduation ceremony is the most vital step to ensure its smooth flow. The virtual shift of events is still fresh for many, so it is significant to plan everything properly. This step includes every aspect of the ceremony, from determining the number of participants to the session content. Once the planning is done, the execution of the event becomes easy as all you have to do is follow the plan.
#2 Create a Well Structured Agenda
Participating in a digital graduation ceremony and viewing a long convocation broadcast can turn out to be a tedious experience for your participants. It is so because the attention span of your attendees is lesser when participating in a virtual event. Therefore, the first step to ensure engagement and fun throughout the graduation ceremony is to create a well-structured agenda. Make sure that you include proper breaks between the sessions while also maintaining the duration. By following a well-planned agenda, you can not only ensure engagement at your event but also its efficacy.
#3 Define Your Event Requirements
Based on your plan, define all the features and tools that you require throughout the broadcast. For example, the most important requirement at the event is highly interactive tools with customization features to ensure a more collaborative live streaming of the ceremony. Therefore, list all the features requisite from the live streaming service platform.
#4 Choose a Suitable Live Streaming Service
Choosing the best live streaming service is one of the most vital steps to ensure a successful digital graduation broadcast. An advanced platform comes with countless features that effectively enhance the interactivity and engagement at your convocation live streaming. Following are the top features to look for in a live streaming service provider in the UAE:
360-degree live streaming
Powerful CDN or Content Delivery Network
Parallel multiple platform streaming
Customizable background and aspects
Bulk uploading
Highly interactive features
Access controls
Unlimited streaming with seamless integration
Budget-friendly solutions
Real-time archiving
The multi-bitrate IP encoding system
Live real-time audience interaction
Integrated High-Speed Internet Solutions
Live analytics and reports
#5 Go Online & Make it Interactive
After testing the technology properly, it's time to go live! So take your virtual graduation ceremony live with the chosen convocation live streaming platform. However, the most significant thing to keep in mind is interactivity. It is so because using interactive tools is the best way to keep your participants engaged throughout the convocation broadcast.
How to Live Stream Digital Graduation or Convocation Ceremony?
Just like an on-site convocation ceremony, a lot of preparation is required for its digital version too. From choosing the right tools to ensuring the logistic quality, the organizer has to prepare various event aspects. Explore the following checklist to understand how to live stream a virtual graduation ceremony.
Quick Checklist to Live Stream a Smooth & Successful Virtual Graduation Ceremony
#1 Ensure the Equipment Quality
With the right streaming equipment and setup, one can easily enhance the efficacy of the digital graduation broadcast. From camera and microphone to things like tripods and audio set up, make sure that the resources you use for live streaming are at a good quality state. Also, don't forget to ensure that the live streaming service platform you choose renders powerful connectivity, so there is no lagging during the convocation broadcast.
#2 Choose the Right Date and Time
Another vital aspect to keep in mind is deciding the schedule that suits all the participants. Digital graduation means your attendees can view the event from any global location. Therefore, to gain maximum participation and audience engagement, organize the event on a date & time that suits your audience.
#3 Include Pre-Recorded Segments
Constant flow can sometimes turn out to be tedious for your audience. Therefore, incorporate pre-recorded content in between the live sessions. It can also stimulate engagement at your virtual graduation ceremony if you include content that enthralls your audience. For example, you can run video messages of the faculty motivating your attendees for their future; or an encouragement session by the alumni.
#4 Incorporate Interactive Features
As mentioned earlier, interactivity is one feature that works like a charm in keeping the audience engaged throughout the live stream. Therefore, make the graduation ceremony live streaming more exciting by including fun sessions like live polls, quizzes, Q&A sessions, etc. During the live streaming on social media platforms, your audience can also comment while you can respond to these comments, enhancing the interactivity.
#5 Test the Tech Before Going Live
Technical aspects always come with the possibility of glitches or errors. Hence, test the live streaming technology, equipment, connections, etc., before taking the digital graduation live for broadcast. Also, go in-depth while testing the technology which includes examining the on-event features of interactivity and customization. It will also help you ensure that you have not missed out on any vital aspect of the ceremony.
Moving ahead, let us explore some of the best virtual graduation ceremony ideas to enhance fun and engagement throughout the live event streaming.
10 Exceptional Virtual Graduation Ceremony Ideas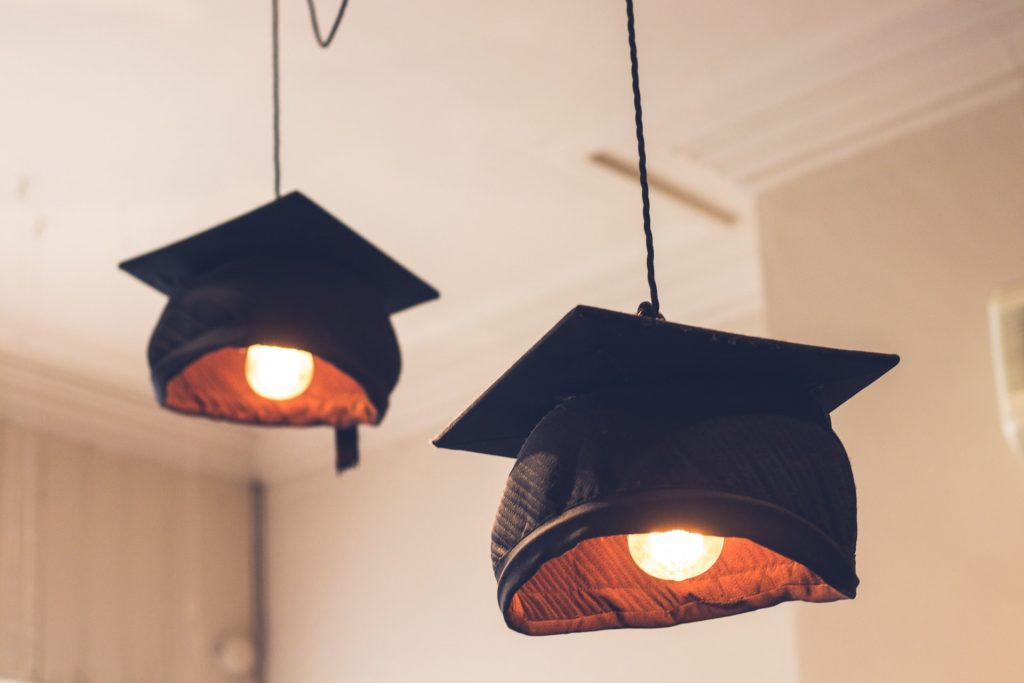 #1 Send Digital Graduation Invitations
Design captivating and exciting digital graduation invitations to level up the anticipation amongst the participants. Send these invitations to all the prospective graduates along with some goodies to make the ceremony more enjoyable for them.
#2 Introduce Fun Hashtags
Create and introduce fun ceremony-related hashtags to further enhance the audience engagement even before you live stream the event. This idea can efficiently build up excitement amongst all the students and faculty for the ceremony.
#3 Try Highlighting Each Student
During the convocation ceremony, make sure that none of the students feel disregarded. The simplest way to ensure this is to include a convocation image slide show where the students can hold their caps or create a collage of all the students and run it during the session. Another idea is to give all the prospective graduates a chance to share their thoughts during a session. However, you can control the duration of this session.
#4 Customize the Background
An advanced live streaming platform renders the opportunity to personalize the background of each participant while also adding text or logos to the same. Creating a personalized background and live stream design will help you create a more authentic and exciting event for your audience.
#5 Introduce Convocation Filters
It is possible that not all your attendees have the convocation gown and cap. Therefore, create an automated filter that adds the convocation cap and gown to the screen. Your participants can also capture the images in this filter. Also, this can be an effective idea to keep your attendees engaged.
#6 Dedicate a Session for Student Interaction
Incorporate a session where your students can interact amongst each other and also with the faculty members. During the session, the participants can not only share their memories & stories but also appreciate & thank each other as the journey comes to a happy end.
#7 Gamify the Virtual Graduation Ceremony Live Stream
Another excellent idea to enhance the fun at the digital graduation ceremony broadcast is to gamify it. Include sessions dedicated to playing exciting games to further magnify the prospects of audience engagement.
#8 Create and Present a Digital Graduation Video
Create an enthralling digital graduation video to recreate the memories. The video can include everything from fests & celebrations to academic activities & clips. In the end, you can also add an encouraging message to motivate the students for their future goals.
#9 Include an Award Show Session
A session can be dedicated to rewarding the students with virtual awards. These awards can also be conferred to the students along with their degrees. Another idea is to give fun tags to each participant during the session. Overall, this can be an exciting session that can effectively grab your participant's attention along with the live broadcast audience.
#10 Offer Digital Certificates
Last but not least, add another virtual element to the graduation & convocation ceremony by offering exciting digital certificates. You can theme up these certificates according to the virtual graduation ceremony format to further make the event memorable.
Go on, bring these ideas & tips together and ensure a matchless digital graduation and convocation ceremony live stream!
In-Person, Hybrid, Virtual
Create an Extraordinary Event Experience
Across All Event Formats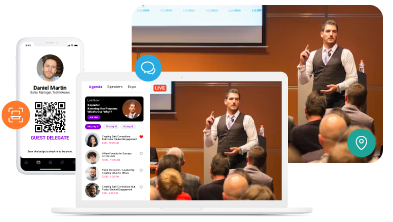 Virtual Convocation & Digital Graduation Ceremony FAQs
#1 What Happens at a Virtual Graduation Ceremony?
At a Virtual Graduation, students, faculties, and families gather to celebrate the graduation & convocation ceremony of the graduating students. Various sessions are organized over a digital graduation ceremony platform to keep all the participants engaged and ensure a memorable virtual celebration.
#2 What is the Purpose of Convocation?
While the event includes several sessions dedicated to different participants, the main purpose of the convocation ceremony is to celebrate graduation and confer degrees to the graduating students.
#3 What is the Difference Between Graduation and Convocation?
Graduation refers to the recognition of degree completion of a student, while convocation is an event where the university chancellor or other representatives confer the degree to the graduates.
#4 How to Watch Live Graduation or Digital Convocation on Facebook, Instagram, and YouTube?
You can watch the graduation ceremony or convocation live on platforms like Facebook, Instagram, and YouTube with the accessible broadcast link given by the chosen live streaming service provider in the UAE. An advanced virtual graduation software proficiently broadcasts the ceremony over various social media platforms. And, you can easily access this broadcast through the given link of the official social media handles.
#5 What Can You Put in a Digital Graduation Video?
You can put the following things in a Digital Graduation Video:
Early Year Memories
Pictures and Clips
Congratulation Message
Motivational Quotes
Message From the Faculties
Clips from Extracurricular Activities
The Milestone Moments
Images from the Graduation or Convocation Ceremony
#6 Is it Necessary to Attend a Convocation or a Virtual Graduation Ceremony?
Yes! A live convocation or digital graduation ceremony is a once-in-a-lifetime experience, and everybody should attend it at least once. Moreover, celebrating digital graduation is a much more different experience than an on-site event. Therefore, one must not miss out on this whole new experience.
#7 What Do You Wear to a Virtual Graduation?
Celebrating your graduation ceremony virtually doesn't mean you can't dress up as planned. While wearing the convocation cap and gown is mandatory, you can choose to wear your favorite clothes and get ready for a memorable celebration. Also, with the video filters provided by the live streaming platform, you don't even need to arrange a cap or a gown as it can be added with a filter virtually.
#8 How Do You Record a Virtual Graduation or a Digital Convocation Ceremony?
An advanced digital convocation or virtual graduation platform that provides live streaming services also provides a feature to record the celebration to make it available to the participants for a longer time. Therefore, ask your live streaming service provider to record the ceremony and enlighten you with the required information.
#9 How to Ensure a Successful Convocation or Digital Graduation Live Stream?
You can ensure a successful and fun convocation ceremony live stream by choosing the most suitable live streaming service provider in UAE. A comprehensive live streaming platform can provide you with a complete set of engaging & interactive features.
#10 How Long Does a Virtual Graduation Last?
A Virtual Graduation Ceremony usually lasts from minimum one hour to maximum three hours. However, the overall duration of the ceremony depends on the number of sessions, content included, and total students being graduated. As an organizer, one can determine the duration of a virtual graduation ceremony based on their requirements.