Diwali is one of the biggest festivals in India. You may have a lot of employees in your organization who talk about the Diwali celebration at their houses. But now, they live in a different country and miss their homes at Diwali. Being a responsible organization that cares for every employee without discrimination, you can help them this year.
You can conduct a virtual Diwali celebration with all the employees, sharing the importance and fun of this festival with everyone. No matter if your employees are in India, Dubai, US, UK, or other countries, you can make them connect with everyone via the virtual stage.
Still, you will need proper planning and ideas for a better virtual Diwali celebration. So, here are the various virtual Diwali celebration ideas that can make your virtual event execution easy.
Online Diwali Celebration Ideas for Corporate, Offices, Employees, and Staff!
11 Online Diwali celebration ideas that can be helpful in engaging the corporate, offices, employees, and staff are as follows:
1. Let's Get Festive Ready
Your clothes play an essential role in increasing the festival vibe. So, define a proper traditional theme or dress code for your employees at the online Diwali celebration. It can build a sense of excitement in your attendees, giving them a complete festival feel regardless of the location.
You can turn your dress code into a competition where you can give badges to the people, such as
The Best Dressed Person
Best Ethnic Wear
The Most Creative Get-Up
The Most Innovative Headgear
Also, you can assign or ask every team to choose a theme based on various Ramayan characters. They can take a get-up of whoever they want and say some dialogues in order to make the concept more fun.
2. Indulge a Personalized Gift to Every Employee
Diwali is a festival of sharing blessings and happiness through gifts and sweets. It is the easiest way to convey your love even to people far away from home or in other countries. So, being an organization, you should start the ritual of exchanging or sending gifts to your loved ones.
You can send some personalized and valuable gifts to your employees. For instance, book a holiday ticket or a dinner date reservation for a newlywed couple in your office, send them a handwritten note, their favorite book, and other things. The gift does not have to be expensive. It has to be expressing how much your employees mean to your organization.
In-Person, Hybrid, Virtual
Create an Extraordinary Event Experience
Across All Event Formats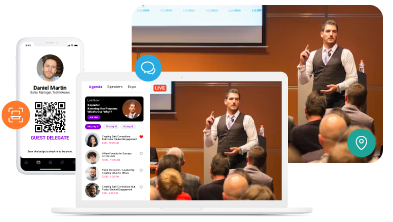 3. Share About the Diwali Celebration Rituals at Your House
There are various rituals that people follow in a country of diverse cultures and religions. You can ask your employees to share what they do extraordinarily on Diwali at their house during the virtual Diwali celebration. All the attendees will definitely have a story to tell and make a fun environment with other participants. Moreover, they can remember their memories even sitting far away from their homes. Try listening to every story asking them to make the long story short.
4. Host Different Competition and Reward the Winners
You will find numerous competitions online as one of the best virtual Diwali celebration ideas for employees. It will help you create a better bond among the teams, regardless of religion or culture. Moreover, every section of your organization should participate in all the contests as it can be a team-building activity. Some ideas for celebrating Diwali online with competitions are as follows:
A Mehndi Competition
Thali Decoration Competition
Toran/Festoon Making Competition
Lantern Making Competition
Diya Making Competition
Best diya Selfie Competition
Best House Decoration Competition
Foodie Competition
Rangoli Competition
5. Enjoy Virtual Music Shows and Concerts
Every Celebration and festival is incomplete without dance and music. So, you can add zest with some virtual music shows, live dance concerts, and other performances to your online Diwali celebration party.
Nowadays, many artists and bands perform online for their fans. So, you need to book any of them and connect them with your virtual event platform in order to make your attendees groove their bodies on trendy beats.
You can add a stand-up comedy show to your Diwali celebration party. It will be helpful to provide your attendees with some lighthearted comedy and giggles.
6. Unleash the Fun, Creative, and Talented Version of Everyone
No matter if you have some introverted or extroverted employees, make sure you create a chance to perform for everyone. Add a hidden talent contest and let them all shine. It is the chance when you can show your other talents to your seniors and boss to impress them. It can be anything such as:
A short stand-up comedy
Singing a song
Playing any musical instrument
Dance
Narrating a story
Shayari
Origami Art
Drawing and Painting
Make the attendees comfortable as no one will judge them. It will just reflect an extra skill of yours that no one or only some people knew in the office.
7. Boost Fun with Humorous Online Award Show
You can use various tags in order to show how much you know your employees. All you need is to find information from the team managers and award everyone with a tag that refers to their habits or behavior. You can make it more fun by using the small details and naming them accordingly.
Some funny virtual Diwali celebration ideas for offices are as follows:
Fun Fire-Cracker Tag
The Most Caring Friend Tag
The Best Cook Tag
The Cleanliness Addict Tag
The Most Lovable Member Tag
The Best Actor Tag
The Funniest Member Tag
The Office Prankster Tag
Always in a Meeting Tag
Office DJ Tag
Pen Stealer Tag
Mission Impossible Tag
Duct Tape Tag
8. Organize A Virtual Fundraiser or Charity Event
Helping others and doing good deeds always makes a person happy. It is very satisfactory work, and on the occasion of Diwali, you can make someone happy, as well by just doing some good charity. Moreover, all you need is to raise a fund box for your event. Ask your employees to add some money as per their wish and celebrate the collected amount at the end.
Also, you can ask your attendees to do some good deeds and share them with everyone. It can be anything, like feeding a street dog or a cat, giving someone clothes or other essentials, or donating money to nearby NGOs.
9. Add a Diwali-themed AR Based Photo Booth
Your online Diwali party celebration will be incomplete without selfies and photos. So, you can take multiple photographs using different backgrounds based on the Diwali theme. Moreover, the AR photo booth provided by the best virtual event platform can make your employee's experience more exciting with different Diwali backgrounds and photographs.
In-Person, Hybrid, Virtual
Create an Extraordinary Event Experience
Across All Event Formats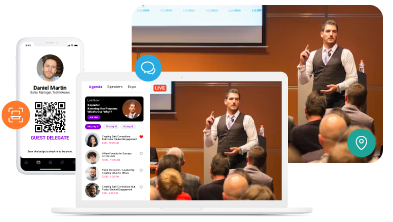 10. Play Online Digital Games
Employees stay stressed most of the time due to anxiety and work pressure. They do not get enough time to relax and make their mind better. So, you can provide them an opportunity at your virtual fest platform. Avail of various AR/VR games so that everyone connected online can play different games as per their choice and enjoy the festival better.
11. Wonderful Online Diwali Games & Activities for Schools & Colleges Kids!
Virtual Diwali celebrations will be different at schools and colleges. Moreover, you need a few unique activities to engage the young generation. So, here are some virtual Diwali celebration ideas for school and college students.
Fancy Dress Competition: You can hold a fancy dress competition that can be helpful to make the students look a little different. Moreover, students love such competitions and activities.
Glitterati Diyas and Candles: You can make your students get in touch with the tradition by asking them to make diyas and candles. Moreover, they can design and decorate diyas and candles and enlighten them at home. Also, you can make this a competition providing exciting gifts to the winners.
Story Telling: Storytelling is the best way to engage the students and make them listen to you, whether online or offline. So, you can use storytelling as one of your virtual Diwali celebration ideas.
Priceless Messages: You can ask them to create a video, audio, or written message for everyone in the class or school. It can be helpful in making them engage in your hosted virtual Diwali celebration.
Origami: You can teach and have fun both at the same time with art and craft. Students love to create different items with origami. So, you can create a separate session for origami artwork.
Quiz Time: You can create various quizzes and survey forms that all the students can play online at your virtual Diwali celebration and win exciting prizes.
So, these are the various virtual Diwali celebration ideas that can be helpful in making your event a success. You can include these activities to
How to Host an Online Diwali Celebration for Your Global Team?
Just reach the best virtual event platform, Dreamcast, and get various features and functionalities that can be helpful to make your event a success. You can get uninterrupted engagement, communication, and networking opportunities, such as live 1:1 or group chat, audio, video call, external integrations, gamification, AR photobooth, business card exchange, and more. So, no need to wait anymore. Reach our Dreamcast experts today and host the best virtual event seamlessly.
In-Person, Hybrid, Virtual
Create an Extraordinary Event Experience
Across All Event Formats