Networking is one of the most significant aspects of any event, of any type, format, or industry. Event attendees always look ahead to building valuable connections and maximizing their network & reach. With the pandemic outbreak, as events shifted to the virtual format, event experts had to create various digital functionalities. These features enabled event attendees to network while maintaining the social distance & following the lockdown rules. With time, the world realized that virtual networking solutions are highly effective & advantageous.
However, now when the world is reopening, in-person events are coming back into existence. With this, it has become essential to bring the virtual networking functionalities together with the in-person event format, so the attendees can still enjoy a seamless networking process.
To bridge this gap between online & on-spot event networking, Dreamcast has created some of the best digital functionalities, helping you simplify the networking at your events.
Industry's Best Digital-Driven Networking Solutions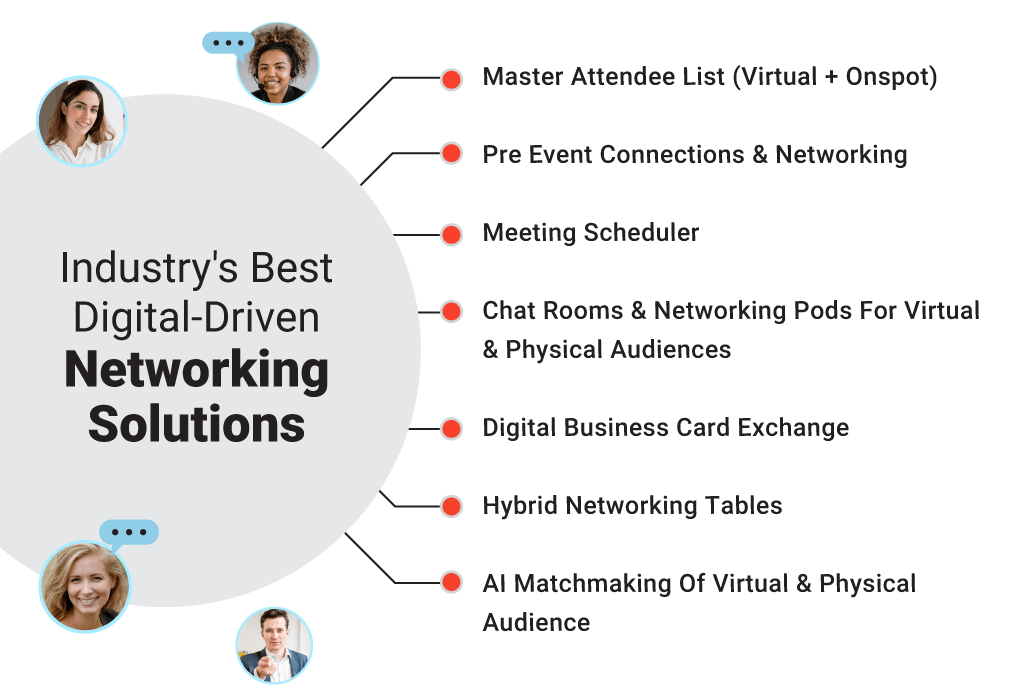 Master Attendee List (Virtual + Onspot)
Create a web-based event platform or mobile app with a seamless UI that enables your users to select if they are attending the event virtually or in-person during the log-in process. With this information, you get access to a master attendee list which includes all the audiences from both the event formats. Hence, your event attendees get an opportunity to connect with all the audiences, virtual & on-spot, with a quick click.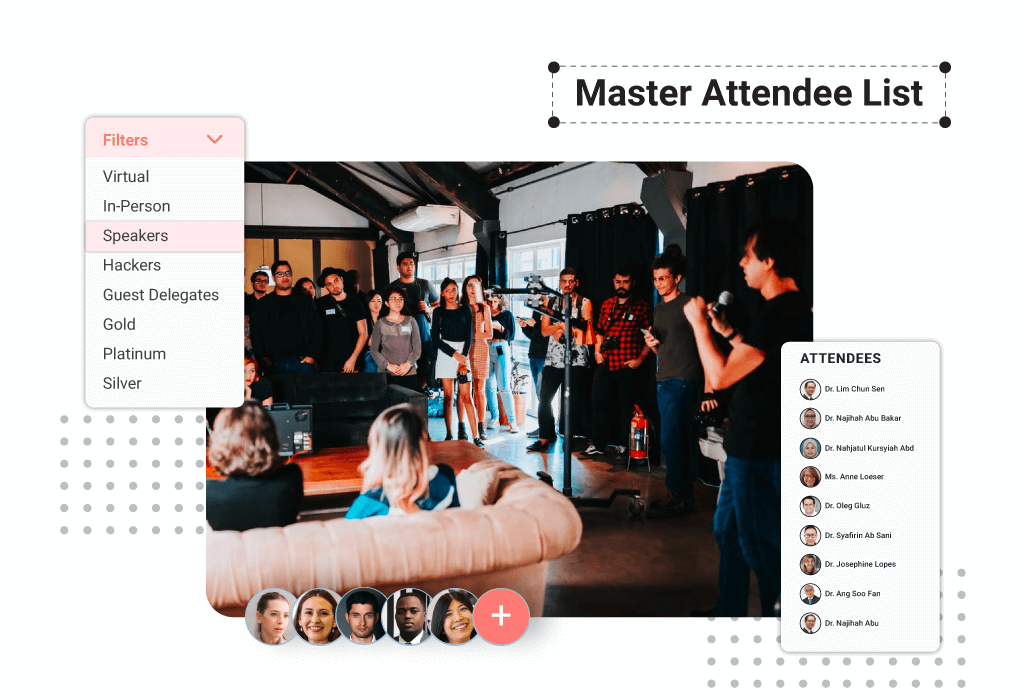 Pre Event Connections & Networking
Help your attendees indulge in the process of valuable connection-building before the event day. With a dedicated digital platform accessible before the big day, your users can explore the master attendee list & get in touch with other audiences.
Meeting Scheduler
Using the functionality of pre-event networking & a master attendee list, users can schedule meetings with the preferred attendees. This functionality is also enriched with calendar integrations helping the attendees find available slots & timings to schedule the meeting. Another excellent advantage of this feature is that it not only simplifies the networking process for on-spot and online attendees separately but also for both of them in a collaborative way. For example, on-spot attendees can schedule meetings with both other on-spot audiences as well as online attendees.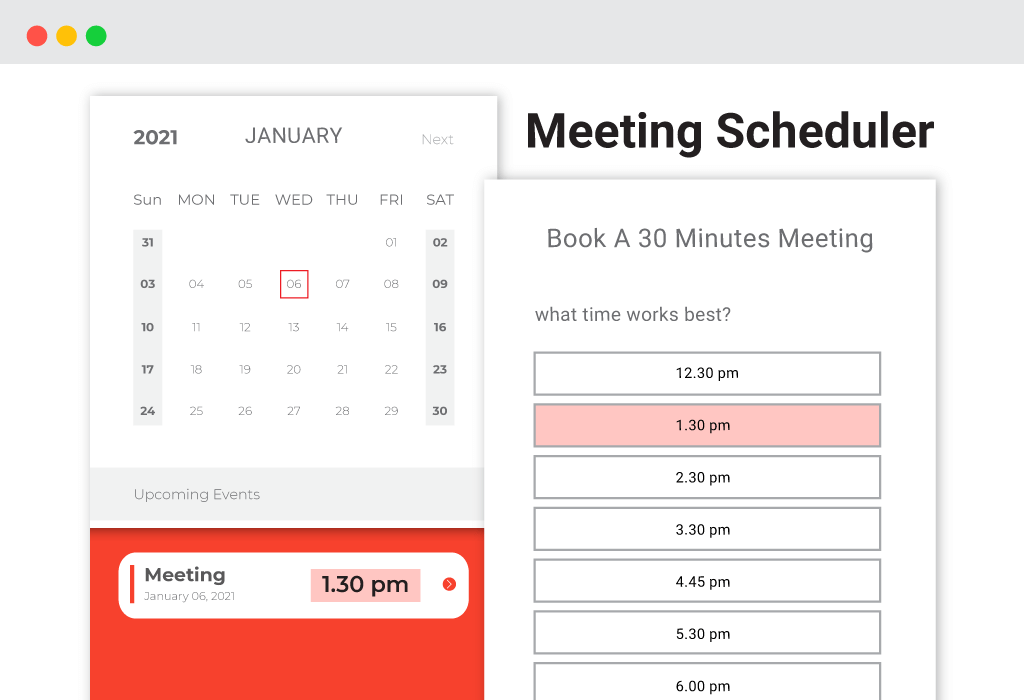 Chat Rooms & Networking Pods For Virtual & Physical Audiences
While the idea of a highly collaborative networking system for in-person & online audiences sounds great, making this happen seems like a task. However, we have got your back with our smart registration solution. Further simplifying the networking process & bridging the gap between in-person & virtual audiences, we provide you with the solution of hybrid chat rooms. What would this look like, and how would it work? We will help you with well set-up networking pods, cubicles, or chat rooms at your in-person event where networking becomes absolutely seamless. How? The answer is that we can provide the in-person attendees with systems where they can connect with the virtual audiences by logging in through their registered accounts.
Digital Business Card Exchange
As your users have provided all the required details during registration, their basic contact information & unique QR-Code is available on the web-based platform or mobile app. Using this data we let you enable a seamless digital business card exchange process for your online & in-person event attendees. Your event attendees can not only exchange their contact details using the feature but also through the QR code, simplifying the process to a great level.
Hybrid Networking Tables
By now, we already know what a virtual networking table looks like. However, just like we took the in-person event elements virtual in the times of the pandemic, it is time to take the virtual functionalities back to in-person events. But how? To solve this dilemma, we have created a collaborative hybrid networking table system for your in-person event. Like a virtual networking table, users can find a table in the in-person event, with the availability of online audiences in the same table virtually through their systems. While on-spot attendees can interact from the physical venue, online attendees can join the networking session through the digital platform created for the event.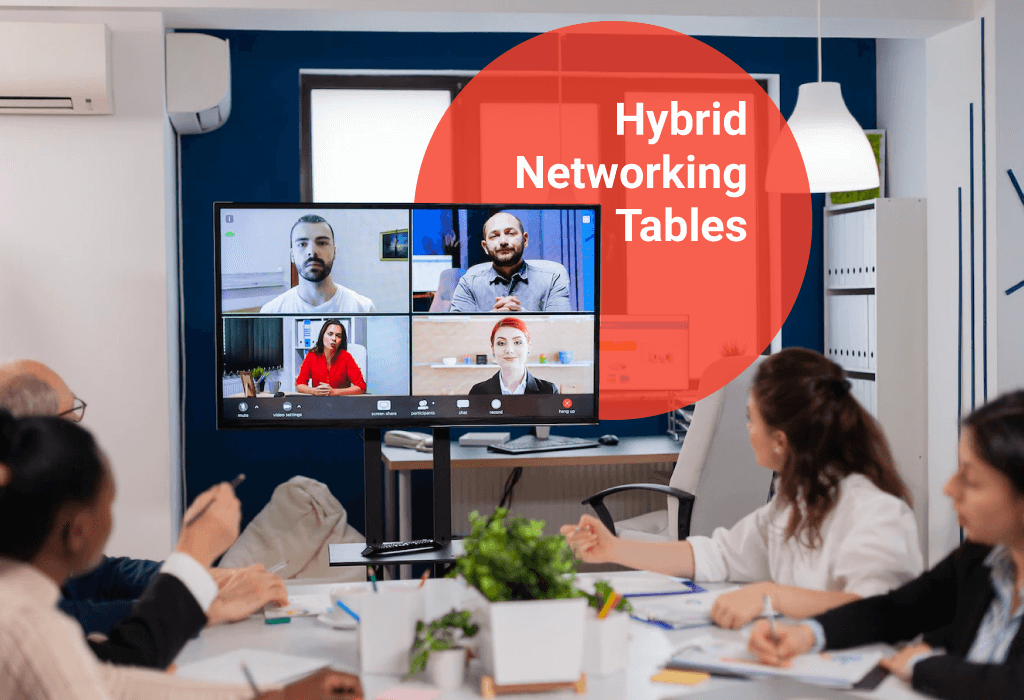 AI Matchmaking Of Virtual & Physical Audience
We are all familiar with the incredible AI matchmaking functionality that enabled the virtual attendees to connect with other event attendees based on their likes & preferences. Taking this feature digital for your in-person attendees, we enable you to create a seamless AI-based connection-building process for your online & on-spot attendees. Help your event attendees with the possibility to build valuable connections & maximize their network to a global level with the smartest digital networking solutions. Get in touch to know more!
In-Person, Hybrid, Virtual
Create an Extraordinary Event Experience
Across All Event Formats