Just like numerous other events, art exhibition events are also shifting to virtual event platforms. However, this virtual shift is not because of the pandemic restrictions but because of the advantages of online events, as acknowledged by the world. In this blog, we will help you explore all about a virtual art exhibition event. Let us begin by understanding the fundamentals of an online art exhibition.
What is a Virtual Art Exhibition?
A Virtual Art Exhibition is the virtual or online showcasing of curated art pieces organized over an immersive 3D virtual art exhibition platform. The online exhibition event is enriched with top-notch engaging & interactive virtual functionalities, enhancing the attendees' event experience. The 3D 360-Degree environment of a virtual art exhibition platform further ensures a seamless online showcasing of the art pieces.
Must-Have Features of a Virtual Art Exhibition Platform
A virtual art exhibition platform is a robust online event platform that enables users to organize engaging 3D virtual events. The market is filled with numberless online event platforms, and event organizers can choose from the manifold of choices. However, every event organizer should go through multiple platforms and take free platform demos. Doing this helps them make a well-thought decision and pick a virtual platform that suits all their event needs & requirements. Mentioned below are some of the leading virtual art fair features that the platform you choose must have:
100% Customizability: To personalize the virtual venue as per your branding & event requirements
Flexible Scalability: To freely scale the event at any point of time based on the organizer's preference
Complete Event Tech Solution: To find an all-in-one virtual event solution in one place, hence saving time, cost, & efforts
Safe & Secure Virtual Platform: To ensure that all your event data is in safe hands
Industry-First Functionalities: To enrich your online art exhibition with the best virtual tools & features
Robust Integrations: To ensure a seamless event execution without the hassle of working with multiple platforms
Dynamic Device Support: To confirm that attendees with different devices can access the event
24*7 Customer Support: To find fast solutions to any query or doubts
Complete Event Data & Analytics: To get access to the entire virtual art fair event data
Apart from choosing the right virtual event platform for your online event, there are a few steps and best practices that an organizer must follow. Moving further, we will help you explore some of the most prominent virtual art exhibition tips, ideas, and best practices.
Virtual Art Exhibition Tips
1. Outline Your Virtual Art Exhibition Objectives
Clearly define the objectives of your virtual art show before you begin to plan the event. Create a well-defined list of each aspect of your virtual art exhibition. Doing this will help you ensure that you don't miss out on any element while planning the way forward for your online art exhibition. Here are some of the top aspects that you should focus on while creating a list of your event objectives:
Content to Include, Represent, and Deliver
Budgeting
Target Audience
Sponsorship Goals
Format of the Event
Promotion & Marketing
Requirement of Virtual Functionalities
Third Platform Integrations
Engagement Ideas & Objectives
Interactive Functionalities
Networking Objectives
And everything else, the goal of which should be predetermined.
2. Pre-Plan Each Aspect of the Event
Just like the list of pre-defined objectives, the next step is to pre-plan each aspect of the virtual art show. Outline and structure the entire plan of your virtual art exhibition event. One simple example is, if we are talking about the content, you should create a proper plan of what content to include, where to get it, where in the venue to represent it, will it be downloadable or only viewable, etc.
3. Create an Immersive Virtual Venue
The next step is to pick an excellent 3D immersive virtual art exhibition platform for your virtual event. A virtual event platform can either make or break your online event. Therefore, make a well-informed decision while choosing the virtual venue.
After you have picked a virtual art exhibition platform, the next step is to define its design. A robust virtual exhibition platform comes with the flexibility to create dynamic venue design as per the users' preferences. Hence, use this opportunity and create a super-engaging & immersive virtual venue for your online exhibition. Doing this will not only boost the audience engagement at your event but also ensure a memorable event experience.
4. Use the Power of Customization
An outstanding virtual exhibition platform enables you to customize the virtual venue completely as per your preference. From touchpoints & virtual functionalities to colors and branding, the event organizer can personalize each and every aspect of the digital environment. So, use the power of customization provided by the online event platform and create a completely branded experience for your event exhibitors, sponsors, artists, etc.
5. Promote on Social Media
Social Media is one of the most powerful tools to reach and invite your target audience. Therefore, promote your virtual art fair across multiple social media platforms. Another thing to keep in mind is that you should begin promoting & marketing your online event at the right time. To put it simply, you must start working on the promotional strategies a few days prior to the event day. However, there must not be an extended gap between the two phases, as, in that case, your attendees might end up forgetting about the event.
Pro Tip: Remind your event registrants or the target audience about the event until a few hours back through Social Media Platforms & e-mailers.
Moving ahead, explore some of the best virtual art exhibition ideas to ensure a super-engaging & successful virtual event.
Virtual Art Exhibition Ideas
1. Create Impressive Booth Designs
Provide the exhibitors at your virtual art show with an enthralling experience by creating stunning booth designs. A virtual exhibition platform provides you with a library of pre-designed booth templates that you can pick from. However, if you come on board with an experienced virtual exhibition platform, it will let you share your requirements and create an excellent booth design based on the same.
2. Interactive Virtual Art Gallery
You can create an interactive virtual art gallery to showcase the artwork over an immersive 3D 360-degree venue. Any virtual exhibition event is incomplete without an engaging virtual gallery. Wondering what a virtual art gallery is?
A virtual art gallery is simply a digital version of a traditional art gallery having a well-curated collection of art pieces represented virtually in a 3D venue. You can ask your virtual event platform provider to help you with an interactive online art gallery enriched with 3D demonstration functionality.
3. Include Live Polling
Ensuring interactivity during any virtual event is essential to guarantee a seamless event execution. Make sure that the platform you choose provides exceptional real-time functionalities to boost interactivity. Live polling is one such tool that enables seamless interaction during the event. This feature will not only help you keep your attendees constantly engaged but also track their experience.
In addition, here are some of the best interactive & networking features provided by the industry's best virtual art exhibition platforms:
1:1 & Group Chat
Q&A Sessions
Live Quizzes
Multi-Format Communication
Networking Tables
Meeting Scheduler
Business Card Exchange
AI Matchmaking
Pro-Tip: Using features like AI Matchmaking & Advanced Search Filters, you can simply your users' event experience as they can instantly find what they are looking for through AI-powered tools.
4. Provide an Immersive Virtual Tour
Another outstanding virtual art exhibition idea to enhance your virtual event is to provide an immersive virtual tour of a renowned place. Doing this will not only level up the event experience of your virtual art exhibition event but also boost audience engagement.
5. Incorporate a Live Entertainment Session
Amplify the event experience of your attendees and ensure the success of your online exhibition event by including a live entertainment session. A simple art exhibition event with no fun & interesting live session can get a little boring for the participants. Therefore, ensure an engrossing event experience by including a fun entertainment session during the virtual exhibition.
While these were some of the leading virtual art exhibition ideas that can help you host a successful event, there are a few more things to remember. Let us explore some of the best practices to help you amplify your online exhibition event.
Virtual Art Exhibition Best Practices
1. Gamify the Virtual Event
The gamification feature of the virtual venue is one of the greatest boons for the virtual events sphere.
The organizer can include various gamification elements throughout the event to enhance the audience's engagement during the event. For example, the touchpoints can be incentivized, and a leaderboard can be incorporated, representing the participants with the most points.
2. Ensure Excellent Audience-Engagement
Use the manifold of audience-engagement functionalities provided by the virtual event platform. Usually, a virtual art exhibition venue is powered by numerous engagement-driven features to ensure a successful event. Mentioned below are some of the best virtual features provided by a robust online event platform:
Gamification
Social Wall
Branded Photo Booth
Signature Wall
Interactive Exhibit Booths
Live Emoticon Reactions
On-Event Announcements
3. Enable On-Spot Trade
The availability of an on-spot trade feature enables the attendees to buy the art they are interested in during the event itself. In addition, the exhibitors can make instant sales without requiring to get in touch with the users after the event is over. Therefore, incorporate this functionality at your virtual art exhibition event to boost sales & simplify the event experience for the users.
4. Virtual Swag Bags & Goodies
Delight your virtual art exhibition attendees by providing them with virtual swag bags. Express your gratitude for their presence at the online event by sending them exciting virtual goodies. These virtual swag bags can include coupon codes, gift vouchers, personalized thank you messages, etc.
5. Utilize the Provided Event Analytics
Another great advantage of taking your exhibition event virtual is the access to complete event data and analytics. Using this excellent virtual event platform functionality, you can easily track the efficacy of your event and make well-thought decisions for future events. Bring these ideas, tips, and best practices together, and we ensure you a super-successful virtual art exhibition event.
In-Person, Hybrid, Virtual
Create an Extraordinary Event Experience
Across All Event Formats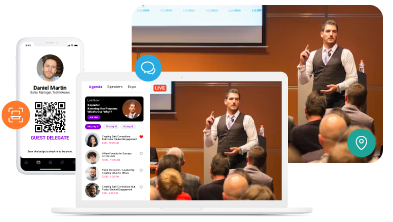 Virtual Art Exhibition FAQs
How do you organize a virtual art exhibition?
You can organize a virtual art exhibition event by coming on board with an immersive 3D virtual art exhibition platform.
How does a virtual exhibition work?
A virtual exhibition works with the help of a managed virtual event platform, power-packed with interactive & engaging online functionalities.
What is a virtual exhibition platform?
A virtual exhibition platform is an online event solution that enables you to showcase and exhibit products and services virtually.
How do I create an art exhibition?
5 Simple steps to create an art exhibition event:
● Define your goals
● Plan & structure the event
● Choose a virtual event platform
● Promote & market the event
● Check the technology and go live
What makes a successful art exhibition?
A successful art exhibition is made by the following essential elements:
● An immersive virtual environment of the venue.
● Engaging functionalities & activities.
● Seamless navigation.
● Engrossing & informative content.
● Frictionless event management & execution.