The events industry is moving towards matchless technological advancements. With this, hosting any type of event virtually with digital technology is benefiting organizations in various ways. Similarly, taking mass recruitment drives & hiring events virtual is giving more & more prevalence to hosting virtual career fairs. Today, organizations from across the world are hosting virtual hiring fairs with the help of virtual career fair platforms. These platforms are the online event services that provide innovative virtual tools to ensure the success of these events. From branding & sharing company brochures to uploading resumes & interacting with relevant employers, everything is possible in a virtual hiring event.
As per an article shared by SHRM, while virtual career fairs have an average participation rate of 50% under normal circumstances, this figure has increased to as high as 90% since COVID-19. Not just this, but according to a survey by Handshake, Career experts also claim that 80% of recruiting will continue to take place virtually in the foreseeable future.
Clearly, career fairs have become significant for worldwide organizations as well as the events' industry. Therefore, it is vital to understand why and how these events are gaining significance. In this blog, we will help you explore the most essential aspects of organizing a successful virtual job fair below.
What is a Virtual Career Fair?
A virtual career or recruitment fair is an online event that helps global recruiters & job-seekers connect and build valuable relationships. These events can efficiently take place over a virtual career or job fair platform. An excellent virtual recruitment fair platform enables simple set-up, execution, and engaging attendee experience. These platforms further help the event organizers in creating a successful virtual hiring event.
Benefits of Organizing a Virtual Career Fair
Virtual career fairs and hiring events have various advantages in comparison to the traditional format of on-site events. Here's a quick list of the top benefits of organizing a virtual career fair:
In-Person, Hybrid, Virtual
Create an Extraordinary Event Experience
Across All Event Formats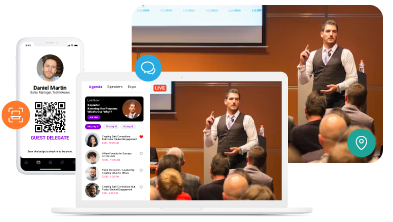 1. Massive Participation
A virtual hiring fair makes it easy for the organizer to attract global talent and recruiters without any attendance limitations. An excellent virtual job fair platform comes with high scalability, enabling you to invite a higher number of virtual attendees.
2. Simplified Connection-Building
The world-class networking features of a virtual job fair platform enable the organizers to ensure seamless networking. A virtual platform simplifies the process of connection building for both employers & candidates. In addition, the connection building tools also help the users in saving time & efforts. For example: AI Matchmaking & Advanced Search Filters help the event participants to easily find relevant connections in no time.
3. Real-Time Live Updates
Features like LIVE notice boards, job listings, and reminder notifications help the user to easily explore available job openings. Not just this but it also enables the employers to view the live candidate status in no time. Also, these virtual tools help in keeping all the attendees updated and ensure that they don't miss out on anything.
4. Simplified Interview Process
A Virtual Career Fair event benefits the recruiting companies & candidates to have a simplified interview process. The companies can also include an assessment test as a part of the selection process. Also, to execute this test efficiently, users can use features like 1:1 candidate interviews.
5. Easy Information Exchange
A virtual career fair enables the recruiters to provide all the company & requirement-related essential information through branded booths. Not just this but, the job seekers can also share their resumes & portfolios with the employers.
6. Super-Engaging & Interactive Attendee Experience
The 360-degree 3D virtual recruitment fair enables all the event participants to have a super engaging event experience. The event platform also provides various interactive features like live chat, polling, Q&A sessions, 1:1 interviews, and a lot more. The event can also include engaging features like gamification, social wall, signature wall, etc., to keep the attendees engaged.
7. Complete Event Reports & Analytics
By taking your virtual career fair event virtual, the organizers are benefited with the feature of detailed event analytics & reports. A virtual event platform is completely capable of providing the organizers with each & every detail of the career fair event. For instance, everything from attendee footprint to booth engagement can be tracked. Also, the data collected can be used to analyze the efficacy of various event aspects.
A virtual recruitment event is also enriched with complete customer support, enabling a smooth execution of the event.
Moving ahead, let's explore some of the top features that can level up your virtual hiring event game.
In-Person, Hybrid, Virtual
Create an Extraordinary Event Experience
Across All Event Formats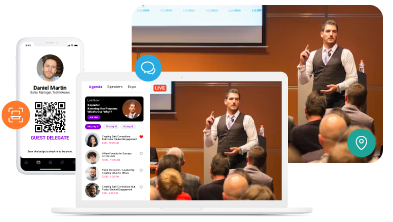 Excellent Features to Include in Your Virtual Career Fair
1. Landing Page with Secured Registration
Create a customized landing page to efficiently market your virtual career fair. This activity will efficiently help you in easing the process of secured attendee registration. Not just this but it will also bring your virtual mass recruitment drive into the spotlight. With the help of the landing page, users can seamlessly register for the event and create their specific profiles. Furthermore, the page will also highlight essential event details like the career fair schedule, agenda, exhibitor info, and FAQs.
2. Branded Exhibit Booths
Help employer organizations to exhibit their company brochures, job listings, requirements, video content, and more through informative exhibit booths. In addition, the interested users can drop their resumes at these booths. Not just this, but the users can also get in touch with the team in case of queries.
3. API Integration with Recruitment Portals
Create a direct integration between the event and your recruitment portal to ensure the safety & security of your attendees' database. The world-class feature helps you in closing all the loopholes that could affect the success of your virtual career fair.
4. Candidate to Brand AI Matchmaking
Enhance your global attendees' event experience by making it easy for them to connect with their preferred attendees. With the help of the AI Matchmaking tool, users can automatically get connected with other users based on their preferences.
5. Jobs & Candidate Search Filters
Incorporate the advanced search filter feature in your virtual career fair to simplify user connection & interaction. With the help of jobs & candidate search filters, event attendees could easily find their perfect match by adding filters. For example, a candidate looking for a job in a certain industry can add a specific filter to explore the available positions.
6. Interview Scheduler
Including the feature of Interview Scheduler in your virtual career fair event will further enable seamless user interaction. Through this tool, your attendees can pre-schedule their meetings based on the available time slots of the preferred users.
7. Pre-Interview Testing
Just like an in-person career fair event, the organizers can define their selection process by including the feature of pre-interview testing. The testing can be of any type or format, attempting and clearing which the candidates can move ahead for the final interview.
8. 1:1 Interviews
Incorporate the 1:1 interview feature and boost productive multi-format communication between the candidate & the employer. Providing seamless communication tools at your virtual event will also enhance the event experience for your attendees.
9. Personalized Notifications
Use personalized pull and push notifications for the live users to keep them updated and in the loop. This feature will also help you ensure that the users don't miss out on any essential aspect of the event. In addition, you can employ the feature of reminder email or message notification. With the help of these features, you can notify the registered users who are not live on the platform.
10. Specified Zones to Explore Organizations' Culture
The candidates in a virtual career fair look ahead to know about the work culture of the organizations. Therefore, dedicate specific engaging & interactive zones to help the users explore the work culture of different participant organizations. You can also incorporate multi-format content in this area to level up the engagement.
11. LIVE Notice Boards
Incorporate a LIVE notice board, representing all the job listings and candidate status . With this, you can simplify the attendees' event experience, minimizing any chance of miscommunication.
12. Interactive Conference Hall
The conference hall can be used to run the event briefing or interactive career guidance webinar sessions. It can have various tools like live polling and Q&A sessions to ensure an engaging & interactive attendee experience. In addition, the event organizers can make use of the conference hall as per their needs & requirements.
How to Ensure the Success of a Virtual Career Fair?
To ensure the success of your virtual mass recruitment drive, you need to keep a few things in mind. Here's a quick checklist to ensure seamless execution of the virtual career fair that benefits both the recruiters & the candidates.
Pick a platform that meets all your virtual career fair requirements.
Create a well-defined schedule & timeline that suits all your event participants.
Share all the essential event-related information with your event attendees.
Include an event-briefing aspect to help your users understand the functionalities.
Develop an effective promotional & marketing strategy to gain maximum registrations.
Test all the technical aspects before taking your event live.
Follow-up with the event attendees and analyze the efficacy of your virtual recruiting event.
Dreamcast is well-equipped with the most efficient industry-first features & tools to ensure a memorable career fair event. Connect with us to know, explore, and understand all about a successful & productive virtual career or job fair!
In-Person, Hybrid, Virtual
Create an Extraordinary Event Experience
Across All Event Formats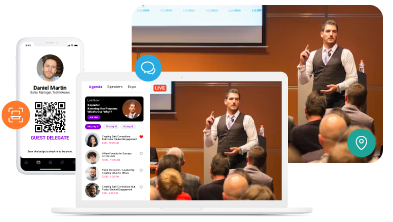 Frequently Asked Questions About Virtual Career Fair
What is the Purpose of a Career Fair?
The purpose of a career fair is to provide employers, students, and job-seekers with an engaging space to connect, build professional relationships and discuss potential work opportunities.
How Does a Virtual Career Fair work?
A virtual career fair works on an online career fair platform that enables connection building with the help of countless innovative virtual features & tools.
What is a Virtual Career Platform?
A virtual career fair platform is an online service that provides the event organizers with an immersive 360-degree 3D virtual venue to host a productive virtual hiring event.
The best virtual career fair platform is the one that provides users with a seamless engaging & interactive user experience throughout the event.
What are two benefits of attending a career fair?
The top two benefits of attending a career fair are:
● Helps you connect with potential employers on a global level
● Helps you explore & learn about the job opportunities in the preferred industry.
What is the goal of a career fair?
The goal of a career fair is to give the job-seekers & employers a chance to connect and build relevant professional connections.