Traditional tourism has disappeared everywhere since the Covid-19 outbreak. The unprecedented and protracted worldwide travel restrictions have forced the tourism sector to adopt new and effective options, with far-reaching effects on various countries and businesses around the world. Countries have had to completely rethink their tourism sectors as many of their most well-known landmarks, towns, and heritage sites have closed or imposed limits, forcing cultural institutions to adjust to a time of less visitation and in-person involvement.
The development of virtual tourism technology over the past few years has served primarily as an educational tool, replacing actual travel and allowing users to interact with a location's history, geography, and culture. It includes the latest technologies to let users observe, explore, and interact with monuments and tourist locations without ever having to leave their homes. Virtual travel expo technology is being adopted by the majority of organizations and event marketers in order to minimize human interaction, raise brand awareness, and market their products and services. You will learn about the advantages of virtual shows in the tourism industry in this session.
What is a Virtual Exhibition?
This type of event is efficient and more affordable for brands and clients compared to in-person events. Virtual exhibitions offer audiences an immersive experience of the destination, location, and activity in real time.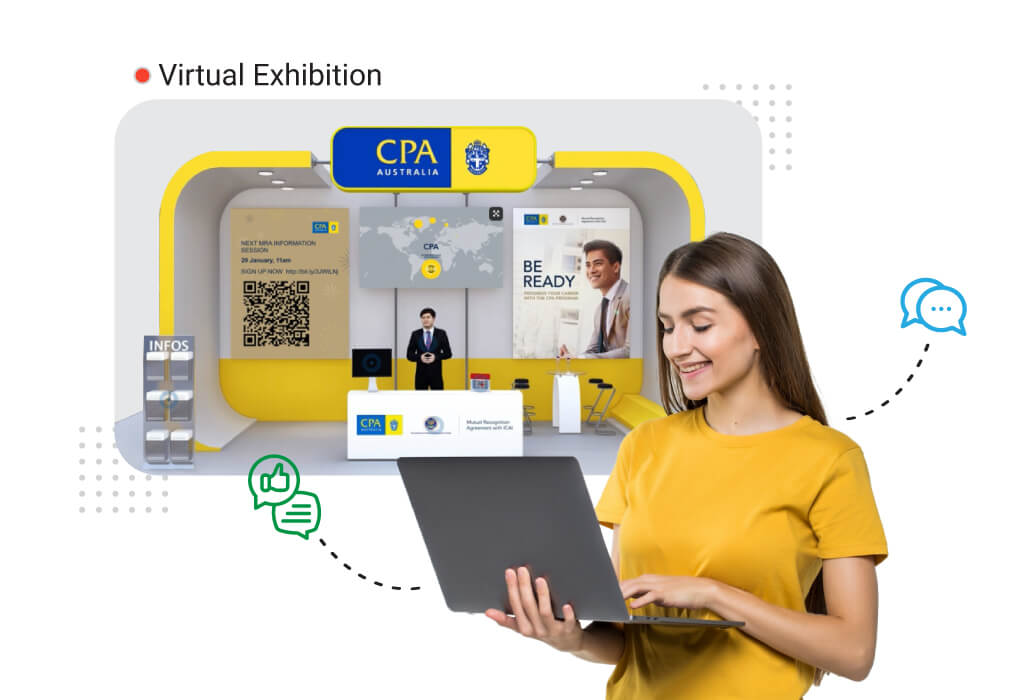 The majority of event planners and companies utilize virtual show platforms to stage online expos, tourist fairs, travel shows, and other events. Virtual exhibition platforms are a fantastic method to foster a sense of community, promote products, and foster goodwill by showcasing a business's story across numerous mediums. The use of a virtual exhibition platform enables event planners to designate a virtual hall for exhibitors to display their products and services. It is possible to allocate many exhibitors to booths where they may promote their products, services, and offerings. They can also communicate with visitors via text or video conversations and offer extra details.
Benefits of the Virtual Exhibition in the Travel and Tourism Industry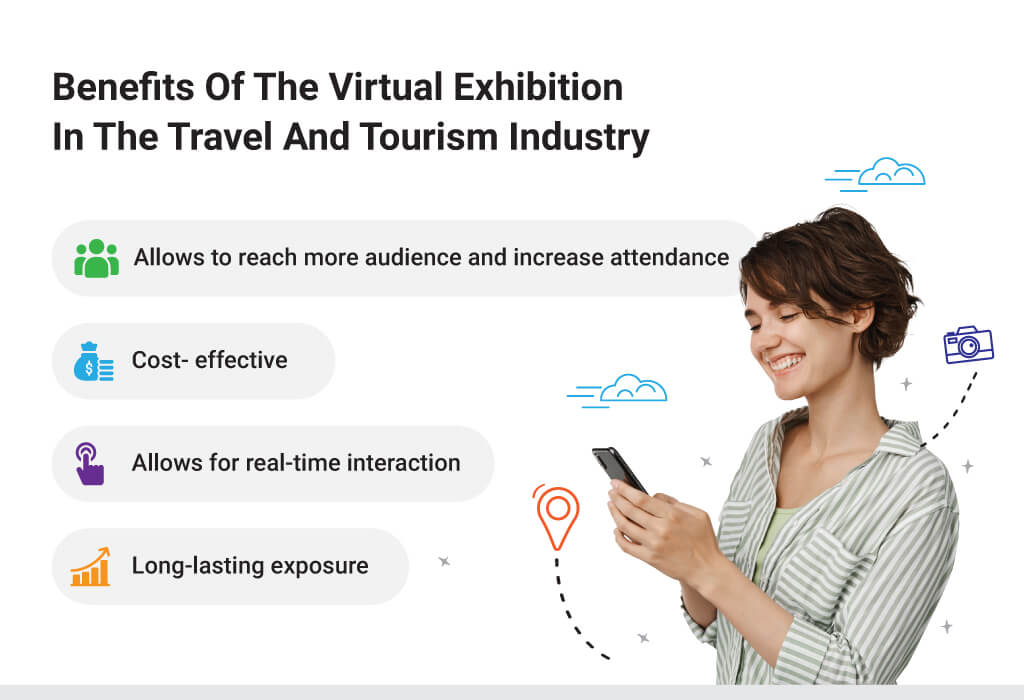 Allows to Reach More Audience and Increase Attendance
The major benefit of Virtual shows in the travel industry is that it offers the ability toattend virtual gatherings from anywhere in the world. This entails that you may present your product or service to a global market without having to spend a lot of money traveling to shows abroad.
Hosting virtual events such as travel shows, expos, virtual tourism fairs, etc can help the event organizers and businesses to increase their audience reach. These types of events allow audiences to access the content from the comfort of their home through their PC, tablet, or other digital devices. In simple words, People do not need to purchase travel tickets to visit a trade show with virtual event exhibits. On the other hand, it boosts attendance and produces more qualified leads.
Cost- Effective
Cost-effectiveness is one of the main benefits of hosting a virtual travel show. This type of event offers an in-person event experience in real-time at a relatively low cost. Hosting a virtual event can help event organizers to reduce the costs involved in arranging food, renting physical space, booth setups, accommodation, staff hiring, purchasing equipment, and more.
A virtual show removes the majority of these expenses, providing your business with a more affordable and effective alternative. The good thing about a virtual travel show is that people who live at a distance can join your online show without travel. It means they don't need to visit a physical space, book expensive travel tickets and pay for accommodation in order to join your show.
In-Person, Hybrid, Virtual
Create an Extraordinary Event Experience
Across All Event Formats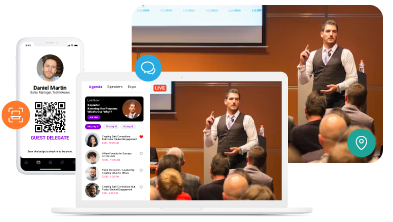 Allows for Real-Time Interaction
The virtual travel exhibition platform includes a wide range of interactive tools and features such as live chat, polls, surveys, Q&As, and more. These interactive tools allow your virtual attendees to connect with organizers. However, virtual travel shows give guests rich and engaging experiences.
Long-Lasting Exposure
Event organizers can create long-lasting exposure by establishing many virtual booths during the event. These types of virtual booths are long-lasting events after the virtual event is over. Physical booths last for 2-3 days but virtual booths can stay virtually as long as the event manager wants.
It is one of the best options to increase audience interaction and boost brand awareness. After the event, your audience can visit your stand and request a meeting as well as important information. Most attendees visit the virtual booth to ask questions. It allows people to get valuable information without visiting a physical stand. Virtual booths also help the event organizers to increase leads and boost revenue.
Host a Virtual Trade Show with Dreamcast
Markets and business are constantly changing. If you want to reach more people and make more money, you must adopt new strategies and technology. Hosting a virtual event like a trade show, exhibition, or expo has a number of advantages. The virtual booth will benefit your brand, but you could also walk away with many more opportunities for new connections and company growth! Thanks to online trade shows, brand awareness has significantly risen. The virtual element has just improved accessibility and given more opportunities for growth and visibility.
Need help hosting your first virtual trade show? If yes, Dreamcast can be a one-stop destination for you. Dreamcast is a top-rated and trusted virtual event service provider. The Dreamcast is not only a tool for saving costs, but it also serves as a communication and promotional hub for possible top-of-the-funnel planners who are searching for unique methods to organize trade fairs in the context of a changing global marketplace. So why do you still wait? Connect with us to find out more about the services we offer.
In-Person, Hybrid, Virtual
Create an Extraordinary Event Experience
Across All Event Formats