Halloween 2023 is right around the corner, and we hope you are all ready for the spookiness this year too! The world has adapted to social distancing limitations that emerged as a consequence of the Covid-19 pandemic. And, now it is getting used to celebrating significant events in a virtual format over renowned virtual event platforms.
While the rules lift and limitations reduce, why not give it some time and host a safe & spooky Virtual Halloween this year?
Through the awe-inspiring blend of events and technology, let's build an out-of-the-box, creative, and entertaining Virtual Halloween Party 2023!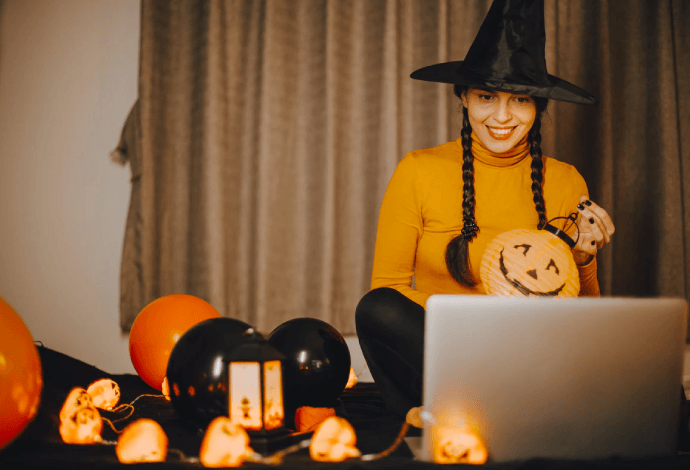 Go on and impress all your friends, family, and colleagues by hosting a memorable Online Halloween nobody has ever experienced before. Let's begin by understanding the essence of a Virtual Halloween Event, followed by the top engaging Virtual Halloween Party Ideas & Games.
How to Host a Virtual Halloween Party
The concept of organizing online events is still new for many, and you might wonder what a Virtual Halloween Event is. Well, we have got you covered with everything you need to know.
We are all aware of the concept of hosting events online, and that is exactly how you host a Halloween Party online. The process includes planning and inviting all the attendees, deciding an event theme, organizing fun games & activities, and a lot more.
5 Steps to Hosting an Exceptional Halloween Party Online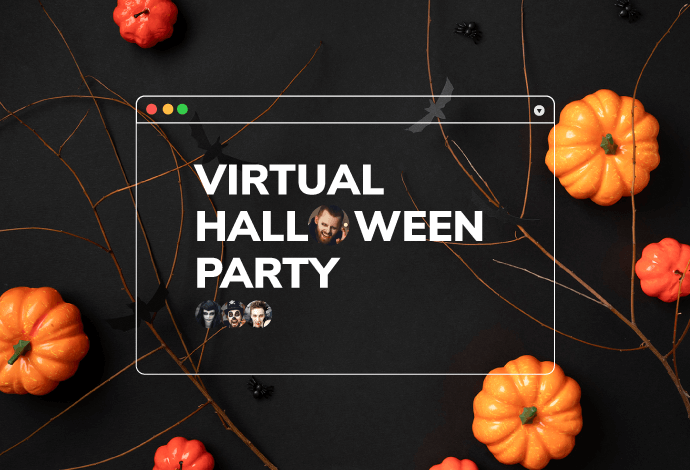 #1 Choose a Virtual Event Platform
The right virtual meeting platform is well-equipped with all the advanced tools and elements to ensure the success of your virtual party. Think of all the engagement and interactive tools you require in the event. And then, decide which virtual party platform suits the best for your bubble.
In-Person, Hybrid, Virtual
Create an Extraordinary Event Experience
Across All Event Formats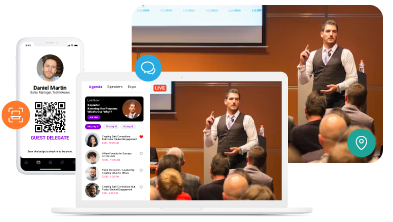 #2 Send Out Spooky Virtual Halloween Party Invitations
After choosing the most suitable platform for your party, begin making your guest list so they can also start preparing for the event. You can add some creativity to this step by designing attractive Online Halloween Party Invitations. You can send out any form of invitation card, virtually or physically. Also, don't forget to base the content of your invitation on the event theme!
#3 Choose the Virtual Halloween Party Theme
Pre-decide a captivating theme for the decor of your party to boost engagement. This step also involves choosing a background at your virtual event platform. Wondering how? Well, apart from Jack o Lanterns, Trick-or-Treat bags, and faux spider webs, you can also add a fun digital element to your Virtual Halloween Party Decoration.
An efficient virtual event platform provides you with the essential background to add your picture/video over the screen. It will not only enhance the ambiance of your online party but also keep your guests engaged.
#4 Organize Engaging Virtual Halloween Games and Activities
Engagement is one of the key challenges that come our way while hosting an online event. There are various ways you can keep your guests engaged throughout the party and create an unparalleled experience for all. Read on and explore our top Virtual Halloween Party Ideas and Games mentioned above.
#5 Test the Technology Before the Big Spine-Chilling Day
Taking a party online means diving into the technology to live a live experience. And to ensure this, it is significant to test the event technology beforehand and host a seamless virtual event experience. This step also helps you avoid any possibility of technical glitches and errors.
After following these steps, you are definitely good to go and bring a hair-raising, spooky Halloween Party experience to life!
How Do You Make a Virtual Halloween Fun and Engaging
Here are the top 5 Virtual Halloween Party Ideas for work, friends, and families, to ensure an excellently entertaining online party: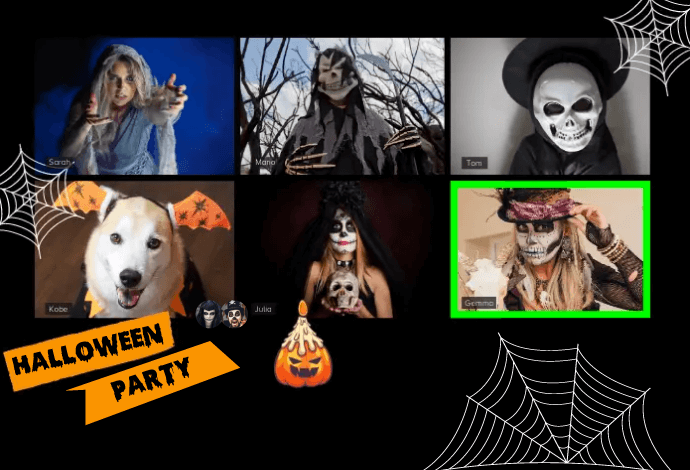 #1 Virtual Halloween Ice Breakers to Boost Engagement
To get the event going, begin by organizing fun icebreakers to ensure complete interactivity amongst your guests. There are various ways you can enhance engagement at your virtual party. Read on to know the best icebreaker ideas. You can also create a designed document of these questions and have your guests ask these with each other one by one.
Top 15 Fun Halloween Ice Breaker Questions, Trivia, and Conversation Starters
1) Tell us about your favorite Halloween tradition.
2) What is your favorite Halloween costume?
3) Tell us the scariest movie you have seen.
4) How do you decide what you want to be for Halloween?
5) Paint your pumpkin or carve your pumpkin?
6) Buy a new costume or make a costume out of props you already have?
7) Visit a corn maze or haunted house on Halloween?
8) If you could ensure a type of candy never makes it to the trick-or-treat, which one would it be?
9) Turn into a witch and cast a spell, what would it be?
10) Get any costume you want, what would you dress up as?
11) Find a broom to fly on, where would you fly to?
12) Where did Halloween originate?
13) Where is it illegal to have silly-strings on Halloween?
14) Which vegetables were used as Jack-o-Lanterns before pumpkins?
15) Where is it illegal to dress up as a nun, rabbi, or priest on Halloween night?
Go on and spark fun with these ice breaker questions!
#2 Introduce the Spooky Playlist
Turn the party vibes on with the special Virtual Halloween Party playlist. Your guests must know that this is not just another party but HALLOWEEN 2023! Ensure you include genres like Superstition, Thriller, Suspense, and Scary to get your online event going!
#3 Halloween Themed Meals
Another amazing idea is to have your food and drinks prepared around the Virtual Halloween Party Theme. Just because your event is happening over a screen, doesn't mean you can't coordinate fun recipes to entice excitement amongst your guests. In fact, you can run a food plating and presentation contest to keep your attendees engaged and enthusiastic. Don't forget to inform your attendees about the competition before the party day!
#4 Halloween Backgrounds
Enhance the party experience of your virtual guests by introducing a Halloween Background at the virtual event platform you chose. Ask your event tech provider if they can customize the platform in a Halloween Party theme like:
A Haunted House
Foggy Forest
Pumpkin Patch
Graveyard
Disembodied Hands
And a lot more
Dreamcast's robust platform provides you with highly customizable features. It can turn your virtual venue in whichever way you can imagine.
#5 Virtual Halloween Costume Contest
Ever since the virtual shift occurred and parties shifted to online platforms, online costume contests became a prevalent thing. Anyways, what is even a Halloween Party without a costume contest?
Therefore, go ahead and host a Virtual Costume Contest and enhance engagement at your online party! Wish to know more about it? Don't worry as we have got your back with all the details below.
How to Host a Virtual Costume Contest?
Costumes are the heart and soul of any Halloween Party! Follow the following simple steps to host a fun Virtual Halloween Costume Contest: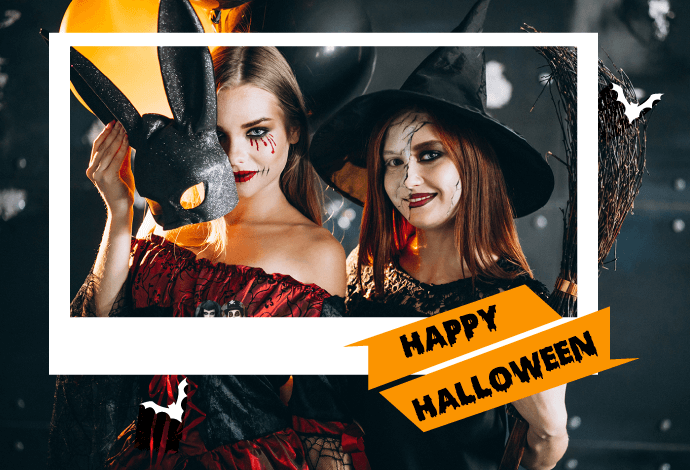 Step 1- Create Rules
First of all, design a set of rules related to virtual Halloween costume ideas. For example, predefine the types of costumes allowed in the party. It will bring on a competitive vibe, and your guests will feel motivated to ideate and come up with innovative costume ideas.
Step 2- Choose the Theme
Channel the creativity of your guests by selecting specific themes and categories for your virtual costume contest. Basically, tell your attendees that they are allowed to be anything but human!
Your virtual Halloween theme ideas can include- Cartoon Heroes, Movie Characters, Villains, Ghosts, etc. Also, after the release of Netflix's Squid Game series, the squid game Halloween costume is a great idea to walk parallel with the latest trends. Overall, it can be one of the best Halloween ideas for remote employees as you can ask different departments to dress under a different theme.
Step 3- Introduce Different Categories
Through this step, you can introduce different costume categories like the scariest, funniest punniest, best DIY, most creative, most impressive efforts, and finally, the best department getup. Further, you can reward your guests based on these categories.
Step 4- Decide the Prizes and Inform Your Guests About It
While introducing the themes and categories of the virtual Halloween costume ideas, don't forget to inform your guests about the decided prizes and rewards. You can also bring in the virtual element here and reward the winners with online coupons, subscriptions, and discount offers.
It can also be one of the top Virtual Halloween Party Ideas for work as you can incentivize your employees with a paid half-day or a day off.
Step 5- Get the Contest Going and Judging Process On
Once you are done with deciding everything, share the link to your virtual event and get the party going. Judge your guests based on different pre decided categories and share the prizes.
Top 5 Virtual Halloween Party Activities
Let's move ahead and explore some of the best Virtual Halloween Party Activities to enhance engagement at your online event.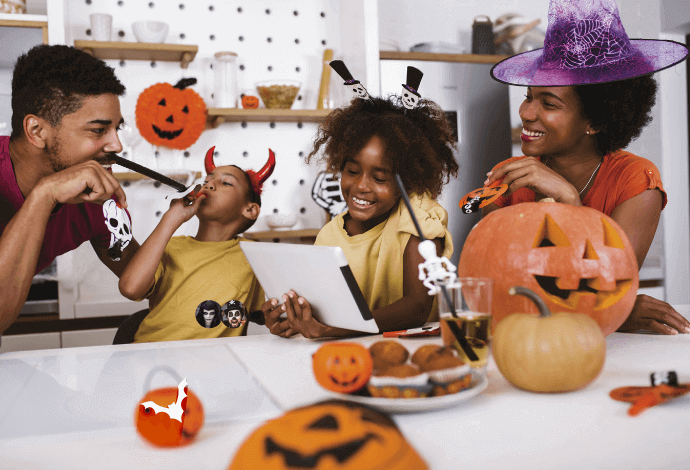 #1 Virtual Dance Party
Make use of that spooky playlist you made and host a dancing session at the party. Get the energy flowing and dance the night away with your near and dear ones.
#2 Share Scary Stories
Another extremely fun activity to keep the spooky vibes alive is sharing scary stories. You can ask your event tech partners to arrange a virtual meeting table with customized scary designs and have all your guests share their scary experiences over the virtual venue.
#3 Bring Halloween Entertainment On-Board
Shifting to a virtual meeting platform doesn't mean you have to miss out on including entertainment to intensify the Halloween vibes. You can still bring entertainment like Tarot Card Readers, Virtual Psychics, Costumed Characters, and Virtual Impersonators on board to take your virtual party to a different level.
#4 Listen to a Real-Life Scary or Crime Podcast Together
Magnify the spookiness at your Virtual Halloween Party 2023 by listening to a scary podcast with all your virtual guests. Nothing is scarier than real-life crime stories. Also, if you have kids as a part of your virtual party, make sure that this activity doesn't get too frightening for them.
#5 Watch a Halloween-Themed Movie
Another engaging online Halloween activity is to arrange a movie show on the virtual event platform itself. You can mutually decide on a fun and scary Halloween movie by taking votes before the event day and organize a movie session during the event. It's not important to uplift the frightful mood throughout the event. Therefore, you can also set up something light and fun for the entire attendees present at the party.
Wait! There's more you can do with your Halloween Party! Read on as we are sure you don't want to miss out on the following fun Halloween party game ideas.
Top Virtual Halloween Games
Your online party is incomplete without Virtual Halloween Games. It not only keeps your guests engaged in the event but also helps you host a memorable party. Mentioned below are some of the Best Virtual Halloween Game Ideas:
#1 Spooky Virtual Escape Room
Many escape room companies have begun working on online platforms, and many have created their own Virtual Escape Rooms over official websites. You can contact your event tech provider and ask them if a collaboration between the two concerned platforms is possible.
Both physical and virtual escape rooms are quite popular. An escape room's challenge is to get everyone on the team involved in the puzzle-solving process. This type of activity can be scary and interesting. A high excitement level is essential to keep your online Halloween party focused and active. The Virtual Escape Room can be designed based on the event theme, and your attendees can play this game in teams.
#2 Virtual Halloween Bingo
Bingo can be one of the simplest yet entertaining Virtual Halloween Game Ideas. You don't have to put in extra effort to create a digital Bingo, as you can simply write Halloween-related points on the Bingo square sheet and share it with all your guests virtually. To play this game, your guests can split up into several breakout rooms and have an entertaining experience.
Players can also fill in the blanks using their own memories or knowledge, but they will need to provide evidence for their claims. The same teammate cannot be used in any successive rows, columns, or diagonals by participants. This is one of the best virtual Halloween Party Ideas that can help you to keep your audience engaged.
#3 Virtual Halloween Scavenger Hunt
There are various ways to add a spooky twist to usual games for your remote attendees. A Halloween-themed scavenger hunt is one such game. To play this game, you can divide all the guests into smaller teams and allow a limited time to complete the game. Your attendees can also make use of the breakout room to discuss and strategize.
#4 Virtual Games from the Squid Game!
The Squid Game Halloween costumes are topping the trends of the party! And for all the obvious reasons because who didn't love the thrilling series? And let us accept the fact, the games the characters played in the show sent chills down our spines! So why not organize games like the Red Light Green Light and Dalgona Candy from Squid Game! You can also make use of the Squid Game Halloween Costume while playing these games, adding more thrill to the event!
#5 Murder Mystery Games
Isn't Halloween the best time to play a Murder Mystery Game? There are various free murder mystery games online that can challenge your participants to find out the killer. Playing these Halloween games online can encourage your attendees to communicate, interact, and overall have an engaging event experience.
Organize a murder mystery! Most event organizers play this Virtual Halloween game in order to make their virtual party more interesting. Create a clue strategy or even participate in a virtual team game where one of the party guests is the killer, and the other players must identify them. You can't go wrong with a fantastic murder mystery for a more intellectual Halloween party experience, much like a game of Clue with new rules and intrigue.
#6 Guess Who?
Guess who? is another excellent engaging virtual game that can be used in the context of a Halloween Party. It can also be one of the best team-building virtual Halloween games for work. The rules of this game are easy- the host will ask a few Halloween-based questions, and your guests will privately answer the host. Next, the host can share the responses, and guests can match each reply to the appropriate participants.
Incorporate all the mentioned Virtual Halloween Party Ideas, Games, and Activities into your online event and, here you go! Your virtual party is all set to rock and spread the spookiness this Halloween 2023!
For further assistance, contact Dreamcast! And, we ensure you a memorable party experience with the top engagement tools and customizable features.
In-Person, Hybrid, Virtual
Create an Extraordinary Event Experience
Across All Event Formats