People travel to various nations for their medical requirements and benefit from the opportunities provided by those nations with strong health systems. Today, there is a significant increase in health tourism worldwide.
People find it difficult to look for prospects in other countries by investigating, locating, analyzing, and contrasting all of their domestic choices. At this moment, healthcare fairs play an important role and assemble all possibilities for people to consider. On the other side, this kind of fair eliminates the need for travel by bringing possibilities from all over the world under one virtual roof. These events assist the groups in reaching a large audience and disseminating crucial information.
There are several online medical exhibition platforms available nowadays that provide interesting and interactive solutions, thanks to the internet and virtual technology. Virtual events are being used by companies and organizations all over the world to grow their brands and establish connections with attendees from around the world. A complete virtual event platform can organize anything from virtual meetings to virtual conferences, virtual medical exhibitions, virtual event displays, and more.                            
What Is A Healthcare Virtual Trade Fair?
Healthcare virtual trade fair is a type of online event which is organized to demonstrate healthcare-related products and services. This type of event also functions like an education seminar, online trade show, or training event in a virtual environment. Medical virtual trade is normally sponsored by healthcare experts, brands, and medical businesses. Healthcare trade fairs are becoming famous in the healthcare industry because they allow patients to forgo the cost of travel while experiencing the same features and benefits of the offline medical exhibition.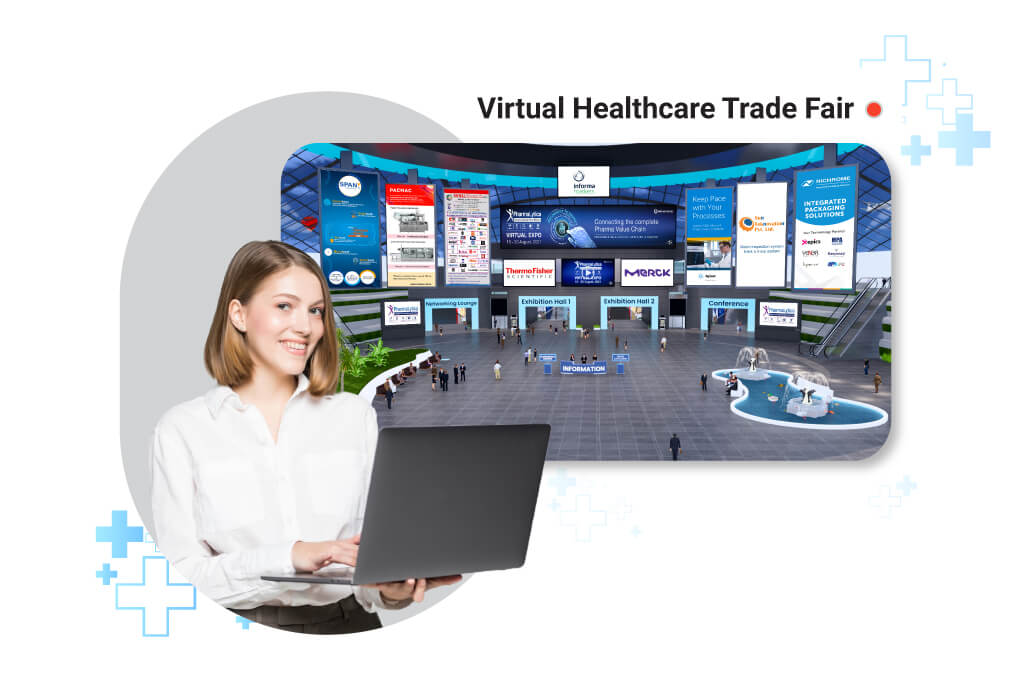 In order to reach consumers with crucial information about healthcare and healthcare products, this type of event typically includes different healthcare experts and specialists. Contrary to physical trade exhibitions, healthcare virtual events take place online so that participants may participate via the platform or other digital procedures.
Virtual trade shows are typically organized and run through a platform where participants can sign up, interact with vendors, meet people at networking events, and participate in a variety of programs and services. Everything is done virtually, either online or through a cloud network, as opposed to in person. Virtual fair platforms enable event planners to set up lobby areas and halls with exhibitors. Real-time virtual displays of healthcare products and services may be seen in these hallways and lobby areas.
Why The Medical Sector Should Use Healthcare Virtual Trade Fair
Medical virtual fairs offer a healthcare business a powerful platform for reaching out to a wide range of audiences, increasing brand awareness, showcasing your products or services, and improving brand image. With proper strategy and planning, hosting a virtual medical exhibition can be a cost-effective and product option. There are different reasons to use this event in healthcare and some of them are given below: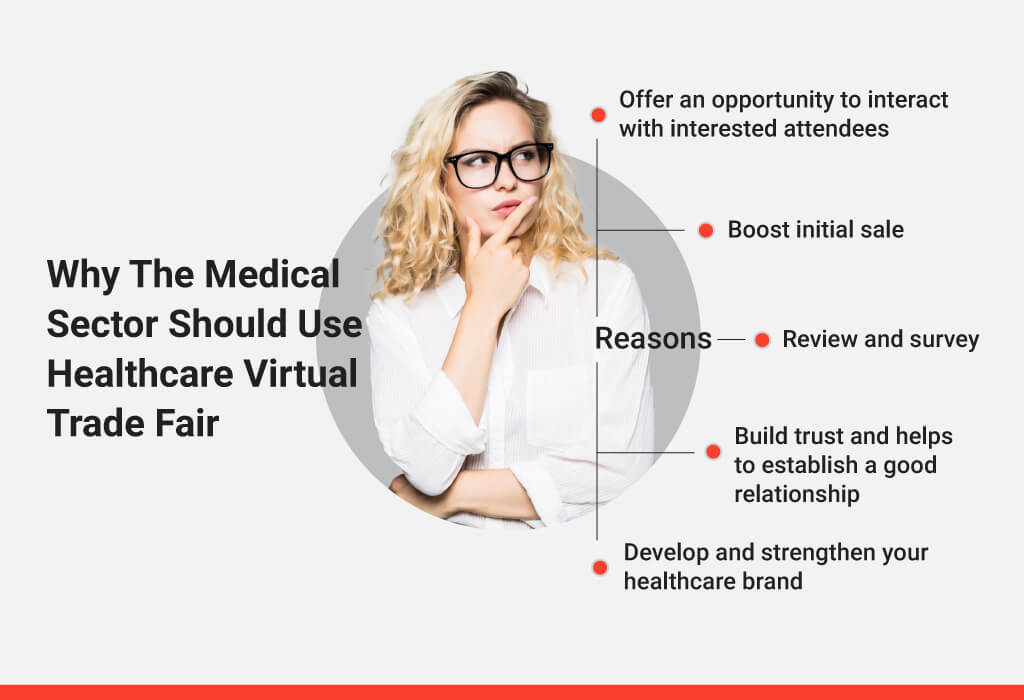 Reason 1: Offer an Opportunity to Interact with Interested Attendees
Hosting a virtual fair offers an opportunity for the exhibitors to interact with interested people and showcase their new offerings. Your audience can visit your booth in order to ask different questions. With the help of your virtual booth, you can connect with your audience and resolve their queries. Most event organizers use a virtual fair platform in order to conduct different interactive sessions in their booths. These interactive sessions include Polls, Q&A live chats, and more.
Reason 2: Boost Initial Sale
The early stages of a product's development are frequently crucial to the eventual success or failure of the company or product. Launching your new medical product at a healthcare trade show provides an exceptional possibility for the best outcomes. More of your potential clients will probably follow, which will increase the sales of your product. This kind of event can aid in generating the first buzz necessary to bring a new product to the public's attention. The majority of healthcare professionals host this event to tell their audience about their most recent healthcare service or product. It helps them to increase their sales and maximize revenue.
Reason 3: Review and Survey
The best way to collect feedback and review your brand-new product from the audience is to conduct an online medical exhibition. Most virtual trade show platforms include survey and feedback features that allow event organizers to understand the success of new product launches. Virtual trade show platforms can also help you to understand the strengths and weaknesses of your brand offering valuable insight directly from the audience.
Reason 4: Build Trust and Helps to Establish a Good Relationship
Hosting a healthcare trade fair on a reputable virtual trade platform gives healthcare professionals the chance to pose pertinent questions to their clients, hear their answers, and then describe the advantages of the product or service. To create trust and forge profitable commercial ties, these sorts of encounters are essential for learning more about clients on an individual basis. Since a relationship has been built, you can follow up via email or phone calls after the meeting.
Reason 5: Develop and Strengthen Your Healthcare Brand
The success of any business also depends on its branding strategy. If you are looking to improve your brand image and increase brand awareness, hosting a virtual medical exhibition can be an ideal option for you. This event allows you to create a virtual booth and offer an experience that activates your brand in the minds of your audience. In order to create a solid brand image, this marketing tool uses recognizable and eye-catching display banners.
Switch To The Virtual Trade Fair With Dreamcast
Now that the world is being pushed to shift, switching to a virtual format enables your company to develop and flourish in ways that were before impractical. Healthcare professionals, companies, and event planners will be more prepared to hold the next online medical exhibitions by making an investment in a virtual event platform. Dreamcast can assist you if you are going to move to a virtual format. By offering an event experience that would be unattainable in a real setting, virtual medical exhibition services can increase the engagement of virtual attendees. So why are you still waiting? For more information about our services and specifics, get in touch with us.
In-Person, Hybrid, Virtual
Create an Extraordinary Event Experience
Across All Event Formats